30 years ago, someone thought it might be a bright idea to take a mountain bike up the Thredbo chairlift and ride down the enormous mountain. And as it turned out, not such a bad idea at all, and the beginning of brake-melting history.
In this three-part series and videos, we reflect on three decades of mountain biking in the iconic NSW alpine village and ski resort – Thredbo.
Up next is the 2000s, a period where bikes began to work about 2000 better, riders were therefore safer. It was an era the Australian downhillers ruled the World Cup stage, with many of those big names battling it out back on home soil, down the challenging Thredbo downhill course.
Did you miss part one? Thredbo in the 90s.
---
Watch the video here.
---
Between 2000 and 2010 Thredbo played host to a whole stack of significant events; from the Interschools events, NSW State Rounds, Oceania Championships and National Rounds. The cross country, four-cross and downhill tracks really came alive, with the Thredbo mountain crew working to build new courses each season. This was also the time that Thredbo became a real 'bike park' with a fleet of hire bikes, guided rides and skills clinic events. The mountain bike season was pumping!
During this time, there was no better place for the top riders to train and prepare for the World Cup circuit.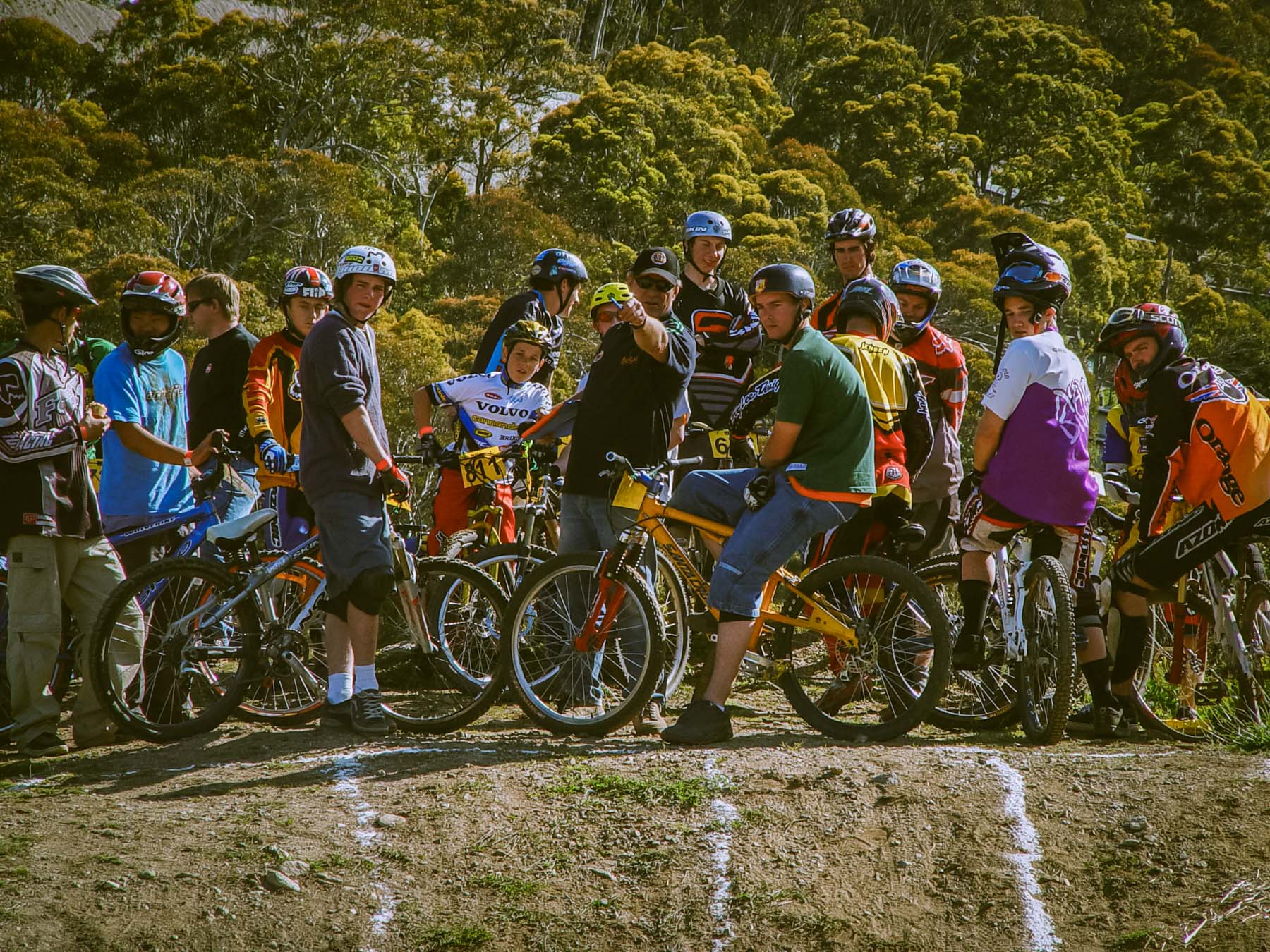 What set Thredbo apart from other alpine destinations was the mighty Kosciusko Express chairlift and its 15-minute ride into the heavens. The service ran nearly all year round with tourists and walkers taking on the summit track to Australia's highest point, Kosciusko. Though it was an only one-way trip for the mountain bike fraternity, departing at the top for the long ride back to start again.
The chairlift was an often social time, a chance to heckle at riders from above and discuss race tactics. If you were lucky, you would get paired up with a pro rider, sitting awkwardly for 15 minutes with superstars like Tai Lee Muxlow, Jared Graves, Claire Whiteman or Nathan Rennie. The views are insane from the best seat in the mountains, and the silence and peace could help settle the nerves if you could let it, but nobody looked forward to sitting on the chair in cold wind, rain or even sleeting snow.
The 'crazy and extreme' mountain bikers must have been a peculiar sight for the groups of families, international tourists and school kids as they caught the chairlift back down the mountain after walking Kossie, but gave everyone a 20-second window to talk as strangers glided past, never to be seen again.
You could easily spot a seasoned Thredbo rider in the lift queue; when it was their turn, they would confidently step forward as the chair approached, lift their 20kg bike and take a seat in one calm, swift motion. It was intimidating to the new or younger rider or first-timers as it was all about timing, but with an audience of on-lookers. Don't stuff it up!
Thankfully the process of catching the chairlift with your bike has improved, but we'll wait for the next episode for how life improved in that part.
But for many riders this period would bring back memories of pinning bikes flat out, boosting the water bars covered in deep slippery gravel, drifting the long right-hander and barrelling into the fast and brutally rocky singletrack. It became a challenge to find speed without adding fatigue, so during practice, rumours quickly spread about gap-lines forming, and who was jumping them.
If you wanted a good race result in Thredbo, you needed to be up to the immense physical challenge of holding onto your bike for longer than a song on the new Pennywise CD. It was tough, especially hard on the hands and arms, and pushed riders to look for new ways to cope with the pace the bikes went through. The evolution of downhill race bike was in full swing, and it was exciting to stroll the pits with all the race teams and their riders, tech support replacing broken parts and sponsors peddling their wares.
Next up we reflect on the recent years when the Cannonball Festival began to really pump, multiple tracks were built with the additions of the All-Mountain and Flow tracks diversifying the options for more riders.
See you again next week!
---
We want to hear from you!
Have you got some old pictures or crazy yarns from the old days or your first trips to Thredbo? We'd love to hear from you!
In the coming weeks, we'll be calling on you to share memories and photos from riding in Thredbo over the last 30 years on the Flow MTB Facebook page. There's going to be some sweet prizes from Thredbo MTB to give away, so stay tuned to Flow for more brake-melting gravity nostalgia.
This feature was made possible by the team at Thredbo MTB.