Faster than goannas up a tree, Canyon Australia young guns Baxter Maiwald and Kaia Ellis are two names to watch out for in the coming years.
We met up with the two young shredders at Thredbo's Cannonball MTB Festival for a bit of a chat about themselves and the Canyon Australia Downhill team, and some filming on Thredbo's fast and rocky Cannonball Downhill.
As you can see from the video, Kaia and Baxter are real talents, and we wanted to know a bit more about them!
Tell us a bit about your involvement with Canyon?
Baxter:
My involvement with Canyon started 6 months ago when I met Darryl (Darryl Moliere- Canyon Australia's Marketing Manager) at the National Downhill Championships in Bright.
Since then, I've become Canyon's first Downhill Athlete in Australia, and one of the first athletes to compete on the Canyon Sender on the World Cup Downhill circuit.
Kaia:
It all started when Dirt Art came to Bright to build the Hero trail, and my dad asked Baxter if there was a chance he could get a better price on a Canyon Sender for me, as I needed a new DH bike. Two days later the phone rings and it's Darryl from Canyon Australia asking if I would like to join the team.
It's not every day that happens to a 13-year-old, so I'm extremely grateful to Baxter and Darryl for the opportunity!
What Canyon Bikes do you currently own, and which is your favourite?
Baxter:
I currently own a Canyon Sender with a fully custom build, including all the best SRAM and RockShox bits, a Spank wheelset and Onza tires. I also have a Canyon Strive, and a Canyon Stitched 360 Dirt Jumper (quite the quiver we think, very jealous!).
My favourite would have to be the Strive, because I spend the most time riding it. For a bike that descends like a mini downhill bike, it climbs so well with the ability to adjust the geometry with the Shapeshifter.
Kaia:
So far I have a Sender CF 8.0 and I think even if I had more bikes it would still be my favourite!
If you could own any other bike in the Canyon line, what would it be?
Baxter:
If I could own any other Canyon I think I would get a road bike. A road bike is the only discipline I'm missing out of the extensive Canyon range, and would be a great training tool in the off season when there's not always easy access to good trails.
Kaia:
I'm currently working towards getting a Spectral CF 9.0 EX in black to match my Sender. My old trail bike is a bit worn out, and I need a rad trail bike to get my fitness up for racing. The Spectral will be the perfect bike for the trails around Bright.
How do you like to setup your bikes?
Baxter:
That's strictly confidential, haha! Basically, stiff suspension with relatively fast rebound, a high cockpit with a long stem and 770mm Truvative Descendent bars. I also run pretty flat brake levers, a low seat set far forward in the rails and hard tire pressures (if you're wondering why Baxter runs harder tyre pressures, just check out his pace through rock gardens in the video!).
Kaia:
It's hard to find a set up that works, as I only weigh 40 kilograms.
I like to run a very short 30mm stem to get me centered on the bike, tokens and bands in the suspension with low pressures to achieve small bump compliance but progression later in the suspension's stroke so I don't bottom it out. Dad and I had a good chat with Troy Brosnan (Canyon Factory Downhill Team Rider) at Awaba last weekend and he gave us some great tips on how to set up the Sender, so we'll see how that goes. Tyres are Maxxis' DHR II's with 22 and 27 psi in the front and rear respectively.
Tell us a bit about the team structure provided by Canyon and other sponsors?
Baxter:
In the beginning, there wasn't a 'team', as I was the sole Canyon Australia Rider. I still got a tent at races and amazing race support from the legends at Sram Australia though! Since the addition of Kaia to the team, things have gotten even better! Now I have a little pinner to bounce lines off and keep the stoke high in the pits, and now it really feels like a team.
The amazing support we get from Darryl and Canyon and Dylan at Sram is hugely appreciated, and we've recently had Fox Head come on-board to keep us looking fresh, and we also have plenty of extra support from Kaia's Dad Pete! I can't thank everyone who helps us out enough!
Kaia:
The support I get from Darryl at Canyon and Dylan at Sram is amazing. This is all very new to me but I'm beyond happy with how it's going so far. Fox Head Australia have just joined the team and will be supplying us with all our kit and helmets. Now all I need is a good tyre sponsor (hint, hint, Maxxis).
What events are you planning on competing in this year?
Baxter:
The team is planning on doing the remainder of the Australian National Downhill Series, Victorian Downhill Series and National Championships. Personally, I'm going to also be doing all 4 Crankworx World Tour stops, all the UCI World Cup Downhill Rounds minus round 1 in Lourdes and hopefully the World Championships in Cairns. Along with these events I will do select other events along the way as they fit in.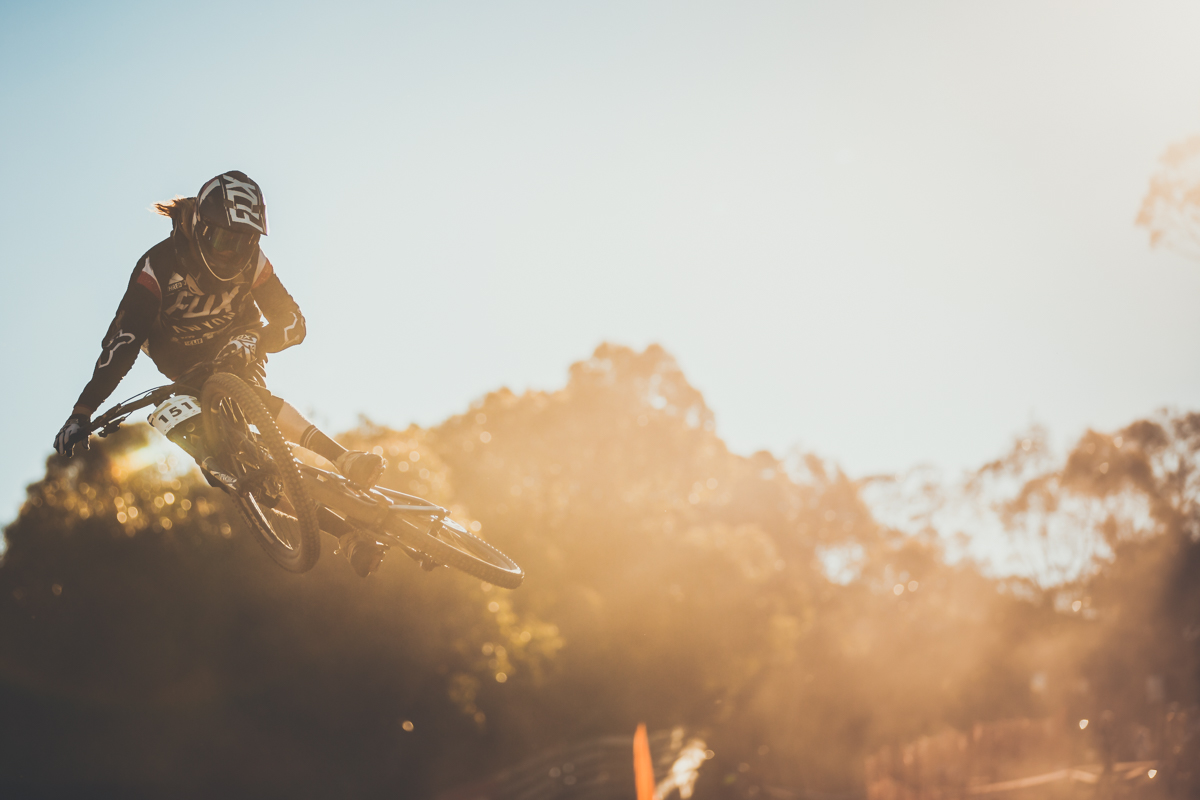 Kaia:
I am out of action at the moment with a broken collarbone and will miss a couple of races, but I plan on doing all the Victorian Downhill Series rounds and all the National Downhill Series rounds including National Championships. I also hope to get to Crankworx Rotorua this year.