Mountain biking around NSW, there is a huge variety of terrain, riding styles and trail networks. Sifting through the pile and figuring out where to go is a tough job, especially when trail gradings aren't always apples to apples between locations. So we've put together a trusty guide on some of the best mountain bike trails in New South Wales' and what you can expect. 
Before we dive in, there are A LOT of unsanctioned trails in NSW, especially around some of the major population centres. While they're not exactly secret, we also can't openly promote them here because it could add slippery roots, loose rocks and increase the gradient on the hill trail advocates in the state are trying to climb. So if there is a well known riding spot that hasn't made the list, that's probably why.
If you're planning a riding trip, make sure you check out our Destination Hub to find even more information on all these riding spots and more. 
---
Best Mountain Bike Trails in NSW
Thredbo | Lift access alpine shredding
What better place to start than Thredbo, a gravity-focused destination with a 30-year history in the New South Wales mountain bike scene. Although there aren't a huge number of trails on offer, having lift access to a bike park with 600m of vertical descent makes for some very long, fun laps — on laps, on laps.
There are close to 30km of descending trails within the bike park, all serviced by a lift and a gondola. When you reach the top, you're presented with a selection of descents, primarily blue trails and one black trail, Cannonball.
Descending 557m from the top of the resort, Cannonball is one of the country's oldest and most infamous downhill trails. The long descent is a test of endurance, and you'll find a mixture of off-camber roots, rocks, drops, and a wall ride on your way down. This is a challenging downhill trail, so be sure to bring a dual-suspension bike at a minimum for this one.
If downhill and gravity riding aren't your cup o' tea, the Thredbo Valley Track offers a 25km adventure from the resort all the way down Gaden Trout Hatchery near town, and another 9km on the Hatcher Bay trail back to Jindy. It's an approachable adventure for riders of all levels, but come prepared with enough food, water and spares. 
There is plenty of accommodation and services both at the resort, and at the bottom of the valley in Jindabyne, but you'll be paying a premium to stay slopeside.  
For a complete run down, head over to the Thredbo destination page for more information on trails, maps and gradings.
---
Awaba | A place to Monkey around
What better place to check out next than the training ground of the legendary Jack Moir. Awaba is home to a solid variety of technical rocky trails, with a chunky downhill track known as Monkey, three blue-graded gravity trails and multiple cross country loops to keep everyone happy.
If you're keen to launch right into the deep end with steep, challenging chutes and brutal rock gardens, head for Monkey. This isn't for the faint of heart with a double black rating that well earned. If you'd prefer to ease your way in, the three blue-graded gravity trails offer a tamer introduction to the terrain at Awaba.
Shuttles can be run up Mount Faulk Road, however after the extraordinarily wet year brought by La Niña, it's currently closed to the public above the entrance to Faulk Line due to a significant landslip, and will be for some time.
For the more cross-country inclined, there's 12km of well-established singletrack to check out. These trails won't disappoint and have a long history in the NSW mountain bike scene, having played host to a Smörgåsbord events since the early 2000s, including the Port to Port. Be sure to pack all your essential supplies and refreshments, as there's not much at the trailhead besides a toilet at the Jenkins Road Carpark.
Keen to give Awaba a go? Check out the Awaba destination page here for more information.
---
Manly Dam | Family-friendly riding on the Northern Beaches
If you're just getting into mountain biking and looking for a beginner-friendly spot to familiarise yourself with the sport, there are few better places than Manly Dam. For many Sydney-siders, it's a relatively short drive and offers one of the few sanctioned riding spots in Sydney.
The official loop is just short of 10km and features of mix of green and blue terrain, with a couple of bigger sandstone rock features for the brave. A little ways off the main loop towards Bantry Bay, there are the black-rated Serrata and Gahnia trails. These descents are rough rocky, and technical. There are also quite a few well-known offshoots around Manly Dam and into Bantry Bay, that are well-trafficked and anything but secret. But these aren't sanctioned trails, and so that's all we'll say about them here.
There are multiple parking spots around the perimeter of the area, with the option of parking at the Seaforth Bowling Club and jumping on Trig Track to access the trails. Alternatively, you can park at the Austrian Club if you're keen to jump straight into the more technical trails.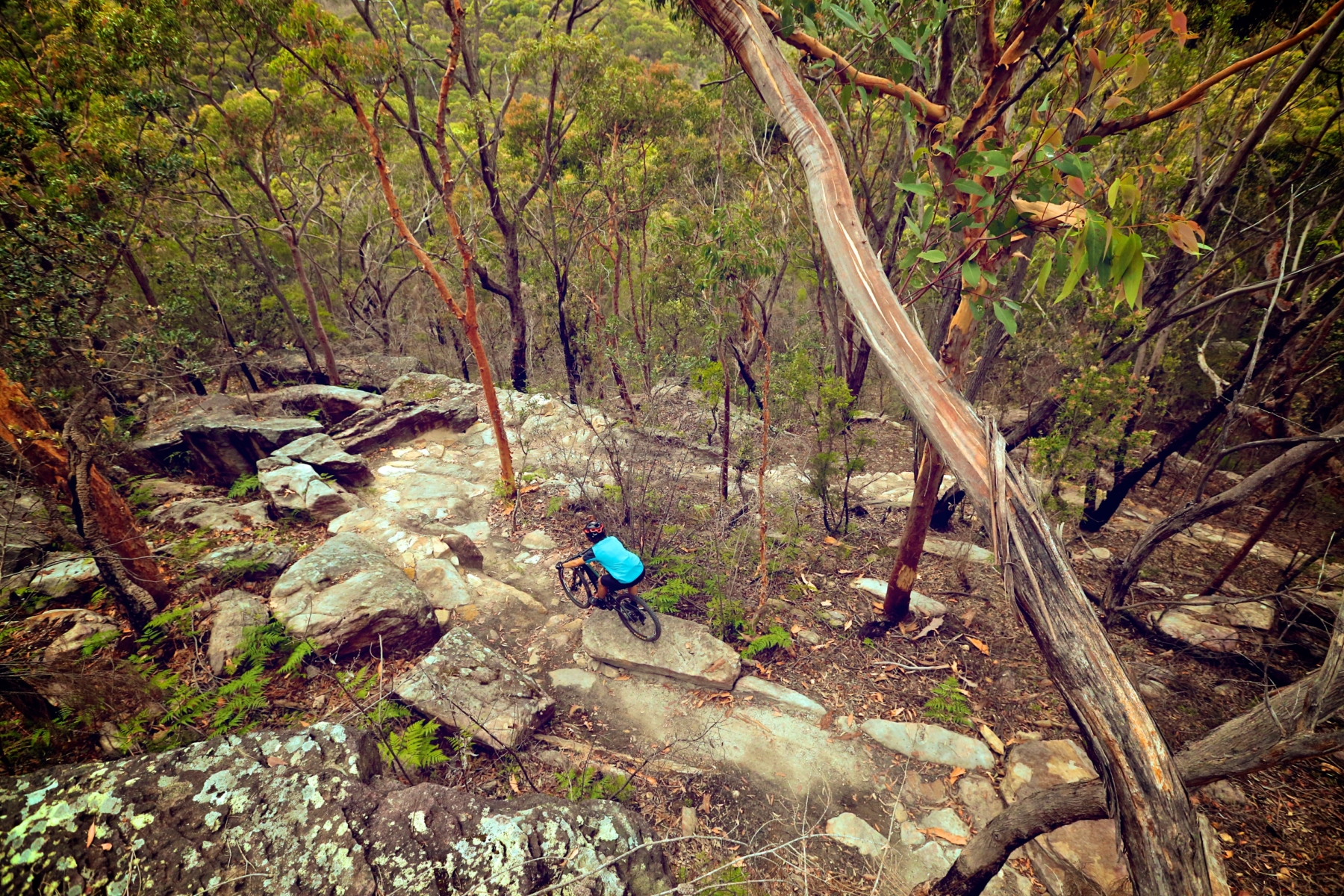 ---
Old Man's Valley | Quarry riding in Sydney's North
Onto another great local Sydney spot, Old Man's Valley in Hornsby. Located in an old quarry, there are trails across a range of difficulties, and it's a great place to build riding skills and confidence. There are also multiple dirt jump lines mid-way down the valley if you fancy honing your airborne prowess.
Unlike a lot of other Sydney riding spots, Old Man's Valley has a great selection of flowy, fun singletrack, without the rocks that can often be intimidating for beginners. As you progress further down the valley, you're greeted with fast-rolling clay linking up flowing berms.
If the selection of blue and green trails leaves you wanting something a bit more challenging, Hornsby does have a limited selection of black trails. These only make up around 500m of singletrack that loops above the parking area, offering more challenging features rock crawling through massive boulders.
Old Man's Valley isn't too far from the local shops if you need any food or supplies, and parking is located on Quarry Road. If you're local to the area and looking to get into mountain biking, we'd strongly recommend checking out Old Man's Valley.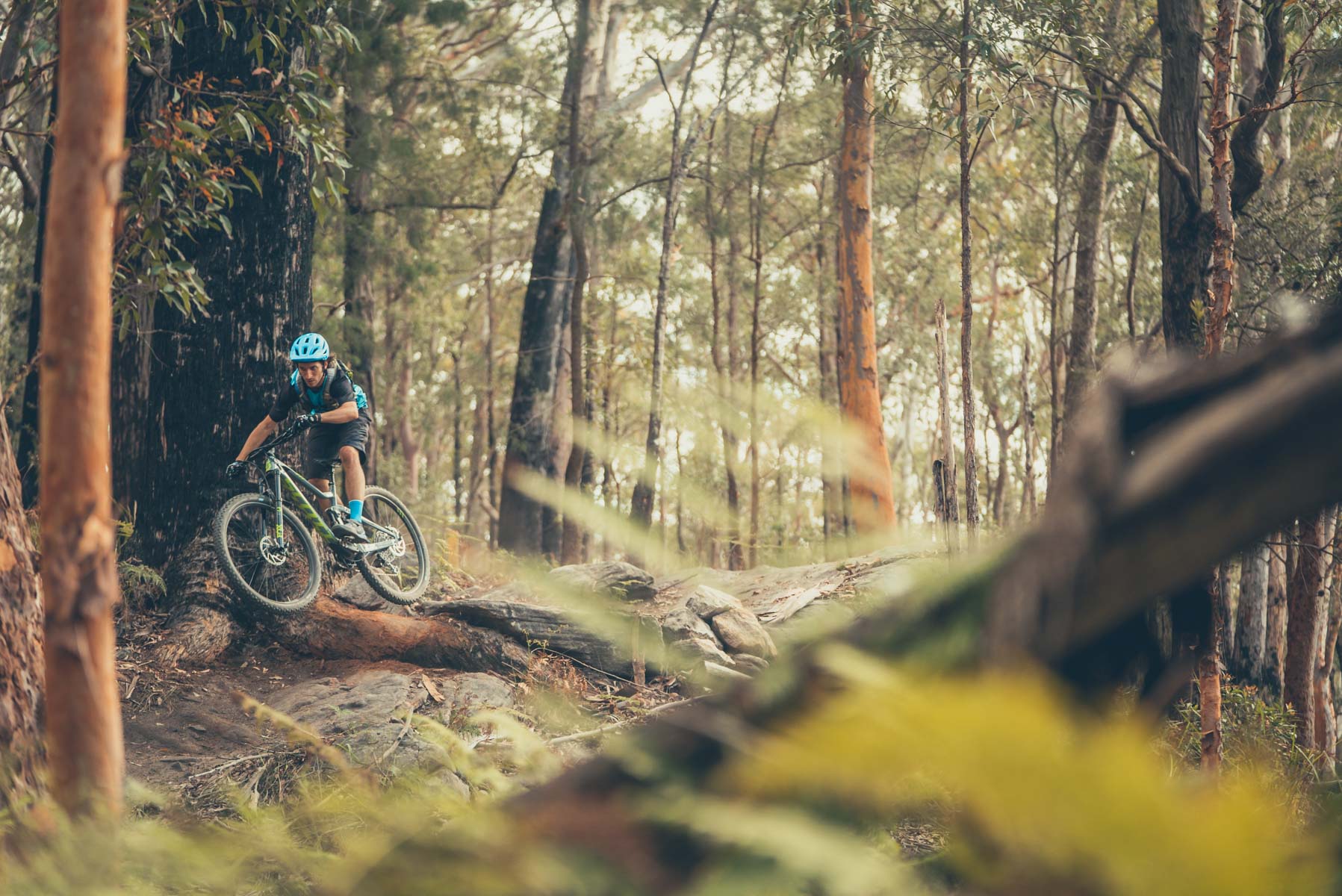 ---
Glenrock | Coastal trails a stone's throw from Newcastle
Now we're headed North to the sunny seaside city of Newcastle, home to the Glenrock trails found only a stone's throw from the CBD. Glenrock provides lush greenery and caters to a wide range of skill sets. The trails are predominantly cross-country focused, and with its proximity to the city, Glenrock is a very popular destination for many families. 
With just over 100m of vertical descent, don't expect anything too technical or challenging. There's around 30km of singletrack on offer that capitalises on the contours, using fast-flowing turns and less technical climbs to maximise the fun.
Based in a coastal rainforest, Glenrock's trails and their surroundings make for a beautiful spectacle. We're big fans of Glenrock for its views and its family-friendly nature.
For a complete rundown on mountain biking at Glenrock, head over to our Destination Hub.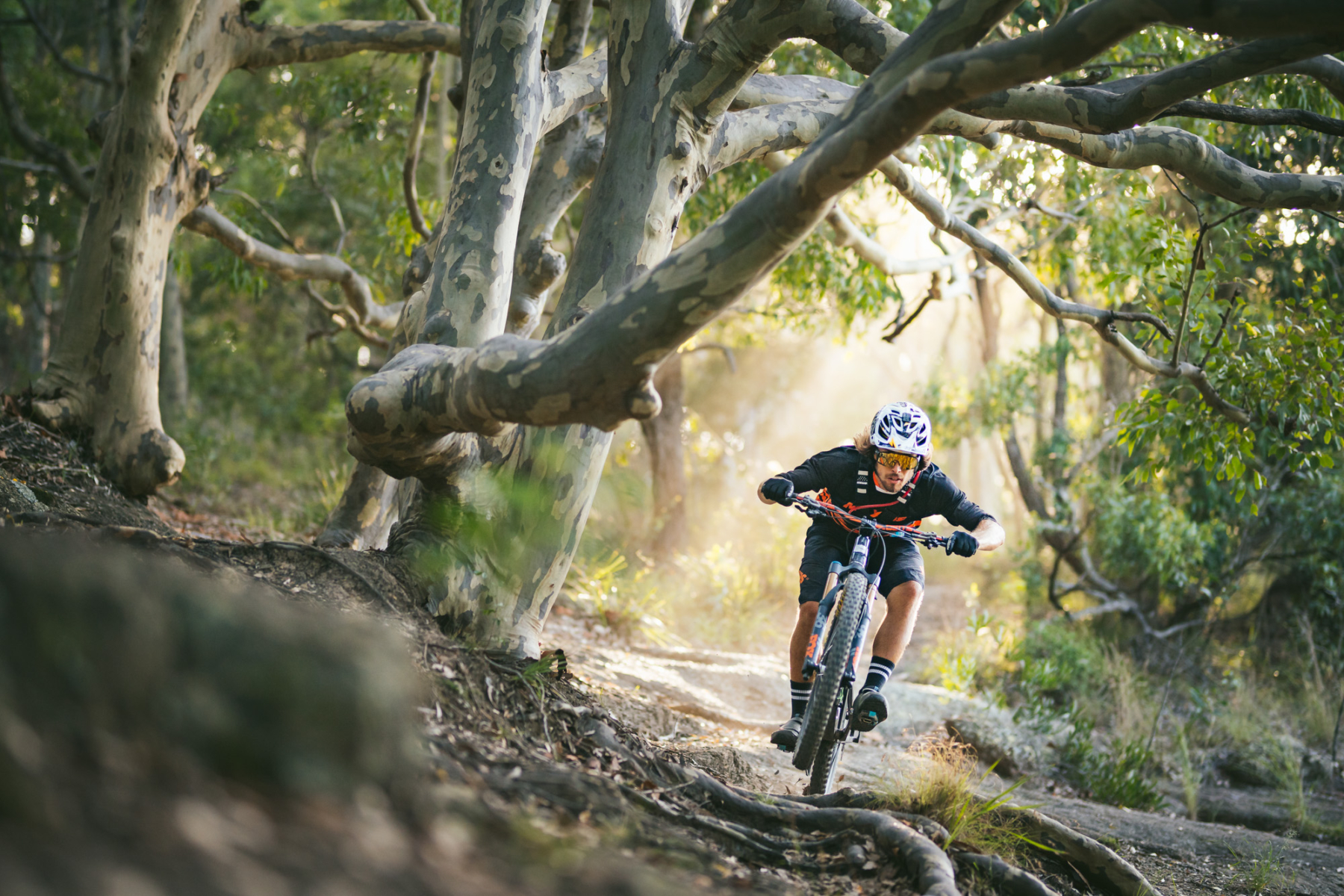 ---
Woolgoolga | Small but mighty on the North Coast
A bit further north, situated in Wedding Bells State Forest, the small coastal town of Woolgoogla has a gravity network that's making waves. While the total singletrack just pipes into the double digits, folks are driving in from as far as Armidale to ride here every weekend. They're even hosting a Fox Superflow this year, and a new mountain bike festival in September.
Spawned from wild trails built by local riders, tireless work from the club, and support from the local community saw the network sanctioned, and grants won to fund new trails.
Using an arterial climbing trail, there are descents ranging from green to black, and the network sees big berms, gaps and even a few wooden features.
Located about 20km from Coffs Harbour, there is an airport right there. Woolgoolga is an idyllic little beach town, so bring the bikes, the boards and the beach umbrella.
---
Narooma | Crocodile Dundee's favourite trails
Alright, pack your bags we're going South, to Narooma! Almost 350km south of Sydney, Narooma is definitely better suited to a long weekend adventure if you're coming from the big smoke. Beyond the trails, Narooma is a popular holiday destination with beautiful beaches and plenty of activities outside of riding for you and your crew.
With the town situated between the ocean and mountains, there's plenty of time in the day to squeeze in a ride followed by a surf. The trails themselves are west of the highway off of Kianga Forrest Road located north of Narooma. From there, you'll follow signs towards the "Rainforest Walk". The parking for the mountain bike trails is located about 100m past the parking for the Rainforest Walk.
The selection hits beginner to intermediate cross-country trails, taking in the beautiful bushland and scenery. There's plenty of options for all skill levels, although it's worth noting there's no water or toilet at the trailhead, so come prepared.
The network has just undergone a massive expansion with 65km of new trails on the agenda, thanks to the hard work of the Narooma MTB Club and Dirt Art, more than doubling the total singletrack.
---
Tathra | Sensational seaside singletrack secret
While we're down south you'd better believe we're going to be making a stop at Tathra. About a 6-hour drive from Sydney, the small beachside town of Tathra is home to some very special trails.
There's around 50km of singletrack currently on offer between Bundadung and Fire Shed trails, built by a small committed group of locals over the past 20 years. There are two parking spots to access the trails from, one of these (labelled the Poo Ponds Mountain Bike Trailhead on Google Maps) is just off Tathra Bermagui road. The other parking spot is near the corner of Bega Street and Killarney Road on the south side of town.
When you reach the trails, you'll have predominantly green and blues to choose from, with a handful of black and double-black runs if you're on the lookout for something more challenging. There are around 120m of vertical to be climbed or descended, with the local trail builders making the most of the vertical meters using the contours of the valleys. If you're planning a trip to Tathra, a little bit raw and rough is what it's all about, don't expect perfectly groomed machine-built flow trails.
It's hard to go wrong with 50km of trails and beautiful beaches within riding distance, Tathra is definitely a spot worth checking out.
---
Mogo | More than just a dam loop
Keeping to the South Coast, Mogo has long had an existing network of trails around Deep Creek Dam and played host to a number of 12-hour races. Mostly blue-rated loops there are a little over ~30km of existing trails.
The network is only a stones throw from Batemans Bay and a 3km pedal from Surf Beach, it's a destination to bring your bike, and beach regalia. Mogo itself is a quirky little village, and you'd be silly not to load up on 'ride food' at the Lots of Lollies sweets shop, and there's even a wildlife park where you can feed big cats, meet a rhinos or play with meerkats.
But set against what is already a tourist hotspot, the small network at Deep Creek Dam is only the start. The existing network is getting a nip and tuck and Rocky Trail Destination and Next Level MTB are building an additional ~120km of trail, including a 16km wilderness ride from the summit of Mount Wandera. You can read more about what's planned here.
---
Bare Creek Bike Park | Sydney's second airport
Jumps, jumps and more jumps. That's what you'll find at Bare Creek Bike Park, formerly a rubbish tip that has undergone a massive transformation. The makeover took place during 2020 and has resulted in a mountain biker's paradise of jumps, skills areas, a bitumen pump track and more.
Bare Creek Bike Park is located in Belrose, in Sydney's Northern Beaches. When you pull into the carpark, you'll often find it packed with a wide variety of riders, generally all buzzing with excitement. 
The Bare Creek trails have been a breeding ground for young talented riders to advance their jump skills, so don't be surprised to see young kids putting a lot of the adult riders to shame. That being said, there's no pressure to push yourself at the jumps and it's great to see such a supportive environment being formed among all the riders.
Everything is designed with progression in mind and laid out so that you won't need to hammer on the pedals to clear the pro line jumps or grab a handful of brakes in the transition.
Due to the nature of maintaining dirt jumps, the volunteer build crew has created an Instagram account to keep you informed on what jumps are open throughout the year. You can check that out here.
---
So, where to first?
That's always the tough question, hopefully, we've been able to provide some insight into what you'll expect at a few of the popular trail locations around New South Wales. If you're looking for more information to plan your next riding adventure, check out the Destination Hub.