Hans Rey is a rider who needs very little introduction. If you're one of the three people reading this who aren't familiar with the name though, perhaps ask one of the wiser mountain bikers amongst your riding crew, and get prepared for a proper history lesson! From bungy-jumping with his mountain bike, to riding across the highlands of Guatemala and along the Inca Trail in Machu Pichu, to bunny-hopping across cars on a busy Los Angeles freeway, staring in the cheesy American TV show Pacific Blue, and working alongside Mr Jiggs as part of the classic Monkey See Monkey Do video series, there is not a lot the German-born Californian hasn't attempted on his mountain bike.
The ex-trials World Champion has been a mainstay of the mountain bike scene for, well, forever! Hans has perhaps one of the longest running sponsorships of any sport, having been sponsored by GT Bicycles for over 30 years. In this day and age, where professional athletes bounce from bike company to bike company, that's an impressive amount of commitment, and speaks volumes of Hans' professionalism and dedication to the sport.
Having travelled all over the globe for both competition and to film his extreme riding videos, Hans' first trip to Australia was way back in 1992, when he was invited to come out to Thredbo for the National Trails Championships. It was a while between drinks for Hans, who returned some 24 years later for a trip with GT Bicycles in 2016 to check out the opening of the Epic trail at Mt Buller, as well as the official opening of the Derby trail network in Tasmania.
Having gotten a taste for the incredible riding on offer in the rugged Tasmanian wilderness, Hans recently returned to Australia alongside his partner Carmen Rey. If you haven't checked out the features yet, be sure to have a look at our story on Hans Rey riding the new Bay of Fires trail, as well as his return to Derby. For someone who's been to some of the world's best riding spots, Hans might have just found his favourite!
For his trip Down Under, Hans brought along two unique mountain bikes built especially for travelling duties. Flow's gun photo/video man, Dominic Hook, took some cracking shots of Hans' new GT Force and e-Force, and we caught up with Hans to get a little insight into his bike setup.
The first bike is Hans Rey's GT Force – a relatively new model that was launched alongside the latest Sensor trail bike, both of which feature the return of the iconic LTS suspension platform. The Force is the bigger rig of the two – it's a 150mm travel 27.5in enduro bike, which Hans has setup with a 170mm travel Fox 36 fork on the front. There's a Shimano XTR 1×12 drivetrain, 4-piston brakes, a Stan's NoTubes Flow MK3 wheelset, and 2.6in wide Vittoria tyres, making this a very robust, go-anywhere mountain bike for tackling technical trails all over the globe. Total bike weight? 14kg on the nose.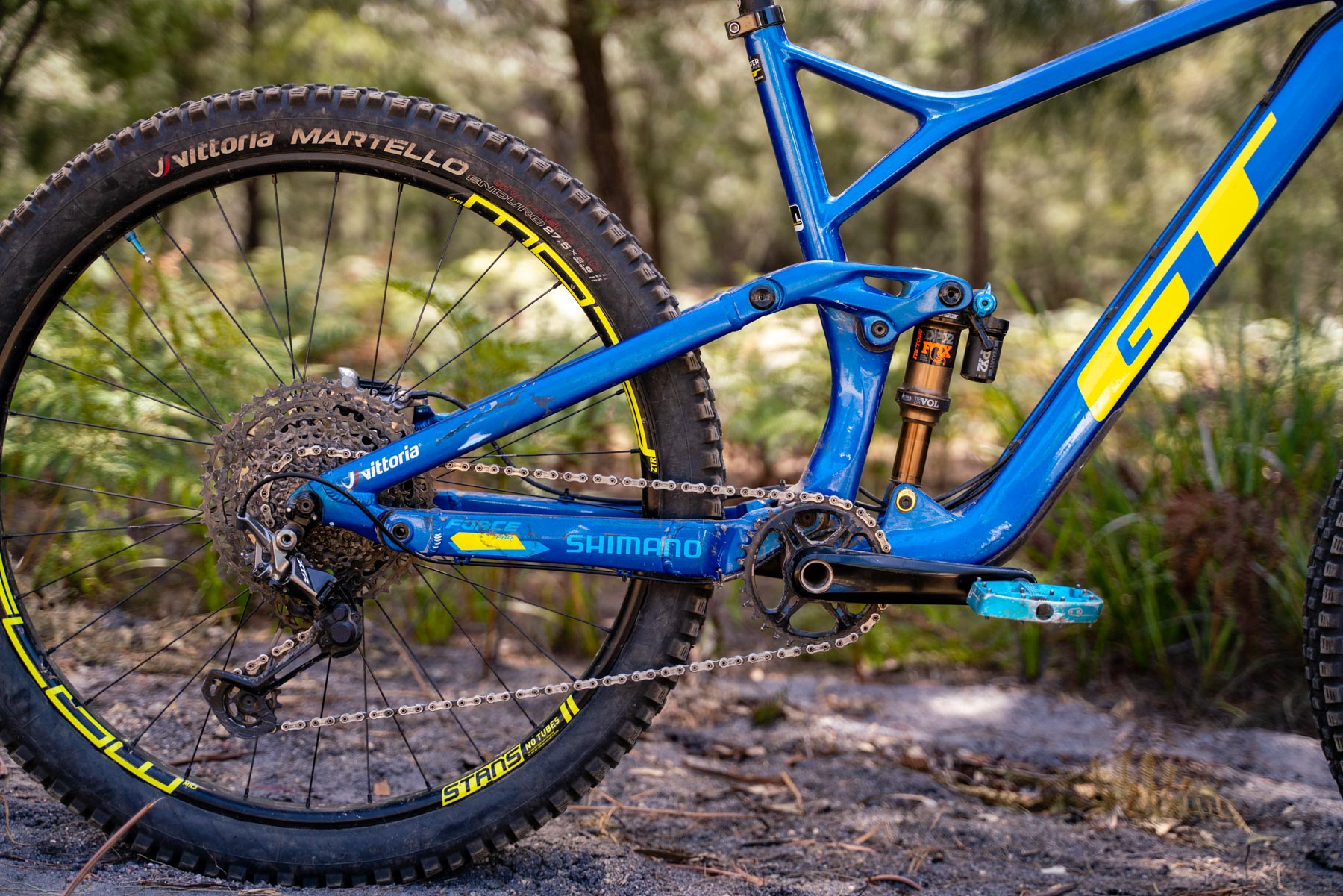 Hans was an early adopter of GT's first e-MTB. Called the eVerb, it was a 27.5+ full suspension bike with 130/120mm of suspension travel. GT has since released a bigger and more aggressive model called the GT-e Force, which not only features a much sleeker frame with an integrated battery pack, also moves to 29in wheels and ups the travel to 150/150mm.
Hans' GT-e Force features Fox Factory Series suspension front and rear, with a Float DPX2 shock and a slightly longer 160mm travel 36 fork. The parts are similar to his regular Force bike, with Crank Brothers pedals and Highline dropper post, an SQlab cockpit, Stan's NoTubes wheels and Vittoria tyres. Hans clearly digs the big rubber, as he's got 2.6in wide Martello tyres here too, though he tells us that he can run the pressures a lot lower (as low as 10-15psi) with the help of Vittoria's Air-Liner tubeless inserts. Despite the robust parts spec, weight isn't too bad at 23.1kg for the complete bike.
Yes, that is a flat pedal on the drive side, and a clip pedal on the non-drive side. Hans calls it the 'HalfWayRey' setup, and it's not exactly common.
"This is a set up I've I actually been riding on my regular bike as well as e-Bike", Hans explains. "It's the best of both worlds. I run the clip pedal on my leading foot and I ride flat pedals (with a flat pedal shoe) on my rear foot. In the past few years I have been riding flat pedals only, even for XC rides. But with e-Bikes I noticed that one can climb better and steeper when clipped in. So I tried the HalfWayRey setup and I really like it. I think it's the best of both worlds if you like to ride technical and steep terrain. But I think it is also a great way to learn how to ride clipless".
So there you go!
---
Mo' Flow Please!
Enjoyed that article? Then there's plenty more to check out on Flow Mountain Bike, including all our latest news stories and product reviews. And if you haven't already, make sure you subscribe to our YouTube channel, and sign up to our Facebook page and Instagram feed so you can keep up to date with all things Flow!