We were lucky to spend a good chunk of time with Josh this summer, on and off the bike, and those who have met him will agree – he's a damn good guy, a gentleman, patient and generous, motivated to the cause as an athlete and incredibly fast on his bike. His frothing energy is also very infectious; it's always a good time when he's around. And yeah, he's a pretty big deal nowadays.
Chatting about racing, life, future and family, we learn that 2016 was a good year for the soon to be a father of two from Wollongong. The racing season went well, snagging a third place in EWS Whistler, and finishing up a highly credible 10th overall. He ended the year on a high with a third place in the final stage of 2016 in Italy, sharpening his focus on the 2017 season and beyond. With a solid amount of experience behind him now and brimming with confidence, we'll surely be seeing him step on the highly coveted EWS podium more. And with a new three-year contract with Giant Factory Off-Road Racing Team and plans to move back home to Wollongong in 2017, it is all happening!
Josh had his 2016 Enduro World Series season bike with him, only ridden a handful of times since the final round of the season in Finale Ligure, Italy. It's a pretty cool rig, with loads of unique custom modifications that Josh and his mechanic Colin Bailey work on together. The bike remained the same spec all year; the only change was the fork travel. Swapping between 160, 170 and 180mm of travel depending on the course.
Josh speaks very highly of his mechanic, Colin Bailey, "He puts my head back on when it falls off".
"He's a guru mechanic and comes from a racing background in the 90's, the heydey of names like Palmer, Voreis and Peat. He's placed top 10 in World Cup downhills, and well-known for playing a role in designing the incredibly successful Maxxis Minion DH tyre.
"Colin's a real quiet and very observant guy, you think you've got it all under control, but he'll say one thing and bring tremendous perspective to the moment. He'd write little notes on my bars, like 'breathe and believe' 'have a crack, you've got this', 'do it for Eli'"
"He pays so much attention; it's a relationship that I really enjoy. I hope he does too, but either way stuff it, he's stuck with me for now, haha…"
---
Giant Reign Advanced
Frame: Giant Reign Advanced, size XL. Since the Whistler round of the 2015 EWS Josh would size up to the XL for longer reach, the length also helps shift weight off the rear wheel. Josh is 185cm tall (6'1″) and 82kg.
"The XL certainly needs muscling around on really tight trails, but refining that technique and being a stronger rider is best for me, there is way more advantages in going longer in the racing we do."
Josh is 185cm tall (6'1″) and 82kg.
Cockpit: Truvativ 50mm stem, 765mm wide aluminium Truvativ Boobar handlebar with 7 degrees back sweep and 30mm rise. Josh has been working on ways to get the front end a lot higher, hence 30mm rise.
Fork: RockShox Lyrik with a custom 46mm offset. Six clicks of rebound from open, 1-5 clicks of low-speed compression, 74 psi at 180mm travel, 80 psi at 160mm, two tokens in all three forks.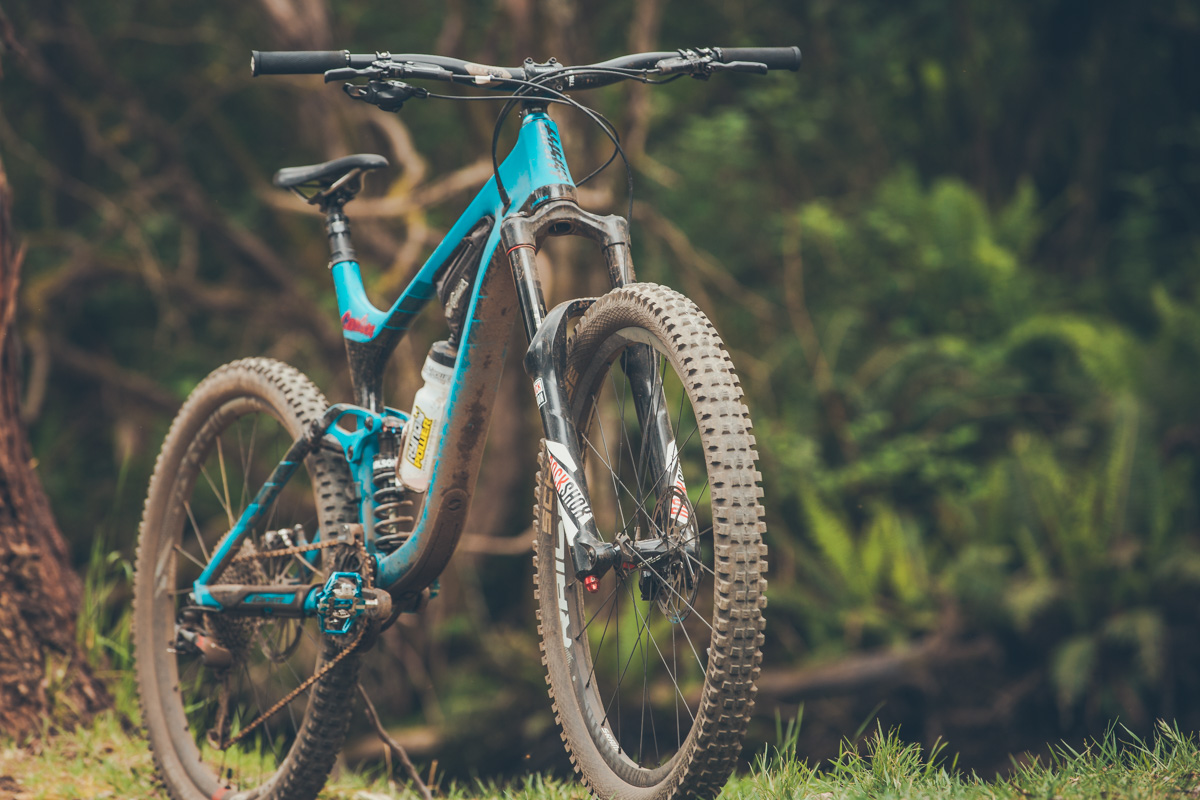 160mm – Ireland.
180mm – La Thuille, Whistler.
170mm – Chile, Argentina, Aspen, Valberg, Finale Ligure.
Rear shock: RockShox Vivid R2C, with a 450lbs coil spring. 1-3 clicks of compression, the bump stop enables a shorter and lighter coil spring (and another spot for a name sticker, of course. #pro). Josh didn't run an air shock all year.
Brakes: SRAM Guide RSC with 180mm rotors. Adjusted so the levers pull a long way to the bars, they're not particularly grabby and set up in a way that you couldn't really do an endo without shifting body weight forward. A setup choice from riding on the North Shore, where the slippery wet roots and rocks wreak havoc on your bike control, especially with a jerking and grabbing action on the powerful brakes. Josh tends to drag his brakes when traction is paramount, to promote a wheel that's not locking up, but constantly rolling.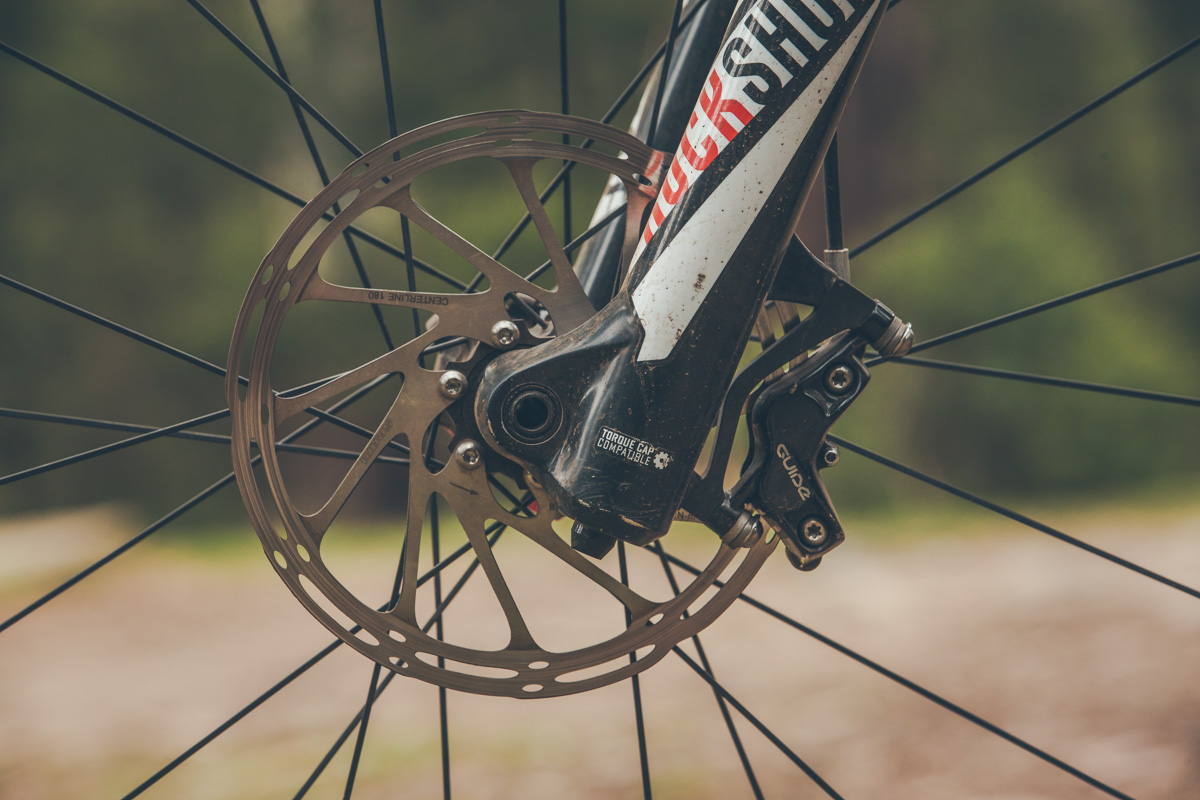 The Frother Bag: This is about as custom as it gets, handmade by Colin Bailey's dad (Josh's mechanic) this is the second prototype built solely and specifically for Josh. Velcro secures the heat moulded frame in the frame's triangle, and the water-resistant material is tough and resilient. The two-way zip is easily used to access the contents.
Inside the Frother Bag is an inner tube, tyre plug, tape, multi-tool, tyre levers, spoke key, spare inner tube valve, valve core remover, and brake pads. Josh carries a handpump and will only and rarely rely on a Co2 unless it's the final stage of a race.
Wheels and tyres: Josh uses SRAM Rail aluminium wheels and Schwalbe tyres. Up front is a Schwalbe Magic Mary with the Vert Star Super Gravity casing, and on the rear is a new Nobby Nic (a prototype 2.35″ with Super Gravity casing). The Magic Mary is an excellent front tyre, but too puncture-prone with such an open tread layout on the sharp rocky trails for a rear tyre too.
"No carbon wheels for me, for security sake, they need to last all weekend. I've got carbon wheels on my road bike because Colin doesn't know. He'd take them from me if he found out."
Drivetrain: SRAM Eagle with a 38 tooth ring (ouch!). "SRAM Eagle came to us from the La Thuille EWS round onwards. It's lovely, just the best piece of equipment, it has a huge range of gears, super-smooth shifting and I've never knocked it on anything while riding."
Cranks are 170mm in length, shorter than usual for better ground clearance.
"I used the highest gear in Whistler and Aspen rounds of the EWS, that's a 38/10"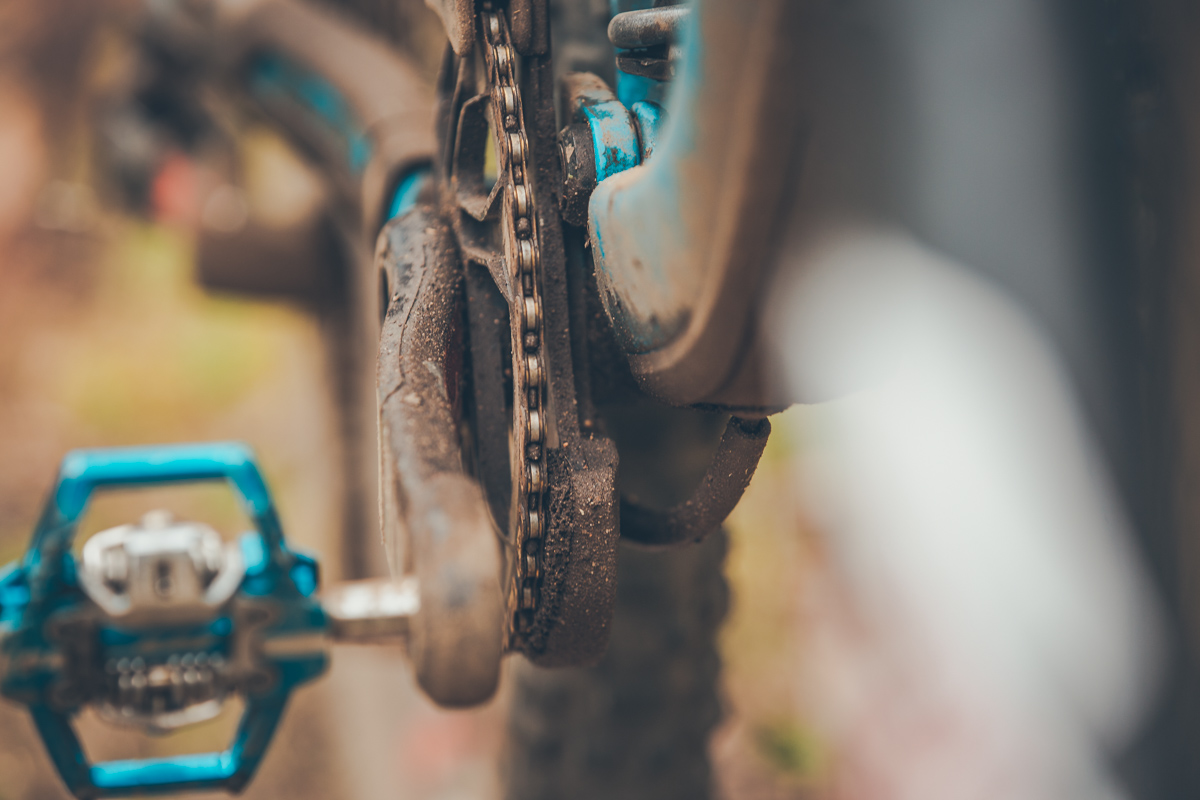 ---
Watch this exact bike in action in our recent video with Josh on the amazing trails of Mt Buller, he's pinned!