If we had to pick someone to head to a mountain biking mecca with, and that place just happened to be a tiny island in the Atlantic Ocean, riders like Fabien Barel and Joe Barnes would be at the top of our list.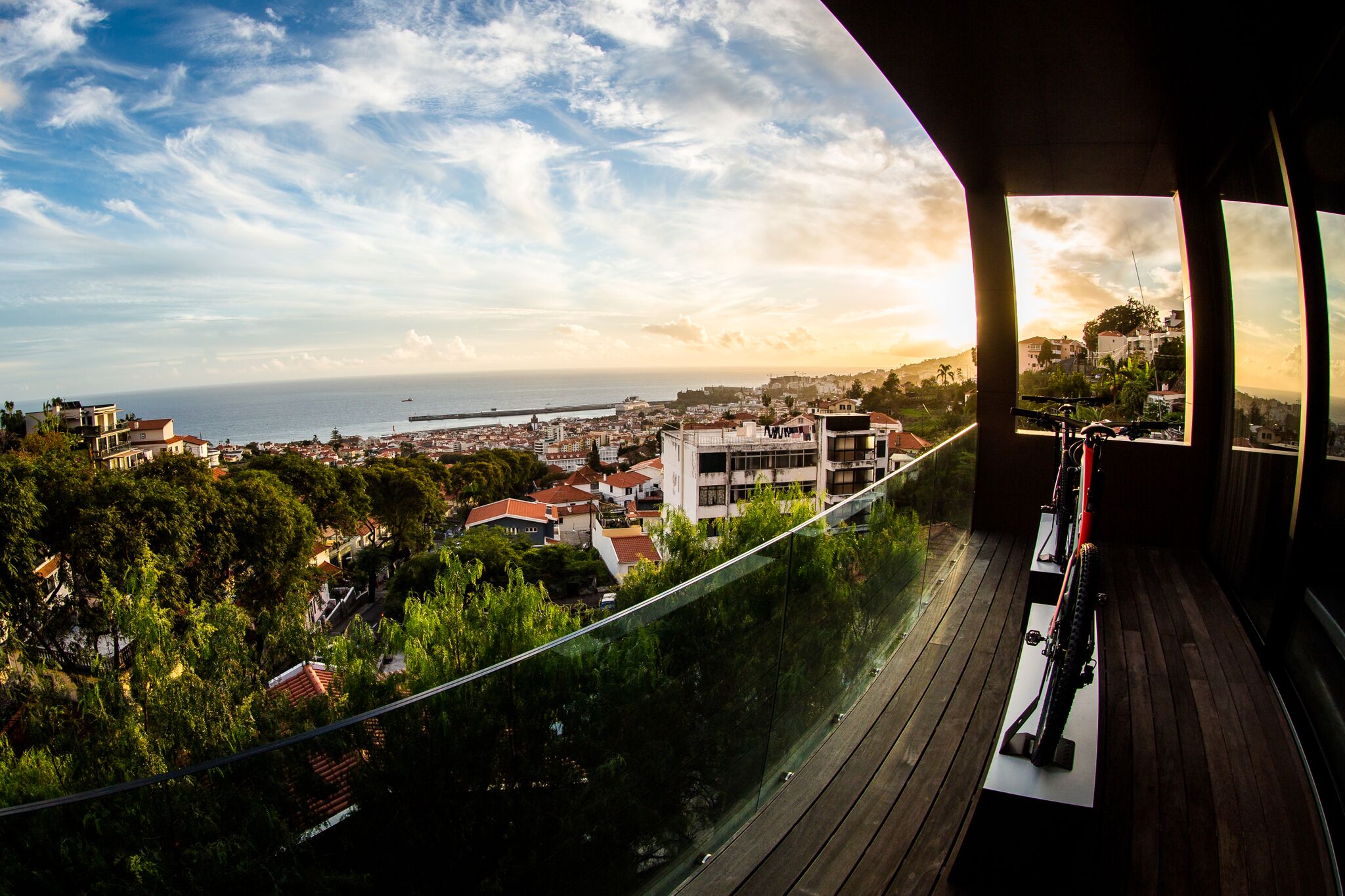 Well, luckily for us this obscure hypothetical was our reality when we attended the launch of the new Canyon Spectral and Torque models in Madeira, Portugal.
Before Joe headed back home for some blood lactate testing (EWS racing is serious business!) and Fabien went on his way to continue his never-ending product development schedule, we sat down with them to have a yarn about the new bikes and much more.
---
Fabien Barel:
F (Flow) – G'day Fabien! With your role at Canyon, you're pretty important to the development of new bikes. Tell us a bit about your involvement with the new Torque and Spectral?
FB (Fabien Barel) – I've been with Canyon for six years now, and a huge part of our collaboration is the development of the new bikes, where I bring the racing background and the 'feeling' of the bikes. Canyon provides the technical know-how and plenty of technological resources.
Where I'm based I can also ride all year around, so I'm able to spend many hours on the bike to test the reliability and the actual ride feel as we develop the prototypes.
F – How long has the development cycle been for the Spectral and Torque since the first prototype?
FB – The Spectral and Torque projects have been going for a year and a half now.
F – Tell us a bit about the 'family' concept with regards to the Spectral, Torque and Sender?
FB –
When we developed the Sender, what we realised was that the three-stage suspension platform gave us what we were after not only for downhill riding, but it was also a platform that could work effectively for trail riding.
Some riders want progressivity throughout the entirety of their travel these days, but they don't realise if this is the case they may be fighting the bike more than the terrain at times.
The stable mid stroke of our suspension really allows you to get the correct steering feedback when riding a corner, or pumping the bike through a compression, and the progressivity is saved solely for what I call 'saver mode', or when you really need it (laughs).
F – This week we've seen the Torque make a comeback – and it's a beast of a bike. Tell us in your mind who the ideal rider for this bike is?
FB – Whilst the Torque and the Spectral share the same kinematics, they're part of the same 'family', we wanted to develop a big bike that we could do everything with.
For our testing, we used all of our professional riders, from freeriders like Thomas Genon, enduro racers like Joe (Barnes) who took the bike on long climbs to ensure it could pedal, and downhillers like Troy (Brosnan) who really pushed the bike to the limits.
What we achieved from this was essentially an ultra-capable bike for the rider who is truly focussed on the descents.
F – So there really was a lot of involvement from Canyon's professional riders when developing the Torque, how much of their feedback do you rely on when altering and advancing prototypes towards production?
FB – Being in a team like ours is like being in a family. We need to be able to take on board everything that our pro riders say and then consider how this helps us make not only the fastest bikes for racing, but also dynamic bikes for the average consumer, bikes that are fun and playful. Their feedback is invaluable, but it is only one part of the puzzle.
F – Do you personally spend much time on the more budget friendly bikes that the average consumer is more likely to purchase?
FB – To be honest no. Typically the only difference is the componentry, as when we release a carbon bike, we usually develop an aluminium model, and also models that mix the two materials.
I will always ride the aluminium prototype to find the right amount of rigidity, and ensure the performance of the aluminium is as close to the carbon as possible.
F – Do you think many riders could actually discern the different properties of an aluminium frame versus a carbon one?
FB – There is a difference in terms of performance, for sure. In terms of weight, in terms of rigidity you're able to optimise the general chassis better with carbon than you are with aluminium.
I'll be honest though, ninety to ninety five percent of people wouldn't be able to pick up the difference, unless they really, really push the bike to the limits.
F – Moving onto next year, what's coming up for yourself and Canyon?
FB – Next year will be exciting! This is a time for the brand where we are continuing to develop this new family of bikes that the Spectral and Torque are a part of, and we have exciting things planned for next year and beyond.
F – Some Torque models feature your new 'G5' cockpit componentry, do you see not only Canyon, but also other brands internalising componentry development and specifications in the future?
FB – In the last five to seven years we've seen many brands try this, developing their own wheels, bars and stems mainly for cost purposes, but for us there is an interest to work on these components for other reasons.
Security is one of these reasons, for example if you get a cockpit from a third party you don't have complete control over the product, but by working closely with brands, and now developing our own components, we have more control.
More control gives us more possibilities to spec the bike as we want, and look into other exciting areas such as integration in the future.
F – Canyon's mountain biking sector seems to be expanding at a rapid rate, with new bikes, professional racing teams and the company expanding into new markets, how is the mountain bike side of the brand tracking?
FB – I have to say firstly that I work with a great bunch of people. As much as Canyon is very much a brand that employs high level German efficiency and engineering, we're also a very human brand.
The real relationships are what I feel drives our success, and today I don't want to talk about numbers, but mountain biking is a big, big part of Canyon as a brand, and our investment into the mountain biking sector, be it marketing, engineering or servicing to the customer is growing every year.
F – Lastly Fabien, you're a big fan of Australian reds (wine), but if you had to choose between an Australian red and a Madeiran Poncha, what would it be?
FB – Ha! The Australian red, not a doubt, not a doubt!
F – Cheers Fabien!
---
Joe Barnes:
F – G'day Joe! You've been working closely with Canyon to develop the new Spectral, tell us a bit about your involvement?
JB – I was always a huge fan of the old Spectral, as it really suited the riding I have back home, so when it came to the next step I actually worked last year with Canyon to develop a new linkage to achieve the feel the new bike has, which was not so much creating a supportive mid stroke as we already had that, but having a more sensitive initial stroke whilst retaining the mid-stroke support that makes the bike so playful.
It was pretty cool that I had the old chassis with the custom linkage that gave me a fairly similar leverage curve as the new bike, but it had nowhere near the same anti-squat and anti-rise, which are real features of the new bike.
F – Why is it that you prefer the Spectral for your home trails and surrounds?
JB – I find the Spectral to be a very poppy bike, and where I'm from a lighter, more agile bike suits the trails better for sure, as well as the fact that I'm pedalling everywhere with no uplifts.
F – Will you be riding the Spectral on the EWS circuit next year?
JB – I'm in the lucky position where I can keep my options open when it comes to EWS racing with a few bikes to select from, so it'll depend on the race really.
At the Scottish Enduro Series though, which is my secondary focus after the EWS I'll race the Spectral, it's very suited to the regional style of enduro racing that's typically raced on less demanding tracks than the EWS.
F – We know that you're a bit of a of wizard when it comes to bike setup, be it contact points, brakes, suspension, you name it really – what do you see as the key elements of setting up a bike?
JB – I guess it's a personal thing, but I do like to play around with the bike and just make sure I'm on top of everything. I always check my sag, just in case the temperature has changed, my bar height is also really important.
I do a fair bit of work with my mechanic Craig also, particularly on the suspension, which is pretty useful feedback for Canyon when developing the bikes.
I don't like my brakes to bitey, or high performance, I actually like them a bit consistently mushy (laughs).
F – With the new linkage providing a more progressive feel at the end of the travel, should riders expect to be running less volume spacers?
JB – I'd expect so. I went down from two spacers to one spacer on the new bike, but I'd almost say the supportive mid stroke is more important in being able to do this, as it takes quite a strong force to reach the point where you're bottoming the suspension out.
F – Is the supportive mid stroke the key element that you think creates the 'playful feel' you've used to describe the new bike?
JB – For sure. There's no wallow in the bike at all, you can feel the ground beneath you and you're able to react to it, and I really like this as it allows you to make quick decisions out on the trail.
F – People often bump up the fork travel on bikes in this travel bracket, have you experimented with longer forks on the new Spectral?
JB – Yeah, I put a 160mm fork on when I first built the bike up as it was lying around the shed, and that felt pretty spot on. I certainly wouldn't go more than 160, the bike's angles would be effected too much then.
F – Onto a slightly different track, tell us a bit about the Dudes of Hazzard?
JB – Yeah (laughs), it's just a video blog we started eight years or so ago.
It's essentially a video blog highlighting what me and my friends get up to with a pretty low production value.
F – You seem to go on some pretty amazing trips, what's been the best trip you've been on?
JB – There's been a few, but this one trip we went on we ended up in Sweden and Norway, proper winging it, it was good fun!
There was three of us in the van and the van was pretty beat up, but we decided with no planning to head to Sweden and Norway after finishing a World Cup at Val Di Sole. The drive took a solid four days and the van sounded like it was going to break any minute, but it turned out to be pretty incredible.
F – So have you got any hot tips for people wanting to load up a van and head on an adventure?
JB – I did a really good job kitting out my van, I made myself a comfy armchair, a folding bed and heaps of nooks and crannies to put things in.
I'm not a joiner, not at all, but it's only screwing bits of wood onto other bits of wood, right?
It turned out to be pretty luxury for an old Transit van really, with some nice lights for ambience.
F – Did you have a shower, or was washing optional?
JB – Nah, that was part of the fun really, the old where can you get your wash every day (laughs). Normally it was an ice-cold river in the alps, the bike wash shower is a classic also. Don't know how that would go in Australia, you might get bitten by a Crocodile or something?
F – Have you got any plans to come to Australia in the future?
JB – Yeah for sure! I've not been to mainland Australia but I went to Tasmania this year for the EWS and loved every minute of it, so I'd love to go back there and cruise around.
F – Speaking of the EWS, in an ideal world where are you hoping to be next year?
JB – It's been a couple of years since I've been consistently in the top ten, and next year I want to be back up there. There's a few races where I'll push for a top five, La Thuile is certainly one of those. If I can achieve the consistency I'm after then a series result will look after itself.
F – Why does somewhere like La Thuile suit you?
JB – I just find places where the dirt is a bit looser a bit easier, perhaps because of what I ride back home I don't really like the hardpack, I like to float around a wee bit more.
I've done two EWS races there before (in La Thuile) and done well, so I think I can do well again.
F – Do you think it's just the lack of familiarity that makes hardpack a bit more difficult for you?
JB – For sure. I've grown up with no hardpack whatsoever, and while I've obviously ridden lots of hardpack in places like the French Alps, I just find myself in the zone when it gets loose.
F – Thanks Joe, and good luck next year!