In the lead up to the AvantiPlus Hellfire Cup we ran a story called 'Sharing the Holler.' This article described the pairs format stage race as one born out of a desire to bring people to the kind of trails that inspire you let the brakes off, relax, and yell like a small child on a jumping castle as you rip through the bush.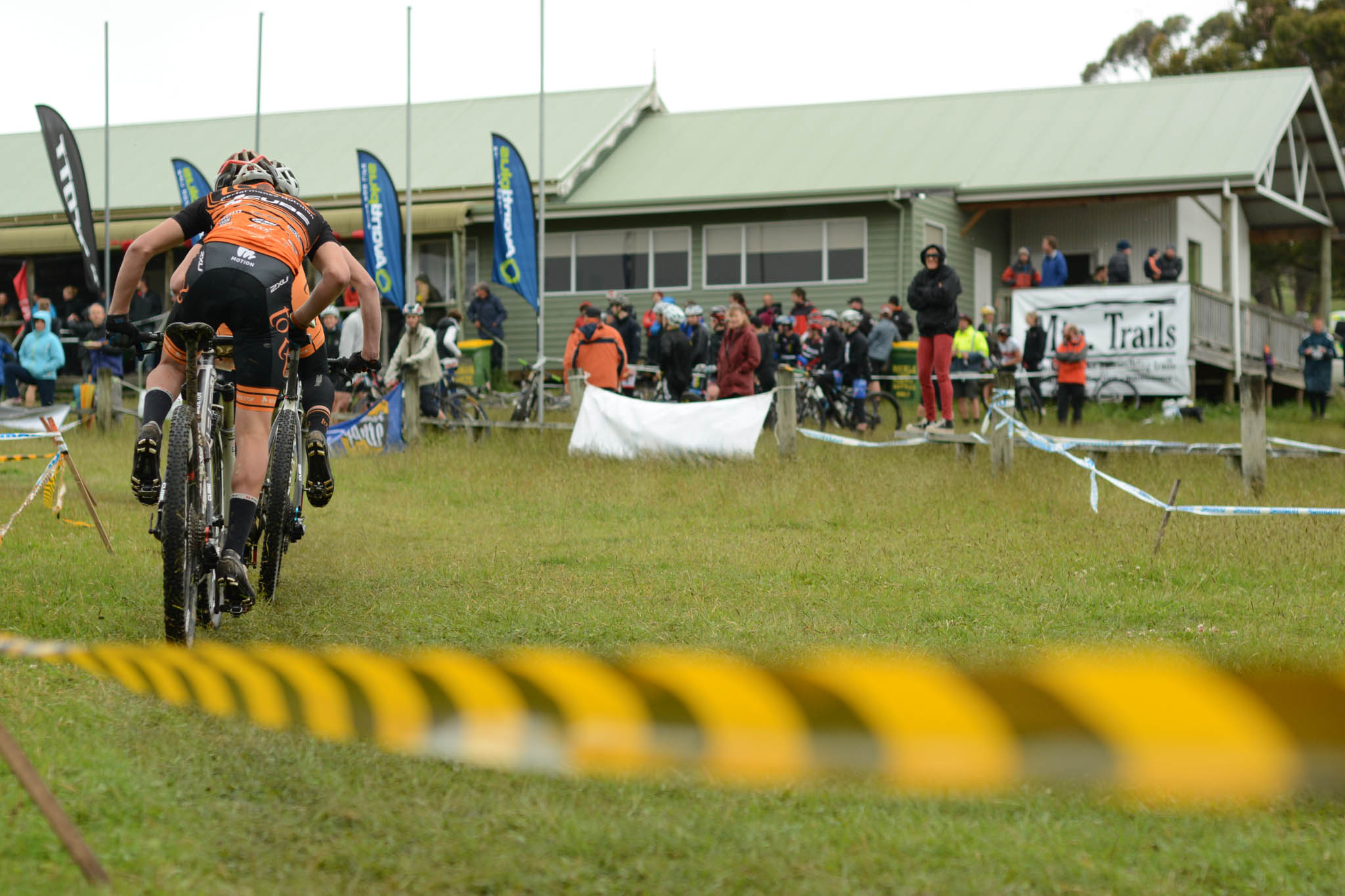 Bushfires held back edition one, their impact on the local community still visible nearly a year later. Come November, it was rain and floods that dampened edition two.
Mountain bikers did what they often do in such situations: they stayed positive, hardened up and rode anyway.
'Come hell or high water,' said an email from determined event director, Duncan Giblin, which arrived at dawn on day two, 'We will keep you riding as long as we think it can be done in a safe manner.'
The event team were up until 5am each morning negotiating ways to keep things moving forward. On this occasion we're not actually sure they slept at all. The passion and commitment of this Tasmanian team got them through one bottleneck after another, a commendable effort indeed.
Energy went into rerouting courses and sorting out the logistical side of making the next day's racing a reality. Unfortunately this meant never fully realising the infrastructure or trail networks that were the main attractions of the event. It wasn't safe enough for one and there simply wasn't enough man power for the other.
Hot water for showers was never installed in the camping area, dirt jump expos, live music, an open air cinema and kids events were cancelled as well. Disappointed by the catering, riders hung out in nearby towns instead.
Competitors were very understanding about the impact of the weather and applauded the effort undertaken by Team Hellfire to give riders a positive racing experience. But as an inaugural event there were always going to be a few extra issues that would show their teeth.
'I think for a first year event, maybe there needed to be more of a focus around infrastructure and getting those sorts of things right, rather than a massive prize pool for the elite riders,' said Peta Mullens (Target-Trek), who won the mixed pairs category with partner, Jarrod Moroni.
The generous prize pool on offer is a big part of the Hellfire Cup's appeal and its marketing as a world class event. It is also a big gesture from the organisers who want to see our top riders better supported financially than is typical of the sport in this country. But most riders, including those in the elite field, agree that the $12,000 top up given to the outright winners would have been better spent on the event as a whole.
Peta elaborates: 'You see people like (World Cup winner) Dan McConnell and (2012 Junior World Champion) Anton Cooper on the start list and you probably go, "Well, I'm not going to win the 15 grand." As soon as there's a couple of elite riders at that level, the rest of the guys aren't in it for the money, they're just here for a really good time.'
It was such a shame then that, despite close racing provided by the rerouted stages, things that would have set this event apart just weren't able to happen. The singletrack on the morning of day one was a teaser, but a forecast of up to 250mm of rain meant uncertainty for the three days ahead.
'The first day was amazing,' said Peta, who has recently signed to the Wiggle Honda Pro Cycling team but whose heart is still clearly held by the dirt. 'Even though it was muddy it probably just emphasised how good the tracks really were.
'Then there was a hell of a lot of fire trail. We really haven't stepped off fire trail since that first day, which is a little bit disappointing for an event that was boasting a lot of good trails. And that's kind of the reason that we came.'
The final stage was a twisty loop around a paddock that took the fastest riders about a minute to complete. Despite the short distance, this stage had the best atmosphere of all. Cowbells sounded, riders cheered, and people were happy to have made it through a very challenging week.
As I left the race my heart felt heavy. Everyone had made the best of a tough situation. While the atmosphere echoed the positivity you get from holding hands around a campfire, tough conditions had sapped the buzz.
I got on my bike one more time and headed out to re-ride the trails we'd seen in the opening stage. I was joined by Andrew Hezel, from Mansfield, who we met on Flow's Bikes and Brews tour earlier in the year.
At the bottom of a valley, the original event area was soaked in water and car tyres had cut countless circles in the grass. The river was running high and it was clear that it had been a good idea to move the racing elsewhere.
With just the two of us in comparison to day one's muddy crowd of 300, the trails just flowed, literally, as a lot of them resembled small rivers. But they flowed in the regular mountain biker meaning of the word as well. I could imagine the laughter that would have come from riders in the original singletrack relay stages and enjoyed hooking in, leaning my bike through the terrain.
We saw a long bermed descent bunted out with Mountain Trails tape. I'd heard so many good things about these guys and I was itching to see their work. The soft sand was too steep to ride up, but we soon found an equally well-built climb. This trail was 'the Elevator,' designed for the hill climb stage that one team mate would do while another raced a crit.
The climb up had some steep pinches and would have put racers on their limit. The descent featured berm after wide berm, with some long fast straights traversing the in-betweens.
This trail is so good that you wouldn't just save it for the hill climb stage. Riders would be recommending it to each other during the off time between race stages as well.
We yelled into the crisp air, got covered in mud from head to toe, probably did six months damage to our bikes, and rode back up the climb to do the descent one more time. This was the holler.
In his gentle way, Andy pointed out that while the event team had seen so much positivity from the way riders had banded together to make the most of the previous few days, what they'd missed was seeing people genuinely excited about the trails. Trails that so much work, pride and time had gone into. Trails that were the biggest selling point of the event.
In that moment, I got it. I could understand why Duncan and his team so badly wanted to hold an event and bring so many people to a place. They're passionate trail builders and what they have here are a collection of some of the best.
Held together with a festival atmosphere, race-branded beers, music, film, sunshine and a sense of festival the days would have gone from one high point to another.
The AvantiPlus Hellfire Cup is scheduled for the same time next year, November 20-23. The organisers have already begun communicating their intentions to build on the lessons learned from the last few days: better catering, electronic timing, improved plans for dealing with the unexpected. To attract the field they're hoping for, their biggest challenge will be to communicate to riders how well they take this year's feedback and turn it into a reality.
'Although it's been hard,' said Duncan after the event, 'It makes us more determined to give riders a better experience and support our local community for having people here.'
With the right infrastructure, and the weather on their side, this event could create a holler so loud that you could hear it from the mainland.
Head to the event website, www.hellfirecup.com, for detailed results from all categories and images of these great trails in the dry.