"I still get goosebumps about the whole bloody thing," says Cairns local and World Trail Founder Glen Jacobs. "All of these years later, to see our little park in Cairns (Smithfield) still growing and evolving is crazy."
Smithfield put Cairns on the map, playing host to the worlds biggest events, and with Crankworx coming to town in October, it is ticking yet another box. While many consider Smithy to be the jewel in the crown of Tropical North Queensland, this particular piece of fancy dress headwear is encrusted with more precious stones than we can count.
---
Watch Jade, Cass and Joel explore in and around Cairns, a truly tropical experience in glorious 4K!
---
Cairns is one of the spiritual birthplaces of mountain biking in Australia, and while everyone else in the country was pedalling around on dirt roads, the folks up in Cairns were riding down any hill that trees grew on. But it wasn't just the Mudcows and their ilk hooliganing around in the rainforest; this corner of Tropical North Queensland is also the birthplace of the infamous Croc Trophy and mountain bike stage racing.
Between Smithfield, Kuranda and Atherton, along with all the waterfalls, rainforest and of course, the Great Barrier Reef, it's quite the destination on and off the bike.
We've explored this corner of the world a few times, but in the countdown to Crankworx, Flow was well overdue for a refresher. So we enlisted Cass, Jade and Joel to show us the best Cairns offers.
Related:
---
Riding Smithfield MTB Park, the site of Crankworx Cairns
"It's kind of like a little pocket of tropical mountain biker paradise," says Joel, acknowledging that he's leaning into the cliches.
Just 20min north of the Cairns Airport, Smithfield is the home of mountain biking in Cairns, thanks to a trail network bearing the same name, and the historic Kuranda Downhill.
With about 60km of singletrack, Smithfield holds its roots as an event venue, and you can still ride the World Champs DH, and trails like Cuss Cuss, and Myndas used in the World Cup XC. But it's a bit of a choose-your-own-adventure bike park.
"You can head out to the black trails, and there is lots of hard, techy, loose riding, or choose a really cool flow trail like Pipeline. If you have some friends you want to ride with that are still learning, there are some really nice, easy blue and green trails," says Cass.
"You can choose to ride for half an hour and get to do Worlds (DH), or put four hours of riding together and get the fun techy trails over and over again without having to do the same thing — you can mix the trails up," she says.
The park came to be thanks to the Queensland MTB Championships in 1992, AJ Hackett and Henry Van Asch. At that time, the only place the Cairns Mountain Bike Club could host a race was on Hackett's plot of land in Smithfield — which would later become Skypark. The event was a resounding success, and because of that, the club got word the Australian Cycling Federation had been trying to figure out how to bring an MTB World Cup to Australia.
With every option they had looked at down south winter weather was an issue, but when Martin Whiteley, who was heading the organisation at the time, saw the rainforest, he told Jacobs he could already see John Tomac and Juliana Furtado racing through the bush, but said "we need something bigger".
"The next day, I just walked over in the paddocks (at Smithfield) over there because it used to just be cane fields. It had just sold to the Queensland government not long before, so I walked around in there and said, this is it," Jacobs says.
And the rest is history. Smithfield was originally based on the XC and DH course at the 1993 UCI Mountain Bike World Champs in Métabief, France, and as Jacobs puts it, they overlaid those courses onto the hill in the rainforest. As the years have gone by, the network has grown and evolved, and the latest addition to Smithy is Bow Hunters, constructed by Contour Works, and opened in early 2022.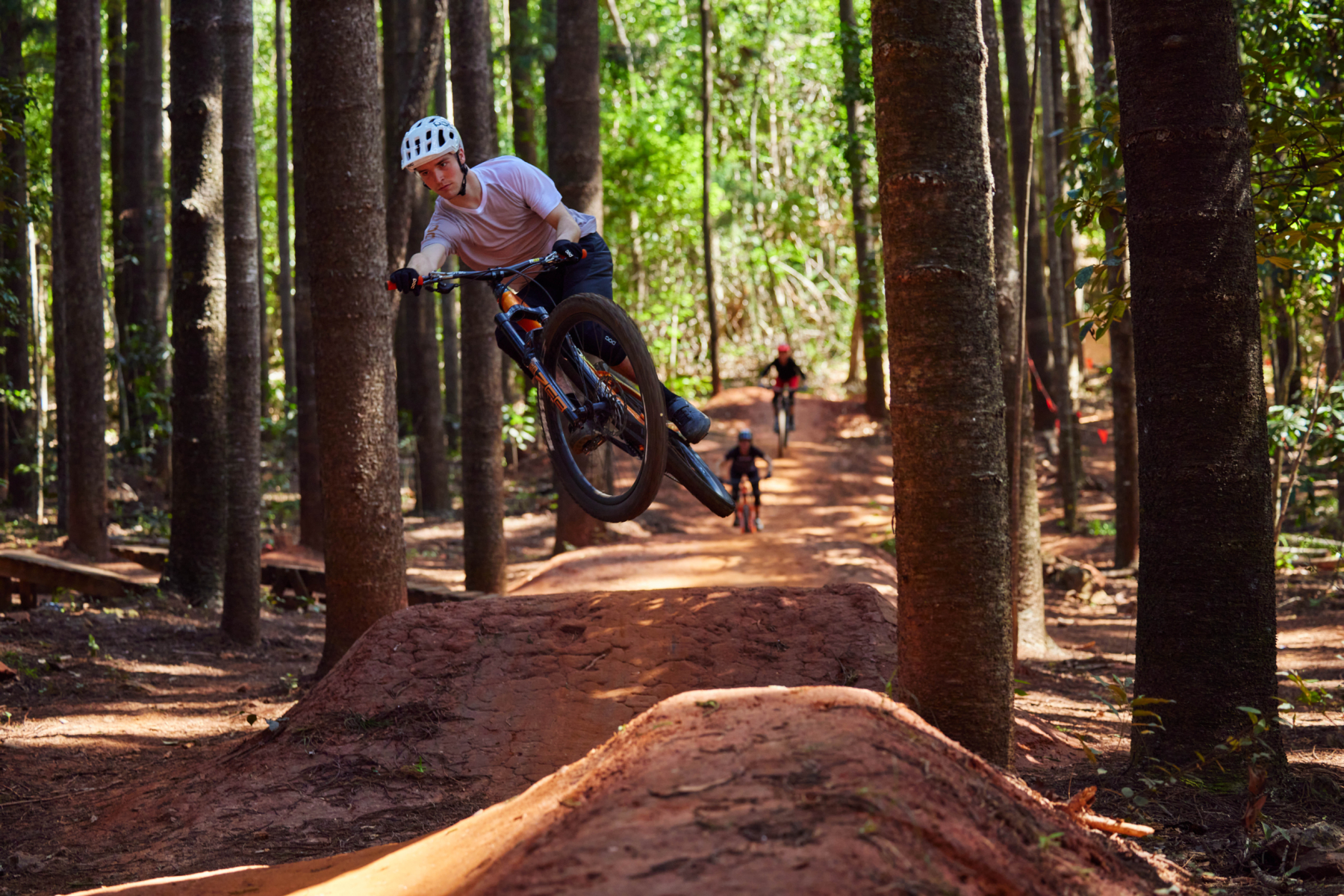 "We haven't really had anything like it before. It's probably a minute and a half descent, of just jumps and flow trail," says Joel.
"It's a real mix. There's a couple of cool table tops and big booters, but there's B-lines, so if you don't want to hit the big feature, you can just hit the smaller table top off to the side. It's a trail that anyone can ride," says Jade.
Of course, the other significant development is the addition of Cairns to the Crankworx World Tour calendar.
"They're starting to build the big jumps. Every day, a bit of land gets flattened, and then the dirt arrives. When you come back the next day, there's a jump," says Jade.
---
Geronimo! Skypark Cairns, Bungy Jumping and the Minjin Swing
AJ Hackett is a pioneer in adrenaline sports and has opened bungy jumping operations worldwide. Skypark in Cairns has been around since 1990 and claims to be the first purpose-built bungy tower in the world.
Located next door to Smithfield, our Cairns crew has been jumping bungy before, but had never ventured into Skypark.
Skypark boasts 16 jump styles ranging from standard bungy, to 'Walk the Plank' and the Jungle Swing.
"I got to do the swing with Cass, and I think she is now deaf," laughs Jade. "They lift you 45m into the air and give you a rope to pull and release yourself."
"I wasn't expecting it to be so amazing. I thought it was just going to be a swing, but it was way more epic than I thought it was going to be. I think it is the closest feeling to what flying would actually be like," says Cass.
Cass being the adrenaline junkie of our merry band, also did the walk the plank jump, while Joel did the straight bungy jump.
"Joel jumped off, and when he came back up, he just looks like a really happy puppy dog with his tongue out the side of his mouth," laughs Cass.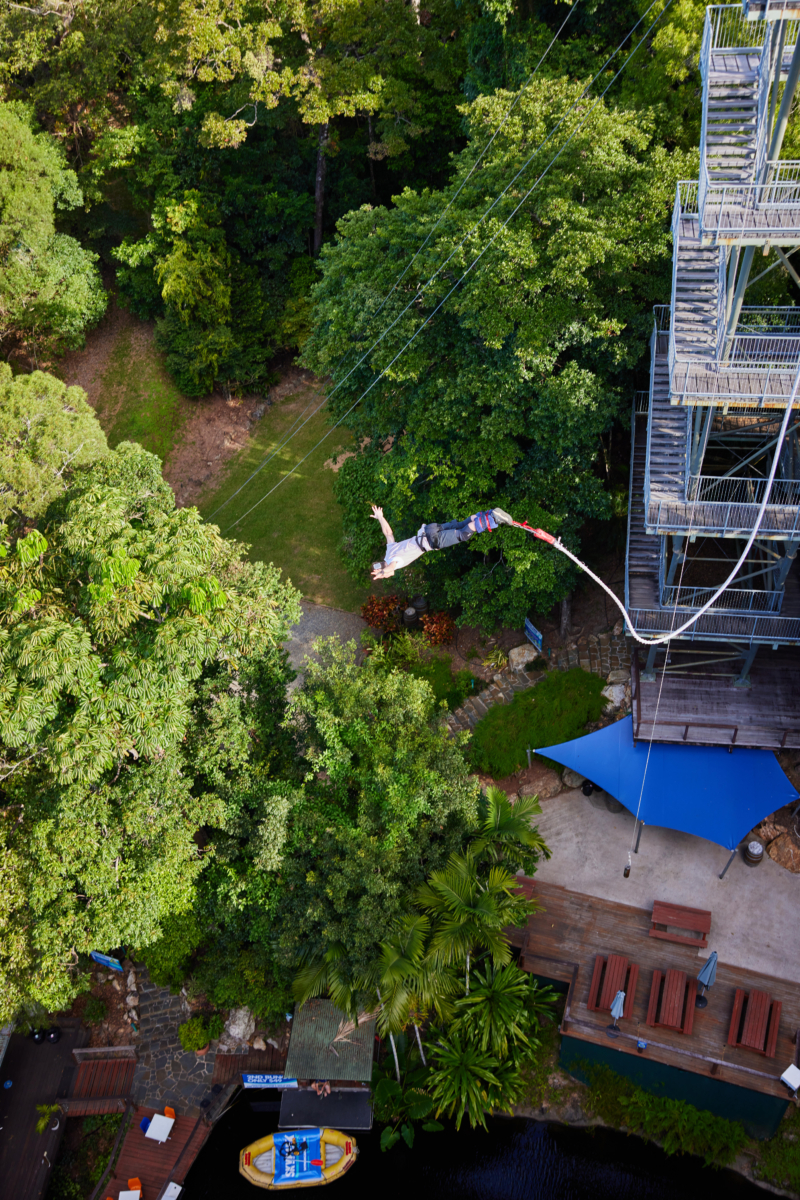 A history lesson descending Kuranda, the iconic downhill track in Cairns
The Kuranda Downhill is the other mainstay of mountain biking in Cairns, and surprise, surprise, it was also brought to life by Glen Jacobs, Peter Blakey and the rest of the Cairns crew, but not for the reason you may think.
"It all had to do with daylight savings time," laughs Jacobs.
Before he was jet-setting around the globe to race World Cups, and then building the courses for those events, Jacobs was a signwriter working regular business hours. Riders would push their bikes up to the top of a hill near his workshop and ride down every evening — an hour and a half hike-a-bike.
"We used to hike up there, and we had all the time in the world because of daylight savings. Then they changed the rule, and we didn't have time after work anymore," he says.
Then this crew had a wild idea and started looking for a big hill they could drive to the top of — something you could 'shuttle,' if you will. At this point, the idea of shuttling hadn't entered the psyche of mountain bikers yet. Jacobs had raced a moto-enduro that went up Kuranda, so he, Blakey and Daniel Pradel went out looking for it.
"Daniel and I started walking down the hill, and we got lost on the first go because the grass was so long. So we got a lift back up to the top and had another go. We got lost again and got another lift back up to the top, but with our persistence, we found the route. So, we cleared it with cane knives and machetes and started riding it," says Jacobs.
That original line down Kuranda still exists, but the track has almost turned into a little bike park of its own.
"It's a bit of a rabbit warren, where there's just trails everywhere. It's a bit like, hey, let's go down there. Let's go check that out. Oh, hey, let's do that. Let's go check that out," says Jade.
The roughly 2km descent is a labour of love, maintained by a few dedicated locals; it's full of off-camber root balls, roller-coaster berms, and big rocks.
"It's fast and techy and a bit hectic. It's easy to access, and you don't have to pedal. You just load your mates in the car, and crank the tunes, and just have fun. Kuranda really brings you together because you're all in the car together and then chasing each other down," says Cass. "Kuranda is really good for trains because there are so many lines. Joel was riding behind me, and he's way faster — it kinda eggs you on. You can stir each other up and swap spots and chase each other — it's just really fun."
The beauty of Kuranda and its ever-expanding descending options is that you can tailor your route down based on the conditions, your skill level and even your mood. And with that, it's created a little mini park that caters to a much wider range of riders and of course, there is a paved road up to the top.
After a day full of gravity, a bit of carnage, an unseasonably dusty Kuranda DH and an early dinner reservation at Salt House, we washed off the day at Stoney Creek, which is only a few minutes in the car, or a short pedal from the bottom of Kuranda.
---
Swimming with fish, colourful coral and indigenous culture at the Great Barrier Reef
The Great Barrier Reef makes up about 10 per cent of the coral reef ecosystems on earth and covers 344,400 km2 in area. The reef is the sea country of various Traditional Owner groups, whose ties date back more than 60,000 years.
The Reef is a simply magical place, and you'd be silly to go all the way up to Cairns and not jump on a charter. There are tons of operators running snorkelling tours out on the water, but we chose one of the smaller boats, Dreamtime Dive and Snorkel, to head out for the day.
Leading up to our day out on the Reef, the weather had brought in some rain and wind, but we managed to pick the window.
"It was just like glass out there. Blue skies, crystal clear water, the visibility was the best you'll get out there, and we saw two pods of whales on the way out and the way back," Joel says.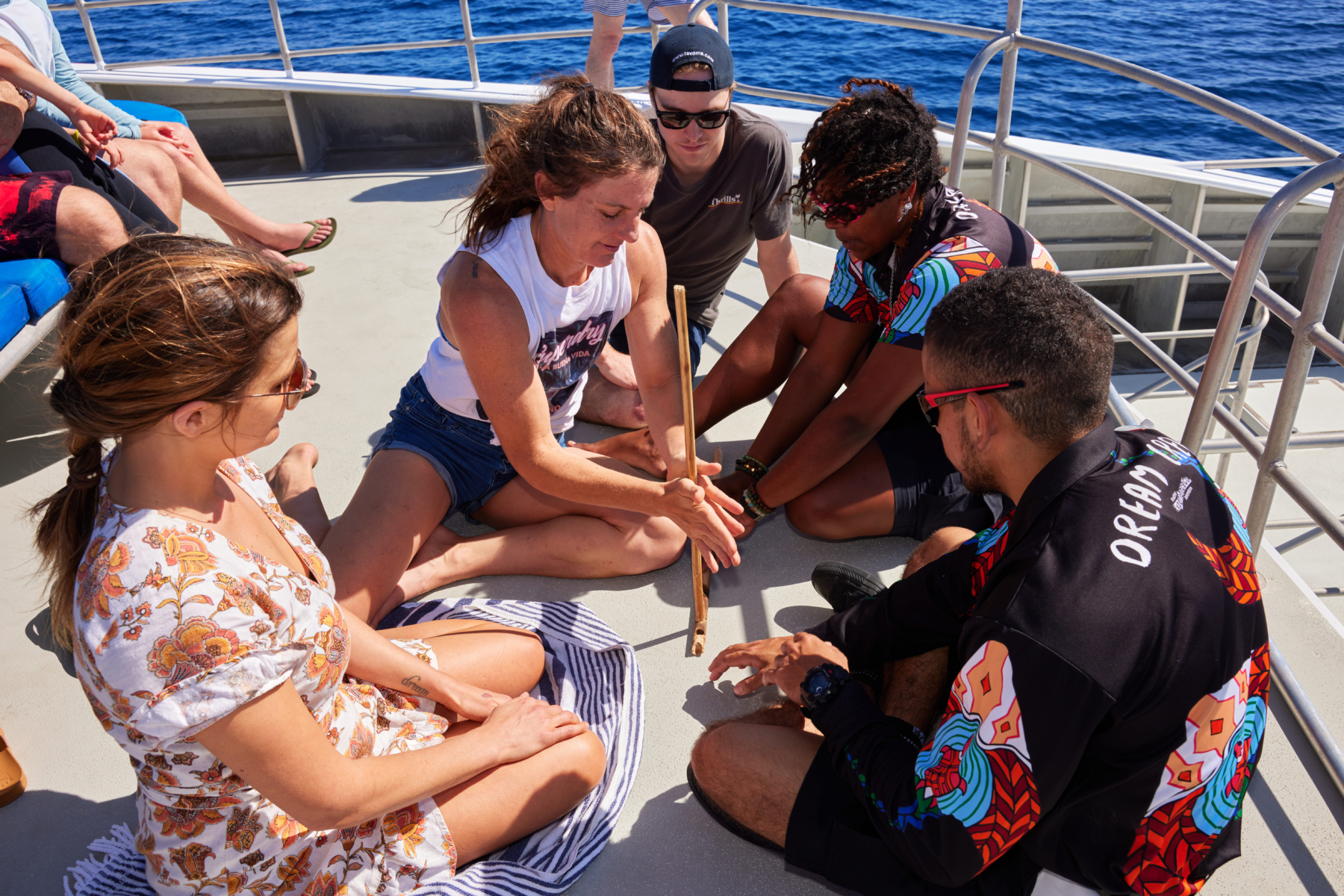 "I've never experienced The Reef like that. It was amazing. We were surrounded by ginormous fish, and the water clarity was magical — it was almost like swimming in a pool," Jade continues.
Dreamtime Dive and Snorkel hits two spots on the Reef, but they also incorporate a cultural element to the trip. Indigenous Sea Rangers are on board to explain the cultural importance of the Reef and demonstrate some of the traditional tools and fishing techniques. Cass and Joel had a go with the firesticks and nearly got an ember.
"The staff were so friendly and keen to get everyone involved. I'd never been out on that boat before, but I'd definitely go again," says Cass.
---
Chasing waterfalls and flow trails in Atherton, inland from Cairns
Still on a high from the epic day out on the Reef, we pointed the Flowmobile inland and headed up to the Atherton Tablelands.
While Trailforks says there is only 39km of trails in Atherton, the locals are adamant that total is over 50km — and we're inclined to believe them.
Gaining a good whack of altitude from the coast, the landscape changes and the temperature drops. The trailhead is a short pedal from the centre of town and the trails lay in the shadow of Mount Baldy.
Traversing more open eucalypt forest, the volcanic soil and machine-built trails are quite a contrast from the rough and raw riding in the deep dark rainforests of Smithfield and Kuranda.
"It's a larger park, and it's more adventurous. You can go for a big pedal out there just doing trail, after trail, after trail," says Joel.
"It's just beautiful out there. When you climb Stairway to Heaven, the scenery is constantly changing. The climb is tough, but the descent is just spectacular. You go through this beautiful rainforest, there are these white flowers falling, and there's like rays of sunshine — it's like a little fairy heaven in there," says Cass.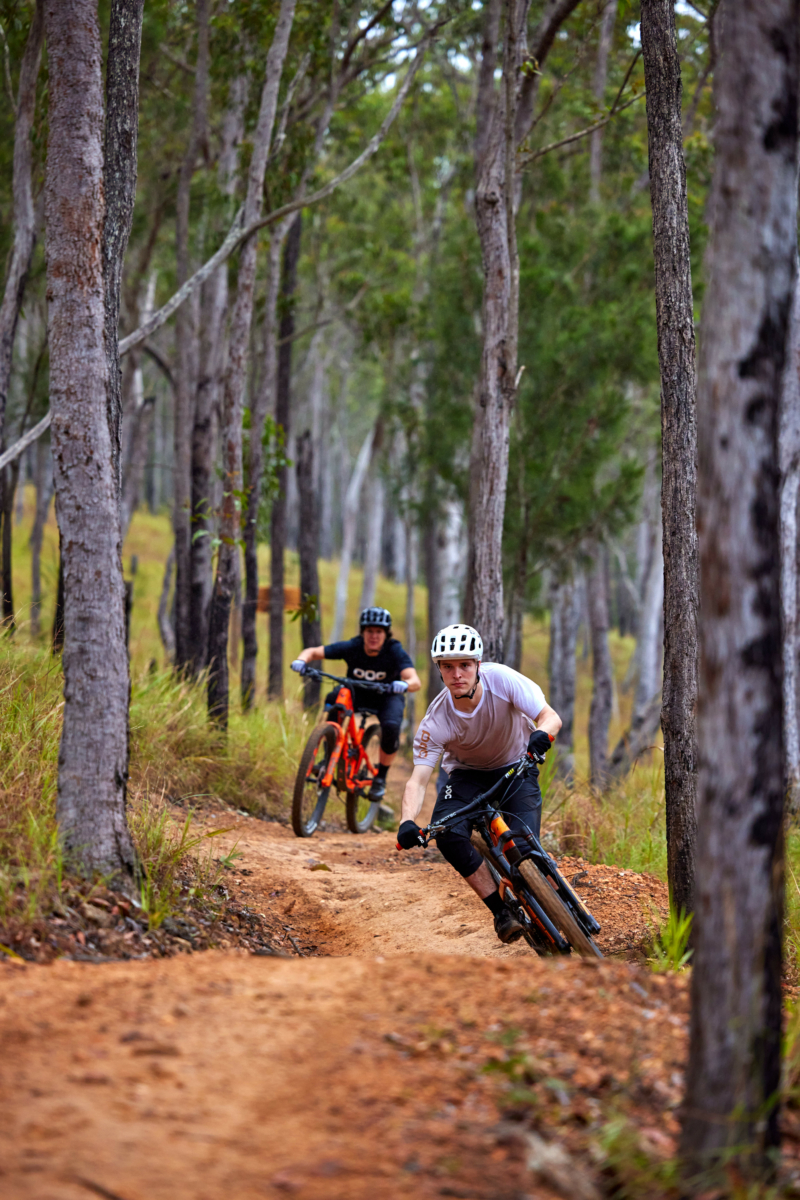 Outside of the rough and rowdy Ricochet trail, the majority of the trails in Atherton are flowy. The tamer, more rolling trails are situated on the valley floor, while the faster and more challenging trails venture up the range and just prior to our visit, the 3.1km Yahoo Wahoo descent had just received some TLC. Descending from the top of the Herberton Range State Forest, it drops off the opposite side of the road to Ricochet. The flow descent is packed full of jumps, sweeping berms and good times.
"For Joel, it was an airflow trail, but it's one of these descents that is just so universal. There are jumps if you're a jumper, and if not, you can have the same amount of fun without leaving the ground," says Jade. "At the start, it's really flowy with some tight flippy corners, and then it gets a bit more wide open — it's a little bit rockier, a little bit rougher, but not insane. Then it goes back into this section of amazing berms and a few jumps —it's a really long trail," she says.
After many yahoos and wahoos rang out through the Herberton Range State Forest, it was time for a refuel. Atherton is cattle country, so of course, we stopped at Gallo Dairyland, a dairy farm that makes cheese and delectable chocolate on-site.
The other thing that Atherton is known for is the waterfalls, and so we were obliged to ride out the cheese and chocolate food coma floating in a crystal-clear swimming hole.
The Waterfall Circuit is located 40 mins from Atherton and hits three picturesque spots dotted along a 17km sealed route. Zillie Falls is the first spot on the tour where we took a dip.
"It's so beautiful, just the rainforest, the moss and the ferns off the trees, and we were standing in the mist of the huge waterfall. I'd actually never been there before, so it was kinda like I got to go on this little tourist journey myself," says Cass.
The second stop was Millaa Millaa Falls, also on the same circuit. This one is a little bit easier to access and nicer for swimming.
You can actually swim out under the waterfall, and it's a bit like getting a massage because the water is coming down so heavy. That rainforest is so beautiful too, and the water is so fresh and clear," Cass continues.
Being the middle of winter, the water was a bit fresh. So our crew decided to forgo the final stop on the circuit Ellinjaa Falls to warm up at Billy Cart Brewing back in town.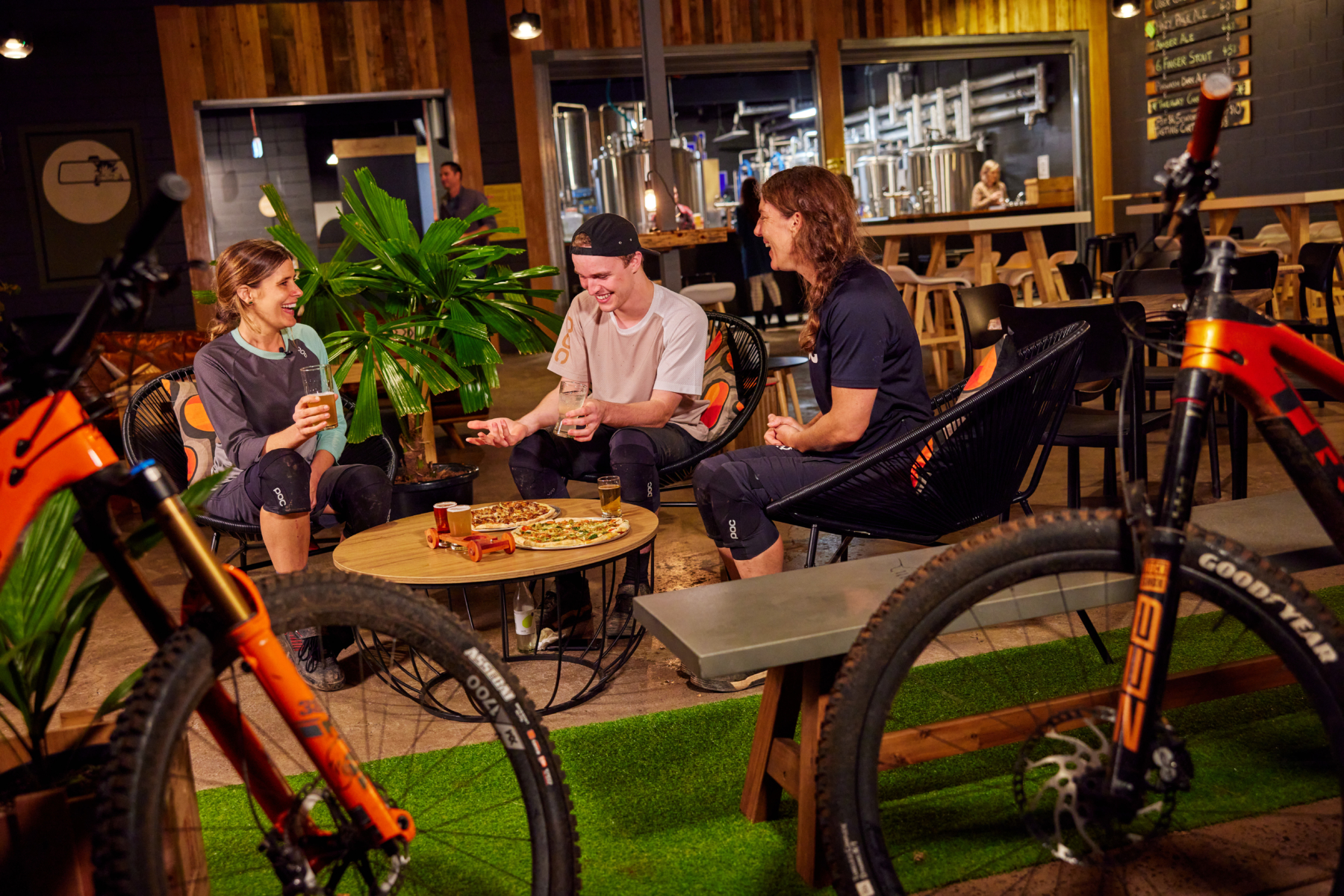 ---
Deep relaxation in Mission Beach, a beautiful place
The thing about travelling around Cairns and Tropical North Queensland is that it's hard to stop moving. With the number of trails, waterfalls, hikes, escarpments, bungy jumping, wildlife parks and, of course, The Great Barrier Reef, there are an overwhelming amount of things to see and do, and never enough to for everything.
After a few days of non-stop motion, a day to slow down and unwind is a necessity, so our crew jumped on the Bruce Highway down to Mission Beach for a little bit of R-and-R — and some bike riding too.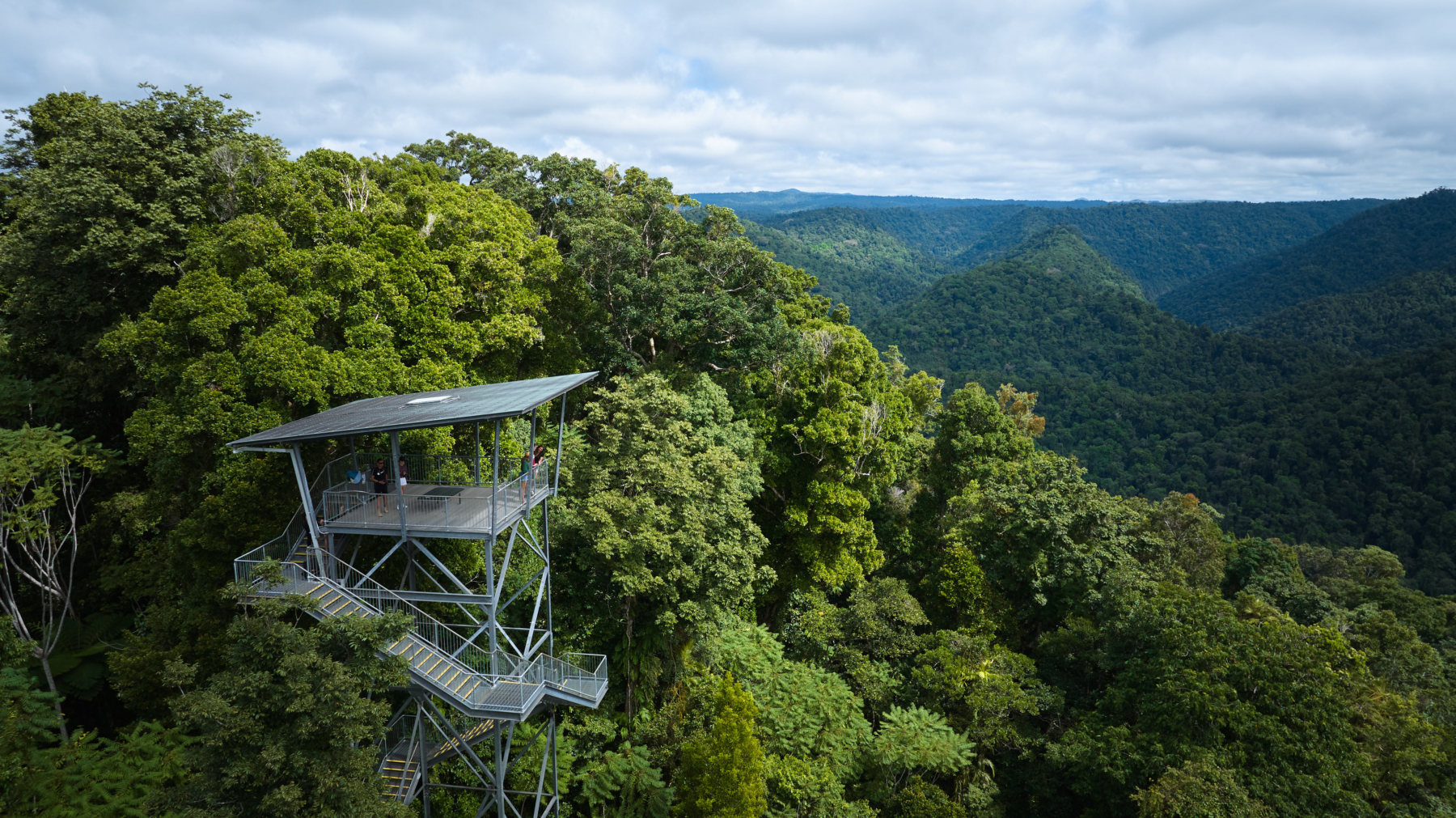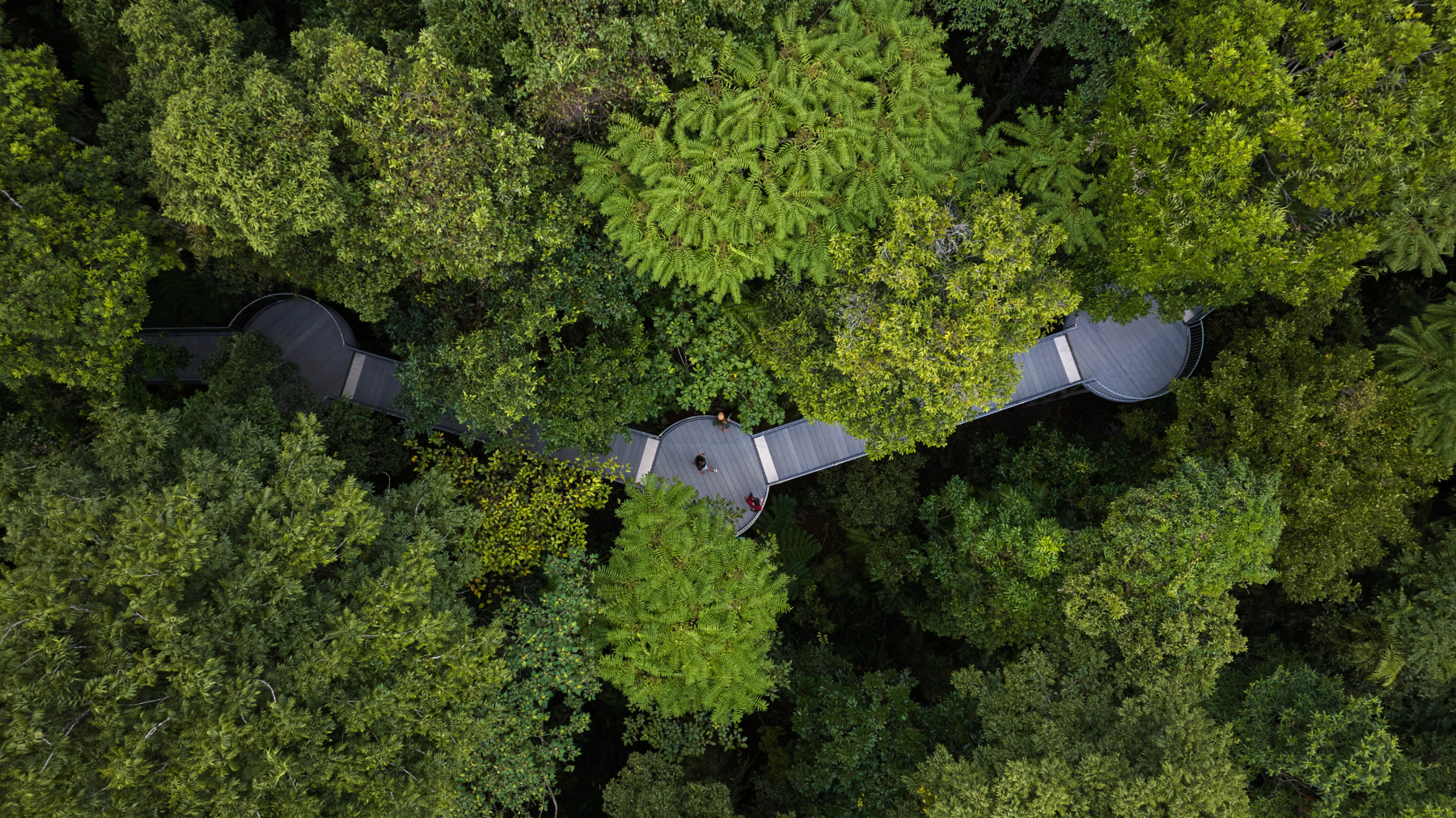 First on the agenda was the Mamu Tropical Skywalk, which guides folks along lovely groomed trails traversing the rainforest towards a massive suspension bridge.
"The views are insane, and you can see the rushing river below," it was really cool," says Jade.
Then we went and found the Musgravea Trail, which is a 4.6m old logging route. It's dead straight, pretty flat and wide, and an ideal outing for a family of mixed-ability riders.
The Musgravea Trail is more about experiencing the rainforest and trying to catch a glimpse of a Cassowary in the wild.
"You're surrounded by umbrella palms, and you go over these amazing magical creeks. There was Cassowary poo everywhere, so we were hoping to see one. Joel poked one of the poos at one point and was like 'this is fresh,'" Jade laughs. "You'd try and be quiet, and then your hub makes heaps of noise — it was the excitement of trying to find one of these ginormous birds, but no luck.
For the time being, this is pretty much the only riding around Mission Beach, but that is all set to change when the big network at Cardwell gets the green light.
To cap off a big trip in this tropical paradise, we headed for Etty Bay for some fish and chips and to watch the sun go down. Not bad eh?
Cairns Flow-itinerary
Tropical North Queensland can feel like an isolated corner of Australia, but with an international airport not far from the centre of Cairns, the hardest part of getting there is ensuring your pockets are empty as you go through airport security.
Once you're in the tropical paradise, the number of things to see and do, in addition to riding, can be overwhelming. So to help you plan your trip, we've put together a few itineraries covering what we would do over a few days in Cairns.
A long weekend in Cairns
Friday
Arrive late evening
Pop into Hemingway's for some refreshments if you arrive before 10 pm
Saturday
Ride Smithfield until your legs can't turn the cranks
Head to Skypark for an afternoon at terminal velocity. Be sure to book ahead, as you can select your jump times, the last intake is 4pm
Cool off at Stoney Creek
Sunday
Guyala Cafe for breakfast
Spend a day on the Reef — most tours leave around 8am and return at
5pm-ish.
Have your post-boat meal at Salt House. It's right there at the Cairns Marina.
Monday
Kuranda DH in the morning
Pack up and head home in the evening
Five days in Cairns
Day 1
Ride Smithfield
Afternoon at Skypark — be sure to book ahead
Head into town and go for a walk on the Esplanade
Finish up at Hemingway's
Day 2
Day on the Reef — most tours leave at 8am and return around 5 pm.
Drive up to Atherton — we reckon it's worth booking a night or two of accommodation in Atherton, so you're not rushing through the Tablelands.
Day 3
Ride Atherton MTB Park
Head for the Gallo Dairyland for a post-ride refuel.
Hit the Waterfall Circuit
End the day at Billy Cart Brewing
Day 4
Drive back down the range and head for Mission Beach for a chill day
Fuel up at Etty Bay Fish 'n' Chips
Check out the Mamu Tropical Skywalk
Spin out your legs on the Musgravea Trail and look for cassowaries
Drive back to Cairns
Day 5
Kuranda DH
Rinse off a Stoney Creek before heading home.
Extra Credit Adventures
You could spend a month around Cairns, do something different every day and only just scratch the surface of what this tropical paradise has to offer. Here are a few extra things you can sub into one of these itineraries in case you find yourself with some downtime.
Davies Creek MTB Trails, Mareeba — 50-min drive from Cairns
The Bump Track, Mt Molloy — 1.5-hour drive from Cairns. This one will require some logistics as you'll need a ride to the top of the point-to-point route.
Hartley's Croc Adventures, Wangetti — 40min drive from Cairns
Kuranda Scenic Railway, Kuranda — 40min drive from Cairns
Barron Falls, Kuranda — 40min drive from Cairns
Australian Butterfly Sanctuary, Kuranda — 40min drive from Cairns
Rainforestation Nature Park, Kuranda — 40min drive from Cairns.
Crater Lakes National Park, Lake Eacham — 1.25-hour drive from Cairns
Tanks Arts Centre, Cairns
Cairns Botanical Gardens, Cairns
Cairns Aquarium, Cairns
Cairns Art Gallery, Cairns
The Court House Art Gallery, Cairns
Bulmba-ja Arts Centre, Cairns
Explore the Daintree — 2-hour + driving
---
Video – Jacinta Pink / Cin Creative
Photos – Brad Newton
Words – Flow MTB
Riders and presenters – Jade, Cass and Joel
---
Make your trip to Crankworx Cairns here: Crankworx website