It's easy to forget just how far north Cairns is, situated way, way up the east coast of our gargantuan continent. What comes with being so far north is not just beautiful tropical climates, sweet mangoes falling from trees, blonde backpackers lounging around the streets, epic coral reefs to swim in or oddly dangerous flora & fauna, it's actually one of Australia's most happening mountain bike hot spots loaded with premium trails.
It's also easy to forget that Cairns mountain biking could also be thanked for putting us on the international mountain biking scene radar with the world stage being set in a World Cup in 1994 and a World Championships in 1996 in the steamy tropical jungle. April 2014 sees the return of the international elite riders, and Smithfield will once again go under the knife with a revamp of existing and some new trails to lift its game even further.
On our journey from Cairns north to Cooktown and back, we took in some of the best destinations for our fat tyred exploits. Cairns, with direct flights from most major airports in Australia, is a quick hop-skip and a jump into paradise. Without a doubt, Smithfield Mountain Bike Trails are as iconic as the jungle itself, and riddled with fun singletrack.
Smithfield
Dubbed 'Australia's iconic mountain bike rainforest destination', Smithfield has undergone a few major facelifts over the years. The most recent was only last year and again new trails are being constructed ahead of the 2014 World Cup. With up to an astonishing 7 metres of rainfall in a year, and a lot of that coming down hard and fast during the wet season, the trail builders and maintenance team have worked so hard to produce sustainable and bloody good fun trails.
Playing in the bright red dirt, tree roots and rocky surfaces in the foothills of what the locals call Minjin Mountain, we ripped about on twisty singletrack, ducking big vines, and popping our wheels off the ground over small rises in the trail surface. The trails hurtle you through the forest so thick that the canopy blocks out sunlight in sections and your eyes adjust in only just enough time to glimpse what may – or may not – have been a legendary forest creature quickly retreating into the trees.
There is a great mix of everything at Smithfield, and it shows. We saw an extraordinarily wide spectrum of users from all walks of life, experience, age and bike style loving a couple laps of the trails on a warm weekday afternoon. The downhill trails via uplift are obviously challenging, as anything that points down in Cairns is, but the best way to enjoy the trails is to ride in, rip around and ride out.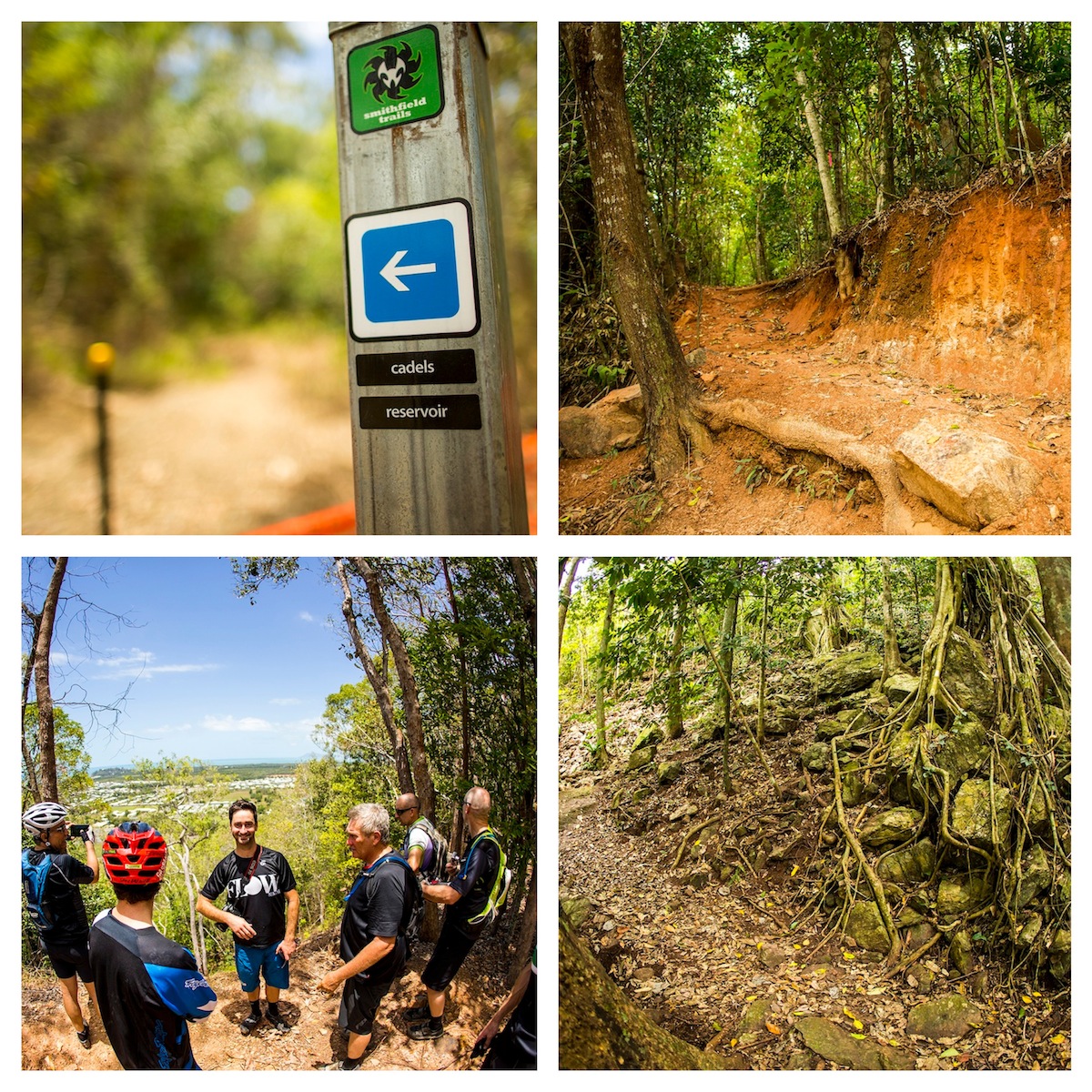 There is 60km of the good stuff! The local club is super active, and their site provides loads of great information on the trails, conditions and events: www.cairnsmtb.com
Smithfield is one of many good riding destinations in Cairns, but most definitely the most popular. Only a short 15 minute drive from the city centre, and you have a whole lot of trails to explore, and even a sweet little pump track at the trail head car park to get the juices flowing.
In our minds what makes Cairns such a wonderful mountain biking destination is much more than just the sweet trails. Unlike some of our greatest trail spots we often road trip to there is just so much to do off the bike. Cairns is in the tropics and a bloody wild party town! The outdoor lifestyle is colourful, and exciting and due to the large amount of travellers, and especially backpackers, the night life is great value and fun for anybody.
In the cooler months of winter, Tropical North Queensland goes through their dry season, clear skies and consistent mid-20s temperatures making for absolute perfect riding conditions.
I could keep going on, and on, and on about it all but rather, here's some more photos to show you how great it is.
For more information on the region, drop by this site: www.ridecairns.com
And we'll see you again, Cairns, at the latest this April for the World Cup!
In the next part of our Tropical North QLD adventures, we head to Atherton where the single track is brand new and fabulous. Stay tuned.