Only 1.5 hours  away from Cairns, the trails in Atherton could not be more different from their sea-level counterpart. The 55km of singletrack starts literally in the centre of town and caters to a massive range of riders.
We caught up with the President and Vice-President of the Atherton Mountain Bike Club, David Prete and Brett (Chook) Piccone, to get the local beta.
---
Take a guided tour of Atherton with TNQ locals Jade and Joel
---
What is Atherton like?
Sitting about 700m above Cairns, Atherton is usually about ~5ºC cooler and sometimes, there is even frost during the winter.
Offering a cooler alternative to the coast, Atherton has something for everyone. With the singletrack contouring around the Silvia Valley, green trails traverse the valley floor, while blue and dark blues meander higher up in the hills.
"You've got a good network of green trails, so if you're coming up as a family, there may be some who are less confident and riders who are super confident and want to fly — we can cater for both," says Prete.
"We actually get quite a lot of patronage from Cairns, because Cairns is too extreme," continues Piccone.
Officially, the trail names here are all numbers because the park was built in collaboration with Queensland Parks, and that's how they run things. So when you hear folks saying things like Yahoo Wahoo, Drop Zone and Stairway to Heaven, you won't find these names on the official map at the trailhead; however, the signposts throughout the network have both the official number and the informal name.
What is the dirt in Atherton like?
Atherton is blessed with plenty of geology and an abundance of vertical drop. The hills that form the edges of the Silvia Valley gain about 300m of vertical elevation and some of the extended descents will rumble through three or four different topographic zones on their way down.
"We're spoiled because we have such a variety of terrain," says Piccone. "But our trails are quite rocky, so you'll need tyres and pressure more suited to the rough stuff."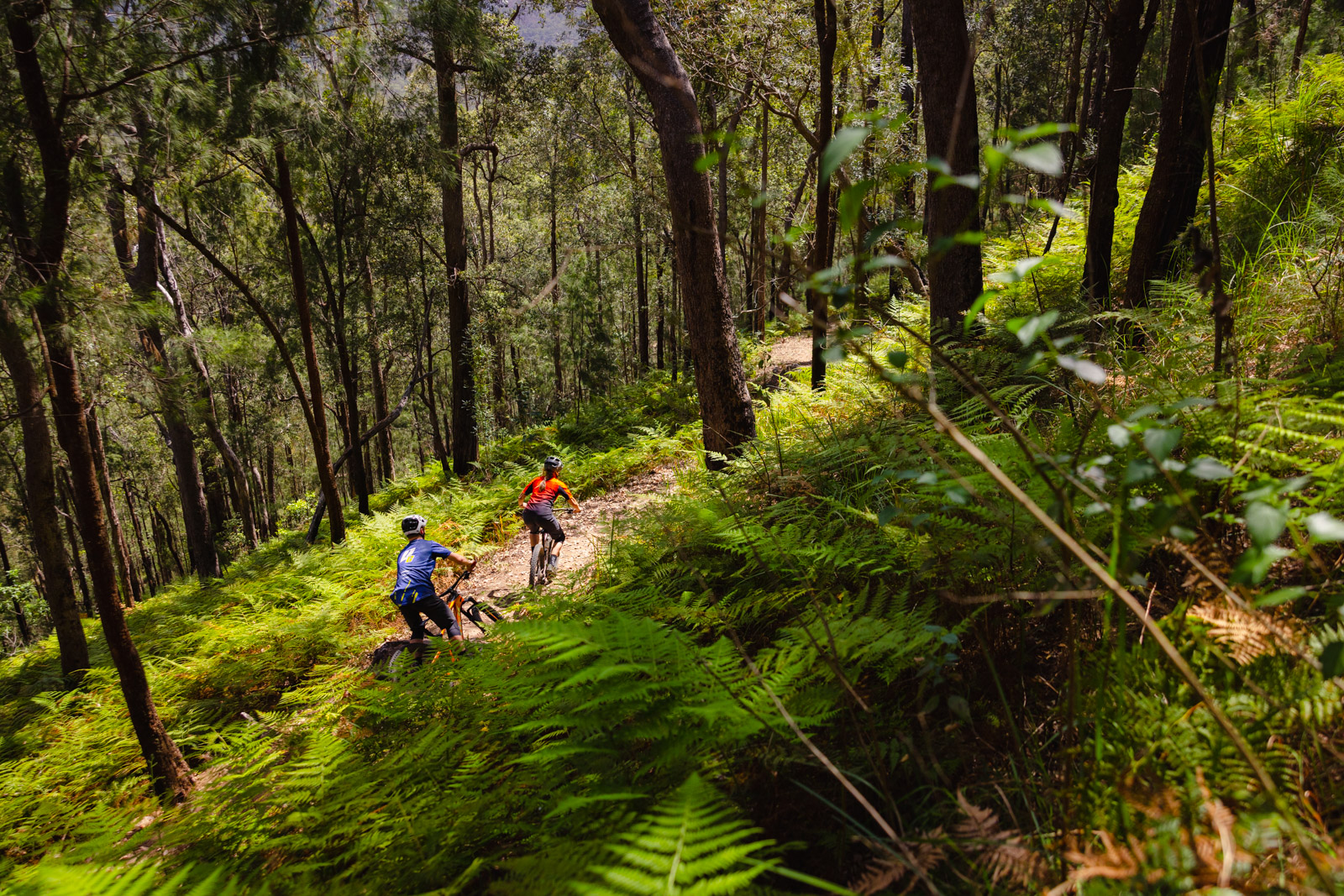 Atherton is situated in the Wet Tropics Bioregion, and though it may seem dryer than other rainforested areas, it can still receive over a metre of annual rainfall.
"Because of the soil type, they (the trails) are pretty good in the wet, and it's a pretty big rain event that's going to force the closure of the park," says Prete.
We should note during the wet season (typically summer and autumn), if significant rain events do occur, it's not uncommon for the park to close for a couple of weeks. Prete tells us that's not just giving things time to dry but also clearing fallen timber and tidying up any damage.
Fortunately, the Club, and Parks, are on the ball with communicating the trail status, and the most up-to-date info can be found on its Facebook and Instagram pages.
Things to watch out for in the Atherton Forest MTB Park
All of the trails in Atherton are directional except for the town link trail, so take it easy when you're making your way to and from town.
Piccone tells us that walkers, trail runners and hikers are encouraged to use the green trails on the valley floor but are also encouraged to avoid anything that isn't rated green, for the safety of each user group.
Atherton does have stinging trees, which apparently pack quite a punch, but they are pretty rare along the trails. However, keep an eye out for the resident reptiles, which get an extra spring in their step (get it?) from Spring onwards as the weather warms up.
What is the must-ride trail in Atherton?
For many years we would have said Ricochet (Trail 9) is the pièce de résistance of Atherton, and initially, Prete and Piccone agreed, but shortly after we asked, both changed their minds and put Yahoo Wahoo (Trail 13) up as the trail to ride.
"I would have said Ricochet until Yahoo was built, and now it's in better condition. The top end and the bottom end have just been tweaked by Contour Works, and now they have a very Derby feel," says Prete.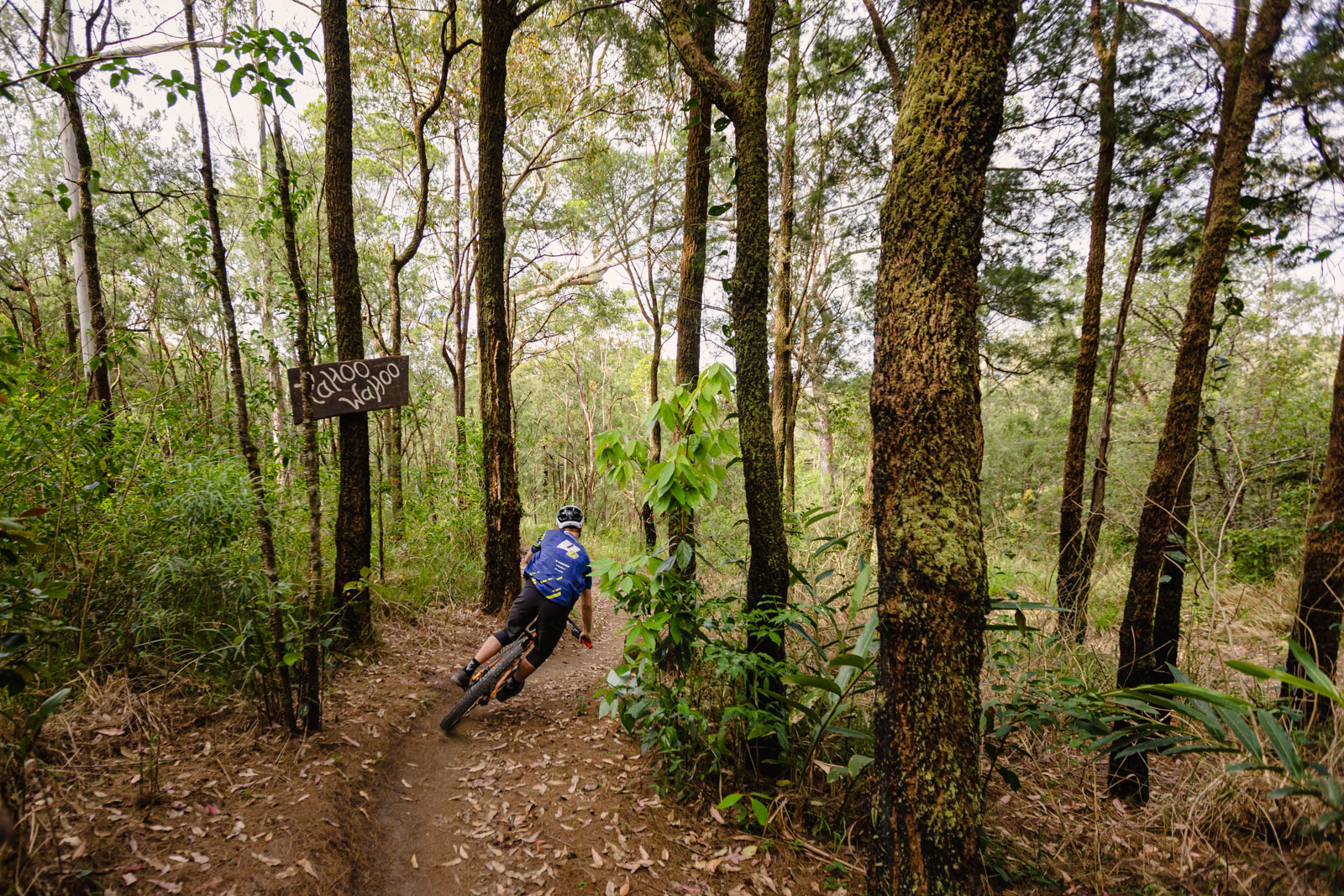 Since Ricochet was cut, it's worn in and become quite a lot rougher. Piccone tells us they run downhill races on this trail, so if you've come to Atherton with your enduro bike, this is the descent for you.
Even better, you don't have to choose between these duelling flagship trails, as the pair can be shuttled. Both start on either side of the Herberton Range State Forest Fire Road, which is open to the public. We wouldn't attempt to do the drive in a Shingleback-equipped Honda Jazz or a minivan, but if you have a 4WD at your disposal or know a friendly local who does, you can shred laps until your forearms explode and your cheeks are sore from smiling.
If you don't have access to a shuttle vehicle, don't worry, as you can fang it up the fire road on an e-MTB or pedal up Trail 12, affectionately known as Stairway to Heaven. This 10km singletrack climb is engaging and entertaining, plus the reward is that you get to ride back down every inch of elevation you gain.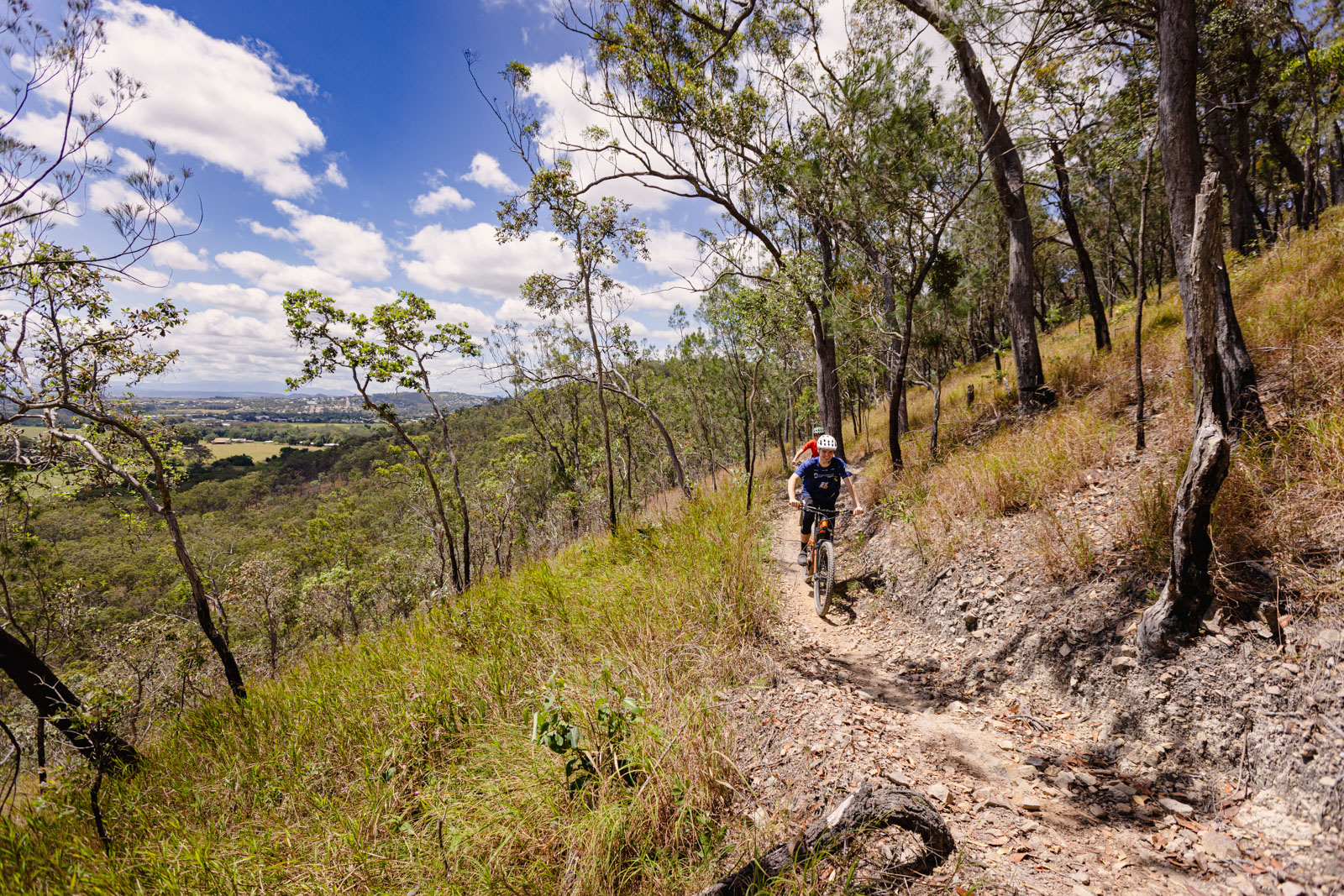 What's new at Atherton?
There haven't been any new trails constructed in Atherton in a while, but the club has engaged Contour Works to update the existing network.
"We had Ryan (De La Rue) and Evan (Winton) come in and tweak the existing alignments and brought them more in line with the way that the bikes have evolved, and (how) people's expectations (have evolved) as well," says Prete.
Yahoo Wahoo was the first trail ticked off on the to-do list, with Ricochet being the next priority.
"We're not just talking the mini-excavator touching a few things up. We're talking the five-tonner and going over the trail top to bottom doing three-meter high berms, and table tops," says Piccone.
Where to ride in Atherton?
With an extended network covering an entire valley, there is plenty to keep you busy in Atherton.
There is a lot of ground to cover, and with the elevation you gain making your way around the park, there are sweeping vistas over the tablelands and conveniently-built rock benches, perfect for your mid-ride PB&J.
We asked Prete and Piccone their pick of the park.
"Trail 7 (Bandy Bandy), 17 (Drop Zone), Ricochet (Trail 9), Yahoo (Wahoo, Trail 13). Trail 17, it's so exposed, sometimes the wind is almost blowing off your bike, but you come out of the forest and bang, you just have this fantastic view over Atherton," says Piccone.
"If you want a really good singletrack climb and then a ripping descent, I would do Stairway to Heaven and then come back down Yahoo (Wahoo). It's all singletrack. It's a blue climb, blue descent with a bit of green trail coming into it, but it's a great out and back loop where you don't ride any of the same trails twice," says Prete.
But beyond what these two like to ride, we quizzed them on where they would take different riders around the network.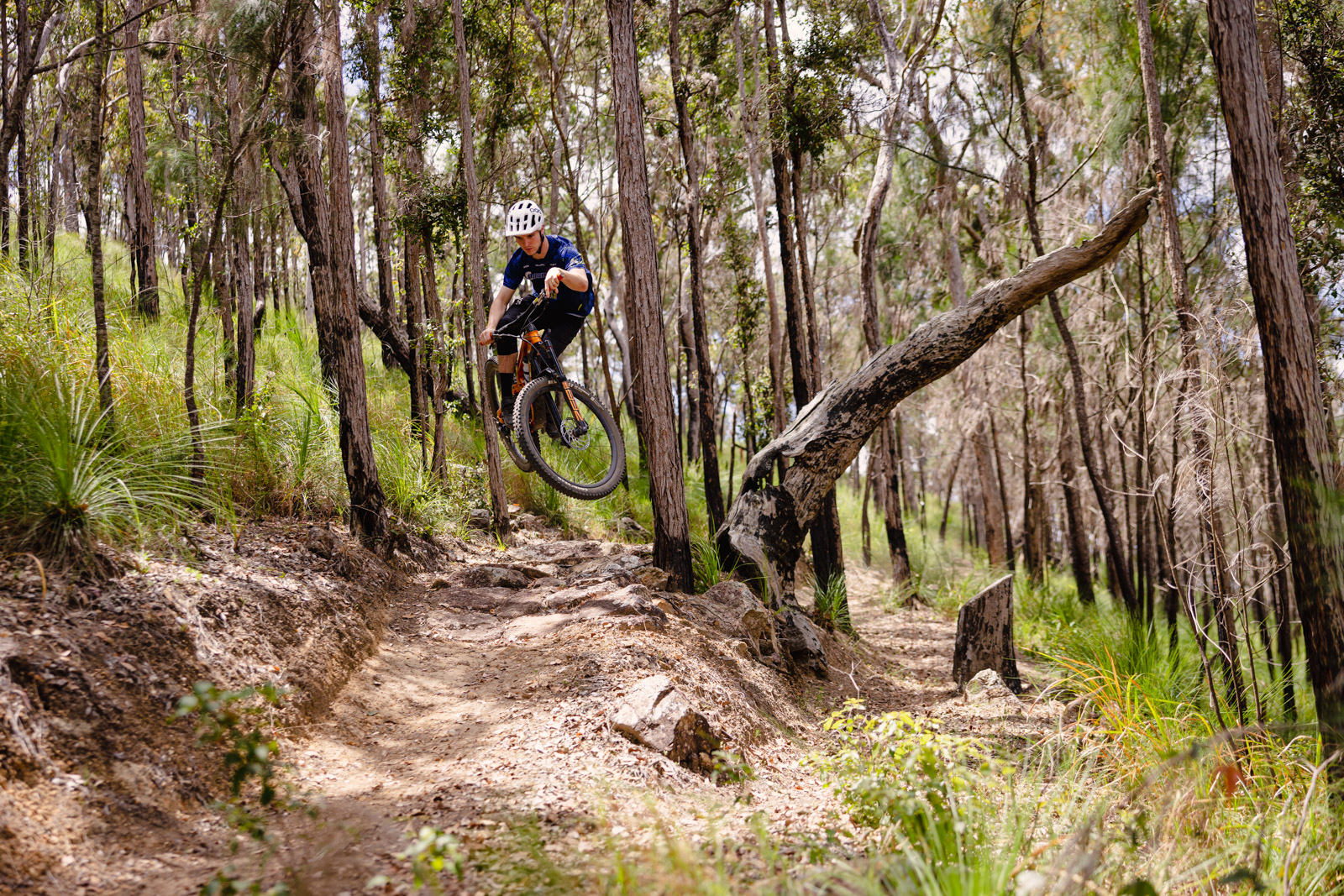 If you're a good enduro rider:
Ricochet (Trail 9)

Cliff Hanger (Trail 10)

Any of the blue trails
If you're looking for flow:
Yahoo Wahoo (Trail 13)

Top Deck (Trail 16)

Bandy Bandy (Trail 7)
If you're beginners, families and kids:
Outside of just the trail network itself, Atherton also has a popular 20.5km rail trail, and there are hundreds of kilometres of fire roads, ideal for an e-MTB adventure. Prete suggested a 50km bush bash that takes in fire road, moto trails and singletrack out to Herberton and back — route linked below.
---
Atherton Sample Routes
Atherton Short Route
---
Atherton Medium Route
---
Atherton Backcountry Adventure