August 26th was an exciting day for Canberra's female mountain bike riders. Not only was Canberra the host of its second* women's only mountain bike race for 2012 but it was the last Sunday of winter and the sun was out!
Held at Sparrow Hill, For the Birds (aptly named for the location some may say) is part of a growing event format to cater for female-only riders. With race distances of either 10, 20, 40, and 60 kms and several classes it proved to be very popular with a wide range of women. [private]
With a very civil start time of 10am there was no frost to be seen and the temperature was 10 degrees and climbing. There was a buzz in the air and it was not just because of the coffee van. There were a lot of first time racers and their nervous energy was contagious.
110 riders entered for what is planned to be an annual event. One noticeable inclusion was the number of young girls. Sure, there are usually a few hanging around at the local races to cheer on Mum or Dad but here there were plenty taking the challenge to race.
Maizy (aged 10) and Verity (aged 8), were very excited about their 10km race though they had done, 'too many races to count'.
'We're on a team', they said proudly, 'Team Salubrious Racing'.
It was starting to seem that the young riders were the more experienced. The Cycle Education team's 11 year old Sonia had a quiet confidence about her as she prepared for her 10km race. Sonia finished 4th out of 15 riders-across all age groups.
For the first timers though it was all butterflies. The self-named Anxious Mothers team, usually found following their sons and daughters to downhill races around the country, were all racing for the first time and entered the 10km race for ages 40+. Though some said they would be more into the 50+ category if there was one!
Lesley Vincent said there was no pressure and they were just there to enjoy themselves. Sonya Kristiansen added she just wanted to have fun and wore a pink tinsel wig and tiara on her helmet to prove it. On a borrowed pink bike, Helen Batt sure looked the 'we're here to enjoy ourselves' part too. However, Liz McMillan, who's son David had left for the Downhill World Championships in Austria the day before, took the overall win on her brand new bike. Seems the Anxious Mothers had an ace up their sleeve!
The 20km race was the most hotly contested category with 46 riders entered in four age groups – open, 40+, under 19 and under 15. This race featured two 'veterans' of the sport in Cara Paton (nee Smith) and Cheryl Hulskamp (nee Woods). After a quick race briefing and reminder for 'a hair and make up check' from the race director Kris Nicholls, and they were off!
One loop later and Cara, the winner, emerged from the single track all smiles. In 4th position was first-time racer Cass Du Boulay. (Check Flow in a few weeks when Cass tells her story about first time racing.) The youngest rider in this distance was Zoe Cuthbert who finished 11 minutes back in 7th position overall. With the number of young riders participating and doing so well, the future of the sport is looking very bright.
Of the two other special mentions one must go to Belinda O'Connor, entered in just her second ever race, she said she was scared and nervous, not because she has limited vision but she was worried she would crash and it would be caught on the Go-Pro camera she was using to film the race. The other goes to Melissa Collins, racing just three weeks after the birth of her daughter Sierra. Melissa said it was hard but fun, and it definitely helped that she continued to ride throughout her pregnancy, including the day she went into labour.
The 40km race consisted of two loops and had 28 riders. The 60km was three laps and had 13 riders. These were both great to watch as a spectator as you could check the progress as the riders came through each lap. Most riders stopped to grab a snack or a drink and the crowd clapped and encouraged every one on to the next lap.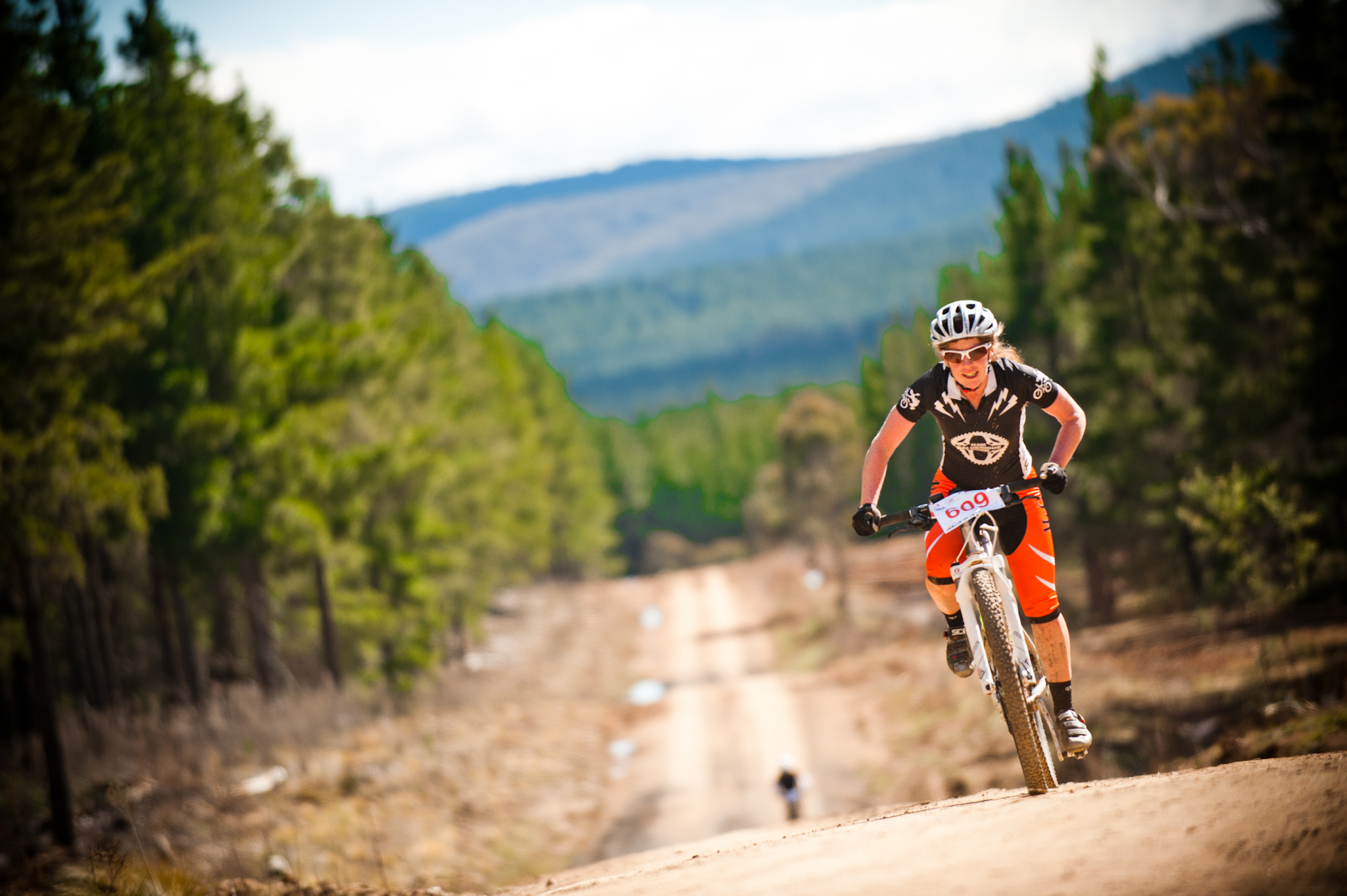 Claire Graydon took the 40km win just in front of Jacki Sculthorp. Lucy Burton in the under 17 group took 4th overall. Michaela Watts was first over the line in the 60km with Karen Evans winning the 40+ category and coming in 3rd overall.
The most common phrase heard at the finish line was, 'my legs feel like jelly'. Fun was had by all involved, the huge smiles on everyone's faces and the excited conversations more than proved the success of the event.
As always there has to be a big well done and thank you to all the organizers, volunteers and participants for making the event such a success. Further details can be found at www.forthebirds.com.au
Look out for more of women's events as they gain popularity. In Canberra next year there is a three race series stemming from the popular Dirt de Femme race held in April 2012. We at Flow will keep you posted on other events on our Event Calendar.
* Dirt De Femme was the first women's only mountain bike race in Canberra. [/private]