A few weeks ago, NSW Parks and Wildlife released a new cycling strategy, creating an official framework for opening, closing and sanctioning existing mountain bike trails on land managed by National Parks. We took a deep dive into what this means for riders across NSW here.
It didn't take long for the first new mountain bike plan based on this new overarching strategy to drop, with Parks releasing the documents for the Glenrock State Conservation area about a week later.
With its proximity to the Newcastle CBD — and the Flow Mothership — the Glenrock plan is a stress test for Park's new stance on mountain biking. So we caught up with Mick Plummer, the leading voice behind the Glenrock Trail Alliance, to take a closer look at the document and see what it all means for mountain bikers in Newcastle and the surrounding area.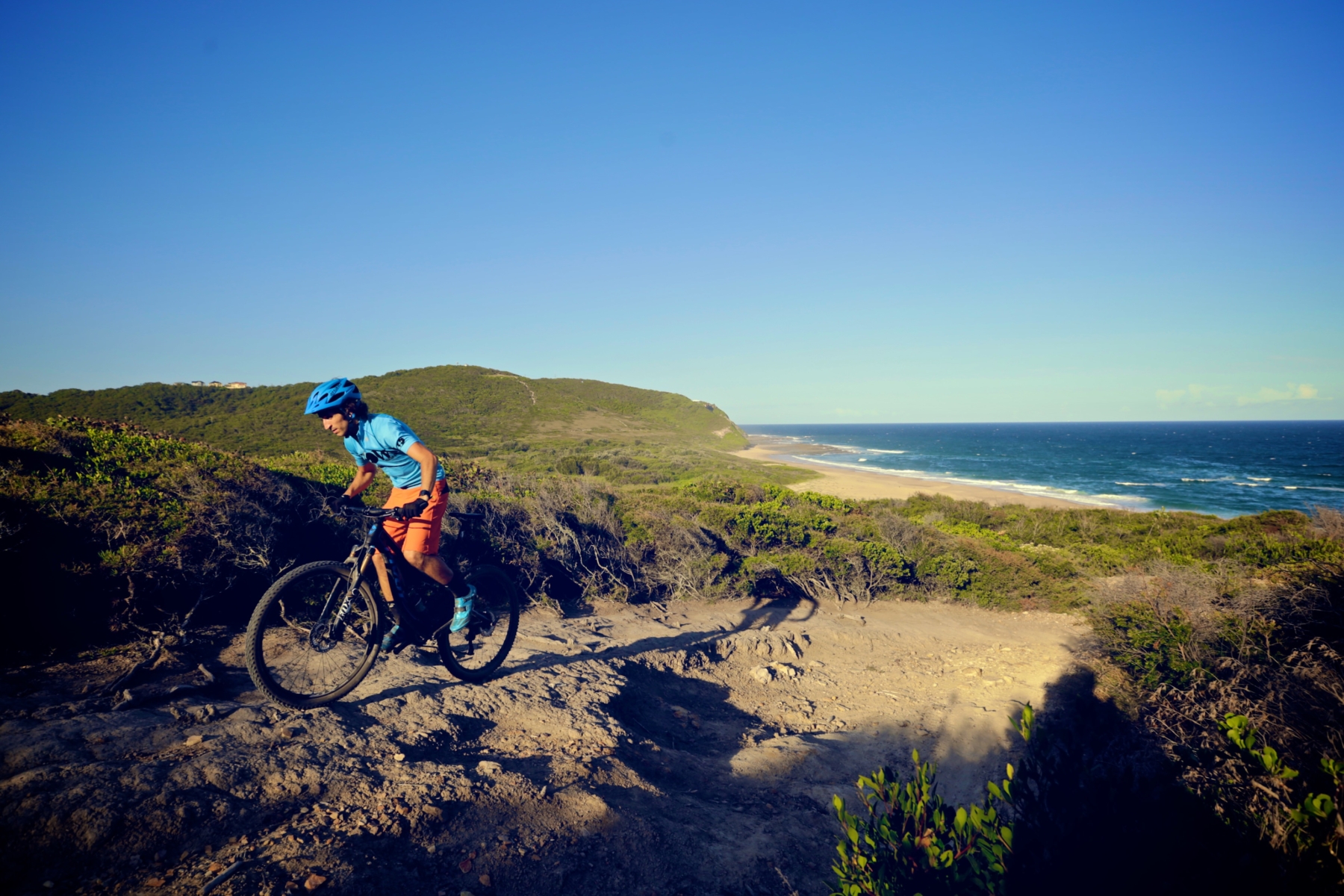 How did we get to this point?
This document is meant to sit alongside the new Plan of Management, providing the where and how for mountain bike trails within the State Conservation area. It also seeks to balance the recreation aspect with conservation. The latter, of course, is the mandate of National Parks as an agency.
Being roughly 8km from the bustling centre of Newcastle, and its proximity to spectacular beaches, a lot of people use the park in many different ways. It's also home to five of the last seven pockets of Littoral Rainforest in the Lower Hunter, among several other endangered and threatened species.
"My original involvement with Glenrock was on the conservation side, and I didn't want to see it changed from being some sort of national park — that bit of land had been sort of battered around over the years," says Plummer.
"A lot of people still don't get that the area is a national park, and the conservation values come first and foremost. If the agency (NSW Parks) can't meet that requirement, then they are not going to build a mountain bike park.
A lot more people are coming around, but not everyone gets that," he says.
The new plan replaces the current Plan of Management which was first published in 2010. Mountain biking was included in this document, but it was far too restrictive to function properly.
"If we had to move a bit of trail or change something up, under the current Plan of Management, we couldn't. We found ourselves fixing the same things over and over again that should never have been there in the first place. The trails in Glenrock were never properly planned, and the Plan of Management didn't allow the scope to address those issues," he says.
Parks was sympathetic to this conundrum. So in 2016, World Trail was brought in to create a concept plan that would form the foundation of a new stand-alone document for mountain biking and could also be used to help attract more funding for the trails.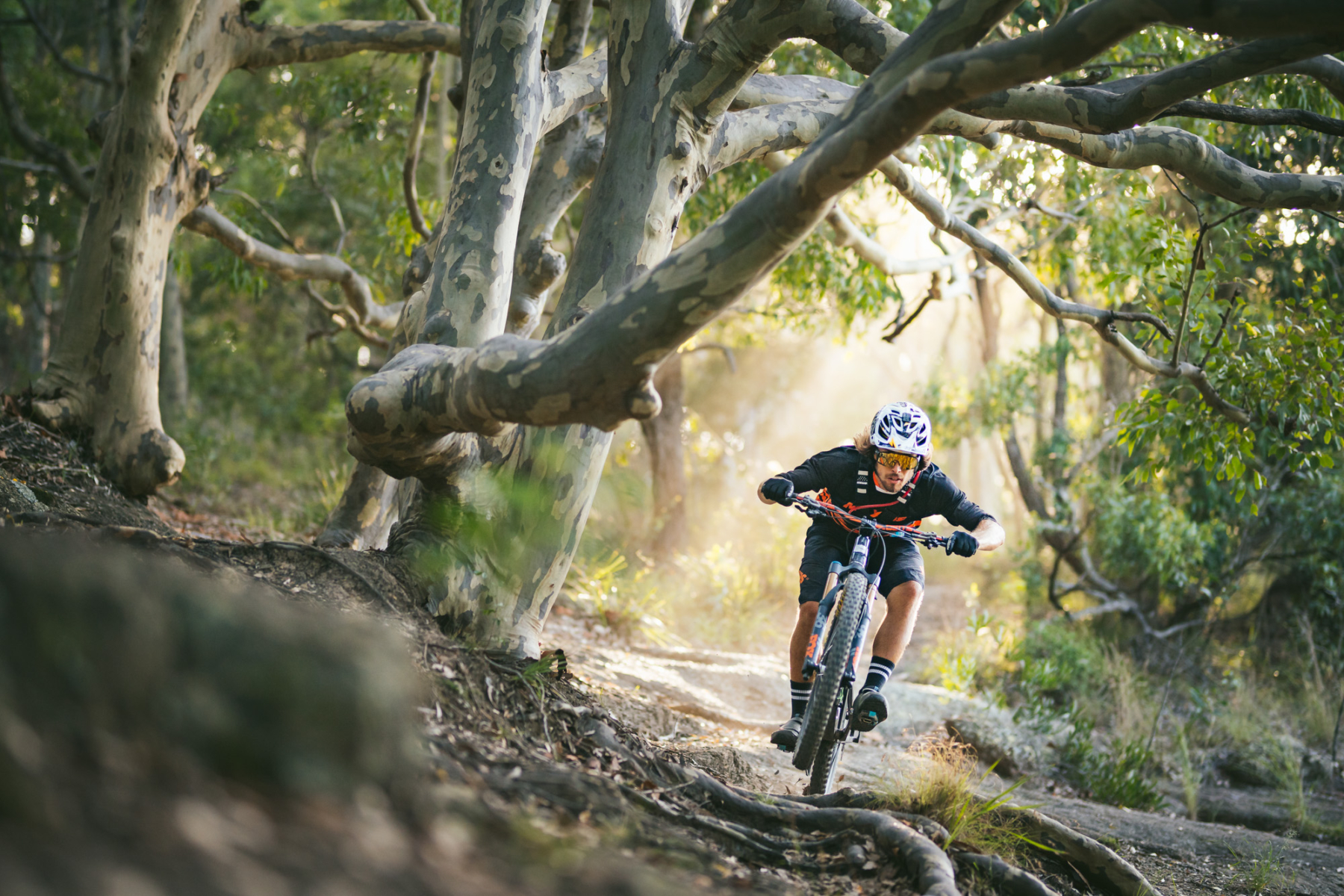 "There was a bit of a breakdown in communication, and World Trail didn't get the correct brief that included all the restrictions and requirements they'd had to meet within the park," says Plummer.
So what came through was not going to work for Glenrock. Plummer says the park managers batted it back and forth a few times and then ran out of money, so the update was shelved, and the 2010 Plan of Management still reigned supreme.
Glenrock was stuck. Nobody could come in to fix the issues with the network because the 2010 PoM was still in place. Parks also didn't have the resources to fix the problems or the PoM. However, through running the Trail Alliance, Plummer had a pretty good handle on the topography and restrictions on the park. In frustration with the lack of progress, chatting to a ranger, he said why don't, "I have a look."
A few years later, leaning on the concepts outlined in World Trail's document, Plummer had ground-truthed the entire network, and GPS plotted the proposed new trails. He had put together a plan that was in with a chance.
And as it happens, Parks took the Trail Alliance's advice and adopted basically all of its recommendations into what is now the current Draft Mountain Bike Plan.
"I'm stoked to see it all there. The principles behind it are about conservation values and achieving a better result for everybody. It took fairly intensive ground truthing to get there," he says.
What does the draft plan say?
The basis of the draft plan is to establish a formalised trail network within the Glenrock SCA. All up, the plan will include 43km of legal trail with 21km of newly built trails and three skills areas utilising pre-disturbed areas of the park.
Parks states the network is designed to be of local to regional significance and is organised in a stacked loop-esque structure. Each designed to offer a slightly different riding experience. These consist of:
Northern Loop 10.9km
Middle Loop 6.5km
Southern Loop 18.2km
Brunker Loop 3.7km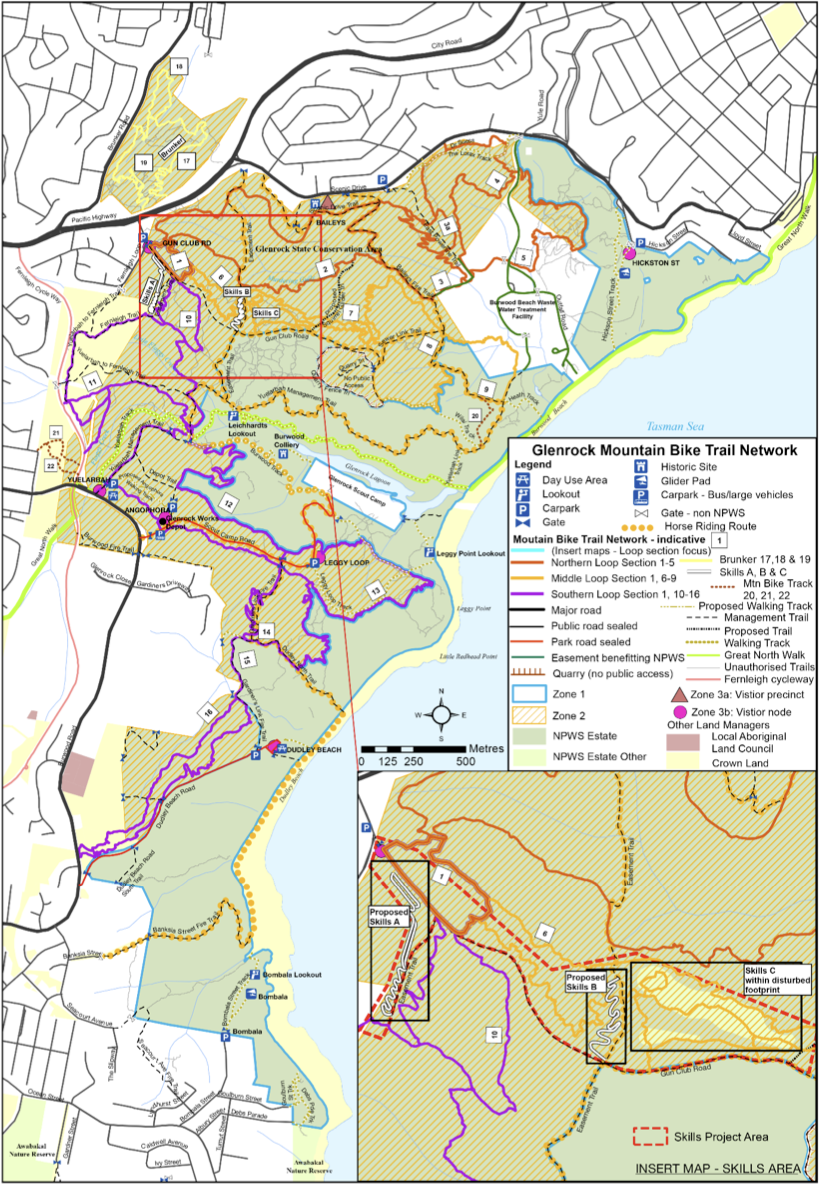 According to parks, the three skills areas would range from intermediate to extreme, with jumps, drops and big berms — subject to detailed design.
"In the scheme, it's a fairly decent amount of trail. It's more than doubling the amount of (legal) singletrack. And the biggest part, along with this formalisation and management and so on, is that we should be getting a better quality of trail. The stuff that needs to be rebuilt is going to be to a better standard," he says
"Even for the people that don't ride, to see the management change, and parks no longer turning a blind eye to things, we should get a better result for everyone," Plummer continues.
To achieve this, Parks has divided the State Conservation area into three zones, with the majority of the trails concentrated within Zone 2. This area is largely pre-disturbed land. So the conservation values are significantly lower and going forward, any new trails will have to be within this zone.
"They've turned around quite a long way since I first started, with their acceptance of mountain biking at a more realistic and current level. It's more aligned with what riders are actually doing and trying to cater for riders at all different levels and (offering different riding) experiences," says Plummer.
The document also notes that Parks is looking to upgrade the trailhead from a patch of dirt to something with toilets, tables and the like. The area on Gun Club Road, which serves as the informal trailhead, is actually the City of Newcastle's land. Any upgrades would be dependent on permission from the council and funding.
Unfortunately, this new sanctioned trail network means some trails will be closed, with the plan outlining 30km of singletrack to be closed and rehabilitated.
"What could be seen as the bad side of things as far a closing trail, obviously some people are going to be unhappy about that. But it wouldn't matter what trail is closed or how bad it is. Someone, somewhere out there, will be attached to it and be upset," says Plummer.
Glenrock doesn't have a boatload of elevation, and unfortunately, one of the areas that does offer good vert runs through sensitive areas of pre-European vegetation.
"That section gets steep, and as people continued building there, they ended up in creek lines and stuff. It's just not the right place to be doing that because there are some really ecologically sensitive areas.
Pretty well, the whole lot of that will have to go, and there is not a lot outside of that (area) which will be up to a black diamond level. It's a hard one to lose," he says.
Ultimately these types of documents are about achieving balance. You wouldn't expect a World Cup Downhill course at Glenrock. The topography doesn't allow for it, and there are important conservation values that shouldn't be trampled on within the park. However, it has also been well demonstrated in Australia and beyond that mountain bike trails can exist around areas of high conservation value. It's also well-established that the best way to prevent folks from building illegal singletrack is if you offer them trails worth riding.
"People want to go out and ride in the bush, not a dust bowl, and parks have turned around quite a long way as far as the acceptance of mountain biking at a more realistic level, more aligned with what riders are actually doing," he says.
What about trail maintenance
The combination of trails not being pre-planned and the ultra-restrictive PoM has left quite a maintenance backlog at Glenrock.
"The biggest problem we have at the moment is there is a lot of stuff that isn't well built and is not maintained. And the budget to repair all of that is going to be huge," says Plummer.
The draft plan says that NPWS will prepare a program to "ensure routine maintenance is carried out in a timely manner and provision is made for non-routine works. Maintenance work will be prioritised and implemented as resources allow."
The document also says parks will seek out funding models like corporate sponsorship to pay for upkeep and new trail development. But, volunteers will also play a role in this plan.
In 2021, the NSW Gov allocated $91.5 million from the NSW COVID-19 economic recovery fund to boost eco-tourism in NSW national parks. This included $600,000 for, "planning of enhancements to the mountain bike track network and upgrade works in Glenrock SCA."
The Glenrock Draft Plan of Management and Mountain Bike Plan are both out for comment until February 6, 2023.
Plummer encouraged folks to take the time to put together a submission. The parks page outlines what they are looking for in the comments and what will achieve the most impact. But the critical thing is not to copy and paste a form submission.
"When people do a petition where 10,000 people write the same thing and just copy and paste, that counts as one submission. So be original," he says.
You can read the draft plans for yourself over on the NSW Parks website. All the information on submitting a comment is also on that page.