When you travel the world riding bikes, what makes a destination stand out? Hans Rey has been a professional mountain biker for long enough to see fads come and go but turns out he and his wife Carmen have a soft spot for Derby.
---
Watch Hans riding Derby, seeing new trails, heckling enduro races, meeting new talent and shredding like a boss!
---
Hans and Carmen Rey's impressions on Derby:
You could probably travel the world over and never find anywhere quite like Derby; not Derby England, but rather Derby in northeast Tasmania. It is here that you will find a network of trails that are exquisite to look at, masterfully created and sensational to ride; this is Blue Derby.
Multiple factors come together to create the perfect mountain biking destination. A picturesque town not too far from an airport, one with infrastructures such as bike shops, shuttles, restaurants, accommodation and public amenities, and of course, a pub. Easily accessible and all within a short riding distance from a choice of stunning trails, for all skill levels and set in a beautiful landscape.
Derby and its Blue Derby trails tick all the boxes. It is a town that in every sense is about mountain biking. Whether you are an absolute beginner feeling the dirt under your tires for the first time, an XC hard tailer or a jump junkie, you will find your inner spirit level soar as you experience some or all of the 123 km of purpose-built mountain bike trails.
But that is not all; there is another vital thing that makes Blue Derby extra special; the landscape and the dirt. Temperate rainforest thick with lush fauna framed by canopies of tree ferns, sunlight dappling through creating a filigree of shadows reflected on waterfalls and streams. Sticky dirt, smooth dirt, groomed dirt, perfect dirt almost all year round.
Back in 2016, I visited Derby along with Hans and Tyler McCaul to experience, photograph and write about this gem of a town and the trails built by master constructors World Trail. Derby was little known outside of Australia then, it was a small sleepy place, abandoned by commerce and many of its residents, with hardly anywhere to eat, one bike rental and shuttle service and an empty pub.
The trails, however, were amazing and we knew that Derby would not stay quiet and empty for long.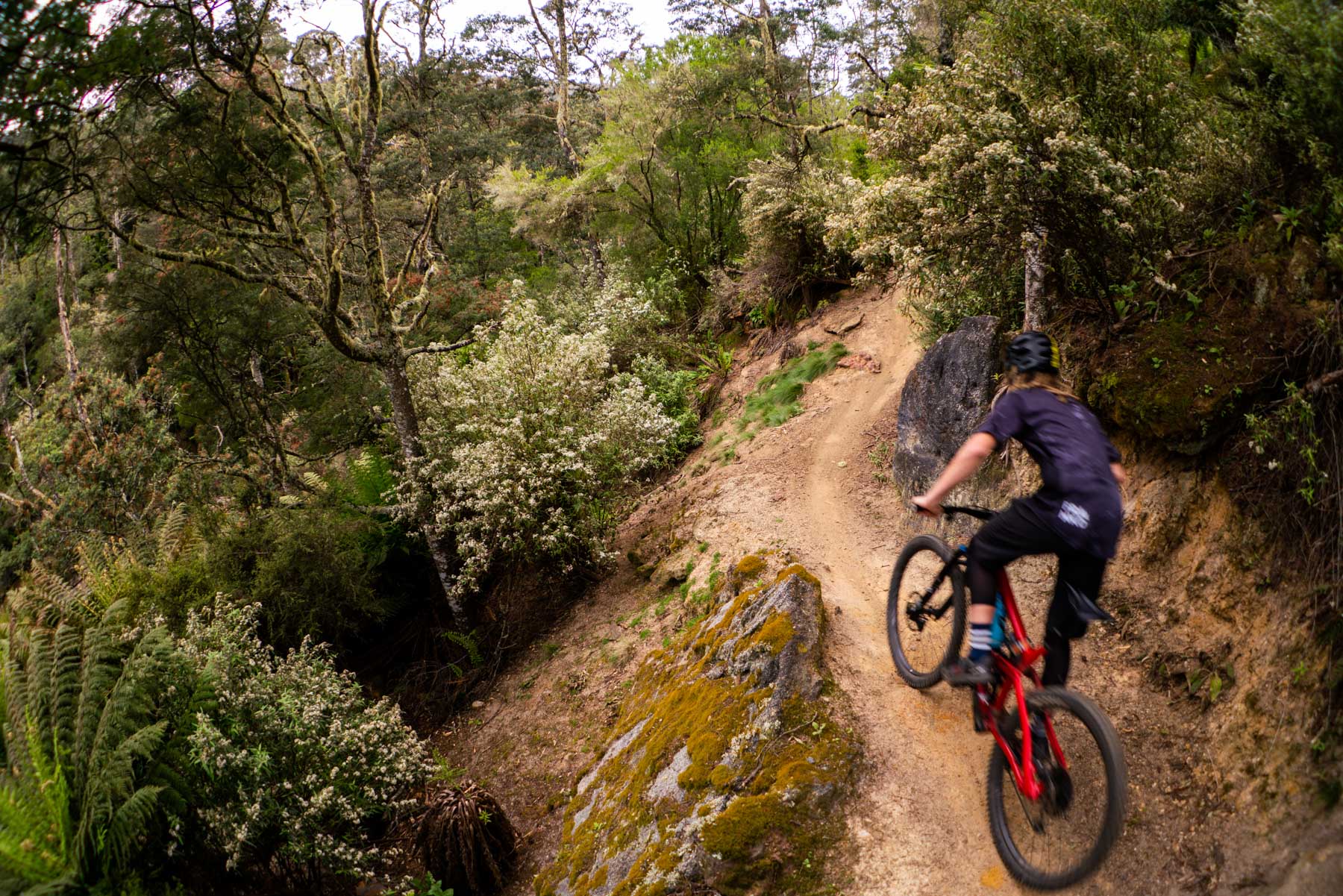 Oh, how things have changed. The trail network has expanded, there is now a choice of bike shops, stocked with everything you need or desire, the accommodation has grown from a few beds to hundreds of beds, property that no one wanted to own has been snapped up, and the pub is full every night.
Word has spread, in a short time, Derby has gone from hibernating to thriving, and it is all down to MTB. In just a few days we met people from Colorado, Norway, Switzerland, Belgium and New Zealand, all super stoked with what they found there, Blue Derby is now on the map international map as a go-to destination to ride.
---
Want more Derby and St Helens?
Hans Rey rides the new trail; Bay of Fires, from The Blue Tier to Swimcart Beach – Hans rides Bay of Fires.
Watch our entire video library from Tasmania on YouTube here – Tassie Trails!
Thomas Vanderham in Derby – Mountain bike royalty rules the trails.
Our trip to Derby in late 2018 was a hoot! – What's new in Derby?
What if mountain biking never came along? A little more with Miles Smith, Derby's talented local grommet – Zero to hero.
Full GoPro run of Ai Ya Garn, Derby's new jump trail – Jumps and more jumps.
Check out our story on visiting St Helens region before the opening – St Helens Trails.
Mick's epic gallery from the Enduro World Series, the most incredible weekend! – EWS of the year.
---
Mo' Flow Please!
Enjoyed that article? Then there's plenty more to check out on Flow Mountain Bike, including all our latest news stories and product reviews. And if you haven't already, make sure you subscribe to our YouTube channel and sign up to our Facebook page and the Instagram feed so you can keep up to date with all things Flow!