Our trip to Falls Creek coincided with Ignition Festival, a celebration of everything we love about riding bikes; trails, group rides, food, music, beer and great vibes. Join Ben and Jonah for a trip through some of Falls Creek's trails, and you tell us if this doesn't look like a good time!
---
---
Directions to Falls Creek? Head up; Ignition is on!
The High Country is a buzz of bikes, cars with bikes on them and people around town that look a lot like bike riders. But when Ignition Festival is on, it's turned up a notch! On our journey up to Falls Creek with bikes ready for action we were not alone, this festival pulls the crowds, and it's easy to see why. There's no timing system or start list in sight; it's all about getting together, riding together, eating and drinking together and staying in an epic place together.
It was a tent city by the time we rolled into town, people everywhere! We didn't delay and jumped on the Blue Dirt shuttle with our guys Ben and Jonah and went up the hill to capture some iconic Falls Creek goodness.
Up high.
Out of all the seven destinations we visited in the Ride High Country road trip, Falls Creek gives you the most epic feeling of being super high. The trails that run along the ridges above the resort feel like the highest place on earth, with masses of fresh air around you and views for days.
The bleached white snow gums and low scrub are iconic to the region, and make for great photos as the trail passes through their skeletal shapes. From up high three main options split into various trails as you continue down, from rowdy and fast to more flowing and fun. We took Ben and Jonah along Frying Pan Spur and back to descent down Big Fella, one of the newer trails with one of the most 'slappable' sections of corners we've seen.
Flat out down Big Fella we rolled right into a heaving mass of stoked mountain bikers, and local craft beers were poured before we could say "holy High Country!".
Bidding Ben and Jonah farewell we saw the long day out by an open fire, planning our dawn photo shoot on a region we hadn't visited in many years, Pretty Valley. An aptly named area that we knew it worth getting up early for, so we farewelled the festival as the lasers and smoke machines were starting to ramp up on the dance floor and got our gear, bikes and bodies ready for sunrise.
Sunrise like no other, a day to remember!
Sunrise shoots are always a challenge, aside from the early wakeup, you never know if it's going to be worth it. Was the sun going to do its thing, or would clouds ruin the show? Well, didn't we get lucky this time around!
BOOM! The sunshine burst off the horizon like a poorly converted tubeless wheel, and we were awash with glorious golden light on our faces. High above Falls Creek and Rocky Valley Lake, the sight took our breath away.
With mist swirling on the water surface and layers of fog and cloud huddled in the landscape, we quickly darted about the rocks and snowdrift above Ruined Castle to get the shot, but with a sunrise this good, we wanted more! Jasper was shooting off frames like mad, and I was boosting around on the Specialized Levo (yay for e-bikes!) to give him as many options as possible.
After banging off a few frames at one more spot amongst the skeletal snow gums before jumping in the rally car down to Pretty Valley Pondage for what we hoped would be a beautiful scene.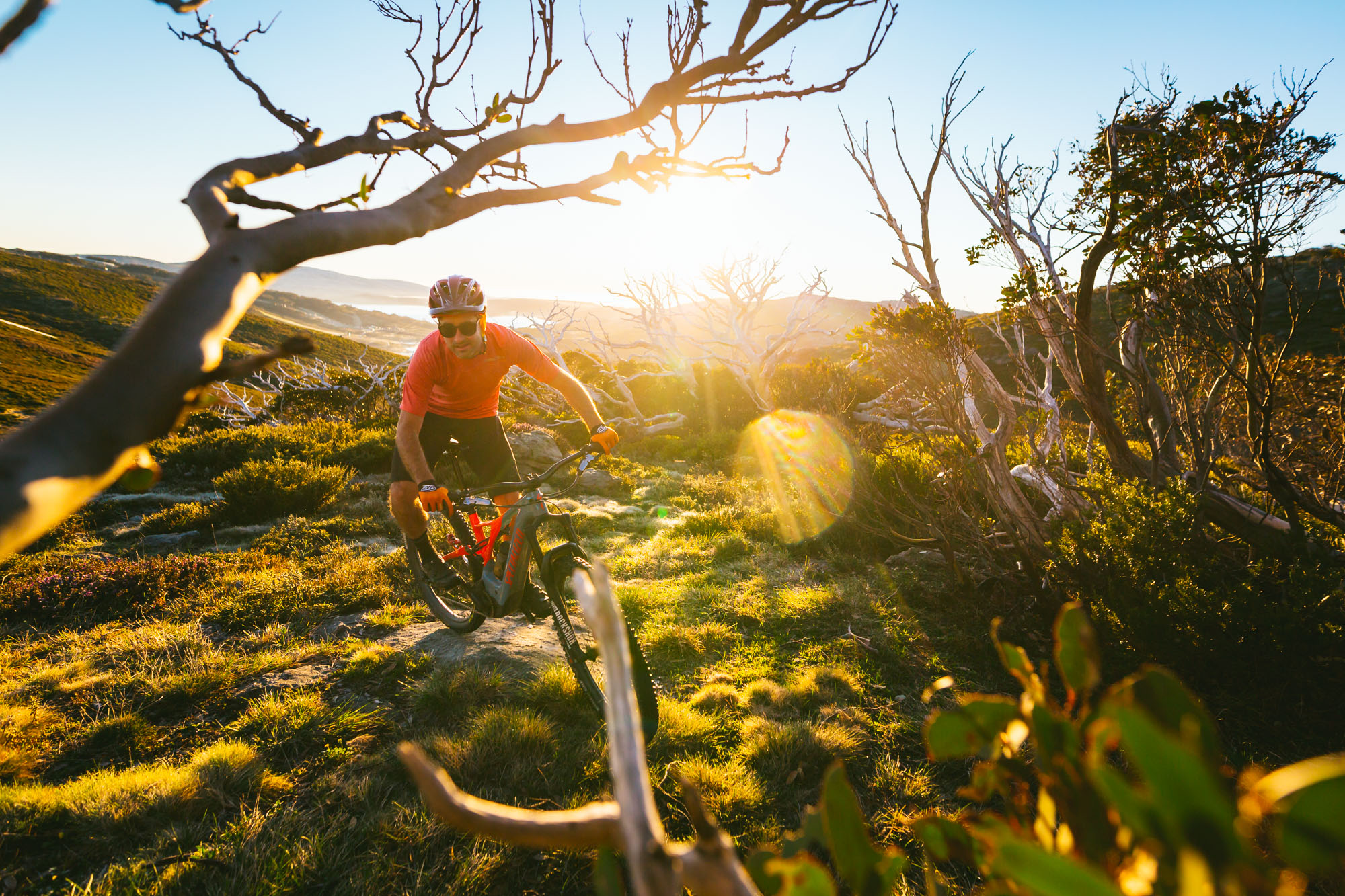 BOOM! Again the light, fog and colours were incredible! We were like contestants in a cash grab show; we wanted to shoot every spot in such little time. Jasper beavered away like a camera ninja juggling the stills camera and drone simultaneously while the Levo carried me into a dozen more positions for breathtaking images.
As the sun lifted and the air warmed the mist melted away and the colours faded, it was time for the two of us to regroup and clarify to each other that that was one of the most beautiful mornings we've ever seen.
Time to go further into the backcountry.
Falls Creek has loads of backcountry trails, used by horse riders, hikers, walkers and riders the network of dirt roads might not satisfy a rider seeking flowing singletrack, but it makes up for that tenfold with a sense of adventure and mind-boggling scenery.
From Pretty Valley Pondage to Tawonga Huts is a short-ish (we had e-bikes which made it a lot easier with our heavy equipment and weary legs) ride up and over another massive ridgeline and down to a clearing with a few old huts and cattle holding yards (cold animals they must have been!). It has to be one of the most iconic scenes in the High Country, the old huts, weathered timber fences and bubbling streams through fields of buttercup flowers and brilliant green grass.
With time on our side, we got creative with the surroundings. Playing around on the features and terrain we were fascinated by the shapes of the trees and crystal clear water.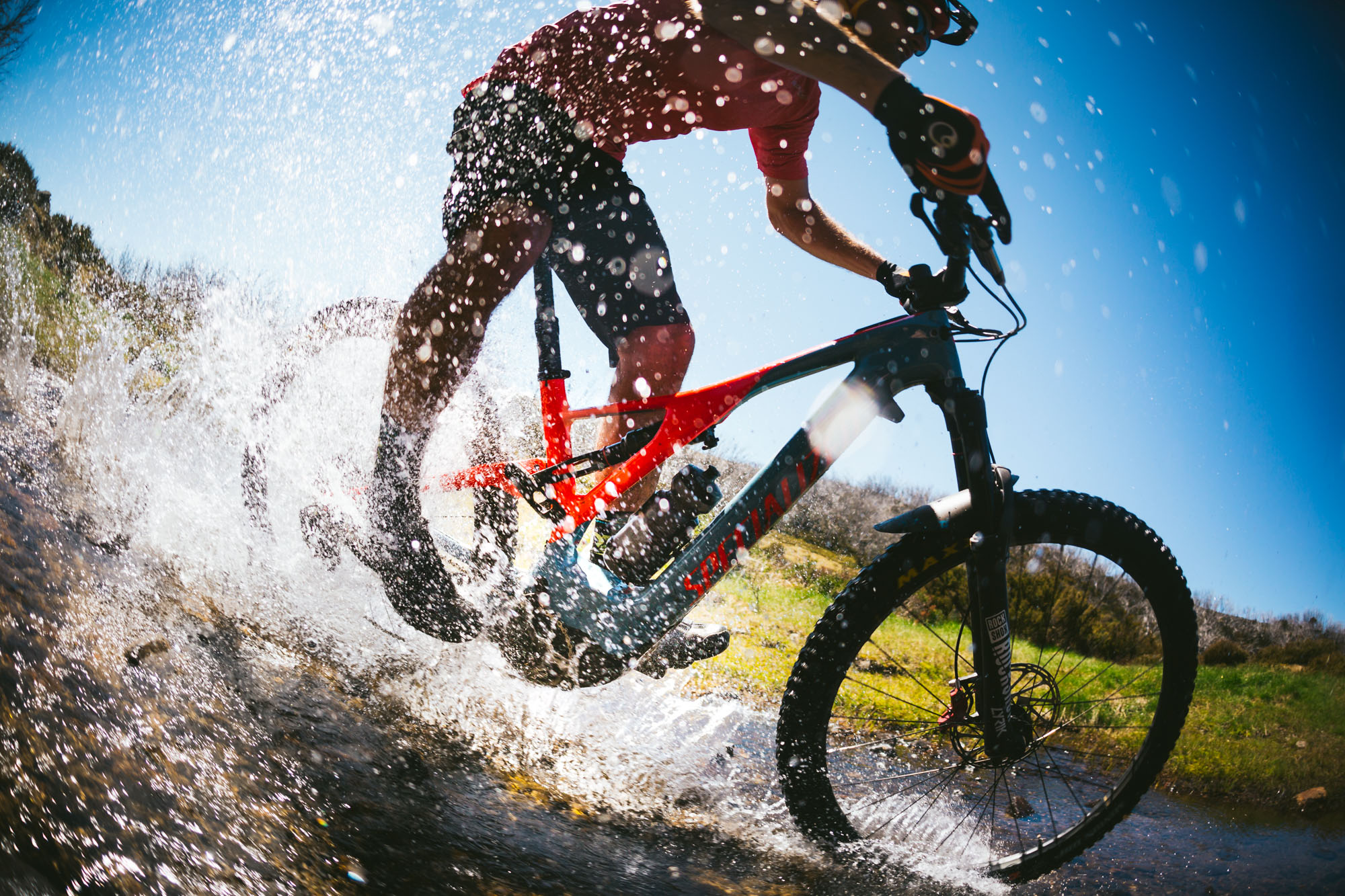 We couldn't stay at the huts forever – there was no WiFi – so we made the trip back to reality and planned to drive to our next destination in the ultimate road trip in the Victorian High Country.
---
For more information, trail maps and everything else you need, head to Ride High Country's website.