We drove our bike-laden car over Tawonga Pass from Bright, and there she was, laid out before us at the end of the vibrant green Kiewa Valley, Mt Beauty. Ahhhh, we love this place! So many memories have been dreamed up in these hills, and we're sure many mountain bike racers will share them too, playing host to substantial national level races in the mid-late '90s. Mt Beauty is steeped in heritage.
---
---
Mt Beauty is a charming little town, you drive in past plenty of cozy accommodation options, past Sweetwater Brewery and a bike shop across the road along the river and into the heart of the town. You don't have to go far to the trails, only a couple blocks from the bakery is the trailhead car park with the vast map billboard.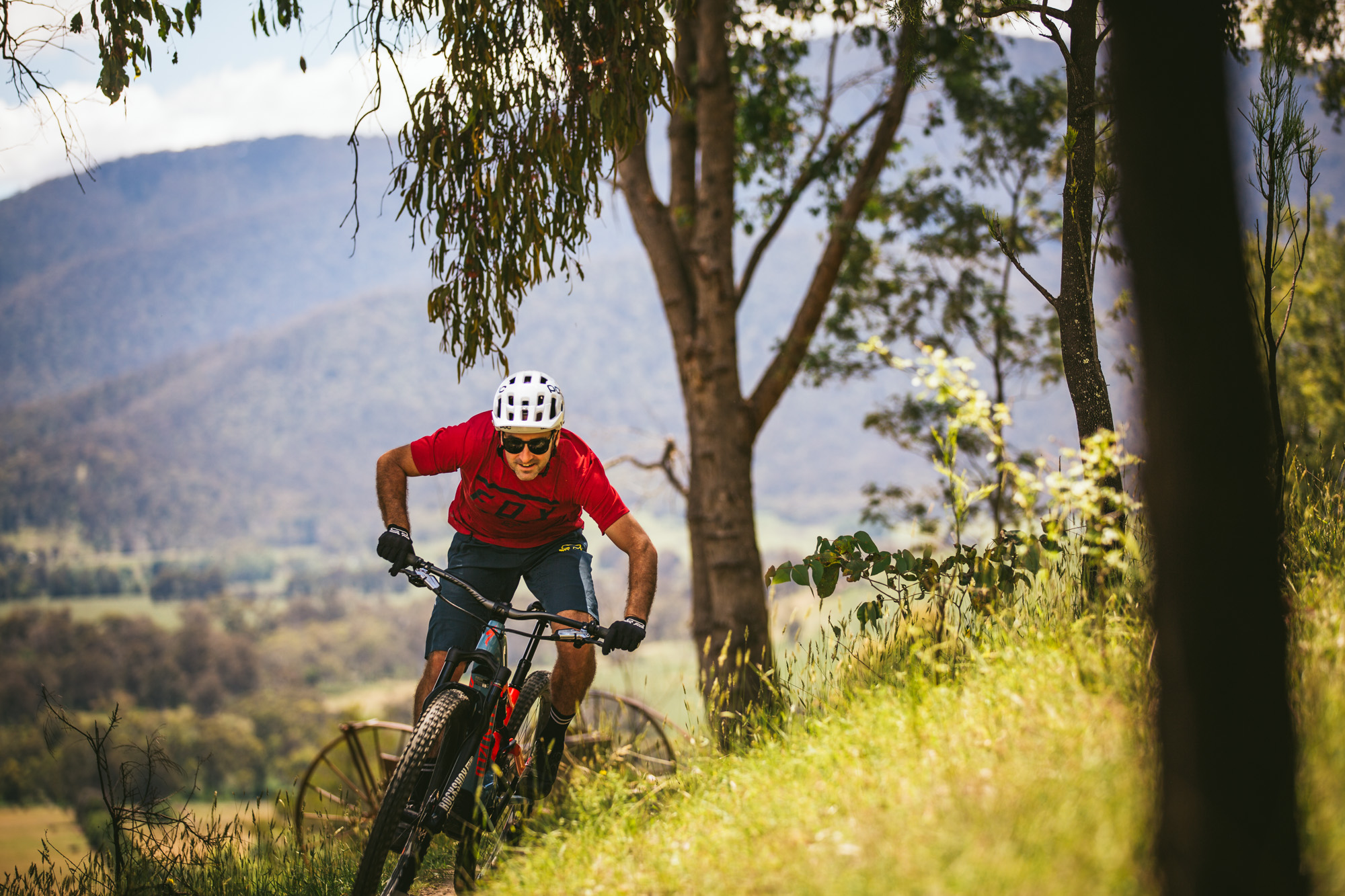 Staring at that map is enough to give the most mathematical puzzler a headache, there's so much trail squiggled on there, the best way is to follow the coloured loops that Team Mt Beauty have plotted for easy access to what type of ride you're after.
Meeting up with three locals, we had it sorted. Turi, Whips and Quinny form much of Team Mt Beauty club's committee, so not only did we get local guides and dashingly good looking talent for the camera, we practically joined a committee meeting as they discussed trail developments, funding applications and grants, events and what neighbouring town charges the most council rates.
Into the labyrinth, we go, on a new machine built climb!
Wait, did you say 'machine built' and Mt Beauty in the same sentence? Looking back a couple of years, we quoted "Mt Beauty's trail builders cling proudly to a gritty, raw and downright challenging style of construction, the polar opposite of the groomed predictability that typifies a lot of new trail development. These trails are scratched into the slopes with hand tools; you won't find any 900mm-wide excavator shaped contours here!" Times have changed, but don't worry any of you dedicated natural trail enthusiasts; it's only a short access climb.
A new trail has been built to climb up into the heart of the good stuff, it's nice and wide, super mellow and it's great! It'll help more riders of a variety of abilities and ages access the fun bits, no doubt about it.
Up the singletrack jank, through swooping gullies and beneath towering eucalypts.
The narrow, natural, handbuilt trails dart off in all sorts of directions, we follow one of our faves, full of fast gullies under massive eucalypts. Off the brakes, the narrow trails feel even narrower and really fast, through the g-outs and up the other side we turn onto a climb and head higher up for views over the Kiewa Valley.
Climbing up to the starting point of the downhill track, we reminisce of the nerves on race day in our teens. Putting those long-gone feelings aside, we calmy cruise along a ridge bathed in the golden afternoon sunlight and down a super-techy and steep singletrack section with corners so tight we wished for our old 26″ bikes again! The trails were running super-sweet, with a gravity enduro race held there only a couple weeks earlier, the lines are worn in and we had lots of confidence to let speeds trickle up and up.
After a slow over-the-bars crash, Whips and Quinny push back up with determination to retry a steep and particularly tricky section again, and we made our way through fast old race tracks to the carpark safe and sound.
It's a great place to ride, so different from the other seven stops on the Ride High Country road trip; it's charm lies in its steadfast dedication to old school trails. But there's a fresh feeling in the air, with new trails going in to open up the park's accessibility to more riders. If you haven't yet ridden the Mt Beauty Bike Park, do yourselves a favour and put it on your bucket list, it's a proper mountain bike experience.
---
For more information, trail maps and everything else you need, head to Ride High Country website.