To win the Pure Tasmania Wildside is one of the big honours in Australian mountain biking.
The event always draws the best riders in the country to compete with. To achieve the fastest overall time, a rider must be fit, technically skilled, be able to back up over four days of racing, be well prepared, and have a little bit of luck on their side when it comes to mechanicals or the odd spill.
Flow caught up with 2014 victors Rowena Fry and Ben Mather as they tucked into the post event BBQ on the beach in Strahan. Rather than rehash tactics and blow-by-blow accounts of the race, we were curious to hear from the proud Tasmanians about what this race means at a local level.
Congratulations to you both on winning the event. It's not the first time that you have both done well at Wildside. What is it that makes you decide to come back and do it again?
Ben: It's just one of those things that comes around every couple of years and being Tasmanian and local, it's one of the must do events for us I guess.
Row: Yeh, it's a pretty iconic stage race.
Row: It's always one that's on most mountain bikers' bucket lists and we're lucky that we live here so it's a bit logistically easier for us to do it.
Ben: And I think it gets back to the roots of mountain biking too. It's good that there's a lot of all this mountain bike trail being developed, groomed trail and that, and it makes people excited. But Wildside, it's raw. You know, it's on the West Coast of Tassie and it's not following purpose built trails. It's rough and rugged so it gets back to the roots of mountain biking.
It's an event that brings a lot of people from all over Australia for the journey through the Tasmanian landscape as much as the race itself. As proud Tasmanians, do you enjoy seeing people come and experience this part of the country?
Row: Yeh, we're pretty patriotically Tasmanian. We love our state. We think it's an awesome place to live, and there's lots to see and do.
We do get bagged out a bit sometimes because of bad weather, etc. But I reckon we've got awesome riding here and this is only a little bit of it. It's growing and growing and growing. Give us five years and mountain biking's going to be huge in Tassie.
Ben: I think for us the enjoyment is twofold. Running our own local shop here in Tassie (AvantiPlus Launceston) we've got so many customers and friends that want to come and do Wildside. To help them along the way as well, and to see other people come down (here) is pretty special.
Do you think living here gives you much of an advantage in the race, due to knowing the type of riding the event throws up?
Ben: No, it doesn't. I mean, I haven't been over to this area for four years. It is on the West Coast, it's somewhere that we don't visit very often. It's definitely a slight advantage having done Wildside before and knowing what to expect. But in terms of riding, as I said, I haven't been here for four years, 'cause I missed the last one.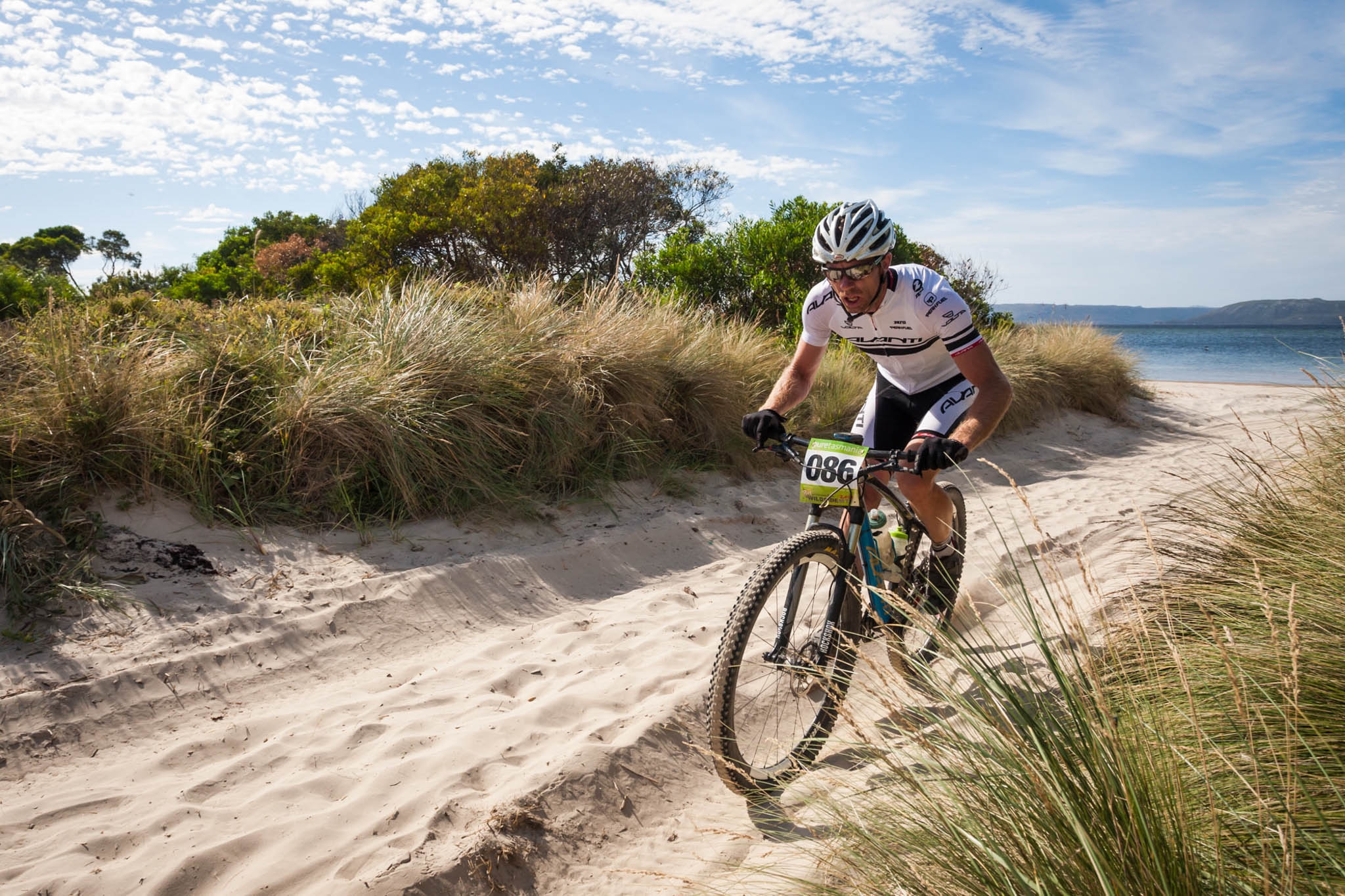 Row: And I think that's why it's still appealing to us – because we don't come here and ride the trails very often. It's exciting to see what they're like again after a while.
There were some close battles in both the women's and the men's categories during the event this year. How did you find it out there in terms of the racing?
Row: The women's was fairly close from day one. Different people were winning different stages. Between Jo, myself and Jenni, it was super close racing.
I had a bad second stage and was a long way down. I'd pretty much written myself off…Jo was riding incredible the whole time…To win against those girls (is something) I was wrapped with. The racing was just incredible – really good work outs, and fun.
Ben: I'd worked so hard all week to get everybody else up and going. To rock up here and win it was beyond my expectations. I looked at the start list and I knew a few of the guys go pretty well.
You can never write Adrian Jackson and Sid Taberaly off, they're seasoned competitors. And I knew Mark had been riding really well, I'd been watching his results nationally. So it's something that I didn't expect to happen. But after the first day it sort of just clicked and I thought, well, I do have a little bit of a shot here.
When Mark snatched the lead back off me on day three I was sort of angry at myself. I knew that the penultimate stage was going to suit him, I just didn't realise that I'd lose so much time. I probably slept on it a little bit that night and came up with a plan and thought if all the stars align I could have a shot. To win Wildside is pretty special. I'm pretty happy with that.
The racing was also very competitive in a lot of the age categories. Do you both find it exciting seeing so many people newer to riding come through the field?
Ben: Oh look, I'm super excited with the young Tassie guys coming through. Mainly the young boys at the moment, hopefully a few girls come on later but you know, to name a few of them, your Tom Goddard, your Scotty Bowden, your Ben Bradley, Sam Calow, Jackson (Howell) from the North West Coast, Brendan Adair…
There's a couple that haven't come to Wildside because they're a little bit young as well. We've got some really good talent coming through. Hopefully they're inspired by what both Row and I have done here and we get the next crop of Tassie riders coming through.
While numbers were low in the Under 23 women, there have been a lot of strong riders in the Masters and the Super-Masters and Grand-Masters categories pushing into the top ten. What are you thoughts on that?
Row: Just to actually see more women on bikes is just incredible. To see so many older women as well, it just goes to show that mountain biking is a sport for the ages, there's no limitations out there. And they're having a great battle in the Masters and Super-Masters categories, and always smiling. I reckon it's just great to see.
I'd love to see some more younger females coming through, but I think numbers in general of female mountain bikers is really picking up, especially in this format of event where it's a non-threatening racing environment.
Lastly, with so many events on offer in Australia at the moment, do you have any advice for anyone thinking of giving Wildside a go?
Row: If you're a mountain biker in Australia and you haven't done Wildside before I'd put it on the list of events to do. It's on every second year. Bring friends, spend a week or two weeks in Tassie. There are great places to see, great places to ride, make it a really big trip and have a blast!
Ben: And don't rock up under prepared. Make sure you've got your bike in good working order and all that sort of thing. If you're going to spend the money to come down and do Wildside, come prepared.
And come prepared for any sort of weather as well. As you can see, the first day was horrible. It was raining and it was cold. Now we're sitting in 30 plus degree heat with a total fire ban. Anything can happen, so definitely come prepared.
Row: Yeh, pack your down jacket and your bikinis!