At the end of 2019, Batemans Bay was under siege. The sky was orange, the air thick with smoke, and the townsfolk were forced onto the beach seeking a safe haven from the inferno rumbling in their direction.
Less than 10km up the Princess Highway, the same scenes were playing out in the village of Mogo.
Need to know
Located near Batemans Bay, Mogo is slated for 155km of singletrack, including a wilderness trail from Wandarra Mountain.
This includes an upgrade and formalisation of the existing trails.
The Eurobodalla Shire has just released the design and construction tender and hopes to start building later this year.
"The fires had a significant impact on our community," says Eurobodalla Shire Council Director for Planning, Lindsay Usher. "Some people have been able to rebuild their homes already, others are still waiting for that process, and some people have decided to buy an existing house or move on somewhere else," he says.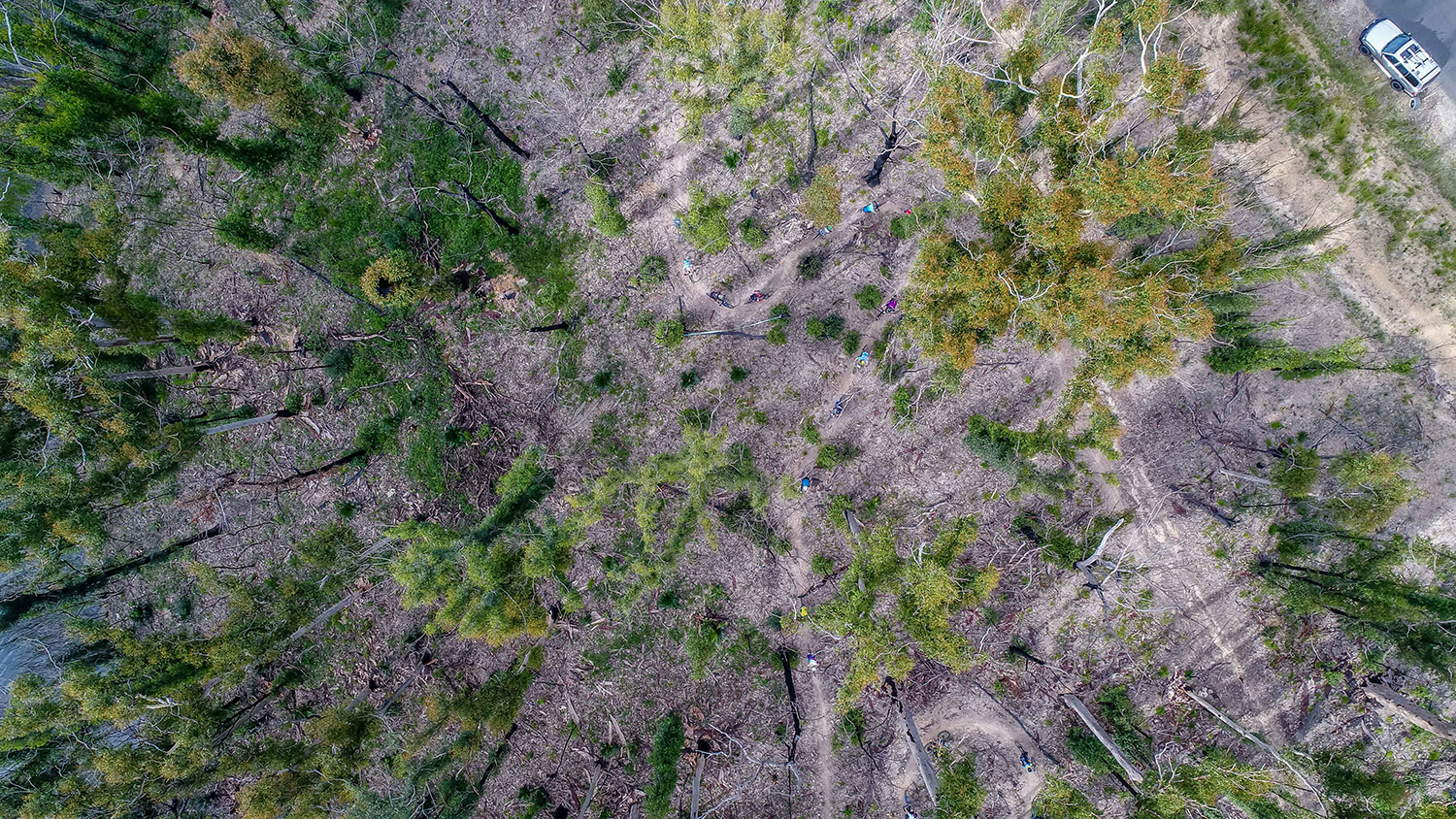 "The bushland around town was severely burnt, but it's starting to bounce back. Lots of the trees have well-developed canopies, and some of the understory is starting to come back," he continues.
Tourism is king in the Eurobodalla Shire, and after the fires, to add insult to injury, the region was hit with floods and Covid19. But, just like the understory of the Mogo State Forest, the small town is looking to rise from the ashes and turn Mogo into a nationally significant mountain bike destination with a planned 155km trail network, including a summit to the sea hero trail descending Wandarra Mountain.
"This will be that lovely bit of revitalization that's coming through a rebuilding phase of Mogo, and it's going to be complemented by this fantastic new trail infrastructure happening at the same time," says Josh Waterson, Owner of Region X, which runs kayaking and hiking tours, with plans to expand into guided MTB rides. "Local residents and cyclists are getting this amazing gift as part of a bushfire rebuilding strategy."
Mogo has its origins in Gold Mining; the town has moved on from resource extraction and has become an eclectic little village that embraces its quirkiness and prides itself on being close to nature. The town has an existing network of 'homegrown' trails running around Deep Creek Dam and a little further out in Mogo State forest off Maulbrooks Road, adding up to about 80km.
Related
Race organisers Rocky Trail Entertainment have hosted several events on these homegrown trails in Mogo, ranging from 12-hour XC races to trail runs.
"For the first time in our history, it was actually the council who pitched us to come and host an event, not the other way around, and they were super keen to have us," says Martin Wisata, Managing Director of Rocky Trail Entertainment.
"A lot of the trails they have (in Mogo), have been there forever, but they are not official yet. So for us, there is a big area we can't actually use to race because of land permits, and for the time being, we are limited to one loop around the dam," he continues.
With this in mind, the council engaged Dirt Art to put together a master plan to bolster its mountain bike offering, looking to improve its status as an event venue and attract some regional mountain bike tourism. After having a poke around the hills in Mogo State Forest, Dirt Art thought the town should dream bigger. With the combination of the topography, the mild southern NSW climate, and proximity to world-class beaches that already attract tourism dollars five months of the year, Mogo has all the ingredients for a nationally significant trail destination.
"I think one of the key strengths is the climate. If you look at a trail network of that quality and volume in Australia, it's either up in the alps or down in Tassie," says Simon French, Managing Director of Dirt Art.
"It's a really viable option from greater Sydney, but also Canberra being only a little over two hours away. For those guys (in the ACT), when the local riding gets particularly cold and when the alpine areas shut down, Mogo and Batemans Bay are still in the mid to high teens, and they get a pretty consistent rainfall throughout the year, so it's not like winters are dreadfully wet," he says.
Waterson says beyond the excitement of having this volume of trails close to home, and he is also looking forward to the network balancing out the tourism economy.
"I'm really looking forward to having a product that will flatten out our seasonality curve. Traditionally, the South Coast has always been about the beach and the attractions in and around the water, which means we get five months of visitors, and seven months of not so many visitors. The trails should help to fill in the gaps during our slow season."
But what about the trails?
With 155km of trails to play with, there is enough volume of singletrack to build something for almost every type of rider.
"One of the benefits of this area is that there is a variety of topography and soil types. If you look around Mogo in some of the inland areas, it's very 'clay-y,' and the soil holds its shape and wears really well," says Usher, who is a mountain biker himself. "In other areas around Maulbrooks, there is a lot of granite and a lot of rock, and there are some really interesting old trails out there already. So there is a good variety of soil types throughout the area and diverse vegetation and terrain.  This mixture means you can build a variety of tracks which cater for almost every interest."
French tells Flow Dirt Arts Master Plan chops the proposed trail network up into a few different riding zones between Mogo and Batemans Bay.
"There is a lot of really cool trail riding out in the (Mogo State) forest, and then we're looking at a more urban gravity zone, which is sort of halfway between Mogo and Batemans Bay. Here we have proposed a shorter uplift service, and it would be sort of like a mini bike park zone, with a bunch of different gravity trails and skills development options," he says.
"It will have a pretty broad spread (of trails), and we didn't target any specific type of riders in particular. It's not a downhill park; you will be able to have a little muck around on a downhill bike at the little gravity park, but it doesn't quite have the elevation to be a fully-fledged gravity product," says French.
Beyond riders travelling to explore new trails around the country, event promoters are fired up about the proposed trails.
"We are super keen to bring more events there. It's a massive build they have planned, and even if only half of the stuff they have planned gets built, it's going to become one of the destinations that New South Wales really wants," says Wisata. "It's a really nice place to be, Batemans Bay, Mogo, Eurobodalla; it's the near-perfect holiday where you don't need to fly anywhere."
Usher tells Flow that the network's location between Mogo and Batemans Bay, and other suburbs like Malua Bay and Batehaven, riders will be able to park at their accommodation and ride into the network from just about anywhere in the Eurobodalla Shire.
A bit further inland from the main trail network is the crown jewel of the Mogo Mountain Bike Destination. Standing 690m above sea level, the slopes of Mount Wandera will be home to a 16km wilderness adventure trail that will plug into the top of the trail network.
"You start at the top of a mountain further inland, and you can mostly descend all the way through to Mogo, or even go right through to Batemans Bay — it will be a long, point to point shuttle service descent," says French.
Usher continues, "Being able to ride down from the top of that range, where you can see the coastline and ride right down and finish at the beach is going to be pretty special."
"Get on with it already" — Mogo Resident, 2021
Usher tells us all he hears from the local community is "when's it going to start, when's it going to start, when's it going to start."
"Anecdotally, I've noticed a lot more of the locals have been getting out riding over the last 12 months. I think it's partly to do with Covid and people buying more bikes, but also the awareness of what's happening (with the proposed trail network), which has also broadened awareness around the existing trails," he says. "The trails have been there for a long time, and we've hosted a number of events over the years, so people in mountain biking circles had heard of Mogo and Maulbrooks, but a lot of locals hadn't. The new development plan has brought it to their attention."
Usher says the business community can also see the benefit the trail network will bring to the area, and they have already seen people buying land. There is even a planning application for a brewery, and the council approved a distillery just outside Mogo.
Waterson says he hasn't seen any negative comments, and the general consensus around town is 'it's about time.'
"I think the demographic we have here is going to totally froth over a network of trails that's not far from home, and I haven't seen any negative vibes," he says.
The Eurobodalla Shire has just announced that Rocky Trail Destinations, the sister company to Rocky Trail Entertainment, has been contracted for the detailed design, construction and maintenance of the Mogo Adventure Trail Hub. Rocky Trail will work with trail building company Next Level Mountain Bike to deliver the network, and construction should begin early next year.
Related
The local beta
Mogo is 9.8km from Batemans bay, about a three-and-a-half-hour drive from Sydney and two hours on the nose from Canberra.
Mogo itself is currently lacking when it comes to places to eat, drink and stay. For now, there are no licenced premises in Mogo, but that will all change once the brewery and distillery fire up. Waterson told us to check out the Wray Street Oyster Shed in North Batemans for some of its namesake seafood and says they make a pretty good coffee.
Usher tells Flow the custard slice from the Mogo Bakery are to die for, and Grumpy & Sweethearts is the best place for coffee in town. He also recommended the Mogo Pie Shop and the Ice Creamery. In our research for this story, we also came across Lots of Lollies Mogo, which looks like the ideal spot to load up on 'ride food.'
For your rest day, there are more world-class beaches around Mogo than you can throw a mini-mal at, and the town has a wildlife park where you can feed the big cats, meet a rhino or play with meerkats.
Check out the Mogo Adventure Trail Hub page on the Eurobodalla Shire Council website for more info and updates.
---
Photos courtesy of Eurobodalla Coast Tourism and Destination NSW