Variety, I have heard, is the spice of life, and Mount Buller has just become a whole lot spicier. The resort has added a $1.25-million scoop of chilli powder to the trails, and this recent injection of funding has the network running smooth, fast, and flowy.
If you like a healthy ratio of suffer fest to clean berm descending, then the Buller experience is where it's at. Add in a new pump track, and snowboards hitting rails in the background, and you have a caliente start to the alpine riding season.
There is a whole lot of scenic trail riding with upgrades on the ups and the downs. We were ready to get stuck in.
---
Watch as we explore the new and improved Mount Buller
---
Related:
Delatite Descent
Cruising in on a Friday morning to the Mount Buller carpark we pulled out the bike pumps and multi-tools for a few final tweaks on the bikes before hitting the trail. The notoriously faffy crew that makes up Jono, Jack, Campbell, Justin and me deliberating over Trailforks before take off, assessing the best path to the Delatite Trail.
Thinking out loud I said, "I was ski touring last weekend, do you think we'll see some snow?"
Lucky for us the trails had a once over in the previous week after a freak summer snowstorm, and we set out to see just how clean they were running.
The purple wildflowers were in bloom, and our pedal out from the trailhead included quite a few stops to inspect wombat scat, and a 101 course on the living conditions and burrowing habits of these muscular marsupials. Who knew Jono's last name was Attenborough?
The Delatite River Trail starts with a wide, open fire road descending into the valley. The start is wide and steep enough that you can see the next berm a hundred meters in front of you. The ability to pick up speed through this section, coupled with the banking trail surface puts you right on the edge of comfort.
I like a bit of chilli for breakfast!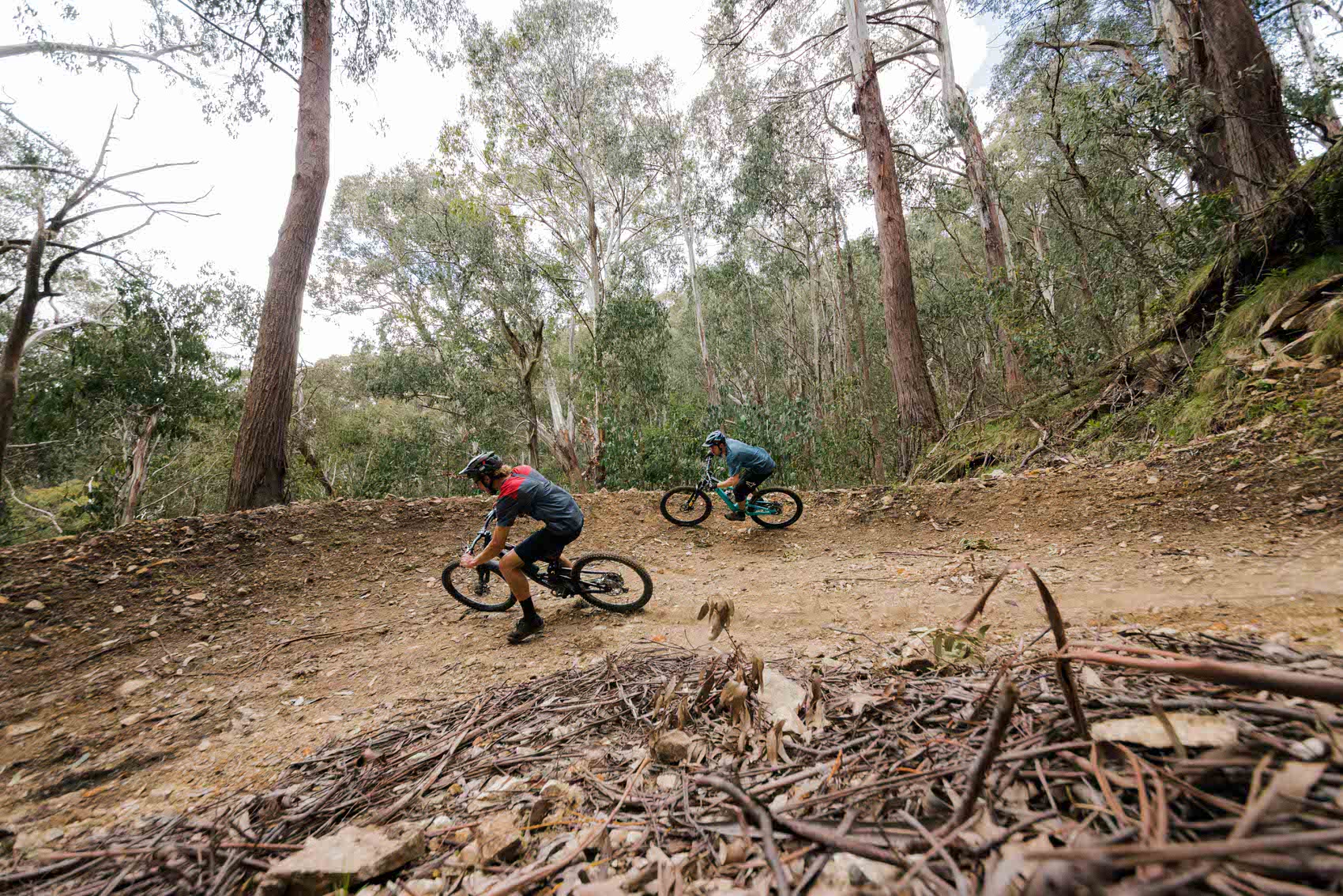 This speedy start to the descent makes for a high heart rate, and a wild commencement of hooping and hollering to kick off the day. Heels locked in place and feet plastered to the pedals at the ready for a rowdy time. Hold on to your hat's cowboys, things were only just getting started and somehow already 10/10 thai hot!
It was about this time I attempted to describe the size of rocks rolling under our bikes that made things that little bit more exciting.
"How fun are those bobble heads, they keep you guessing!"
I was then fervently informed that bobble head is, in fact, a nonsensical word. "Baby head rocks" was the correct biking terminology, according to Jono Attenborough. My application to Urban Dictionary is still pending, but no matter what they are called, they made for even more fun on this wild, fire road descent.
A word of advice, stay off the brakes. Feathering only, or you will be on a one-way ticket to send town, but more of the bucking OTB variety.
Party Trains or bust
The trail transitions from wild bobble head speed racing, into chocolate cake, dark and tacky dirt and eventually, down to a wider open section of red clay. If you can muster going tyre to tyre with the rider in front of you, it's the most fun way to tackle this section.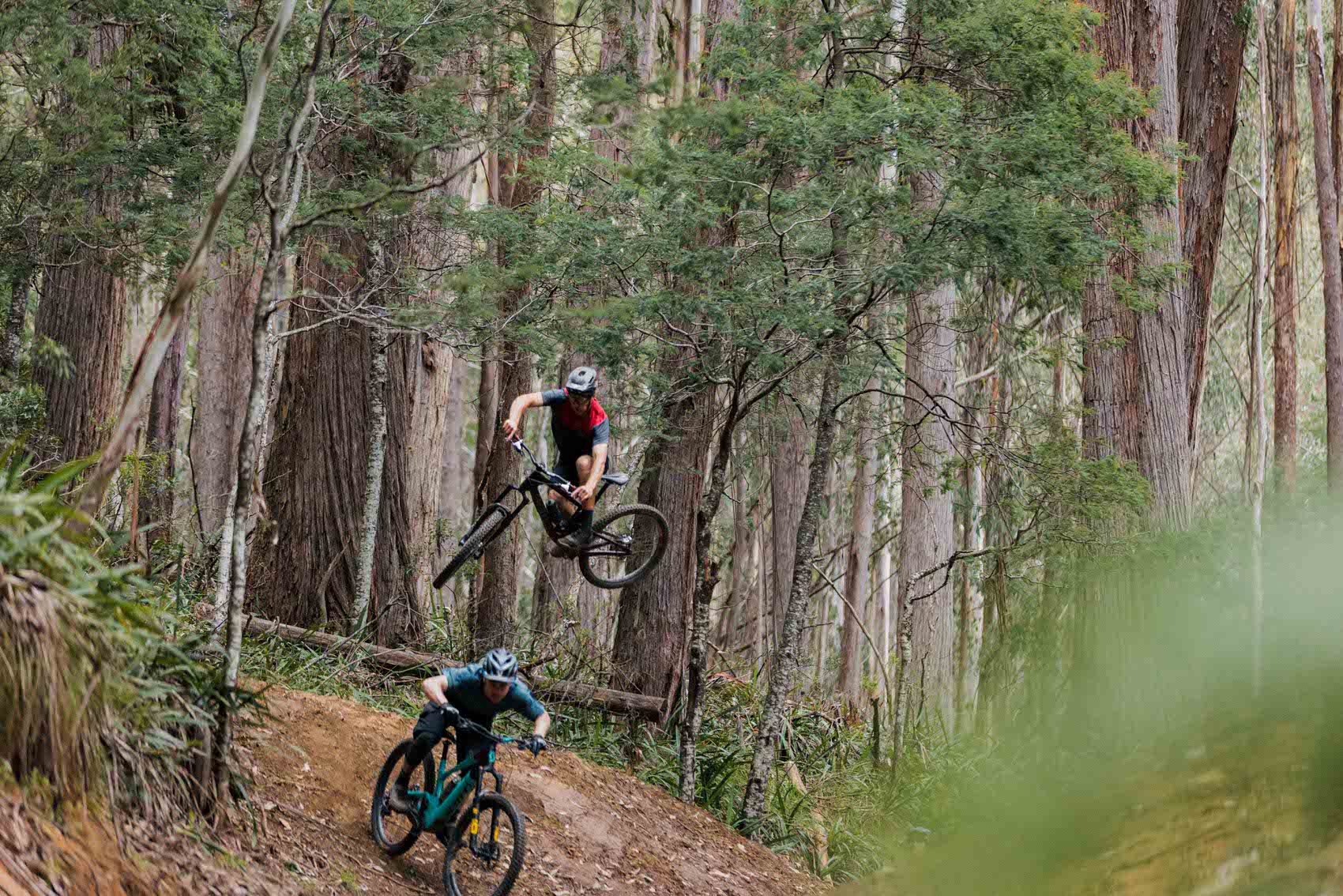 Want to take that awesome side hit? Get after it! Just here to cruise? Ay ok, there is space for that too. Like a little dance you will find yourself ducking and weaving down the track with everyone in tow. You can ride with a group across a range of abilities, and the trail still offers something for everyone.
In the instance you also enjoy wide open spaces to practice things outside of your pay grade, this track is a great spot to try.
Case and point – Jack giving it just a few too many beans over a hip jump, almost landing smack bang on top of Campbell.
"Fark Jack, that was close," Campbell laughed.
Watching the man of many talents somehow also pull this one back inline without a scratch was impressive. Or maybe it's that tacky red dirt on the lander that saved him? Spice or tame. Pick your poison. Pick your speed. It will be an exciting time either way.
Tea Party Pedals
The last section of trail follows the rushing river back to Mirimbah. Counting down the river crossings with bridges all made of felled trees was a unique final few kilometres to cool off the legs.
One such river crossing required just a hint of higher consequence. Knee deep water with a bike on the shoulders, or dry feet but over precarious rocks were the options. Just a little something different and adventurous to bring in the day. With nimble limbs, rock hopping across the river, we all came out unscathed. Barely.
Like stepping back into a little story book the river crossings, green mossy rocks, and tall gums in this last section felt a little too poetic.
So picturesque, we may as well have been riding horses to a tea party! We had to make do with the bikes, and an absolute picnic spread by The Produce Store in Mansfield, King Parrots waiting for us to help with the snack load.
An amazing spot to bring in a ride before jumping on a Blue Dirt shuttle at Mirimbah Store back to the top.
Cornering our way to sunset
To bring in the first day with a sunset, we opted for a climb up Corn Hill and all the way to the peak of Medusa. The name of this trail is accurate. Tight little climbing turns and pinches of rock garden.
A little bit sadistic but just intriguing enough to keep you coming back for more.
This climb became somewhat of a regular the next few days, picking up speed each time on the rock garden pinches was particularly satisfying.
There are so many berms on each of the trails after the Medusa climb. Clancy's, offered a huge opportunity to get some consistent cornering practice in. Multiple berms at a more gradual gradient offer a great backdrop for honing your riding and pushing the speed without high consequences. Blue trail perfection, with a little more space to stretch out and try something new.
Made even smoother by a few crash-hot (not the damaging variety) coaching tips from Jack on the last descent of the day.
Trigger Happy which historically has always gone both ways, has recently become a one-way descent of hero dirt and grippy rail to rail berms. If you aren't feeling the tantalising allure of the Medusa climb, there is access to take off on singletrack just before the ascent. For something that has been rebuilt with a new direction in mind, there are some A1 natural features amongst the berms that keep it interesting.
Life is Fancier On-Mountain
There is something always nice about staying on-mountain and running into the same folk each day in the resort, on the trail and at the pub.
The early morning views from our accomidation, coffee and a sunrise. Blue lines right out to the horizon and impressive rocky peaks in the distance. All framed by wiry snowgums just coming back to life after the fires. It was nice to spend a few days where you left the building and you were immediately on your bike. A weekend where you spend more time on pedals than your legs, except for the walk home from the pub.
Airbags > snowboarding
As cool as snowboarding in December is, I would argue hitting an airbag to kick off the summer riding season trumps it! Buller is working on an interesting snow harvesting system, that keeps a big pile of the white fluffy stuff around well into the warmer months, but it's not the only thing happening in the village. The resort has just acquired a shiny new modular pumptrack, and All Terrain Cycles pulled out the airbag for everyone to try before letting the professionals show how it's done.
My dirt jumper had been collecting dust for some time, but there is no better time than the first day of summer to huck it. The pump track was cruisy with lots of little exits, and the jump to the airbag was set up perfectly. Watching some of the best guys in the business, supporting young kids hitting the jump, trying new things and progressing, was awesome.
Hopefully, this little set-up will become a more regular jam for those wanting to spend the afternoon with less pedal and more steeze.
Kooroora Hotel | Please enter through the Green Glass Doors
If you enjoy a pub visit, the Kooroora Hotel was the place that was open and rolling all weekend. This joint goes hard from breaky to dinner. Whether you're craving a B&E Roll, or can't digest gluten, the menu had everyone covered.
After much discussion of trails and echidna encounters from the day that was, a game of riddles was suggested. A fantastic option to lose friends, alienate people, and according to Campbell, lose hours of sleep thinking about what green glass and doors all have in common. So, naturally, a perfect Saturday night endeavour after two days of riding!
I will not give you any clues, but beer, not soda was the pick for the crew to bring in an awesome day of riding bikes.
Stonefly | Funday for a Sunday
I have professed before I am not an xc convert. But I think this trail may have awakened a new side of me.
The track up Stonefly was an engaging mix of techy rock garden that challenges your brain and your legs, followed by a cruisier straight just in the knick of time to recover. The rock gardens on the up track were nicely graded and made for an engaging challenge, without leaving you absolutely gassed at the top.
We had a chat to Shannon and Ash from the All Terrain Cycles crew on the trail. Stonefly, it seems, is a perfect track for e-Bike laps if you are just hunting for the descent. This seemed to be the pick by most. Being an analog girl through and through, it was still an awesome loop if old school is more your style.
There is something about the sufferfest and sheer inner turmoil of chasing the back wheel of an e-Bike. Even though I was already huffing and puffing it was a bit like a red rag to a bull – or perhaps that was my heart rate at 190bpm.
The trail offered lots of smaller creeks and waterfalls surrounded by ferns on the climb up. Perfectly positioned at times of crisis to splash the face and keep the body cool. This was a big day of adventure, the kind I really like. The cherry on top was a scenic descent bursting with big open berms, jumps and little gaps the whole way down. It's just one last fire road climb up to Corn Hill and the village to finish off the day.
After such an odyssey on the legs, it is a natural progression to watch friends slowly decline to madness, of the most satisfying kind. The kind where you forgot to Strava and instead try to take count of your efforts on Trailforks.
"Ok so we have come, ah, I think like twelve, plus ten, plus five and a half wait…actually, let me start again!"
I think we got there after five takes.
It didn't matter the mileage or elevation, it was a 'UGE day that I would be back for in a heartbeat.
That's a wrap
After such an extensive refurb to the trails, and landscapes to write home about, Buller will be an absolute red rag this summer for the droves of bikers ready to get involved.
Go get it by the horns!
---
The run sheet aka the perfect weekend itinerary at Buller
Descents for Day 1
Mansfield Coffee Merchant en route to Mount Buller
Get cracking on the Delatite trail via Gang Gangs
Picnic & dips at Mirimbah
Shuttles to the top
Pedal out to Corn Hill to catch the sunset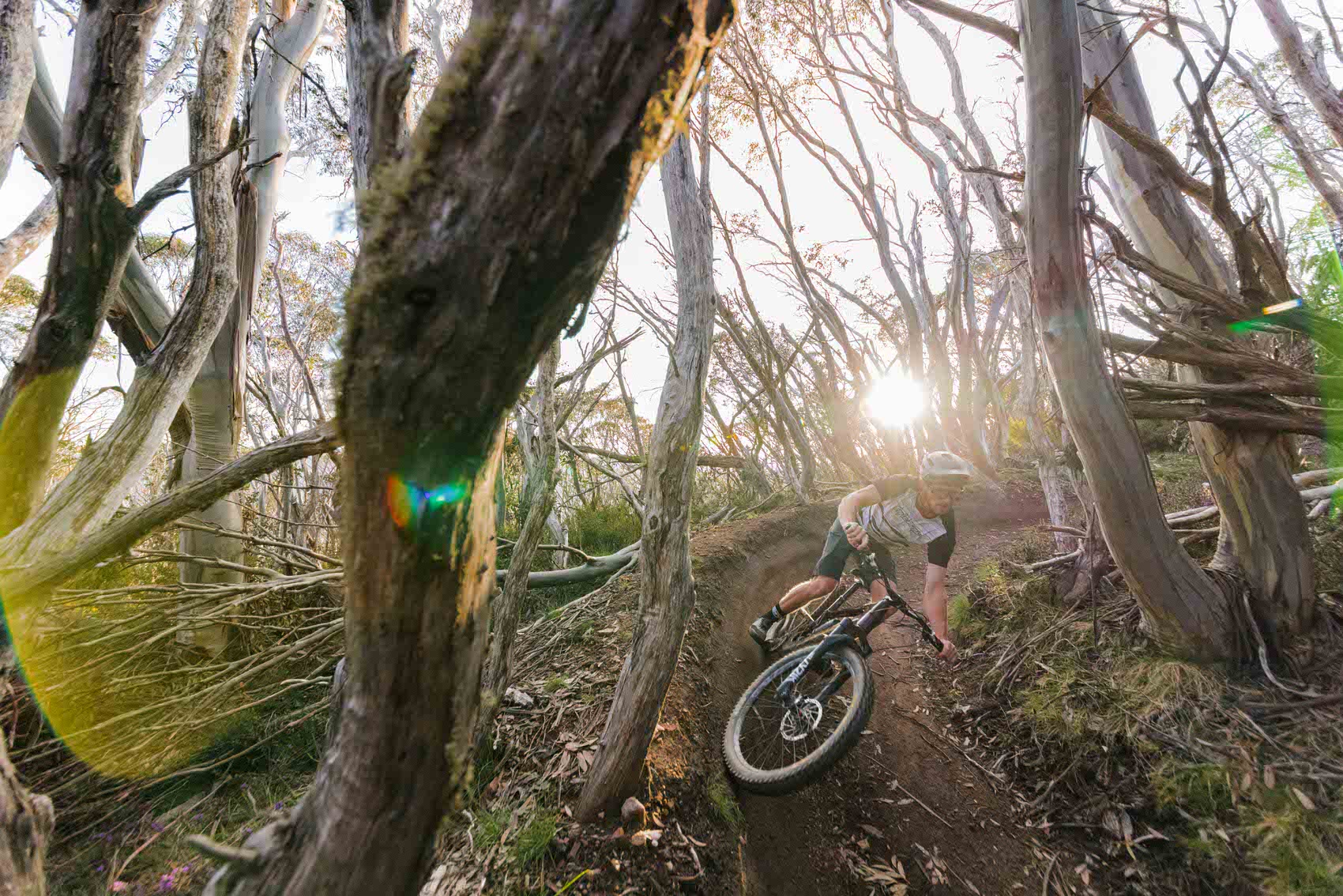 Ganders about Corn Hill for Day 2
Sunrise and coffee
Pedals up Medusa, Clancys
Afternoons of playing at the pump track
Koorooro Hotel for Dinner
Day 3 – The Hugey
Fuel up on snacks at Blue Dirt Village Bike Cafe
Pedals to Corn Hill & the Stonefly
Bring it in with burgers and ginger beer at Kooroora Hotel
---
Hot Tips
Fire Road Access
Some of the most fun descents landed you at the bottom of Stonefly and Trigger Happy with limited singletrack climbing. Be prepared for some baby head fire road climbs back up to Corn Hill after the descent.
Sunset O'Clock
Cornhill and Clancys is a perfect little spot if you want to pack a trail bevy for sunset. The fire road near Wombats and the Fire Tower lookout is ideal if you're looking for those classic sunset Mount Buller views.
---
Words: Emma Chadwick / @wandering__about
Photos: Campbell James / @campbell.jam
Video: Justin Castles / @justincastles