---
One of the key reasons Adelaide has so much potential as an international mountain bike destination, is that it offers such a huge amount of trail, so close to the middle of town. And even better, you can access the trails by rail, so you don't need to have a car or pedal yourself up into the hills.
During our time in Adelaide we parked up right in the centre of town, just one block from the famous Central Market and only a couple of minutes' ride from Adelaide Station, but within half an hour's train ride we could be way up in the hills with literally hundreds of kays of trails to choose from.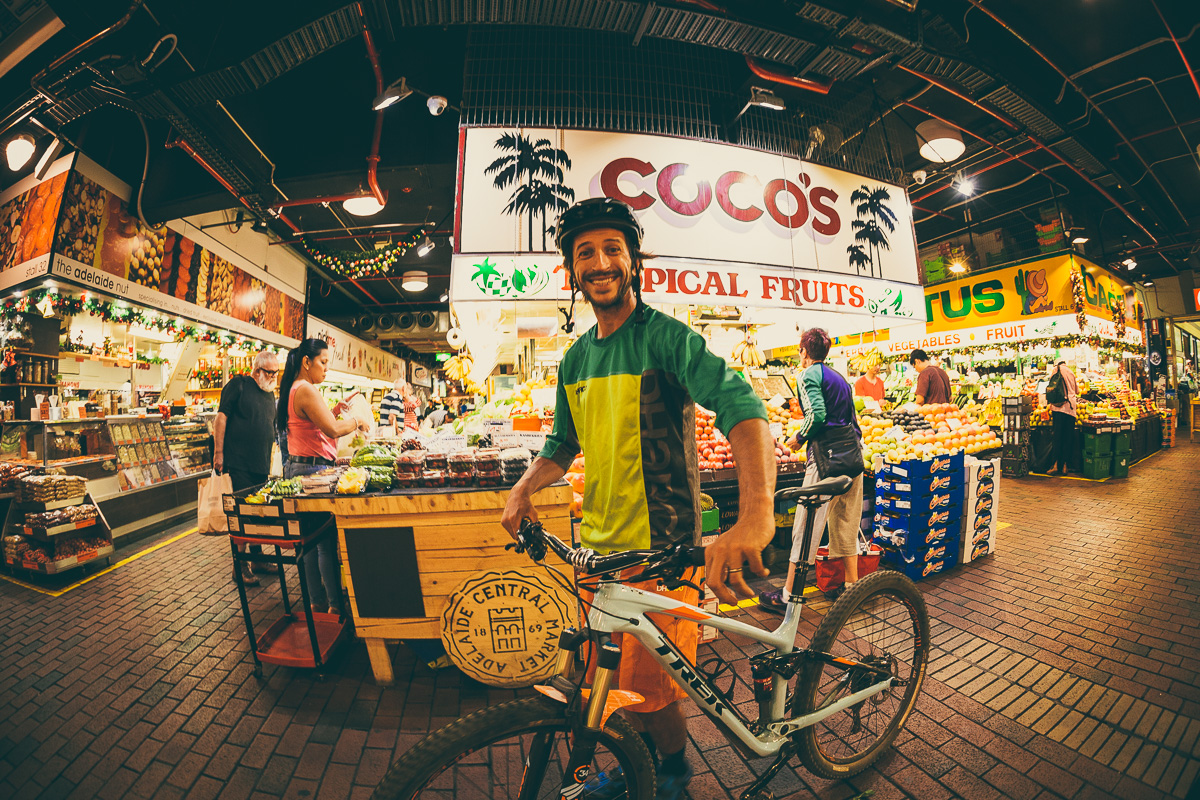 Belair is the last stop on the line, and after half an hour of winding its way up the hills and past some glorious views out to the beaches, the train drops you literally on the doorstep of Belair National Park, the second oldest national park in Australia. The trails in Belair were a bit of a game changer really, the formalisation of trails there was the first time that a South Australian national park officially welcomed mountain bikers onto singletrack, setting a precedent that has allowed mountain biking to flourish around the state.
As the highest point on the train line, Belair is the natural point to start an exploration of the Mount Lofty Ranges. There's a huge loop of formalised trail in Belair, mixing fireroad and singletrack through deep the gullies, which in itself serves up more than 20km of trails. On our ride, we split from Belair and after mandatory pasties at Blackwood, we cut through Craigburn Farm (which we'd revisit properly later) and into Sturt Gorge.
---
Sturt Gorge
The entire Sturt Gorge Recreation Area is pretty phenomenal, the trails ranging from hand built, technical creekside singletrack, to brand new flow trail descents, all woven through residential neighbourhoods. An 'urban epic' is a pretty good way to describe it all – you feel like you've been on a real adventure and ridden so many different styles of trail over 40km, all within cooee of backyard pools.
The real gem in the Sturt Gorge network is the De Rose descent, a fast, rhythm-filled run that traverses the scrubby hillsides above the western end of the gorge, with views to the coast and the city. It's only a few minutes on the bike path from the end of the trail to the beach, too. Our 40km urban epic ride left loads of trail on the table for later too, some of which we'd come back to enjoy later in the week, but with plenty more for our next trip back as well.
---
Next up, Craigburn Farm and Shepherd's Hill, but why not check our time at Eagle Mountain Bike Park too while you're here.