This happened to us. The recently opened Australian Alpine Epic Trail is teeming with huge vistas, magical flow, effortless speed, massive trail variety and it's all in a wide-eyed frothing ride that gives that feeling that only the most epic of epic rides can deliver. It's a big day out, with plenty of climbing and hard effort to complete the whole 40km, but the best is saved for last with a rewarding final descent that is likely to change your life.
Flow loves a road trip to Buller, it's a long drive down from Sydney but nothing beats that feeling of turning off the highway and heading up into the big mountains. Especially now that Mt Stirling/Mt Buller have lifted the bar once again with their latest masterpiece – the IMBA (International Mountain Bike Association) accredited Epic Trail. The Epic marks the final stage in their huge first phase of mountain bike trail development. With over 100km of premium trails in the region, and some that have been named 'best trail in the Australia' it's only fitting that they sign off with a bang with The Epic, and with the trail builders themselves claiming it is their best work yet. Fear not, this is most definitely the end, we've been hearing rumours of the next phase of mountain bike trails at Buller to focus on downhill and beginner cross country trails near the village. Stay tuned for more.
The complete Epic Trail is a 40km journey that takes you from the Mt Buller village, through many of the original trails that lead up towards Howqua Gap and then you climb Stonefly. From the top of the incredible Stonefly you will descend (not the Stonefly singletrack descent) west towards Telephone Box Junction. Grab a bloody delicious coffee and food from the friendly crew at The Epicentre, then you climb up along Razorback Spur. The juiciest part of the new trail is the 7km descent.
The official opening of the trail was a real celebration, with the Bike Buller crew putting on a great show full of surprises for the riders who joined in on the inaugural ride. But once the crowds subsided (and unfortunately the rain arrived) Flow grabbed World Trail's long serving trail builder and enduro shredder, Ryan De La Rue to show off their work for our camera, this is how it went down.
Directions of use: Watch the video, scroll the pictures, call your crew and plan a trip to ride The Epic as soon as possible.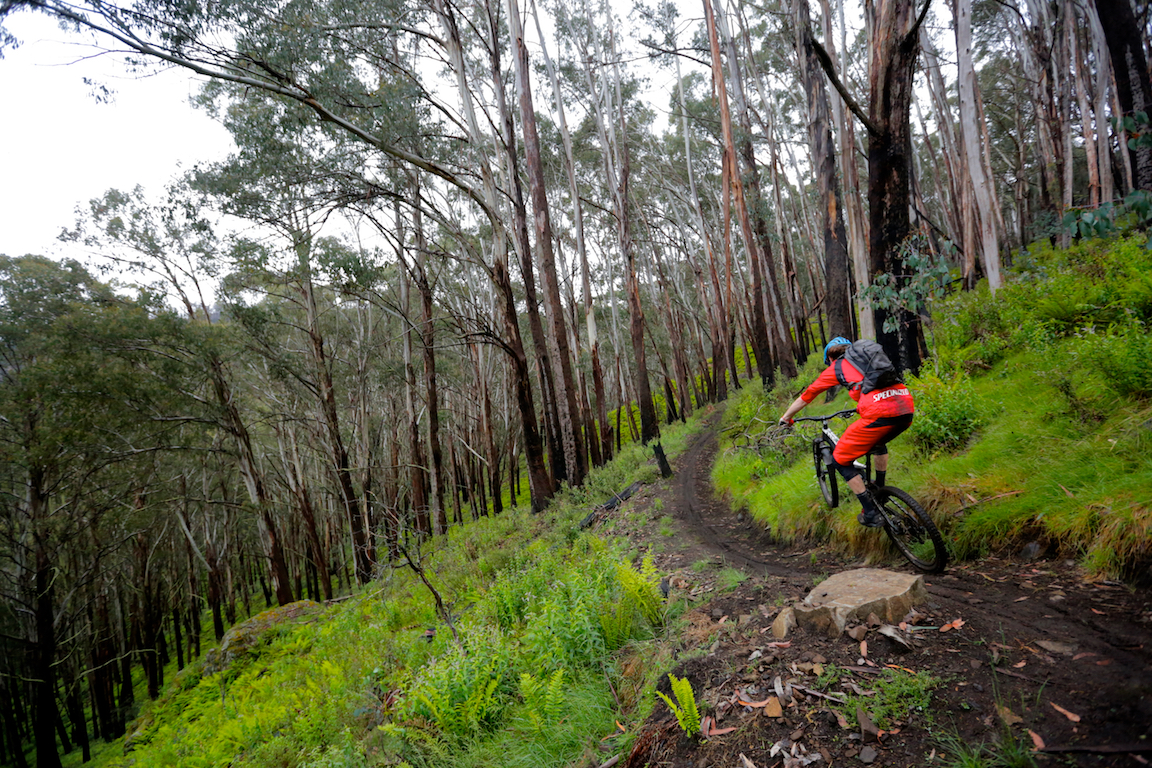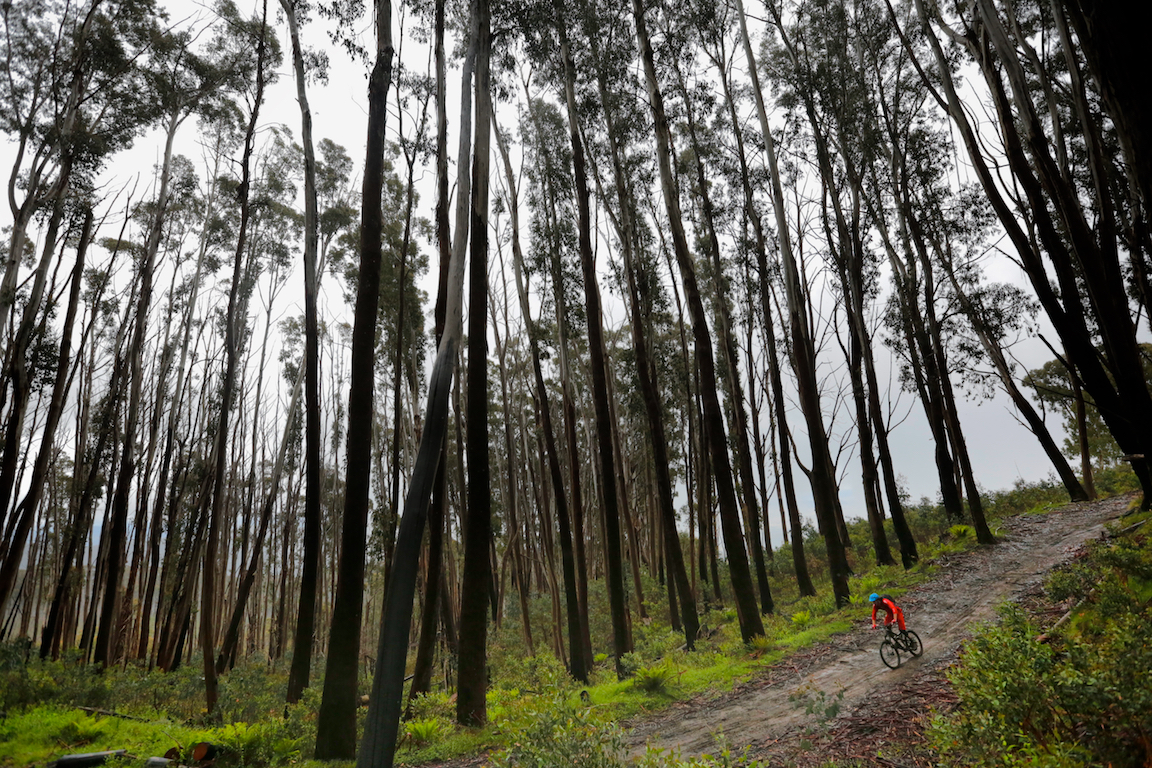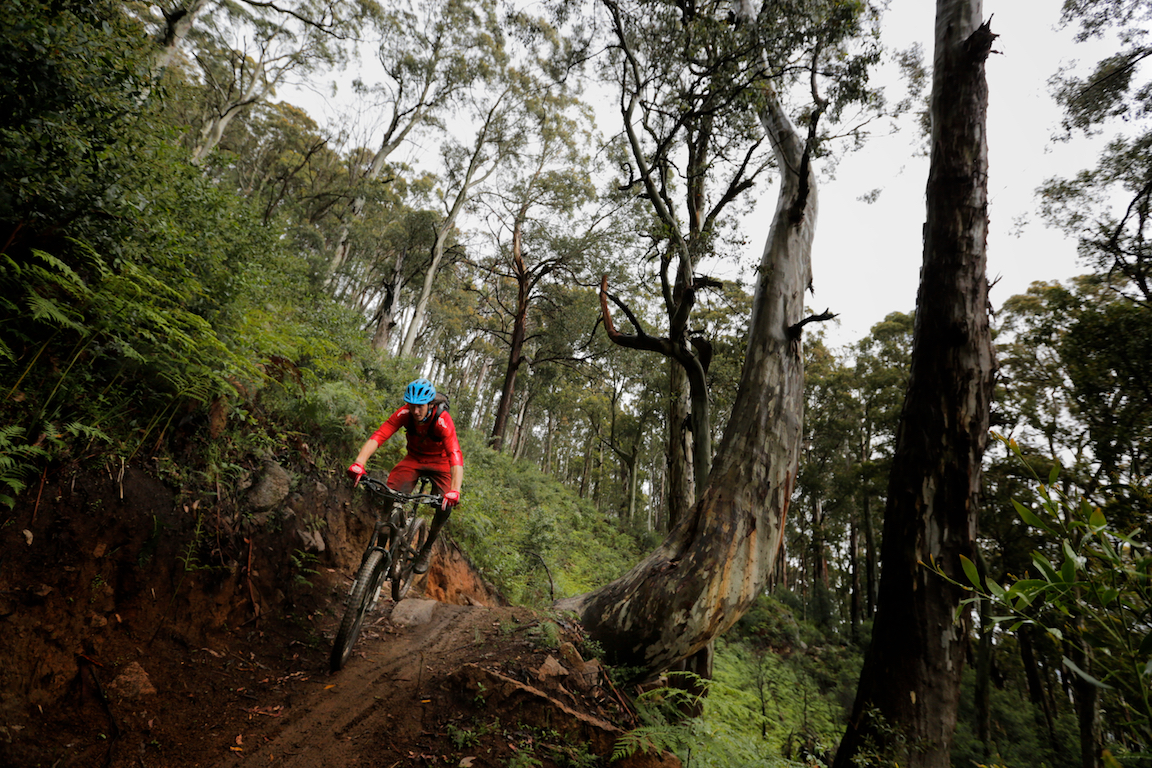 Want more Buller? Click here. We visited the alpine singletrack haven last year to explore the whole spread of trails on offer. 
For everything you need to know about mountain biking in Mt Buller. From accommodation options, bike hire, retail opening hours, trail maps, uplift shuttle details and more: http://bike.mtbuller.com.au
[divider]The Australian Alpine Epic[/divider]
Grade: Intermediate / Advanced
Distance: 40km
Riding time: 4 – 7 hours (ability dependant)
Gradient: Long distance, includes singletrack, fire trail sections and moderately challenging slopes
Fitness: High endurance, medium technical skill
Description: This journey takes riders through a variety of environments, and trail experiences. It utililises familiar favourites including Soul Revival, One Tree Hill, Gang Gangs, Picnic Trail, Cornhill Trail, Woolybutt and Stonefly (ascent). The experience gets a little more wild, as the trail continues through Mt Stirling to Telephone Box Junction, Razorback Trail, No.3 Road, and will thrill with an endless descending flowing down section to Carter's Road. From there, a scenic river-side stint will bring you back to leafy Mirimbah Park at the base of Mt Buller and Mt Stirling Resorts. Don't Forget: Be prepared. Pack food, water, trail map and a repair kit. Limited phone reception. Respect the alpine environment. Conditions can change quickly so pack a spare layer of clothing.
[divider]

The Epicentre, 

coffee and food break!

[/divider]
Located along the new Epic trail at Telephone Box Junction on Mt Stirling, the Epicentre offers servicing (including call-outs), funky bike retail, loads of local knowledge, advice, delicious meals and coffee.
Thur 9am-4pm
Fri 9am-6pm
Sat 8am-5pm
Sun 8am-4pm
Open daily from 17 December 2014 – 26 January 2015
T: 0407 730 809
E: theriderslifestyle@me.com
Facebook: Bike Related Industries
[divider]Shuttle Services[/divider]
Mt Buller has two shuttle services that operate during the mountain bike season, a shuttle that runs from the base of the mountain to the top (servicing the Klingsporn and Delatite River Trails) and a shuttle that services the downhill trails after the chairlift season ends.
Mirimbah – Mt Buller Shuttle
There are two awesome trails, (Delatite River Trail & Klingsporn Bridle Track), that take you from the top of Mt Buller right down to Mirimbah at the base of the mountain. If you ride these trails you can take our bike shuttle service back up the hill – too easy! 
The mountain bike shuttle operates from Mirimbah (at the base of the mountain) to Mt Buller each weekend from Melbourne Cup Weekend (2 November) until the Easter long weekend in April. 
Available: Saturdays & Sundays 1 November 2014 – 26 April 2015
Times: 9am, 11:30am, 2.30pm and 4:30pm (extra shuttles can be operated on demand for groups)
Cost: $15 per run or $40 for four
Bookings & enquiries: 03 5777 5529 or email enquiries@mirimbah.com.au.
PLEASE NOTE BOOKINGS ARE ESSENTIAL
Mirimbah – Mt Stirling Shuttle
Ride the Australian Alpine Epic from the Mt Buller Village to Telephone Box Junction (TBJ), and catch the shuttle back to Mirimbah or start your ride 1/3 of the way in, at TBJ.
The mountain bike shuttle operates from Mirimbah (at the base of the mountain) to Mt Stirling each weekend from 6 December until the 26 April. 
Available: Saturdays & Sundays 6 December 2014 –  26 April 2015
Times: Departs Mirimbah 10:15am & 12:45pm (extra shuttles can be operated on demand for groups)
Cost: $15 per run 
Bookings & enquiries: 03 5777 5529 or email enquiries@mirimbah.com.au
PLEASE NOTE BOOKINGS ARE ESSENTIAL