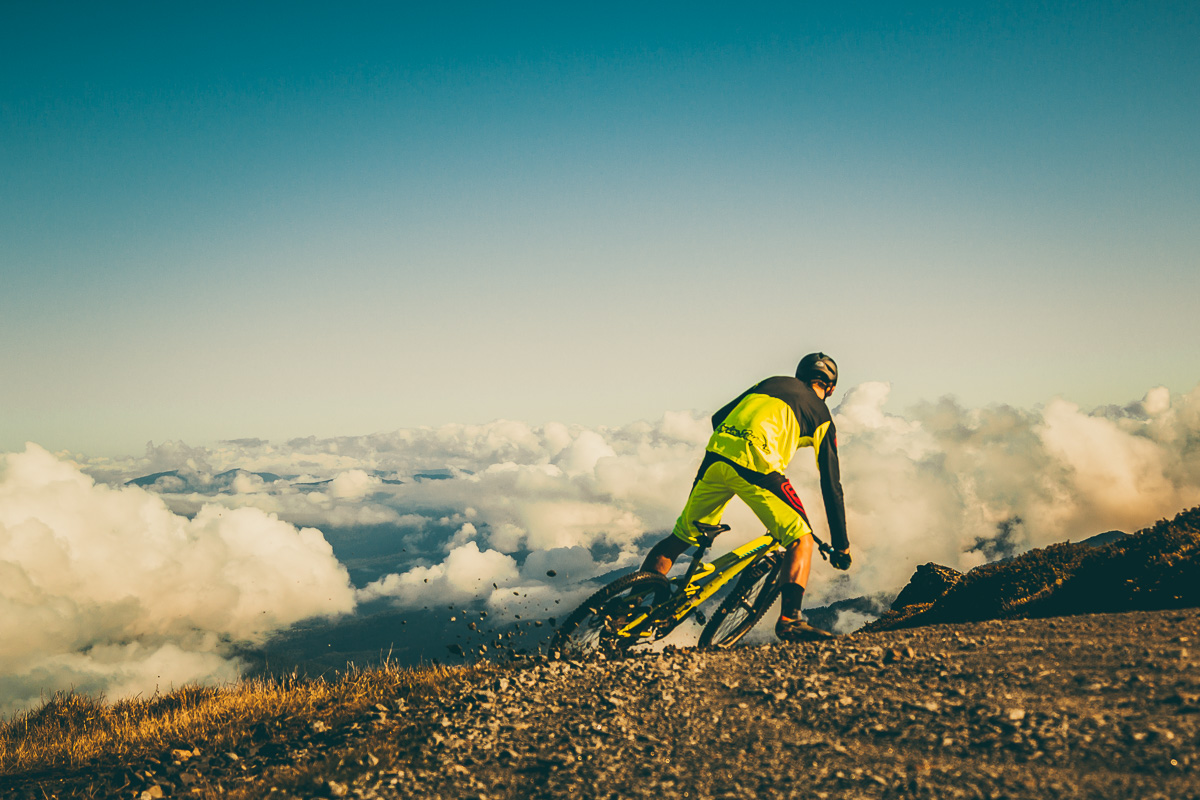 With the Bogong High Plains sprawling at its doorstep, Falls Creek really is at the gateway to some incredibly spectacular country, and with so much of the riding here above the tree line, the views are breathtaking.
Falls Creek has been investing heavily in a world-class trail network of late, folds of the terrain above the village are now riven with loads of machine-built trail, crafted by World Trail. We were lucky enough to spend a few days at Falls Creek in early 2015, and recently we had the opportunity to ride the last addition to the network, High Voltage, too.
But the two trails which Falls Creek contributes to the Dirty Dozen lie beyond the bounds of the bike park, further out into the mammoth landscape that surrounds the village – and what these two trails lack in terms of technical challenge or features, they make up for with their views and uniqueness. Mountain biking isn't always about ripping turns and singletrack, and these two trails are a good reminder that just being on your bike in beautiful surrounds can be pretty incredible too.
The Mt Mackay Loop takes you up Australia's highest public roadway, to the peak of Mt Mackay. From the top, you're presented with a view right down the Kiewa Valley and over the plains. If you've got the opportunity to get up there for a sunrise or sunset, you will not regret it. Bank on about an hour to make it to the peak, as the climb is pretty solid! Mt Mackay is also a good starting point for exploring the epic Fainter's Track, which descends all the way back to Mt Beauty, something we highly recommend you check out!
Falls Creek's second Dirty Dozen trail, the Historic Huts loop, takes advantage of the network of aqueducts with criss-cross the landscape, feeding the hydropower station at Bogong below. Following the flattest contours, the aqueducts and the trails that run beside them seem purpose built to let you explore the plains and the hundred year-old huts that are dotted about the place. Riding from the village across the dam wall and into the plains is beautiful, and you can easily spend an entire day feeling dwarfed by the views.
Pack lunch, park up at a hut, and remember why this kind of mountain biking will never get old.
Of course, we do think you'd be mad to visit Falls Creek and not ride all the other trails too!
The network is growing all the time, and with the final stage of trail development scheduled for completion in the next year, Falls Creek is going to be vying with likes of Mt Buller and Thredbo for the title of Australia's best alpine trail centre.
For more information on the trails of Falls Creek head to http://www.fallscreek.com.au/mtb or to learn more about the Dirty Dozen drop by http://thedirtydozen.com.au/