Wanaka makes an incredible first impression. The road into town presents you with an uninterrupted shoreline, offering you a view across the glass-topped surface of the lake to snow-capped peaks in the distance. It's breathtaking, and this outlook sets the tone for much of the riding in Wanaka; your eyes are on the views, as much as they are on the trail.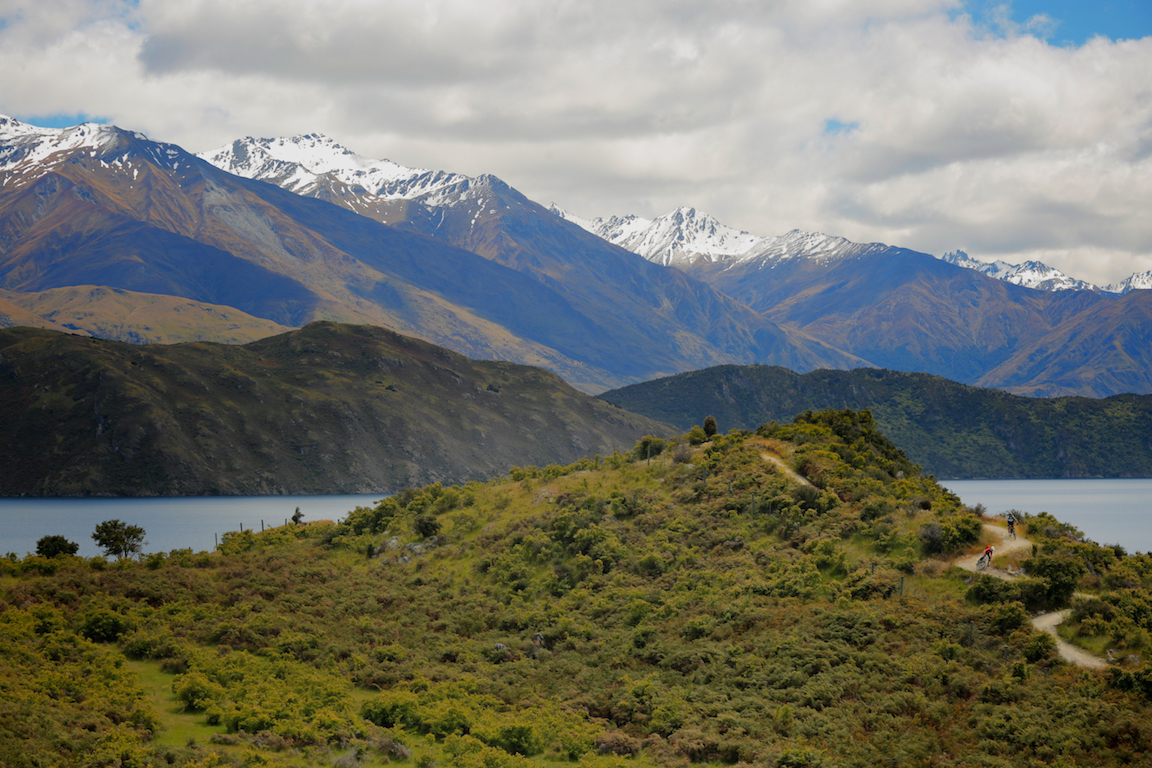 Compared to the very gravity-oriented vibe of Queenstown, Wanaka has more appeal for the cross country or trail rider – the kind of person interested in an epic, scenic ride. The Millennium Track exemplifies this. Wrapping around the western shore of Lake Wanaka, this dual-purpose track is mesmerising in its beauty. Carving around bluffs that allow you to look straight down into crystal clear sapphire waters below, or dipping down to sandy beaches, this 15km point-to-point mightn't be most technical trail going, but it's a ride you'd be a fool to miss.
There's a tonne of dedicated mountain bike trail too, with both Sticky Forest and Deans Bank networks only a few minutes from the centre of town. Or if you're looking for something more epic, the Pisa Range with its high-alpine descents and overnight huts awaits. Wanaka is increasingly expanding its appeal for gravity riders too, with more and more downhill tracks opening up in the Cardrona Valley, and the Cardrona ski area opening its chairlifts for riders this summer from 27 December – 11 January.
While it's easy to get fixated on Queenstown and its glut of trails, you'd be mad not to spend some time in Wanaka too while you're in the region. This sporty, genuine little town really struck a chord with us, and we'll be back, you can bet your possum-fur undies on it.
---
 Where to stay:
Best Budget Option – The Wanaka Hotel. Located in the centre of town, a stone's throw to the lakefront and close to the bars & cafes. Secure bike storage. www.wanakahotel.co.nz
Best Mid-Range Option – Edgewater. Located on the absolute lakefront – just roll your bike across the lawn and you're away! Great coffee & check out the baked-to-order scones. Secure bike storage. www.edgewater.co.nz
Best Premium Option – Riverrun. A boutique lodge set on a working farm with direct access to the Clutha River walking & biking tracks. Secure bike storage. www.riverrun.co.nz
Where to eat:
Breakfast – Federal Diner. One of Wanaka's best kept secrets. Don't miss the world famous (in Wanaka) cheese scones! Complete with bike racks. www.federaldiner.co.nz
Lunch – Kai Whakapai Cafe. Wanaka's iconic lakefront café (corner of Ardmore & Helwick St). Kai Whakapai means "food made good". Rehydrate with a local Wanaka Beerworks "Brewski"… Bike racks onsite…
Dinner – Francesca's Italian Kitchen. Authentic pizza & pasta with a twist of Masterchef at great prices. DO NOT miss the polenta fries… www.fransitalian.co.nz
More info:
The Pisa Range is a mix of Dept of Conservation and Snow Farm, with a $10 honesty box for access. For more information:
http://www.doc.govt.nz/parks-and-recreation/tracks-and-walks/otago/wanaka-makarora/pisa-conservation-area-tramping-tracks/
 http://www.snowfarmnz.com/summer/mountain_biking
For more information about Wanaka, head to www.lakewanaka.co.nz