Orange is in the midst of what you might call a transitional period for mountain biking. Earlier this year, we covered the controversy surrounding the proposed development on Mount Canobolas, which would create a riding destination that would be nothing short of epic. At the same time, Kinross State Forest, which has been around for many years and hosted more National Cup XC rounds than we can remember, is now nothing but a memory. The pine forest is currently being harvested and the trails have been destroyed.That leaves Lake Canobolas, a rad little pocket park built on a property that was originally designed to be a zoo. The fence around the perimeter keeps the motorbikes out, it also means there really isn't any room to expand the 10km network.
And now, there is Glenwood State Forest. Managed by Forestry Corporation NSW, the mix of pine plantation and native forest is home to several unsanctioned trails and a new 20km loop designed with frickin' lasers.
Related:
The Galinbundinya Trail
Glenwood State Forest is an active working forest, managed by Forestry Corp NSW. After the latest round of harvest operations, the Orange Mountain Bike Club approached the land manager about gaining access rights and the first order of business was to build a dual directional, dual-use, adaptive friendly trail out to Federal Falls.
The Galinbundinya Trail came about thanks to changes in logging regulations. For a time, Forestry Corp would harvest and replant trees right up to the edge of creek lines, but subsequent changes in regulations required a 20m buffer to be left.
"They had already planted after a harvest, and then the regulations changed. So during the last harvest cycle they cleared right to that edge (of the 20m buffer), and then the area near the creek was sort of left as a wasteland," says Jack Rahilly from the Orange Mountain Bike Club.
"It was one of those things where Forestry just gave it to us and said, 'look, it's so crap you're not going to wreck anything.' But as soon as you got past all the blackberries and weeds — which there was a lot of — there are some beautiful bits of tranquil creek, little waterfalls and some nice ferny areas," says Garreth Paton from Iconic Trails.
The 7km out and back trail gains a little over 200m of elevation and meanders along the edge of the Boree Creek. But, just the same as the Canobolas State Conservation Area, some parts of Glenwood State Forest are overrun with invasive weeds and as part of the trail project, $30,000 was put toward native forest regeneration.
"On the first trail we did (the Galinbundinya Trail), you'd come across 100m of the thickest blackberries you'd ever seen. We just had to get in there with hedge trimmers and cut our way through," says Paton.
The Galinbundinya Trail was an essential step. As an adaptive friendly trail that can be used by hikers and bikers it got folks out into Glenwood State Forest and cemented the working relationship between Forestry and the Orange Mountain Bike Club. It was also the first piece of plans for a larger loop.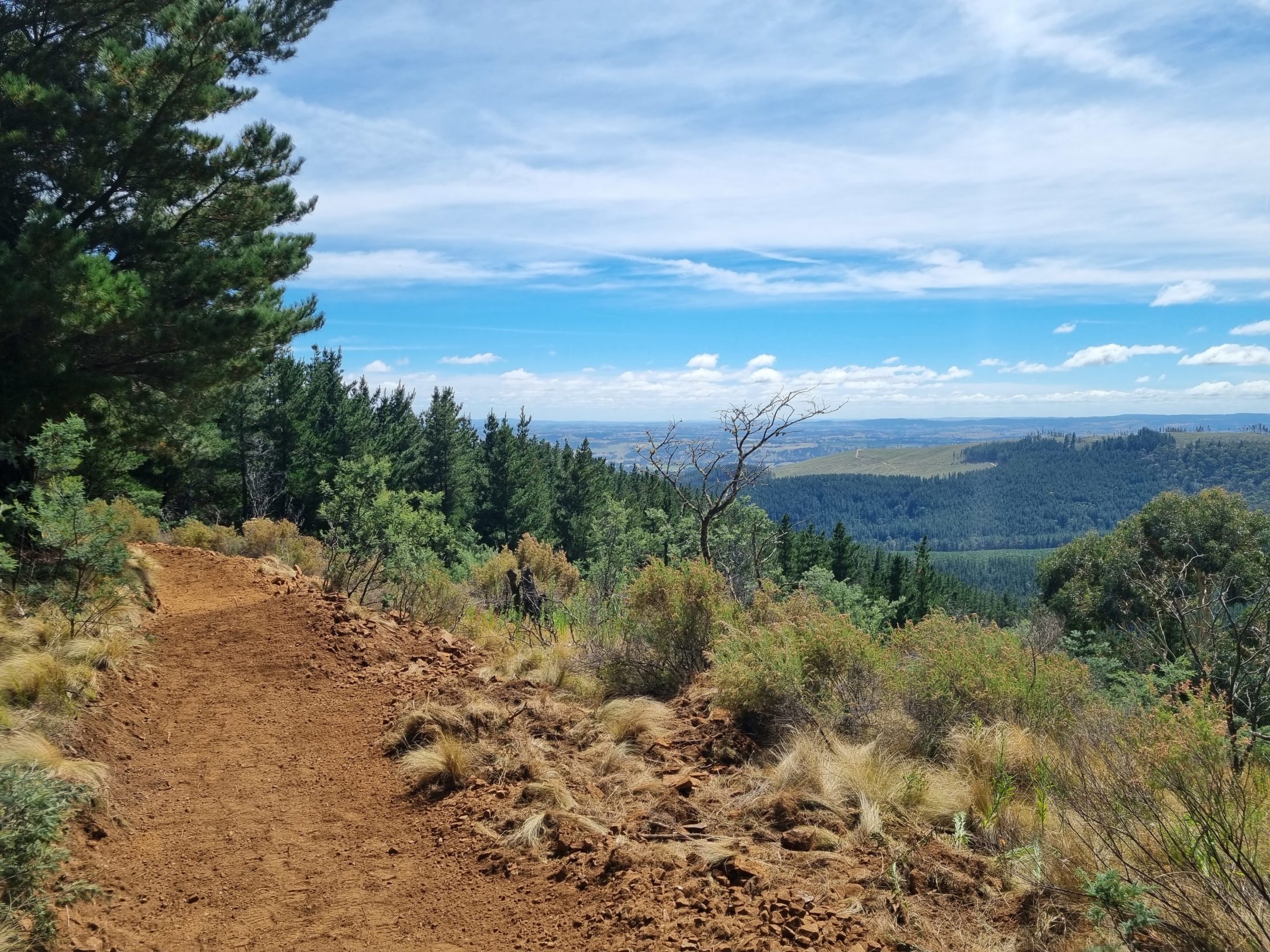 "We had always planned this Trail of Awesomeness track — which we used to have in the area. We wanted to rebuild it and really take advantage of the elevation available. It starts at the high point in Glenwood State Forest, and then works its way back down to the trailhead — that's 400m of elevation difference.
None of this was council-funded, and beyond the land access, Forestry Corp is hands-off, so it was up to the club to bring this project to fruition. Fortunately, the Orange Mountain Bike Club was awarded two grants, the My Community Project Grant through the NSW State Government for $140,000, funding the Galinbundinya Trail. Later $320,000 was won through the Greater Cities and Regional Sports Facilities Fund, also through the NSW State Government for the Trail of Awesomeness.
This cash infusion allowed the club to bring in Canberra-based Iconic Trails to build these key bits of infrastructure, but they weren't connected. So the club got to work.
The 4km climbing trail, called Onwards and Upwards, has been built entirely by volunteers, and by all accounts, has been an epic effort.
"At least 2-2.5km has been built by hand, and a lot of that was on something like a 50-per cent slope with massive rocks. So it's been a case of just getting in there and chipping away at it, and rock walling it all beneath you," says Rahilly. "The switchbacks have been a major effort. I think it's been about 20-hours of work for each one."
Fortunately, the club has a couple of earth workers in its ranks, and the top section is currently being machine built by one of its members to streamline the process.
The Trail of Awesomeness
About halfway complete at the time of writing, The Trail of Awesomeness is an 8km green flow trail that descends from the highest point in Glenwood State Forest all the way back to the start of the Galinbundinya Trail.
"It's classified as a green flow trail based on the average gradient, but it does go steeper in a lot of places,. Part of the brief was to have blue features or options for blue jumps or gaps as well," says Paton."It is one that you can roll everything or fly through, but it holds speed so well."
Paton expects that the 8km downhill run will take folks about 15-20m, with nary a pedal stroked needed to enjoy the gravity-fed goodness.
"It's super fun, and even though it's a green trail, you don't realise how physically demanding it is until you're gasping for air, nearly passing out. But you can just keep railing corners and popping off stuff; it's so addictive."
The beauty of the Trail of Awesomeness is that once it's complete (along with Onwards and Upwards), it can be ridden as a 20km loop, or can be shuttled thanks to a well-maintained dirt road that runs parallel to the trail alignment.
While Glenwood State Forest is in close proximity to Mount Canobolas — the eastern edge creeps onto the slopes of the mountain — this project has not been hit with the mess of red tape the larger development is wrapped up in. Being a working forest, all of the ground is pre-disturbed, so the land has few, if any constraints. However that does not mean it's been easy going.
"It's so rocky in some sections. In the photos, it might look like it's all good, nice dirt, but it was an effort to find that dirt. Some sections are great, and it will be premium dirt for like 100m, and then you'll be fighting against pure rock," Paton explains.
According to Paton, they have also come across old rotting logs and vegetation leftover from previous harvests when they've started digging. He says they have spent quite a lot of time sifting through the soil for pay dirt — which he says is there, you just have to work for it.
Across the Central West, there aren't a ton of opportunities for mountain bikers to ride purpose built trails. Now, especially with Kinross being no more, this development in Glenwood State forest is extremely important for local riders, but it also offers a riding experience that doesn't currently exist in the region.
"This new track fills a void of something they just don't have around here, with a fully machine built, proper flow trail. A lot of the trails around here are a lot rawer — and some people nowadays are chasing those types of trails. But because they don't have anything like a flow trail (in this area), this is pretty special," says Paton.
Rahilly also says the club plans for more advanced descents to stem off the Trail of Awesomeness and take a more direct route down the hill, like the blue, Eye of the Wombat trail, which is next on the build list.
This new development is on the western side of the State Forest. On the opposite end, there are some existing unsanctioned trails, which Rahilly tells Flow the club is working to have sanctioned.
"There is such a great mix of pine forest and natives, and the terrain is amazing out there. There are some massive rocks and steep terrain, and you can see the opportunity to build some advanced technical trails," he says.
Should the larger project on Mount Canobolas go ahead, both Rahilly and Paton expect this loop will complement and integrate into the network well. Some of the planned wilderness loops come out towards the Trail of Awesomeness, and could be linked up via short fire road transfers.
Trail builders with lasers
LiDAR stands for light detection and ranging, and it's a scanning method that uses laser light pulses sent from an aircraft to measure the distance to the earth. This data is then used to generate a hyper-accurate 3D rendering of the shape and contours of the ground, which can be used for things storm surge modelling, shoreline mapping, hydrographic modelling and now trail building.
Rahilly comes from a background in industrial design and mechanical engineering, and is now taking those 3D modelling chops and wading into trail design with a new outfit called Advanced CAD.
Most mountain bike trails are designed with 5-10m contour maps, available through state government mapping resources. These LiDAR models are accurate down to the pixel, and show flat spots, depressions and features that don't necessarily appear on the contour maps, which might disrupt the flow of the trail, and would not be otherwise found until the alignment is ground truthed.
"With the 3D model, I can use that for plotting trails and work out the best alignments to maintain the right gradients as you traverse," says Rahilly. "I can even plot that trail within a 3D model, bring it into a video game and actually 'test ride' the trail.
Once you've modelled the trail into the terrain, you can also use it to predict how much soil will be required and estimate the environmental impact," says Rahilly.
We have already seen LiDAR modelling used with the Warburton Mountain Bike Project to predict the soil displacement as part of the EES process.
Once Rahilly has worked up the trail corridors in the CAD software, they can be exported into a GPS trace that can be accessed from a smartphone. These models can even be incorporated into augmented reality, and projected into the space at a 1:1 scale to see a render of what trail features will look like in the environment — a bit like Pokemon Go, but for mountain biking.
"All of the design work that Jack has done takes a lot of the planning aspect out of building. If we stick to his alignment or very close to it, it works really well. There have been quite a few times where we've come through an area and said out loud, that looks too flat,' but when we've shaped it, you come back and say 'that looks sick,'" says Paton.
This technology can even be used with GIS-enabled (Geographic Information System) machinery, and road works crews use it to see precisely where their bucket is in relation to the blueprints. While this level of computer-guided trail building is apparently being used for motocross trails and race courses, singletrack for mountain biking still requires a human touch.
"There have been quite a few times we've come across these massive rocks underneath the top layer of soil, that would take you days with jackhammers to make something that's nice to ride. So we have to go back up and deviate from the alignment whether we push it up or down.
So even with the Lidar planning, we've had to adapt a few things along the way," Paton says.
Iconic Trails are about halfway done with the Trail of Awesomeness, and the club is at a similar place with the climbing trail that connects it all. Paton expects the Trail of Awesomeness will be ready sometime in mid-June and predicts the club will finish its part shortly after — provided the weather plays ball.
---
Photos: Colin Dibble, Iconic Trails, Advanced CAD