The Asia Pacific Downhill Challenge is growing year after year, and the 2015 edition saw riders such as Remi Thirion, Brook Macdonald, Thibaut Ruffin, and Wyn Masters travel to tropical Bali to compete. This was the first year that the race is a UCI-sanctioned event, which means that racers are not only competing for positions, but also valuable UCI points.
Our driver appeared through the wall of taxi drivers as we walked out of the airport, and as he cut across four lanes of a busy roundabout without even hesitating, we realised that things are a little different in Bali. The best way to describe it is controlled chaos, hundreds of thousands of cars and mopeds driving on whatever side of the road, in whatever direction they want, but still flowing with speed and courtesy.
Located between Klungkung and Padung Bai, about an hour from Denpesar airport, the APDHC track is a wild creation dreamt up by the boys at Trailscapes, an Australian company. Starting overlooking the endless beach and palm forests, the track winds past local houses and curious local children, linking together corner after off-camber corner. The final chute caught out many riders over the weekend, an almost vertical rocky slope with a narrow rut carved into the soft, knee-deep dust. The track wasn't the only brutal thing at the race; the heat and humidity was almost unbearable and the sun was fierce on the bare skin.
Remi Thirion was the rider to beat, and the defending champion. He looked smooth and calm all week, in stark comparison to the other hot favourite, Brook Macdonald. Bulldog's loose and incredibly aggressive style was a thing of beauty down this track, blowing up corners and hucking off every ledge in sight.
In the end, Jackson Davis and Hajime Imoto both held the hot seat for a few runs, and rounded off the podium after the fastest few riders came down. The crowd went wild for the local hotshot Popo Ario, with the thousands of spectators putting out an impressive amount of decibels, but unfortunately he fell just short of a podium position. With the fastest time of the day so far, Remi Thirion came down with a fast and smooth run and only the fastest qualifier, Brook Macdonald could stop him from the repeat win.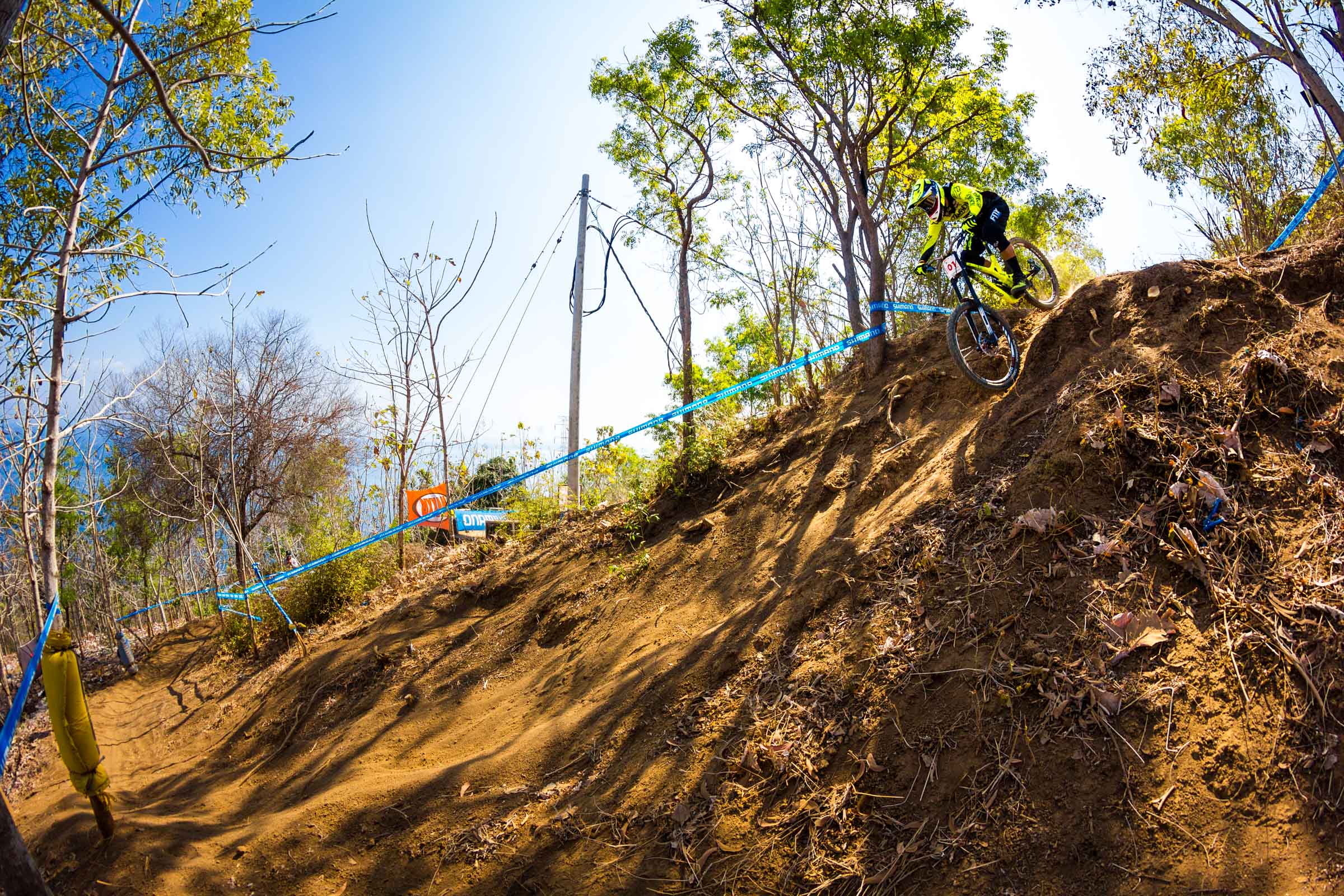 Unfortunately Bulldog caught a pedal on a fast straight, and was thrown over the bars. He hucked the last jump in frustration, almost clipping his head on the finish banner and rolling his bars on landing. An impressive repeat win for Remi Thirion considering that there was little time to be made up on the relatively one-line track.
The race is set to return to Bali again next year, with talk of a longer new track on a different part of the island. It's going to be a wild one, see you next year!