Stage three of the inaugural Reef to Reef kicked off today in the historic mining and timber town of Mt Molloy, which sits roughly 55km north west of Cairns. Billed as a 65km out-and-back course with a loop of single-track acting as a turnaround point, whispers and scandalous assumptions prior to the start had it pegged as a fast and furious course with a lot of pedalling. For many riders, the objective of the day would have been to attach themselves to sizable bunches that form on the open farm roads and hang the hell on!
With adults in charge of the start noises today, there was no false start as riders rolled out of the local park at Mt Molloy at soon as the clock hit eight. A number of small bergs through the initial sections of grass and farm roads were enough to break up the race, with Rohin Adams/Brad Clarke (Masters) and Jon Odams/Brendan Johnson (Open) making a break early, with smaller bunches forming in the dust clouds – smattered with rays from the early morning sun – behind them.
Things suddenly became quite interesting when the field hit a long section of farm track wearing the scars of previous months of heavy rain and burdened with downed trees and ruts – some of them quite savage! You needed to either pick the right line or follow the right wheel, which left many riders scrambling as a result of some poor (or unlucky) decision making.
The farm and scrubland turned into tropical rainforest and before long we were sweeping in and out of gullies and through creeks in the shade of the natural canopy, home to all sorts of freakish Australian wildlife (I'm looking at you Mr Cassowary).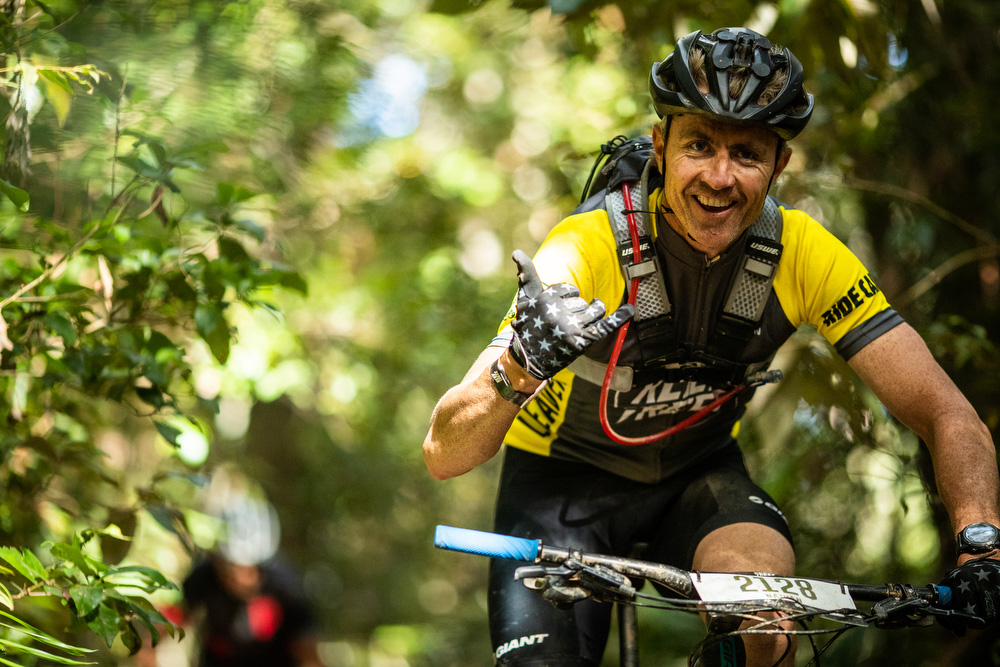 The calm was interrupted by a two minute road climb, where stems were chewed in an attempt to be first into the next section – the single-track loop (HOORAY!). Rutted, rooty, twisty turny and full of fallen trees, this loop proved to be a stack of fun, especially if you were lucky enough to have a bit of space in front of you (which I did as my partner attacked at this point).
Back through the rainforest, back through the farm track and commence the grovel for the final five kilometres home. Honestly, looking at stage three on paper there didn't look like it was worthy of the title "Queen" – however it proved to be a fantastic day on the mountain bike. Stunning, technical at times, fast and full of laughter as you spent time riding with (or clinging on for dear life to) plenty of different people and teams.