---
Of course, you've got to grind out a few metres in the other direction to earn all the descending, but thankfully the human brain is awfully good at quashing the hards times from memory and elevating the good. So all you're left with is a head full of amazing downhills.
Maybe that's why we always think of Mt Buller so joyfully. All we can remember is railing perfect turns on Misty Twist, screaming at full-speed down the Delatite River Trail, pumping the pure rhythm of Stonefly… It's almost too good.
Making the trip to Buller is pretty much an annual ritual for us, but this time our visit to Mt Buller was the final stop on our mammoth Ride High Country Road Trip, a week-long journey through the Victorian north-east's best trails.
While the other destinations we visited on our road trip are all clustered tightly, Buller stands apart, about two hours' drive from Beechworth or Bright. But coming to this part of world and not making the trip to Mt Buller would be like not eating dessert. And no one wants to miss out on sweet, sweet dessert.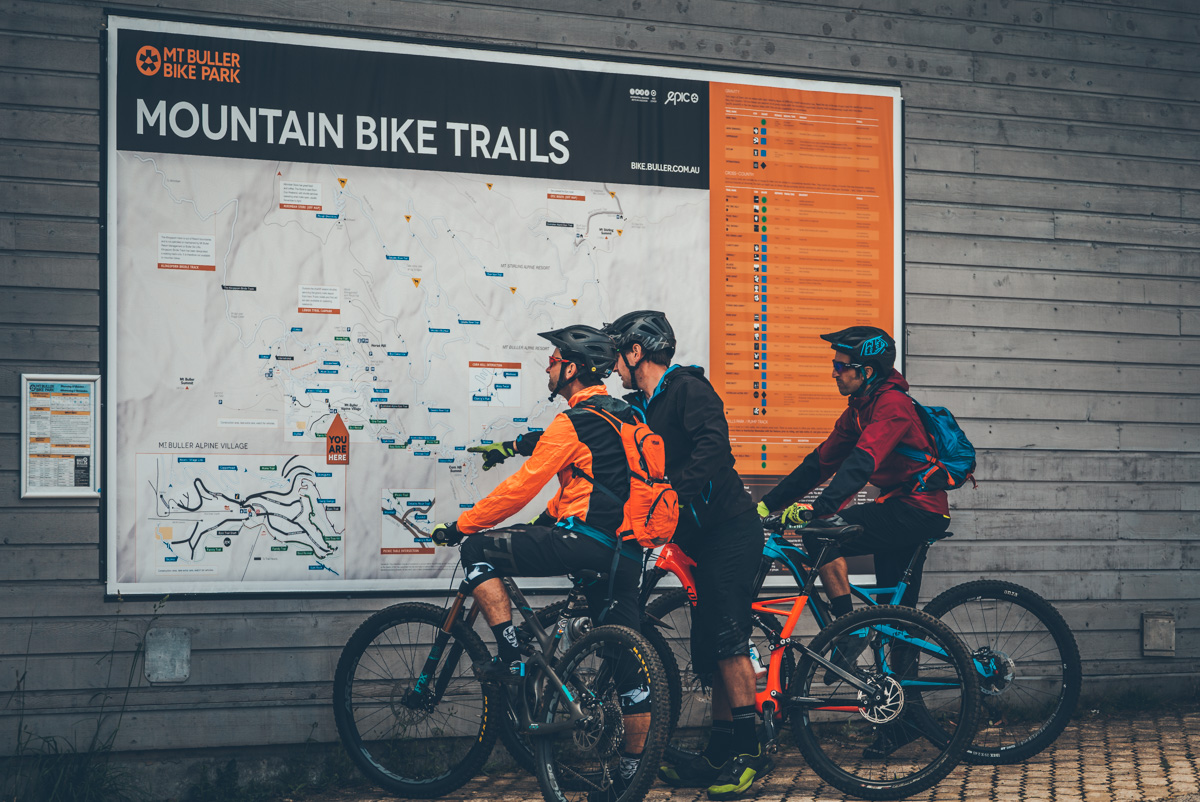 To our delight, we scored Mt Buller is absolutely prime conditions. Our guide, the resolute Shannon Rademaker of All Terrain Cycles, took us straight to the best dirt on the mountain, at the recently refreshed Misty Twist. This trail has always been a favourite – it's close enough to the village that you can squeeze it in for a quick afternoon loop, and the trail is a perfect ribbon of loam, draped through atmospheric snow gums. It links back into the fast and furious Clancy's Run too, which is another iconic Buller fave.
That afternoon, slapping through brown berms, following the trustworthy wheel of Shannon, we locked yet another magical Buller memory away in the vault.
With only limited time up our sleeves before facing the run back up the Hume to the Real World, we headed to the Delatite River Trail. If you're looking for a uniquely Buller experience, this is it: 1000m of vertical descending, at speeds you frankly have no right to be hitting on a mountain bike!
The trail tapers out with its famous log bridge river crossings, and the icing on the cake is literally cake, in this case a brownie from awesome Mirimbah Store at the end of the trail. A quick coffee to get the brain back in order after the fury of Delatite, and it's back up the hill on the shuttle, right to the peak of the village. You can see why saying goodbye to this place is always a rough breakup.
For more information on Mt Buller, or riding right across the Victorian High Country, head to ridehighcountry.com.au.