Having hosted World Cups, World Champs, and now Crankworx, the pedigree of the terrain and trails at Smithfield Mountain Bike Park is undeniable.
About 20min from the Cairns CBD, nestled in the rainforest behind James Cook University, are approximately 40km of singletrack, ranging from family-friendly green trails to DH runs that will test the most skilled riders' mettle.
We caught up with Cairns MTB Club President Craig Nissen, who in a former life ran MTB tours and shuttles in the network for the inside scoop on Smithfield
---
Join Cass and Joel on a ride through Smithfield
---
Related:
What is Smithfield like?
Traversing the edge of the Macalister Range, Nissen describes Smithfield as adventurous.
"It's rough, it's hot, there's thick tree cover, and vines — it's not a bike park," Nissen says. "Don't come here expecting Whistler or Queenstown. Think of it like your neighbour has built some trails and invited you to come over for a ride."
Those neighbours just happen to be the likes of Glen Jacobs, Ryan De La Rue, and Evan Winton, who have built some of the best-known riding destinations in the world — but we digress.
The roots of mountain biking in Cairns are based in a hardcore, the steeper and wilder, the better mentality, and that continues throughout Smithfield — many of the descents are rooty, strewn with rocks and lock into the fall line. However, Nissen tells us over the last few years, they've been trying to break away from this frame of mind, as is evidenced by the newly constructed true beginner trails like Echidna and Scrub Turkey.
The easy riding is close to the parking lot, and the trails get more difficult as you head up the hill, culminating in the World's DH course.
What is the dirt like?
The trails in Smithfield are made of lovely orange volcanic clay, that, over the years, has cured into a hard-packed trail surface around the network.
When we think of Tropical North Queensland, the first thing that comes to mind is blue skies and sunshine, but also, being in the tropics, wet weather comes with the territory.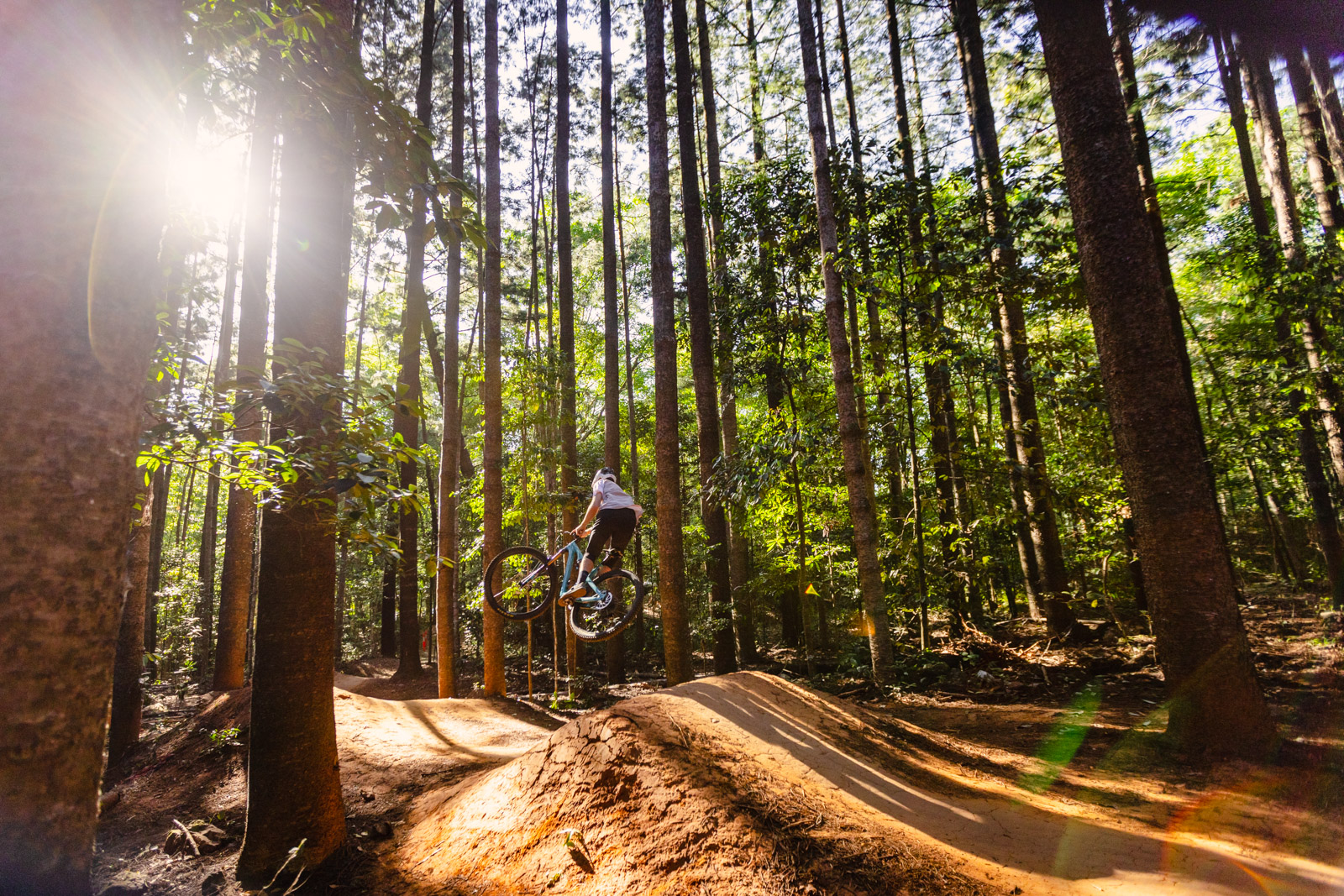 Nissen tells Flow that the soil drains pretty well, and the higher up the hill you go, the quicker it dries — short of heading out during a cyclone, you will probably be okay to ride.
He does warn that some of the deep red rainforest soil, like what you find in many of the corners on Pipeline, gets a bit skatey. The rule of thumb is, the redder the dirt, the more slippery it gets after a soaking.
Things to watch out for at Smithfield
Smithfield is the deep dark jungle, and with that comes lots of sharp pokies and creepy crawlies.
Nissen says to be extremely mindful of the Stinging Trees: "they are everywhere, you won't see them, and you'll walk right into them."
He also says to watch out for the resident reptiles, especially goannas, which are particularly active from Spring onwards as the weather warms up.
What is the must-ride trail at Smithfield?
Constructed by Contour Works just before the inaugural running of the Reef to Reef, Pipeline is a 4.34km stand-alone loop that's about equal parts climbing and descending. Touring some of the most beautiful pockets of rainforest in the park, this blue/dark blue trail takes about 40-min to complete and is heavy on massive orange berms.
Gaining about 300m, it's a decent climb — in addition to the vertical you've already pedalled up from the trailhead — and once you begin your ascent, there are no bailout options. But on the way down, there is nary a pedal stroke required to enjoy the flowy bounty that lay ahead.
What's new at Smithfield?
The biggest and most breathtaking addition to Smithfield is the Crankworx venue, complete with a new pump track, dual slalom, speed and style and slopestyle course. Nissen tells us the combined effort of World Trail, Remy Morton's Flux Trail, and Elevate Trail Building has unleashed a whole new level of creativity, and the features they've put together are something to behold.
While Crankworx is a spectacle, it's not something that most who visit Smithfield will have the opportunity (or the guts) to ride, so for the rest of us, there is Bow Hunters. Based on a similar concept, the infamous Air Ya Garn in Derby, Bow Hunters is a 2km airflow descent.
Another Contour Works joint, every feature has A and B-lines; the A-lines have significant gaps designed for skilled riders to go big, while the B-lines are a bit more sensible tabletops.
The other new additions to the park, which we alluded to earlier, are family-friendly trails.
"These are trails you can take your partner out riding an old bike you borrowed from your neighbour, that hasn't been used for ten years, and everyone will enjoy themselves," says Nissen.
The new Echidna and Scrub Turkey trail complete an 8km loop of rolling terrain, which can be cut into mid and short-length routes to prevent mid-ride meltdowns.
Where to ride in Smithfield?
With everything from sculpted berms begging for a high-speed slap, to the 'no flow zone', which is all off-camber, roots, and rocks with no dirt in-between, Smithfield has something for everyone. We asked Nissen his favourite picks of the park.
"Definitely, Rocky Dingo, which was part of the original '96 (World Cup) cross-country descent. It's been enduro-fied — what a horrible term — over the years and made faster, rougher and more rollovers. That leads you into Croc Slide and Croc's Teeth (on Myndas), which are those iconic waterfall rides.
If someone asked me, 'what's Cairns,' you ride Rocky Dingo, and you ride Vines. Real exposed singletrack, and then rainforest; all roots, no dirt, very rough, very fast and over way too quick — that's what Cairns is all about," says Nissen.
Beyond just what Nissen likes to ride, he gave us a bunch of local beta where he would take different types of mountain bikers in Smithfield.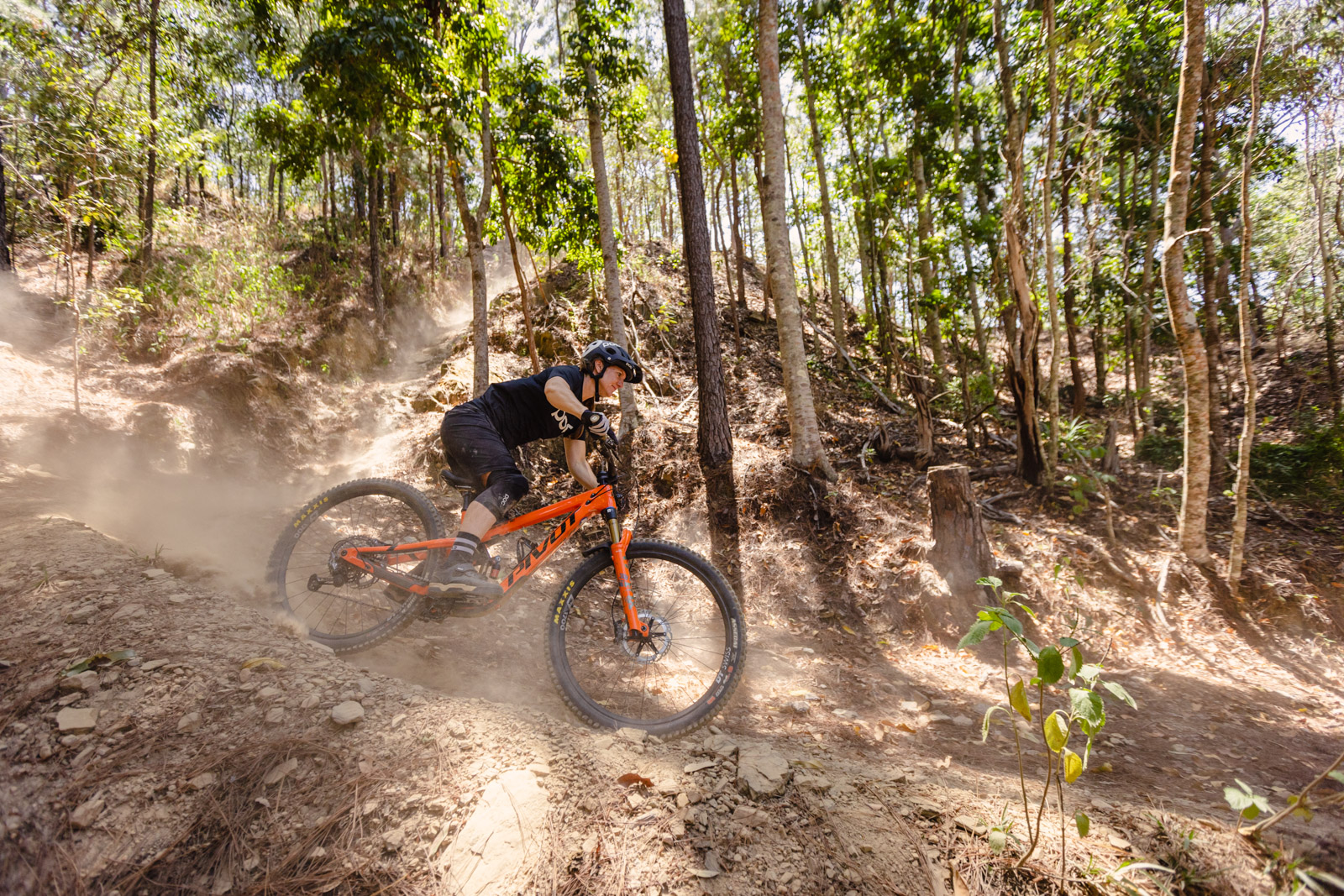 If you're a good enduro rider:
Nationals DH, also known as Stingers

Happies

Rocky Dingo
Vines
If you're looking for flow:
Pipeline

Cuss Cuss

Black Snake

Red Belly
If you're a confident intermediate rider:
Centipede

Myndas— Croc Slide

Caterpillars
If you're beginners, families and kids:
Greenfields

Green Frog

Echidna

Scrub Turkey

Wobbegong
---
Smithfield Kids Loop
---
Smithfield Medium Loop
---
Smithfield Gravity Loop