With the new Rise Against record soothing my inner ear and a light snack on the passenger seat for sustenance, the 3-hour cruise from Adelaide to Melrose is full of epic postcard scenery; rolling hills, a pink lake (didn't expect that one) and old crumbling stone homesteads littering knee high crop-filled paddocks. All very, very South Aussie as a Kiwi would say.
The purpose of this excellent adventure was the 6/18 hours of Melrose Enduro (that's 'ride a long time' enduro, not #soenduro). As the event title suggests, the headliner is an 18 hour race contested by both teams and solo riders. The Friday midnight start time allows for the maximum use of a weekend and is certainly something a little different to your normal endurance event. 18hr riders have the option to get out of work at 5pm Friday, head up to Melrose, race till 6pm Saturday evening and have time Sunday morning for another singletrack expedition on the plethora of other trails not used in the race. Departing shortly after lunch Sunday even gets you home in the evening, keeping the other half happy. If the 6hr option is more your flavour, there's time to travel Saturday morning and make the midday start.
Melrose has this amazing ability to slow life down and sooth the spirit. Upon rolling into town you forget city troubles. From this moment, life is about banter with friends new and old, the latest and greatest bikes and generous pub meals (a necessity for those attempting the 18 hours solo, those crazy bastards).
The sign-on sheet held lots of familiar names, people with a lot of love for South Australia's riding culture, with at least one of the 6 hour riders being a founding member of the Adelaide MTB Club way back in 1989, right through to weekend warriors and first time singletrack riders (converted roadies).
Having signed up for the 6hr event, but arriving on Friday evening to watch the 18 hour start , Over the Edge Sports in the main drag, the heart of Melrose mountain bike culture is a great spot to hang out. It's gotta be one of the coolest bike shops in the country, filled with boutique frames and forks on the walls and uber bling build parts gleaming in glass cabinets.
This weekend, the shop has been turned into event central with space heaters and a coffee machine pumping out great brews all night. Here, talking shit about bike builds with the shop mechanic and other punters quickly brings around the midnight start time.
The atmosphere out on the main street was building as team riders, early arrivals for the 6hr and locals filed out of pubs, and 18hr riders who've tried to get in a few extra minutes of shut eye emerge from tents, motel rooms and campers to roll slowly around keeping legs warm. 'Cops and Robbers' was this year's theme; each year there's a different novelty le-mans style start. Those who had chosen to ride the larger wheel size (29ers) were assigned to be "Cops" having to try and gulp down a donut hanging on a piece of string hands-free! The "other" wheel sizes, Robbers, needed to run to the old town bank (now a really cool café) to steal chocolate coins from the vault. Gun fire signalled the start and luckily no bikes were hurt in the ensuring madness: the race was on!
I hung around huddled over a fire barrel to watch the first lap riders come through, Chris Jongewaard, riding in a team of 6 set a cracking first lap time of 28mins 24secs for the 10km course with several 18hr solo riders close behind (I think these guys may have forgotten the length of the race). It was about this time that I realised what a busy day lay ahead, 6hrs on the bike, something I hadn't attempted before and for some reason had thought was a good idea to do on my new single speed sans any real training…So I went to bed.
My 7am alarm was not a welcome sound. Snooze…7.15am. I decided to wander over to event HQ, noting that the lead solo riders had already put in more than 100km with a tight battle going on out front but still smiles all round (probably grimaces).
11am came remarkably quickly. Time to prep my bottles, get my riding kit on (hot tip, an event is probably not an ideal time to try new shoes), have a bit of a warm up and before I knew, it was my turn to eat a dangling doughnut. The 6 hour was on!
Starting a race at the base of a mountain means one thing, the first bit of trail is going to be a climb; in this case, a long one. With about 150m of climbing per lap and my love of riding up things (ha), let's just say I had heaps on fun on the descents.
With the course being composed of about 90% single track, the concentration required to keep rubber side down for the full 18 hours is all part of the challenge. Some of the technical sections contour steep gullies where if you take your eyes off the trail for a moment to enjoy the scenery you'll quickly become part of it. (The number of skids leading to no-man's land reminded me of that). After a total of 5 laps I called it a day and set up at the race village to do some heckling.
The quality of trails at Melrose is certainly no closely guarded fact with many being hand cut and are super flowy with rocky descents, lots of features, bermed corners and nicely contoured climbs (wait, did I just say nice climbs?). "Dodging Bullets", with its spiralling start through a tunnel, warp speed downhill sections and a jump through the living room of an old homestead would have to be my favourite.
Eventually 6pm came and when the dust had settled, Matt Ackland riding a rigid singlespeed (this guy must hate himself) came out on top in the men's 18hr solo, Philippa Roston taking out the women's title and 6hr bragging rights going to Ollie Klein and Aurelia Strozik.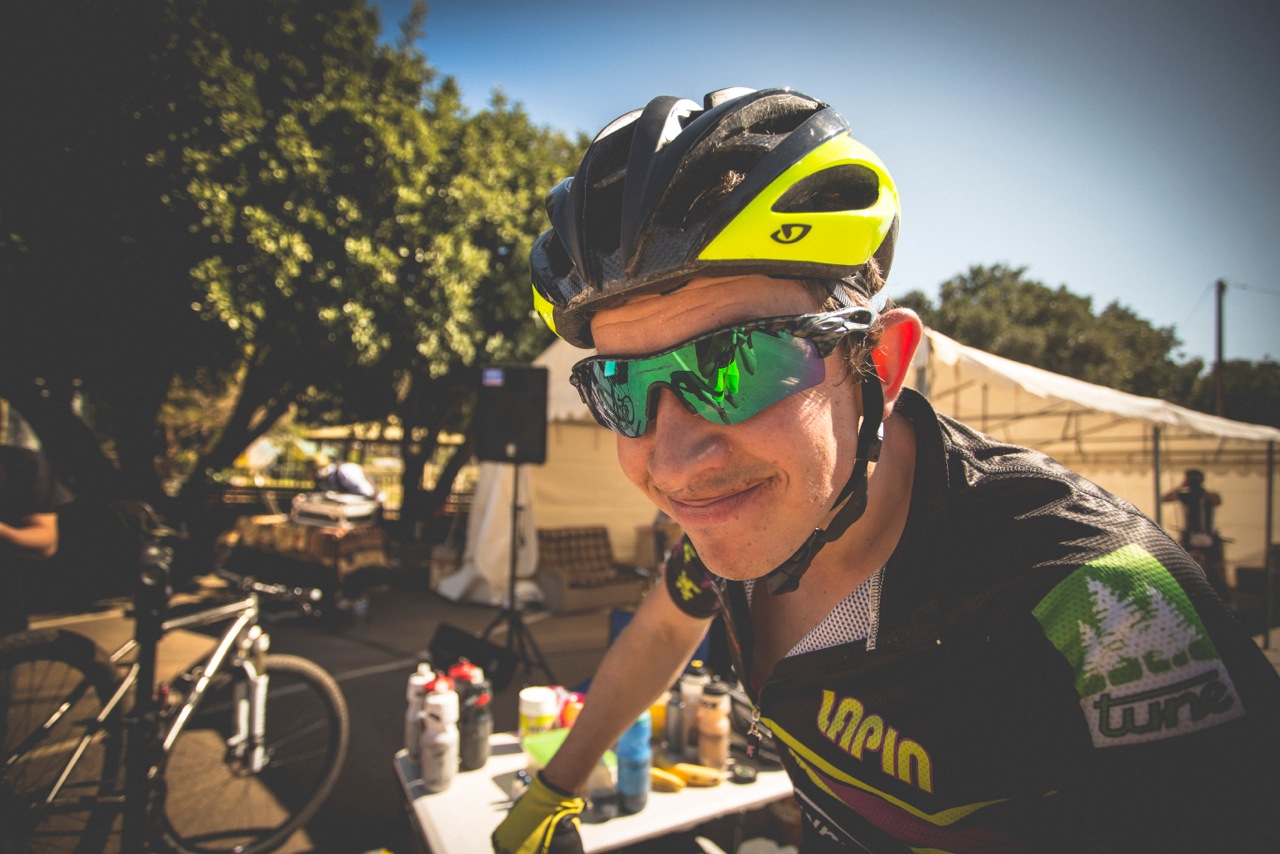 "That was seriously the most mentally challenging race I've ever had," Acko remarked at the end, inspecting his array of new blisters, "after 6500m of climbing, my legs are toast, I'd have happily traded the saddle for a bar stool 6 hrs ago but I just knew Kev (2nd place) would just keep coming at me. I had to dig deep." When asked if he'd do it again, he cracked an evil grin and said, "see you next year!" See you then!