Travis was Trek's first professional mountain bike athlete, signing on the Trek VW Racing Team way back in 1993. In 2005 he may have retired from full time racing, but his responsibilities shifted into turning his incredibly valuable experience into a way of helping develop product.
So, Travis, what's keeping you busy at Trek these days?
I'm managing the field testing for all mountain bikes, from cross country hardtails to downhill bikes, I have a network of riders that test prototype bikes and products, and deliver me their feedback. They are riders that are just the most ingrained users and can put the miles and time in on those products and bikes.
Who are these lucky people that get to ride secret prototypes?
Everything from trail riders that don't race, to inspiring neo-pros that are trying to make a career out of racing. I also tap into the pro teams for a resource too, the ones that are interested and willing to take the time to be a developing resource.
What makes a good field tester?
It's a skill set and a personality with the sensitivity to understand differences between one bike and the next bike, and the ability to communicate that to myself or other product managers and engineers.
By the time the product makes it to these field testers, what's still yet to do?
For the most part a lot of the development has been done by the time I get stuff to my Colorado test group, we're hopeful that it's at the level that a consumer would be happy with. But the reason that they have it so far ahead is to find any issues a consumer or retailer may experience, from the tiny fit or compatibility issues, to even how bikes are packaged to a dealer.
In between managing the field testing, I'm also spending time on my own trying to come up with the next innovation along with the other product engineers and core team.
What other racing have you done since?
To understand all the genres of mountain biking since the early days, just take a look at how many categories of trail bikes there are now. While I was still racing I was doing plenty of racing outside the realm of traditional XC, like Super D racing, Enduro. I've done some bike packing missions, to understand the evolving segment too.
I was always racing cyclocross as a winter supplement, I find that because of the short duration and style of the course it's such a dynamic and close racing, loads of passing and for spectators they can see the whole race develop which is a hard thing in bike racing. And in the last few years I've been doing a lot of fat bike racing, especially now that we've been doing a lot more with fat bikes, with frames and tyre projects in the pipeline.
What is a fat bike race?
All on snowpack, they're traditional cross country lengths for the most part, it's fun because the conditions of the snow can be so broad. The optimal tyre pressure for one race might be nine pounds of pressure and another race with the same tyre might be three pounds of pressure. Riding the wrong pressures in the wrong conditions you just can't compete.
Where's heart of the fat bike racing scene?
Midwest, US. There's races that have 1000 people at the start, there is a series in Colorado that I do a lot of races, there's a Great Lakes series, Wisconsin, Minnesota, and obviously Alaska where the whole genre was born.
And this all gave Trek the Farley?
Yep, we're up to our fourth year with the Farley, just last year the innovations of that bike saw us move from 26" to 27.5" tyres and we found that in the softest conditions we might be running 2 to 5 psi the overarching thing is tyre volume and being efficient over that terrain. So we increase the volume by going wider and bigger diameter.
The core focus for you has been the Farley and Stache?
Yes a lot of Farley and Stache, because those products require unique geometries they require tyres, rims, forks. It's like building an entire bike from scratch. Finding the best head angle and offset that suits a bike with 27.5 x  4.5" tyres resets everything.
The Stache, it's  29" plus bike, not something we see a lot of at all, with plus bikes typically using 27.5" wheels? Why 29?
We went with 29 Plus as the dedicated platform for the Stache because the rationale is that if you're the type of rider willing to take a small weight penalty for a lot of extra control and traction, and the ability to run a low pressure and you're the same person comparing 27.5 and 29, we went 29". We prototyped both wheel sizes, 27.5 and 29 as soon as we built a tyre, and for the application of a hardtail we came out with the 29 to be the superior option.
We came up with some pretty creative frame shaping strategies to make the chain stay as short as anyone could possibly want it, with the elevated chain stay design the shortest stay position on the Stache is 405mm and up to 420mm which is short for any type of bike.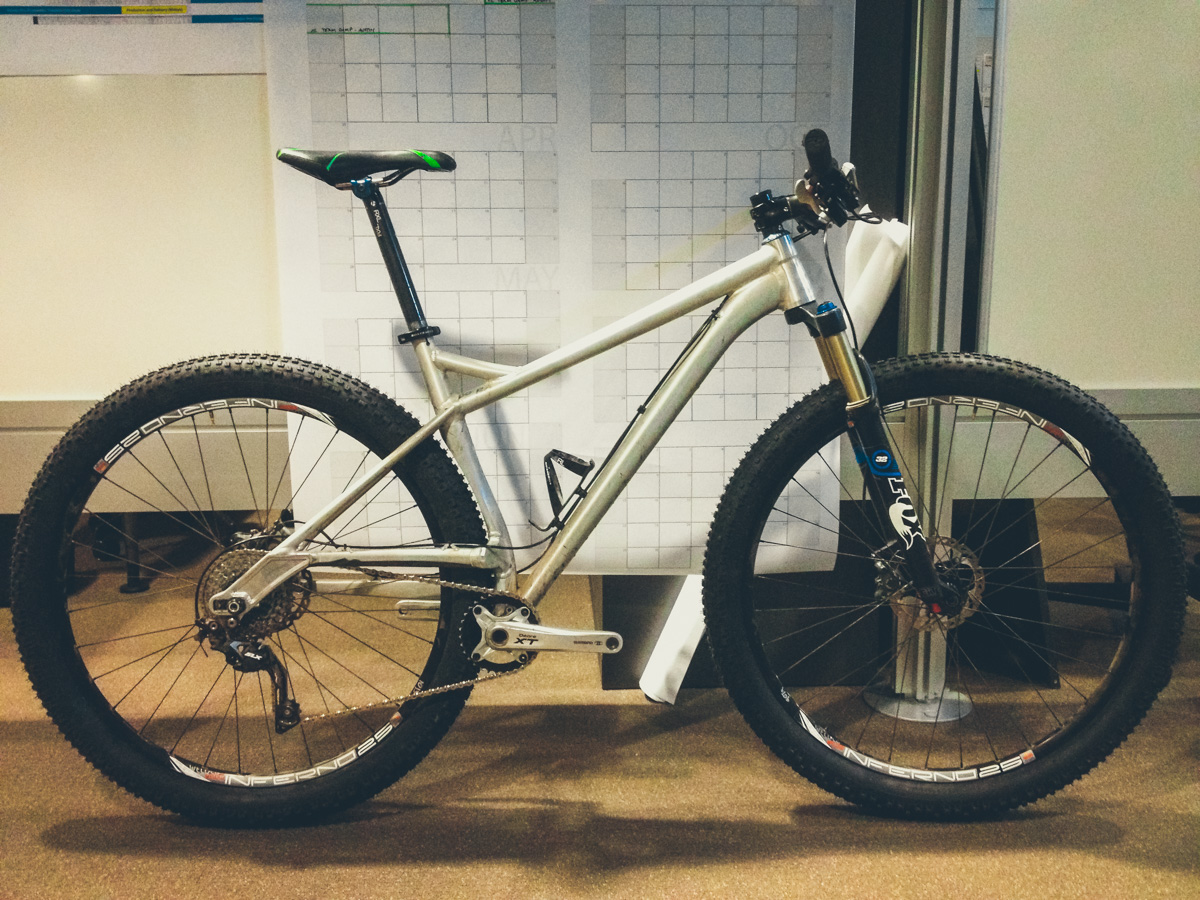 We tested out a lot of bikes, cobbled together aluminium mules with all sorts of designs, but when we rode the elevated chain stay bike it made the monster truck wheels ride like something it doesn't look like at all.
What's the Stache?
Ride one, it's hard to communicate the capability of a hardtail with 29×3" tyres amongst the realm of trail bikes and long travel dual suspension bikes. Until you ride it words just fall a bit short.
Where should it be ridden?
Anything where traction is a challenge, it is directly related to the tyre pressure you can run in the tyre. Whether you're running a regular 29" bike and you might get down to 23 psi and the risk of pinch and rolling the tyre, on the Stache you'll easily run 15-16psi and then there's so much more rubber on the ground. Cornering, braking and climbing confidence is awesome. You'll take lines you wouldn't even dream of.
To get the same capability on a dual suspension bike the cost goes up, you have the most capability for the dollar on that bike.