Derby is the place on everyone's minds when it comes to travelling to ride, of course, it is it's amazing. The super-sweet trails don't need any introduction, but it has always tended to be a little vague when it comes to 'other things' to do. Now the little Tasmanian town of Derby seems to have overcome its inherent lack of after-hours options and a decent pub. There is also a lot more nice accommodation, shuttle providers, e-bikes, great cafes, catering, babysitting/childminding, yoga classes and most importantly, family friendly trails.
What's new in town? So much, if you've not visited in a year or so, it's a totally different place.
---
Watch it all here:
---
Family-friendly trails, Lake Derby and Briseis Beach.
Derby was crying out for a place to ride if you're brand new to mountain biking, too young for the trails in the forest, or simply after a laid-back cruise after a day full of blasting trails.
There's a lake in Derby? We'd not even set eyes on this mythical lake with an interesting origin steeped in mining history? Surrounded by trees, just a stone's throw from the 'bustling Derby CBD' is a deep lake, now with a 2km beautiful trail running around the water's edge.
Take the cool suspension bridge from town, cruise along to the water's edge and let the trail take you on a circumnavigation of a lovely part of Derby.
This green grade trail is very mellow – an EWS racer could ride in their sleep – but for a beginner or family, it's perfect. The gradient is flat, corners are calm, and the trail surface has been graded for ease of access.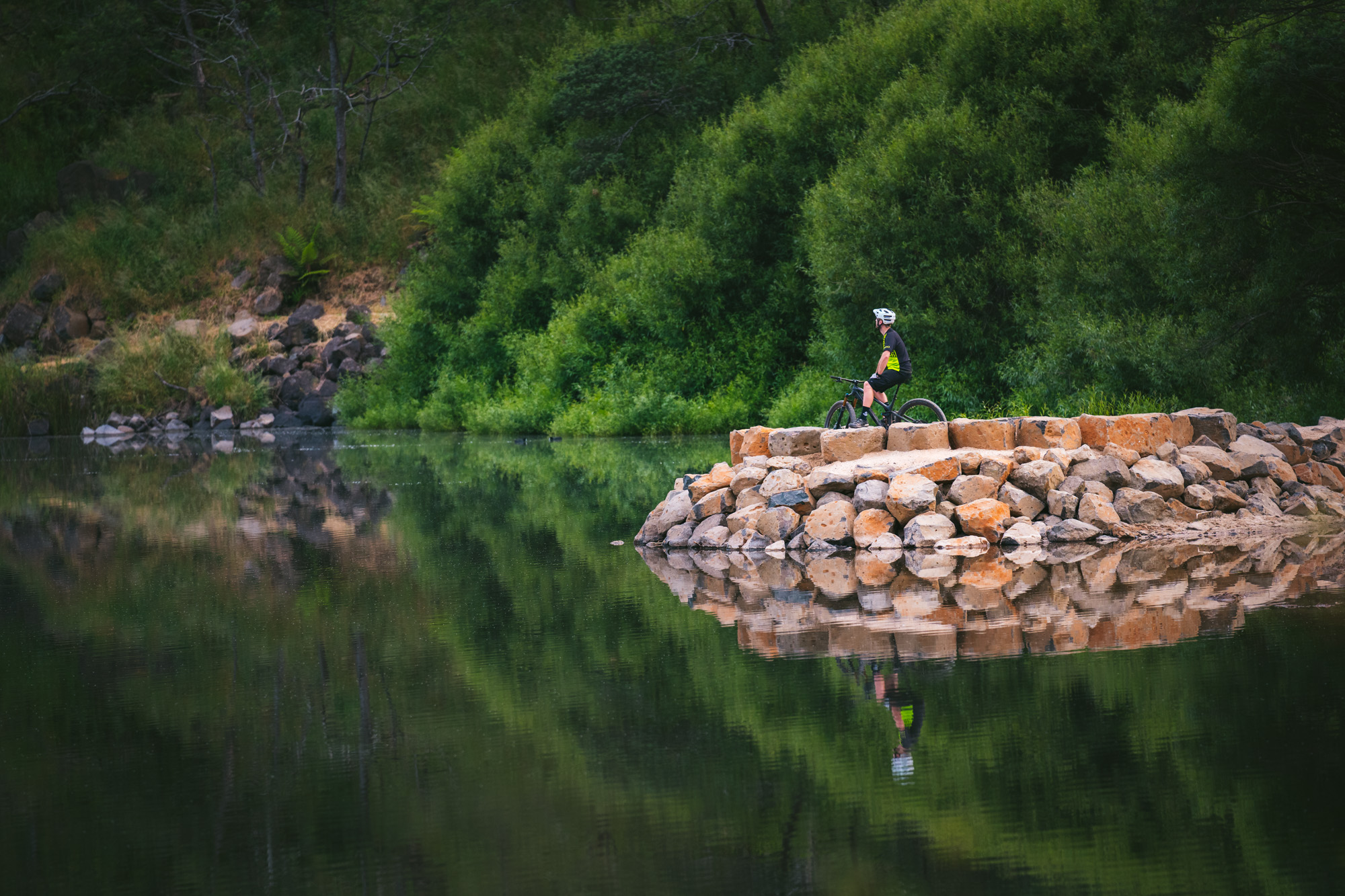 ---
Get a high fix above the lake.
From the Derby Lake Trial, there's another new track called Wocha Upta, a series of switchbacks climbing to a high point above the lake. Hang your bike on the conveniently placed rack at World Trail View and pause for a moment to admire the tiny little town from a birds-eye view.
---
Pump Track, hell yeah!
Hands up who loves a pump track! This clever addition to the town draws the masses, that's for sure! We never saw it empty, even when the sprinklers were on bikes were lapping around it with young and old having a good time.
A pump track is a remarkably handy place to hone in your bike skills, what you gain from pumping the bike on the asphalt track translates perfectly to the trail. Riding smoothly working the bike below you, pumping the rollers for speed and ripping around the corners off the brakes, it's great bike practice. Let alone how tiring it can be, a few laps and your heart rate will be through the roof, and your arms and legs complete jelly. Well, ours were, anyhow…
---
More trails above Black Stump shuttle drop-off spot.
Standing at Black Stump staring at the map board, it's tough to make a call of which trail to ride because there are so many of them. Our advice? Do them all at least twice…
Climb up from Black Stump on the new Snig Track – a beautifully lush climb with SO MUCH MOSS – and you'll reach a junction with three amazing new options, Kingswall, Kumma-Gutza or Roxanne. Three very unique trails with their own flavour.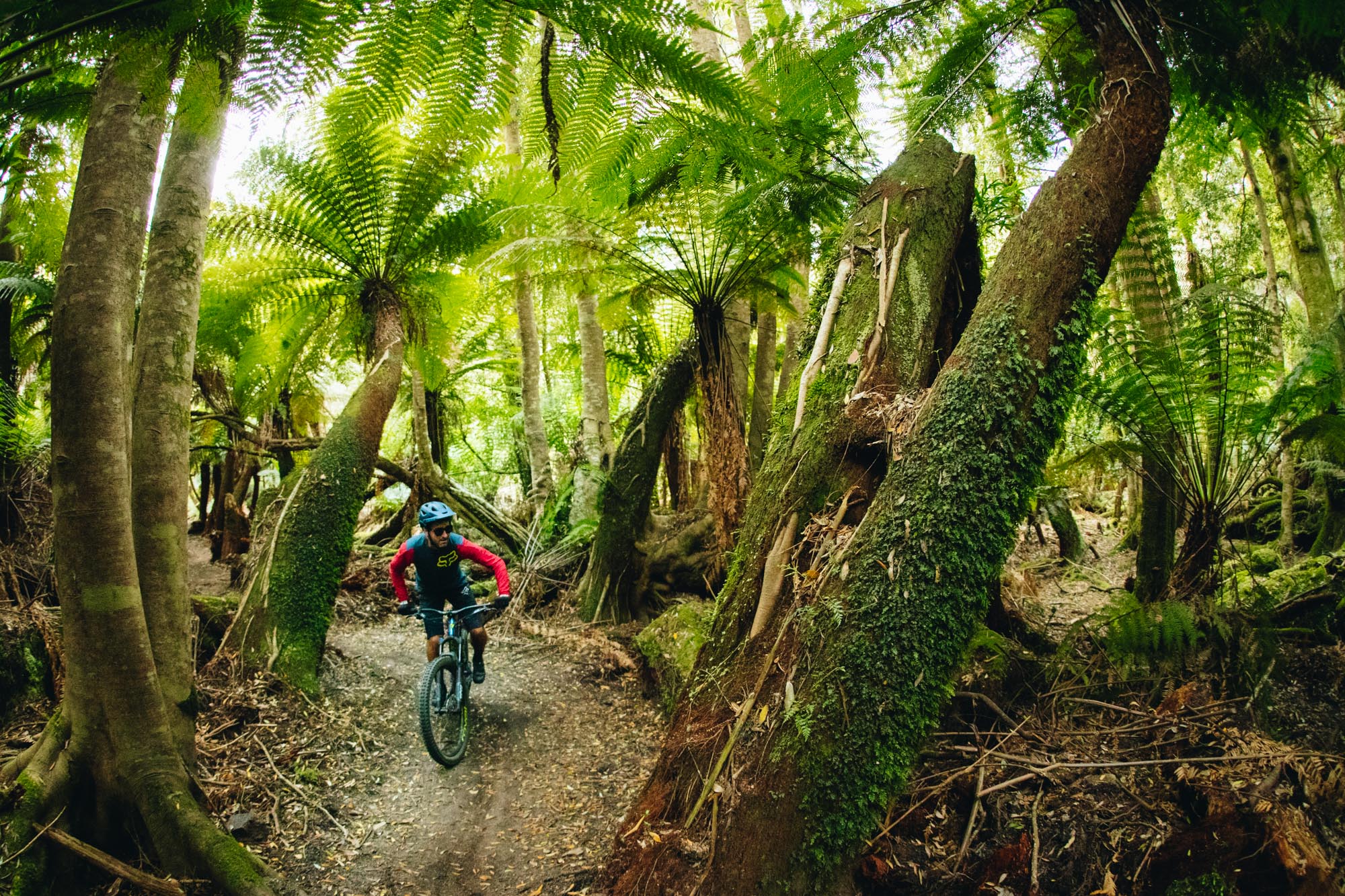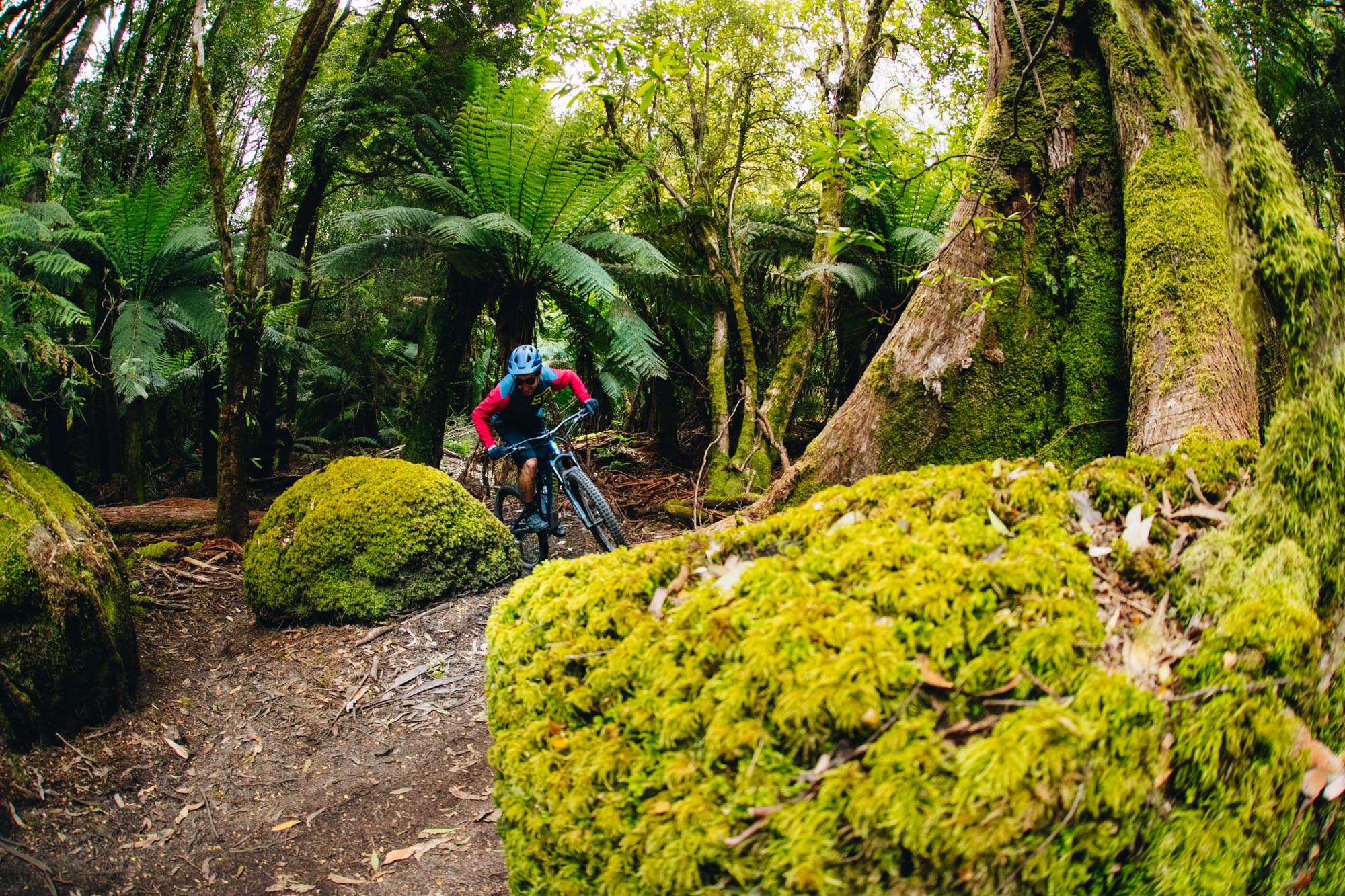 Kingswall is going to be a favourite, for sure. The way Return To Sender has so many features and creativity, Kingswall adds to that vibe with the lower portion following the Briseis Mine race, completed in 1902 to carry water from the Ringarooma River to Derby for tin mining practices, it's been hidden until now. The forest has reclaimed the wall's construction, and it makes for a fascinating experience to ride along, over and around it on a fun descent back to town.
Roxanne is a rocky run full of rocks, and more rocks. It's a challenge to ride fast, and if you're moving at speed you'll see how the crafty crew at World Trail intended it to be ridden. Gaps are everywhere, A-lines aplenty, but it's still safe to roll at a mellow pace. Don't forget to pause at Murrays Lookout, climb the timber steps and break out of the forest canopy for a sense of space in the Tassie Wilderness.
Kumma Gutza is a wild run down, 2km in length and loaded with features. It feels like a downhill race track at times, and will surely be a hit for future enduro races. From the green trails in the valley floor to ones like this, the scope and variety in Derby is huge.
---
Air-Ya-Garn, dizzying new jump track.
How many jumps? This dizzying run down from the Black Stump shuttle drop-off point is so much fun.
Loads of jumps, hips, step-ups, step-downs and the now famous 'dirt wave' will undoubtedly be the most lapped trail on the hill in no time.
Let the images and GoPro video below do the talking…
---
More accommodation offerings.
Derby is tiny, it's always going to be tight to find a bed during busy periods, but we've heard about many new mountain bike-specific places popping up to host riders in town. From old cottages converted into fresh pads to renovated a post office for accommodation, it's good to see the offerings diversifying and growing.
We've stayed in a bunch of places in Derby over the years, but this time was a little special. In the forest over the back of the MTB Park is a hidden gem, the Mutual Valley.
Derby Forest Cabins is the place to stay if you want ultimate peace and quiet – not like Derby is anything but – with a sky full of stars and an aspect with beautiful morning light and a communal area for cooking, coffee, tweaking bikes or chilling by an open fire.
---
Catering that comes to you.
Here's food with a twist, a crew have set up in Derby that provides catering of local produce that can come to you. Picture this; you've booked a house with a mob of riders, instead of shopping and arguing over who's cooking and who's cleaning bikes or repairing your dropper post after a long day on the trails you can book in the ultimate feast at your place.
Trailhead Food Co is a stoked couple that moved into town; they're professional chefs, great riders and total legends, Mark and Jules make amazing meals with passion, check them out for sure.
---
Learn to ride lessons.
A number of places in town offer lessons and Vertigo MTB, in particular, are setting themselves to offer lessons and skills sessions for beginners and intermediate riders. With a team of PMBI trained staff, you're in good hands.
---
Nice people bought the pub, and it's back to life!
What mountain biker can say they walked into the Dorset Hotel before October 2017 and experienced warm hospitality? Yes, neither can we…
Brooke and Shaun from Mudgee were not looking to buy a pub, but when they fell in love with the town and the riding, the Dorset Hotel finally came up for sale. They appear to have been VERY busy bringing the pub back to life, with a new kitchen, signage without typos and with a large team of locally employed staff it has been well received by locals and mobs of mountain bikers. It's buzzing again!
We can vouch that the meals are sensational too, generous pub grub that might be familiar to some, that's because Sharryn and Trish who used to cook at the Weldborough Pub are now in the kitchen at The Dorset. There's also accommodation, affordable pub-style rooms with shared bathrooms for around $70-per night.
---
E-bikes in Derby!
When Ben and his family moved from Sydney to set up a shop catering for e-bikes in the main, there would have been many people kicking themselves for not doing it earlier, a brilliant idea! Evolution Biking is everything e-bikes, they rent regular bikes, too, and also retail all the nice goodies and accessories you might want or need.
Keen to hire an e-bike, take a guided tour or seek technical support for your own motor system? This is the place to go. They're currently running a fleet of Trek Powerfly LT 9s, great for long adventures and fast rides. In the plan is implementing a system to hire a battery for your e-bike, making flying to Tasmania a whole lot easier, as the batteries can't be carried on planes. Nifty stuff!
---
Easier logistics, airport transfers, uplift and chartered shuttle options galore.
With the demand for services in Derby increasing, the options for visitors also increase. In addition to Vertigo MTB and Mad MTB's shuttle services for the Derby and Blue Tier trails, Premium MTB are a new business in town offering airport transfers and privately chartered shuttles of the trails.
Look up Premium MTB Transfers if you're keen to operate on your own timetable, they can be fast flexible to get you to the dirt quick, and they have super-swish vans!
---
Coffee, food, yoga, child minding and more!
There is excellent food and coffee at the new cafe Two Doors Down; you can even book in some childminding/babysitting while you ride from the lovely people at Mini Shredders Derby.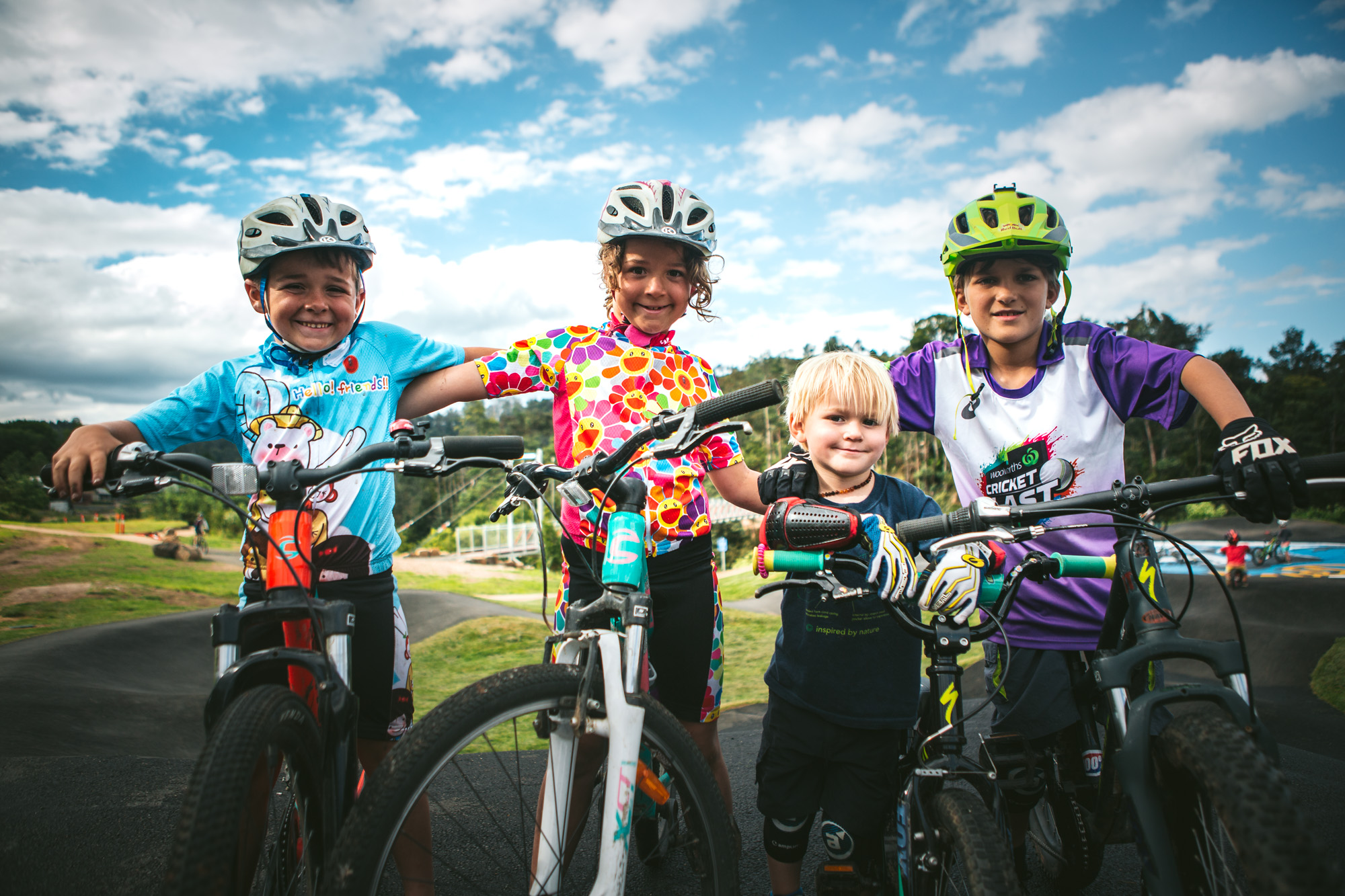 ---
Derby App, handy!
Making life easy, the Blue Derby mobile app has maps, recommended routes and your location for emergency services, download it and check it out!
We could go on forever on about this magical place; it's great to visit after over one year to see how much has evolved.
---
For more details on what we discovered in town, here are a few links to browse.
All trail maps, and everything Derby, the official site here: https://www.ridebluederby.com.au
Fantastic accommodation in Mutual Valley, Derby Forest Cabins, highly recommended: https://www.derbyforestcabins.com/
Trailhead Food Co, catering that comes to you, seriously delicious food and rad people: https://www.trailheadfood.com.au
Learn to ride with Vertigo MTB, skills and introductory courses for all: https://www.vertigomtb.com.au
The Dorset Hotel, under new management, since Oct '17, phew! A great pub: http://dorsethotel.com.au/
Everything E-MTB'ing Derby, the Evolution Biking shop in town: https://www.ebiketasmania.com.au/
Premium MTB Transfers chartered private shuttles and airport transfers for maximum dirt time: https://www.premiummtbtransfers.com.au/
New coffee joint with great food and Derby merchandise, Two Doors Down: https://www.instagram.com/2doorsdowncafe_derby
Grab a shuttle or rent a Merida eMTB from Mountain Bike Adventure Derby (MAD MTB): http://madmtb.com.au
Childminding and babysitting in Derby and Weldborough, Mini Shredders Derby: https://www.facebook.com/minishredders/