Ah, Rotorua, the home to some of the best dirt on earth, a welcoming riding community, and more natural hot springs than you can shake a stick at. The Whakarewarewa Forest has over 200km of singletrack, but it wasn't always that way.
"It's been a slow burner; this is literally something that started in the 90s. You had a few dudes who were building these pirate trails in the forest. Then in the mid-2000s, the council came on board and said, 'oh, there's really something here,'" says Tak Mutu from Mountain Bike Rotorua.
For many years, Rotorua was the destination at the tippy top of every mountain biker's bucket list, and if you didn't hear from one of your riding mates for a week or two, it's because they'd nipped off across the Tasman to ride the Whaka.
That all shifted a few years ago when Tasmania fired up, and droves of riders started heading to Blue Derby and Maydena, causing Rotorua to fall off the radar for some. We last visited Rotorua in 2018 for Crankworx, and a lot can change in a few years, so we caught up with some of our friends to see what's new!
The Rotorua trails trust
A lot of people don't realise that the trails in Rotorua were largely built by the community and are still maintained by passionate locals, not a professional trail crew. Throughout the forest, individuals in the community have adopted specific trails, and up until recently, the mountain bike club would keep the rest up and running.
"So you might be the adoptee of Hot X Buns or the adoptee of that grade five, or four or whatnot. It's a really cool way (to maintain the trail network), and I think it works really well, but there are so many riders in the forest these days that the effort that has been put in certainly doesn't last as long as it used to," says Louis Hamilton, who spent quite a few seasons chasing the DH World Cup around Europe, and now runs Tuned Rotorua.
The Whaka forest is actually private land owned by the Iwi people, who have allowed mountain bikers access for years. In 2017, the forest was getting between 600,000 and 700,000 visitors each year, with half of those on bikes. Fast forward to today, and there are about a million visitors annually, still about half of those folks on bikes.
"Five or six years ago, Rotorua Mountain Bike Club was in charge of looking after most of the trail network in the Whaka forest, and it was getting to the point where it was just so time-consuming. We did nothing but build trails, and things like events and memberships sort of dropped off the radar," says Clair Scott, President of the Rotorua Mountain Bike Club.
With the network continuing to expand, the club decided to form the Rotorua Trails Trust, a not-for-profit charity, established to maintain and continue building trails in the Whaka forest.
"It's been really interesting to see the types of trails that have been developed. We had a lot of mid-range flow, or easy tech sort of stuff — a lot of what we call grade three or four. So what we saw was a significant investment in the really easy stuff as an introduction to riding, with e-bikers and back generational (older) people coming through — so the more scenic stuff," says Mutu. "But also an investment in that hardcore stuff as well."
New trails for everyone
This range of development can be illustrated with the new Forest Loop and the maze of trails on the Taniwha Hillside.
"The Forest loop is a new 30km trail that circumnavigates the Whaka forest. It's a really cool way for your Grade 2 rider (beginner) to go and explore the whole forest and not just a small little pocket near the trailhead," says Hamilton. "It gives riders a better indicator of how big our forest is, and they're not just relating to a small piece of the pie."
On the other hand, the Taniwha Hillside is the home of the National Downhill course.
"Back in the day, there was one downhill line, and that was it. We just did an audit, and there were 12 or 13 trails out there now. They are all interlinked, and there is this maze of lines that run down the hill. But between that, and trails like Tūteata, Minerals, and Tumeke, there has been some awesome trail development on both sides of the equation," says Mutu.
"We're also just about to see a huge investment in our jump line. It'll be the single biggest investment in singletrack that we've ever seen in the Rotorua forest. The jump line that is in Rotorua has served its purpose, and it's now time to escalate it to the next level," he continues.
Cars, shuttles and a freaking gondola!
The Whaka Forest is only about five kilometres from town. There is a cycle path that runs basically from the CBD out to the forest. Still, a lot of people drive to the trails, and on any given weekend, the parking lots will be overflowing into the fields next door.
So while a new parking lot might not seem exciting on its own, the Tawa Forest Hub Carpark is actually quite a big deal. Located on the east side of the forest, the locals lovingly call this spot the Black House, because there used to be a cute little black house here — it has since been torn down.
"It's helping to spread the load a little bit. It's giving people a different access point into the forest, and easy access to trails that may have taken a while to get to in the past," Hamilton says.
This new carpark also means a new shuttle service operating on the east side of the forest, running from the bottom of Eagle vs Shark, and ferrying riders to the top of the National Downhill course.
Since the last time you visited Rotovegas, the shuttles will look a bit different too. That's because Southstar Shuttles has since moved on, and is now offering uplifts at Cougar Park in Tokoroa. Mountain Bike Rotorua has taken over, with a new fleet of vehicles and trailers and a few new drivers, both public shuttles and private charters are available.
Oh, and did we mention there might be a gondola going in on this side of the forest too?
Still in the early phases of planning and not yet approved, Mutu tells us CNI Iwi Holdings, the group that owns the forest, has seen the uptick in mountain biking and the growth in people accessing the forest, and has essentially said, 'this isn't such a crazy idea, please tell us more.'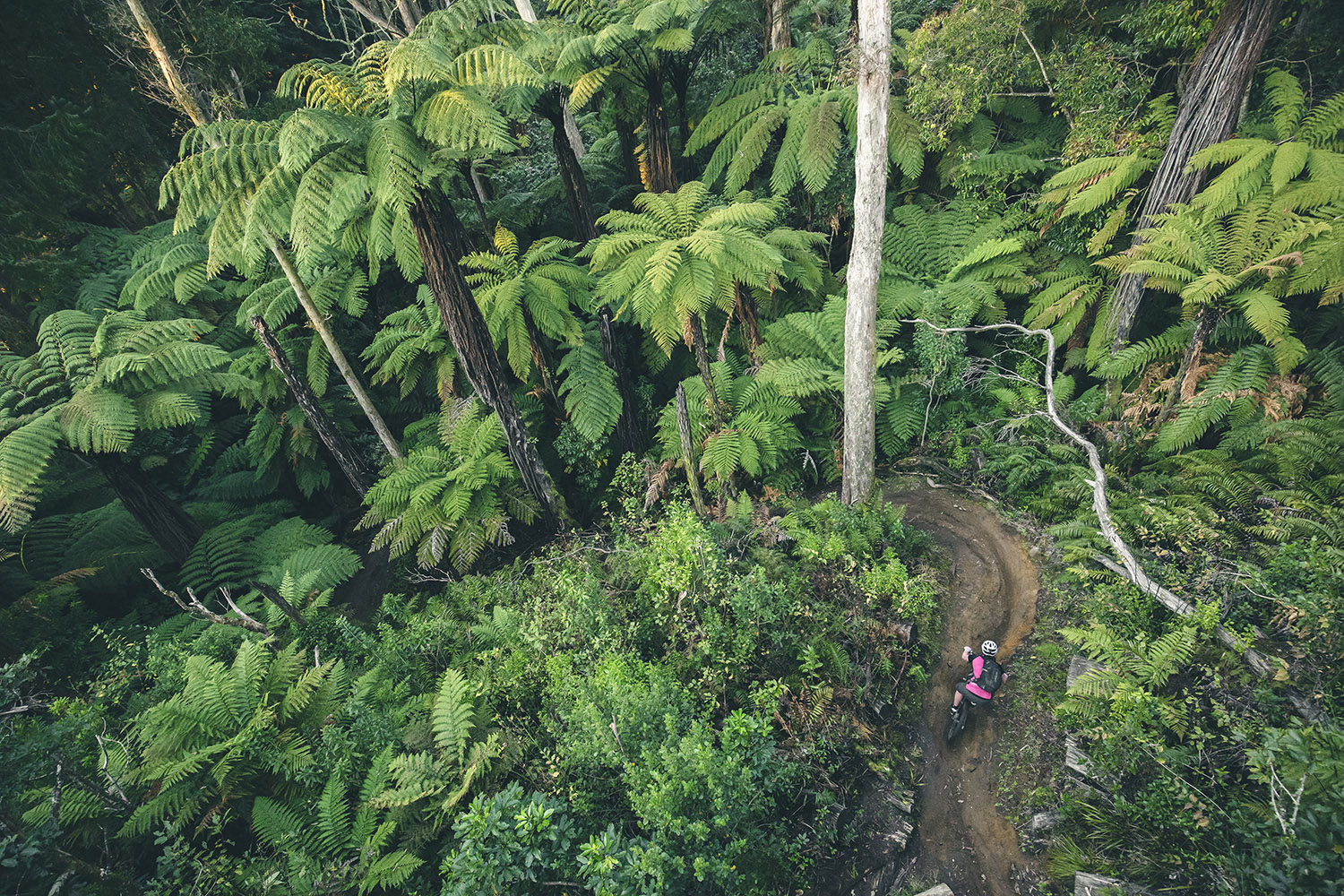 "We'd like to build a gondola in the forest, and I say gondola, not a chairlift because we want it to be a year-round thing, regardless of the weather," says Mutu. "It wouldn't just be for mountain bikers. We're looking at sightseeing and also putting a massive sculpture at the top — kind of like the Christ the Redeemer (statue on the summit of Mount Corcovado, in Rio de Janeiro, Brazil)."
New Zealand doesn't have that iconic piece of artwork that people travel from around the world to see, and Mutu believes the opportunity is there to make Rotorua the home of such a landmark.
What about Skyline?
Speaking of gondolas, the Skyline Gravity park is still pumping, the gondola is running, and the network has just about doubled in size in the last five years.
"Skyline is a downhiller's dream," says Scott. "They now have their own maintenance staff that look after the trails, who are total pros. Whaka keeps you honest because you have to ride up the hills, but at Skyline, you can just lap and have fun."
The official home of Crankworx, Skyline is only a small hill with a total of about 200m of vertical drop; there are now 17 gravity specific trails, ranging from proline DH runs and the Crankworx slopestyle course, to a handful of blue and green descending trails.
"I've recently been doing a lot more coaching at Skyline, and it's proven to be a really good place to work with kids," says Hamilton. "I do think that might be to do with having the uplift service, so their legs don't have to pedal up. They are always developing trails and making sure everything is well maintained."
And for the wine connoisseurs among us, the Volcanic Hills Winery has a tasting room at the top of the Gondola — we hear the Rosé is phenomenal.
What's new in town?
The staples in Rotorua are, of course, Eat Street, where you will find the Brew Craft Beer Pub, and Atticus Finch, which are just around the corner from the Pig & Whistle — a Rotorua institution — but there are a few newly opened joints to satisfy your hunger.
For a burger, Mutu and Scott both recommended Burger Fuel.
"It's a chain restaurant, and it should just be like any other chain restaurant. But Burger Fuel just nails it, and I'd liken it to an In-and-Out level of burger. The one over by Skyline is owned by a local, and she is nailing it," says Mutu.
If you're a plant-based athlete, Hamilton recently stumbled upon FTP Vegan Eats, which does a meat-free burger that is, in his words, "insane."
We're going shinny dipping
Rotorua is one of the hot spring capitals of the world, and there are more places than we can count to soak your weary bones after a long day on the trails. However, The Secret Spot Hot Tubs, just across from the Waipa carpark, are doing what they call 'shinny dips.'
"They have these little hot tubs you can stick your feet in — they call them 'shinny dips.' They also have a bar, so you can have a cider or a beer and a shinny dip after your ride; it's bliss, it is just the best," says Scott.
Scott and Mutu also recommended checking out Te Whare Nui o Tuteata – Scion Research, which is a scientific research centre, and the largest building ever constructed using LVL (Laminated Venier Lumber). Located across the street from the Dodzy Skills Park, this is where the plant-based, biodegradable foam used in the Giro Silo helmet was developed. On the ground floor is the Eastwood cafe, which they say does a ripper woodfire pizza.
If you're dreaming of riding the Redwoods, satisfy your hunger for the loamy goodness of the Whakarewarewa Forest below:
---
Photos: Mountain Bike Rotorua, Legend Photography, Destination Rotorua, Graeme Murray, Jan Kasl / Red Bull Content Pool, Mark Smith Photography, Jay French / Crankworx, Clint Trahan /Crankworx, Joel McDowell / Crankworx