Best-known for making neck braces and body armour, Leatt more recently turned its attention to footwear and developed a range of mountain bike shoes for both flat pedals and clip-in pedals. There are 4 different models to suit the latter, and here we take a look at the premium gravity option; the Leatt 4.0 Clip Pro shoe.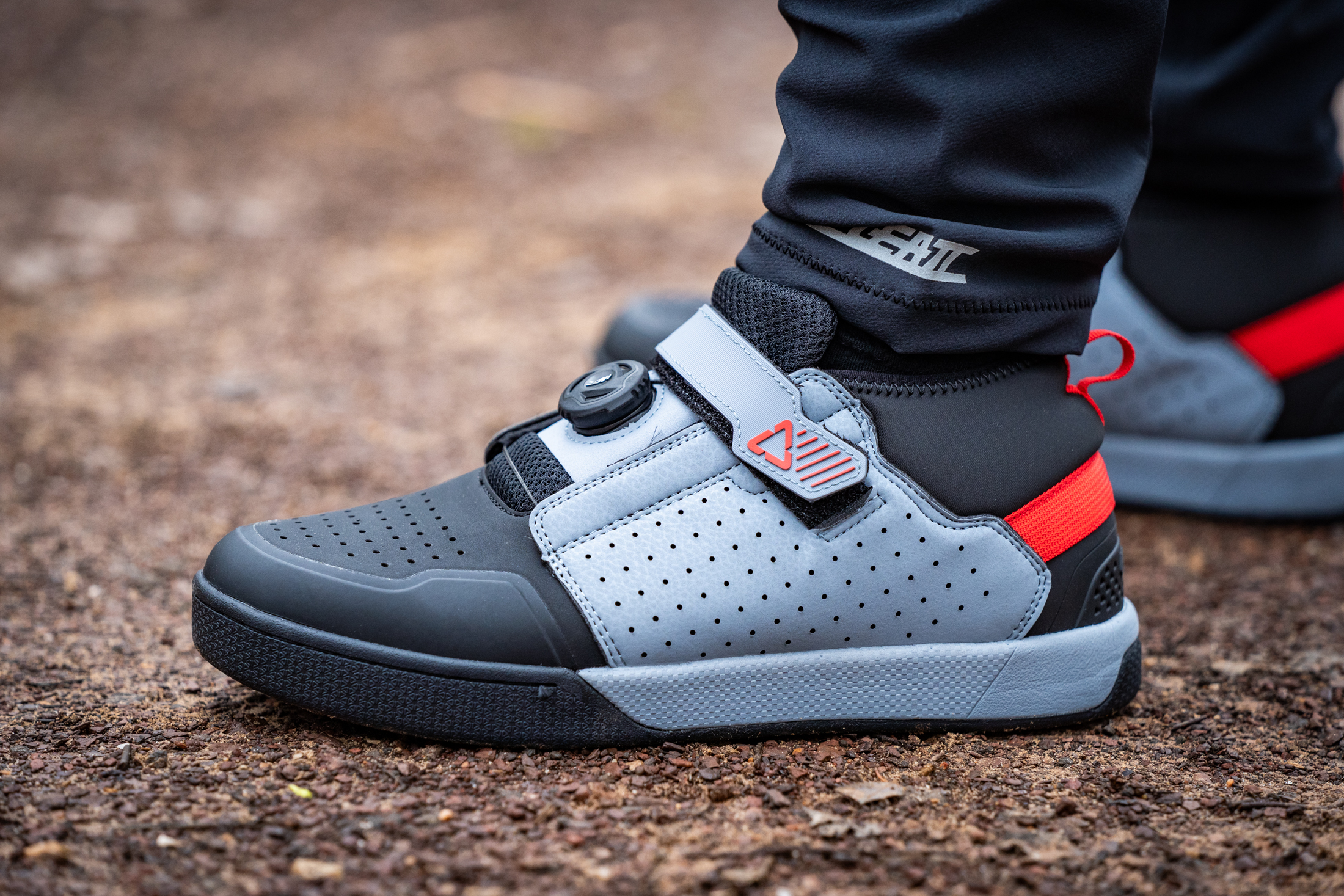 Leatt 4.0 Clip Pro MTB Shoe
Designed for trail riding, enduro racing and uplift thrashing, the Leatt 4.0 Clip Pro is a chunky and well-protected MTB shoe. It's built with a tough synthetic leather upper with integrated armour around the heel and toe. A neoprene ankle collar keeps dust and dirt from working its way into your socks.
Locking the shoes down around your feet is a velcro strap and a ratcheting MOZ (not BOA) dial, which sits centrally to minimise the chance of it being ripped off in a close pass with a tree or rock.
With a skate-style fit and aesthetic, the 4.0 Clip Pro offers a decent amount of volume and padding. Length is slightly shorter than an equivalent Shimano AM7 shoe, so you may need to size up rather than down. Bike Corp, Leatt's Australian distributor, brings these shoes in from sizes US 8.5 (EU 42) through to US 13 (EU 48.5).
To emulate riding on flat pedals, Leatt employs an extra-long 25mm cleat channel that allows you to push the cleat further back to achieve a new-school mid-foot pedalling position. The aim is to improve stability and reduce strain on your achilles when descending.
Cleat shims are included for dialling in the pedal interface, while the Control Flex Shank aims to provide a degree of built-in flex for greater feel between your feet and the bike. Along with the grippy rubber tread and tough uppers, these are a solid option for all-condition riders.