Maxxis has recently introduced the brand new Severe tyre along with an updated MaxxSpeed rubber compound that's being rolled out across the Aspen, Ikon and Rekon Race tyres.
According to Maxxis, the new MaxxSpeed compound is said to outperform the previous iteration in every way. The construction of the triple rubber compound is much the same, though thanks to the addition of silica within the rubber polymer, it's claimed to benefit from a 25% reduction in rolling resistance. It's also said to offer more traction in wet conditions.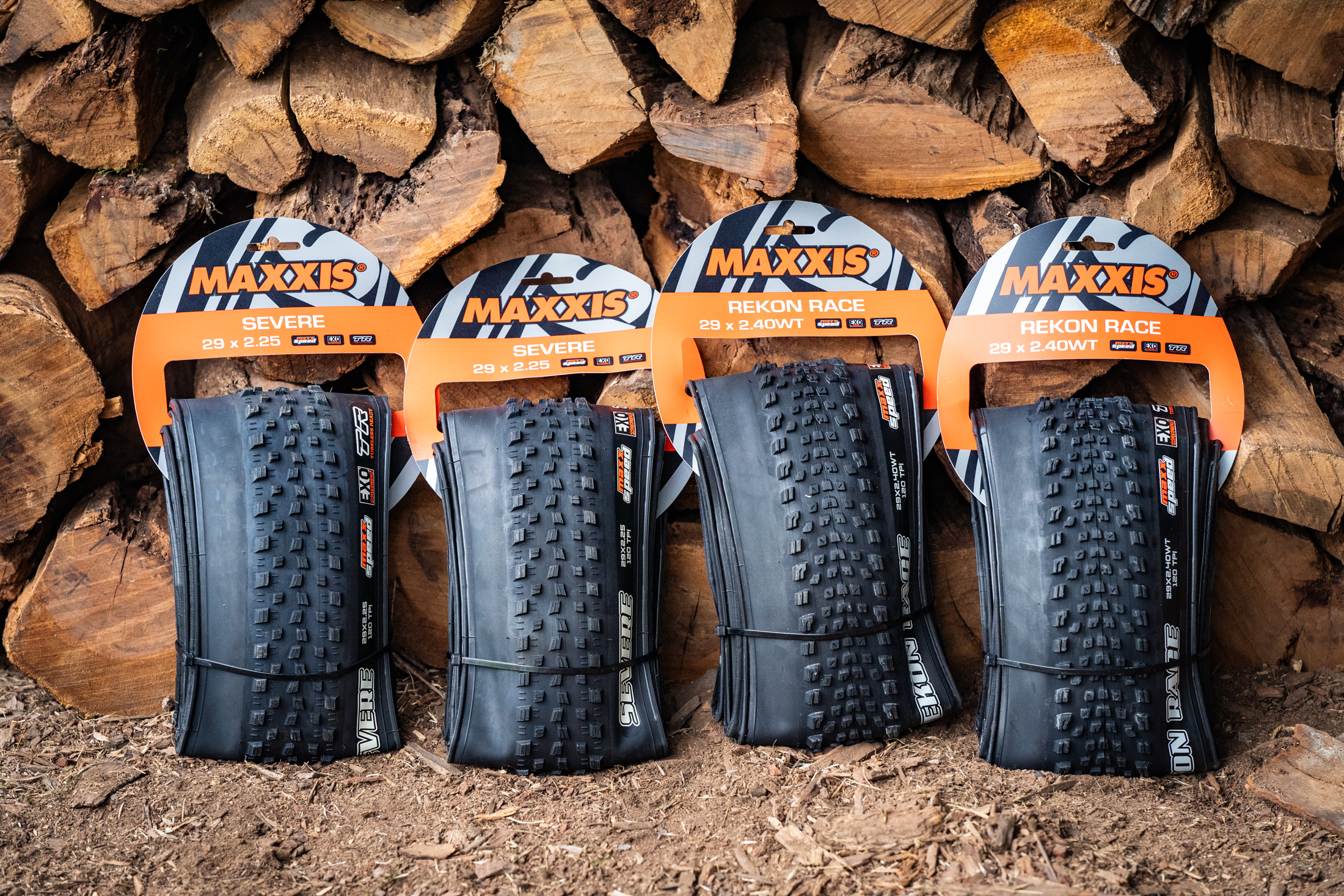 Here we take a look at two Maxxis tyres that feature the new MaxxSpeed compound; the Rekon Race and the Severe.
Maxxis Rekon Race MaxxSpeed Tyre
Price: $104.95 AUD (per tyre)
Weight: 827-857g
The Maxxis Rekon Race has been a popular XC tyre for a number of years now. In 2020 it debuted in the 2.4in 'WT' size alongside the Aspen, with both tyres being specifically designed for new-school wheelsets featuring a 30mm internal rim width. Pairing a fast-rolling tread pattern with a supple and high-volume casing has proven to be a winning combination, as long as your XC bike has the necessary clearance for such a plump tyre.
Up until now the 2.4in wide Rekon Race has only been produced in a dual compound version. That changes with the introduction of the new Maxxis Rekon Race MaxxSpeed tyre.
Featuring a triple layer construction, the MaxxSpeed tyres employ a hard base compound that forms the skeleton for the tread. This is then covered with a strip of soft compound rubber on each side of the tyre for cornering grip, and a strip of firmer compound rubber through the centre of the tread to minimise rolling resistance and wear.
It's all built upon a supple and lightweight 120TPI casing that features EXO armouring through the sidewalls for added cut resistance.
As a sign of the times, the Rekon Race MaxxSpeed tyre is only available in a 29×2.4in size. Claimed weight is 825g, and our set of test tyres came in fairly close at 827g and 857g.
If you're after something a little lighter and faster-rolling for your race bike, consider the Maxxis Aspen MaxxSpeed tyre that is claimed to weigh under 800g. Personally, we like having a little more predictability and grip on tap while aboard a skinny XC bike, especially if the trail conditions are a little loose and rocky. The Rekon Race certainly hits the spot, and we're looking forward to spending more time on this new MaxxSpeed version to see if it really is as quick as Maxxis claims.
Maxxis Severe MaxxSpeed Tyre
Price: $104.95 AUD (per tyre)
Weight: 749g
Whereas the existing Aspen, Ikon and Rekon Race tyres have been updated with the latest MaxxSpeed rubber compound, the Maxxis Severe introduces an all-new tread pattern that rounds out the four-model XC tyre lineup.
The Severe is purpose-built for wet and muddy conditions, and so it utilises a more open tread pattern that's designed to shed mud and cut through soft surfaces.
Studying the tread design a little more closely, we reckon it draws some inspiration from the old Forekaster tyre with the alternating arrangement for the cornering and transition blocks. The angular centre tread is ramped and stacked tightly together to minimise rolling resistance on harder surfaces, though it's flanked by wide open channels to help clear mud and debris in filthy conditions.
Being a wet condition tyre, the Maxxis Severe is only offered in a 2.25in width. It features the same 120TPI casing as Maxxis' other high-end XC tyres, along with EXO reinforcement in the sidewalls.
Our Maxxis Severe MaxxSpeed test tyres came in very close to the claimed weight of 745g, making this an impressively lightweight option for XC racing. With plenty of rain on the winter forecast, we'll be putting these to good use over the coming months to find out what they're capable of.