Mobile phones are powerful computers these days. Combined with the right app, they can be a great tool for mountain biking.
For those who want them, there are dedicated mounts like those from Quad Lock that make it easy to position your phone on the handlebars. But while that might be fine for commuting and touring, phones are bulky, expensive and potentially vulnerable if you're riding off-road. Of course not everyone wants to be staring at their phone while they're out riding either.
A dedicated GPS computer is a potential solution for those who'd prefer to leave their phone tucked away in a riding pack. Using a GPS means you won't be sucking your phone battery dry while you're out riding, and given how many functions they have these days, they can be far more useful too.
One such option in the GPS market is the latest Wahoo ELEMNT Bolt, which we've been getting to grips with over the past few weeks.
Wahoo ELEMNT Bolt V2 GPS
The Wahoo ELEMNT Bolt is the smaller brother to the ELEMNT Roam. Whereas the Roam has a 2.7in display, the Bolt has a 2.2in display. It's more compact overall and at just 70g, it's lighter too. It's also $200 AUD cheaper, and we reckon that makes it a more appealing option for mountain bikers.
Despite the smaller price tag, the ELEMNT Bolt is still packed with useful functions. Of course it'll provide you with key information like your current riding speed, elevation gain, ride time and distance travelled, but there's a whole world of information to be unlocked via the Wahoo companion app. You can pair it with cadence sensors, power meters, heart rate monitors and even e-Bike motors, and you can customise the number of pages on the screen to arrange all of those metrics in a way that makes sense to you.
Protected by a tough and scratch-resistant Gorilla Glass screen, the Wahoo ELEMNT Bolt features a 64-colour high contrast display that is crisp, clear and easy to read. The rubberised buttons have a positive click and are easy to operate while wearing full finger gloves, which makes for a nice change from vague smartphone touchscreens.
Inside is a lithium-ion battery that's rechargeable via a USB-C charge port. Wahoo claims you'll get up to 15 hours of run time.
The ELEMNT Bolt can access the GPS, GLONASS, Galileo, BEIDOU and QZSS satellite networks, and it uses an internal barometric altimeter to measure your vertical ascent and descent. There's also an ambient light sensor built in that allows the display to automatically darken or brighten depending on the conditions.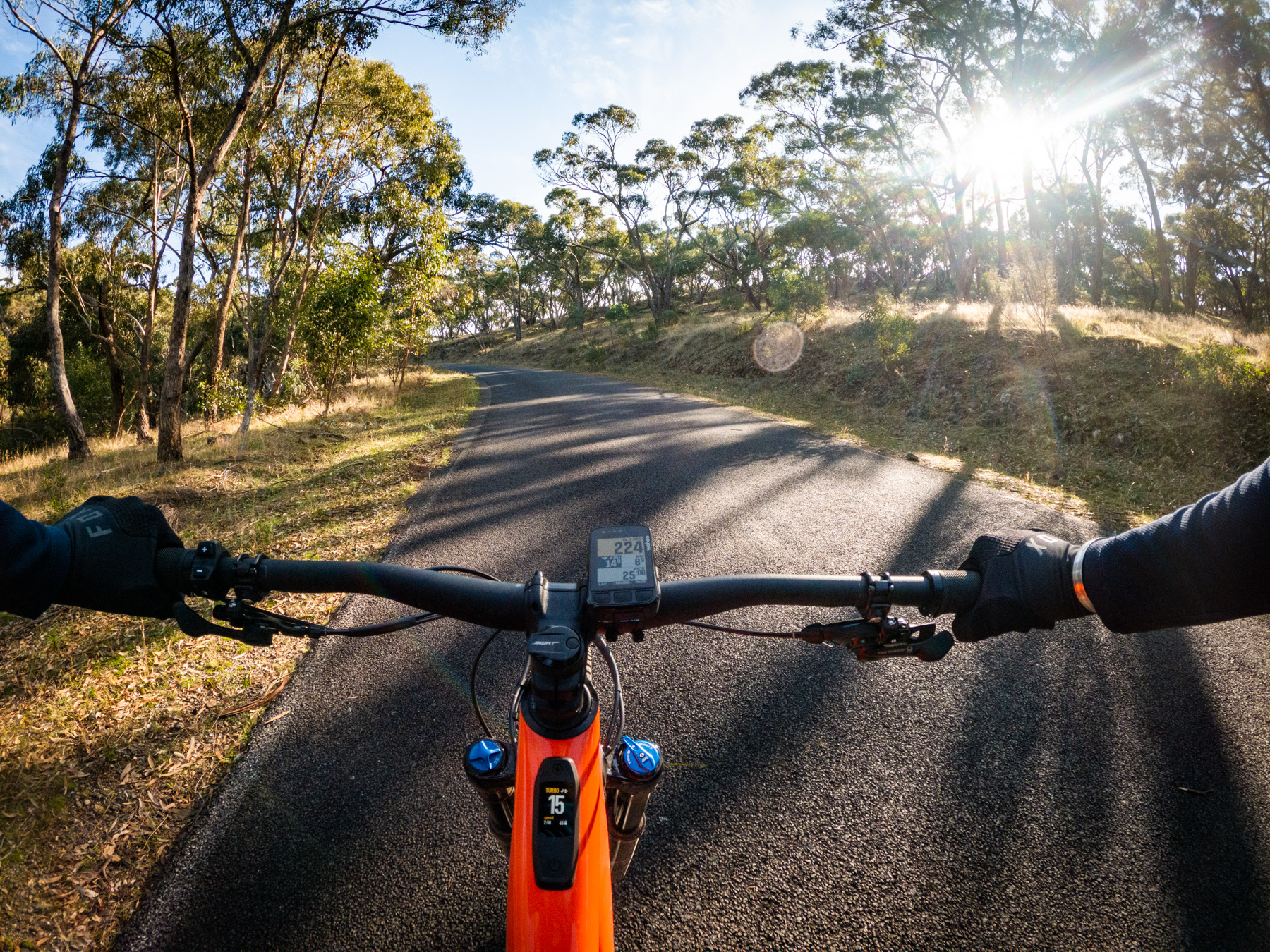 When it comes to route planning, the Wahoo ELEMNT Bolt is a powerful navigation tool. The map can be zoomed in or out to see where you are, and you can load a specific route in via the Wahoo companion app to provide turn-by-turn navigation.
Compared to the first generation Bolt, the new version now offers Smart Navigation that'll adapt the route on-the-fly should you veer off course. Also neat is the Summit Climbing function, which notifies of each climb along the route — the latest version of this doesn't require you to be following a preloaded route. This was particularly useful during the Beechworth Granite Classic, as the ELEMNT Bolt informed us how long each climb would be while also providing a visual elevation profile.
So far we've only scratched the surface of what the Wahoo ELEMNT Bolt is capable of. You can set it up to provide text and call notifications, and it offers a Live Tracking function that sends an email to your chosen contact to inform them of your location when you're out on a ride. And if you're indoors on the stationary trainer, it can be used to control a Wahoo KICKR too. There really isn't much this headunit can't do.
Now if you're visually challenged or you simply want more detail for navigation, it may be worth springing the extra cash for the bigger ELEMNT Roam. Otherwise for most mountain bikers out there, the ELEMNT Bolt will get you most of the same functionality, just in a smaller and cheaper package.
Speaking of packages, we went for the standard kit that includes the ELEMNT Bolt head unit, a stem mount, aero out-front mount, charge cable and manual. For $539 AUD you can get the bundle pack that adds a heart rate monitor, speed sensor and cadence sensor, which will likely be appreciated by more serious racers.