Freshly unboxed in the Flow workshop is the brand new 2022 Cannondale Scalpel HT – a lightweight carbon hardtail that's purpose-built for XC riding and racing. It features some of the most progressive geometry we've seen in this category, a sub-900g claimed frame weight, and size-specific chainstay lengths that are designed to improve rider weight distribution and stability.
2022 Cannondale Scalpel HT overview
Replacing the outgoing F-Si, the Cannondale Scalpel HT takes the mantle as the brand's super-light XC bike. No clues for guessing – the 'HT' bit in the name stands for hardtail, and that helps to distinguish this new bike from the full suspension Scalpel. It's actually the first time we've seen a hardtail wearing the Scalpel name.
Compared to the old F-Si, the Scalpel HT features dropped seatstays to increase compliance. Additionally, the chainstays taper down towards the dropouts – not quite as dramatically as the full suspension Scalpel, but Cannondale claims the 'sculpted flex zones' help to reduce overall trail buzz.
Speaking of flex, Cannondale has stuck with a skinny 27.2mm diameter seatpost. This will provide a smoother ride, though it's worth noting that fewer dropper posts are available in this smaller size.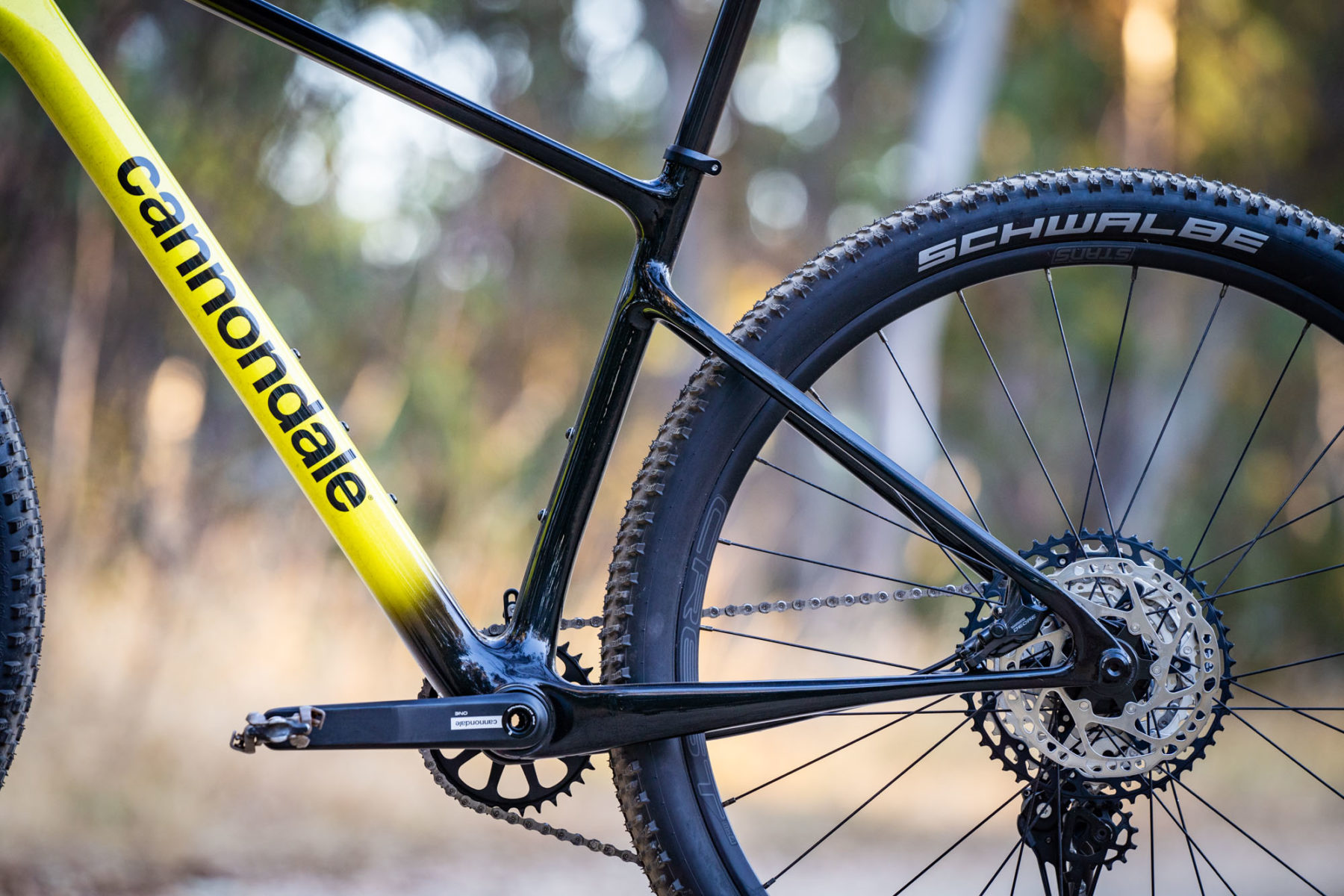 A lighter carbon frame
As expected, the Cannondale Scalpel HT is fractionally lighter than its predecessor, with a claimed frame weight of just 895g for the Hi-MOD frame. That's impressive given it has gotten considerably longer and slacker, though it's not quite as svelte as the Canyon Exceed CFR (835g claimed) or the Specialized S-Works Epic (775g claimed).
The Scalpel HT features a standard tapered head tube that'll fit a regular fork or Cannondale's own Lefty Ocho. There's a huge PF30 bottom bracket shell for maximum stiffness, and a 55mm chainline that helps to maximise chainring and tyre clearance while keeping the chainstay length as short as 430mm.
Privateer racers will appreciate the minimalist chainguide for added security, a Universal Derailleur Hanger (UDH) for ease of replacement, and the Speed Release dropouts. These fit a standard 148x12mm hub, but use a stepped axle and an open non-drive dropout that allows for rear wheel removal without having to take the axle out all the way.
The internal cable routing ports can be configured for full-length or interrupted housing, and there are multiple bottle mounts with plenty of room in the front triangle for a frame bag. Speed-packing anyone?
Progressive XC geometry
The geometry is perhaps one of the most intriguing elements of the new Cannondale Scalpel HT. The frame will accommodate a 100-110mm travel fork, with the longer option delivering a very slack 66.5° head tube angle. The bottom bracket also sits very low to the ground to further increase stability.
Cannondale has also brought over the 'Proportional Response Design' from its full suspension models, which sees a more nuanced approach to geometry across each frame size. In the case of the Scalpel HT, the chainstays are unique to each frame size, with the rear centre length changing in 5mm increments.
Head Tube Angle: 66.5° (110mm fork) – 67° (100mm fork)
Effective Seat Tube Angle: 75°
Reach: 410mm (S), 430mm (M), 450mm (L), 470mm (XL)
Rear Centre: 430mm (S), 435mm (M), 440mm (L), 445mm (XL)
BB Drop: 62mm
A new hardtail in 2022?
It might come as a surprise to some, but hardtails do actually still exist. They may not be as popular as they once were, but there's also no doubt that they've also never been as good as they are right now. Just ask Wil about his new Specialized Chisel.
Indeed for riders who are chasing the lightest and most responsive race bike possible, a hardtail is the obvious choice. They're also cheaper to buy and easier to maintain compared to a more complex full suspension bike.
It's not all about racing though. With the rise of gravel, a hardtail actually presents a pretty sensible option for an all-rounder that can take on both trail riding and gravel duties. Sure it might not be quite as light as a dedicated drop bar gravel bike, but it'll be way more fun and arguably more practical too.
Cannondale Scalpel HT price & specs
The Cannondale Scalpel HT will be available in three different spec options for 2022.
The top-end bike is the Scalpel HT Hi-MOD 1, which is made with higher-modulus carbon fibres to achieve that 895g claimed frame weight. It's equipped with a 110mm travel Lefty Ocho with a remote lockout, along with HollowGram carbon rims, handlebar and seatpost.
Underneath that is the Scalpel HT 3 & 4. These also use a carbon frame, but come in heavier due to the use of lower-modulus fibres. They also miss out on the Lefty, instead coming with a 100mm travel RockShox SID SL fork. All three bikes come with a Shimano 1×12 drivetrain, 760mm wide flat bar and a Schwalbe Racing Ralph & Racing Ray tyre combo.
Our test bike is the mid-spec option; the Cannondale Scalpel HT Carbon 3. We'll be putting it onto dirt shortly, and hopefully between some race tape, so stay tuned for the full review coming soon. In the meantime, read on for all the specs and pricing on the new Cannondale Scalpel HT range.
2022 Cannondale Scalpel HT Hi-MOD 1
Frame | Hi-MOD Carbon Fibre
Fork | Cannondale Lefty Ocho, Chamber Damper, Remote Lockout, 50mm Offset, 110mm Travel
Wheels | HollowGram Hubs & HollowGram 25 Carbon Rims, 25mm Inner Width
Tyres | Schwalbe Racing Ray SnakeSkin 2.25in Front & Racing Ralph SnakeSkin 2.25in Rear
Drivetrain | Shimano XT 1×12 w/HollowGram 34T Alloy Crankset & 10-51T Cassette
Brakes | Shimano XT 2-Piston w/180mm Front & 160mm Rear Ice Tech Rotors
Bar | Cannondale 1 Flat, Carbon, 760mm Width
Stem | Cannondale 1, 7075 Alloy
Seatpost | Cannondale C1 Carbon, 27.2mm Diameter
Saddle | Prologo Dimension NDR, Tirox Rails
RRP | $8,999 AUD
2022 Cannondale Scalpel HT Carbon 3
Frame | Carbon Fibre
Fork | RockShox SID SL Select+, Charger 2 RL Damper, Remote Lockout, 44mm Offset, 100mm Travel
Wheels | Shimano MT510/410 Hubs & Stan's NoTubes Crest MK4 Rims, 25mm Inner Width
Tyres | Schwalbe Racing Ray TwinSkin 2.25in Front & Racing Ralph SnakeSkin 2.25in Rear
Drivetrain | Shimano XT 1×12 w/Cannondale 34T Alloy Crankset & 10-51T Cassette
Brakes | Shimano Deore M6100 2-Piston w/160mm Rotors
Bar | Cannondale 2 Flat, 2014 Alloy, 760mm Width
Stem | Cannondale 2, 6061 Alloy
Seatpost | Cannondale C2 Carbon, 27.2mm Diameter
Saddle | Fabric Scoop Shallow Elite, Hollow Cro-Mo Rails
RRP | $4,799 AUD
2022 Cannondale Scalpel HT Carbon 4
Frame | Carbon Fibre
Fork | RockShox SID SL, Rush Damper, Remote Lockout, 44mm Offset, 100mm Travel
Wheels | Shimano MT510/410 Hubs & WTB STX i23 Rims, 23mm Inner Width
Tyres | Schwalbe Racing Ray TwinSkin 2.25in Front & Racing Ralph SnakeSkin 2.25in Rear
Drivetrain | Shimano Deore 1×12 w/M5121 30T Alloy Crankset & 10-51T Cassette
Brakes | Shimano MT501 2-Piston w/160mm Rotors
Bar | Cannondale 2 Flat, 2014 Alloy, 760mm Width
Stem | Cannondale 2, 6061 Alloy
Seatpost | Cannondale C3 Alloy, 27.2mm Diameter
Saddle | Fabric Scoop Shallow Sport, Steel Rails
RRP | $3,999 AUD