We've got big news out of Germany today with the arrival of the new 2023 Focus JAM² and SAM². Both of these electric mountain bikes have received an all-new frame and suspension design, which features updated geometry with a clever angle-adjusting headset. There's also a wholesale move to the latest Bosch e-MTB systems, with the top-end models receiving a bigger 750Wh battery and a neatly-integrated user interface. Along with the option of alloy and carbon frames across a wide range of price points, there is a lot going on with these new full suspension e-MTBs. Let's dive in to see what's new!
The new 2023 Focus JAM²
The Focus JAM² is the German brand's All Mountain e-MTB. It's built around 29in wheels and features a 160mm travel fork with 150mm of rear travel. That puts it into a similar zone as the Trek Rail, Norco Sight VLT and Specialized Levo.
The JAM² has received an all-new frame for 2023, which sees a big change from the previous single pivot suspension design to a proper four-bar platform. The frame is available in both alloy (6 Series) and carbon (8 Series) variations.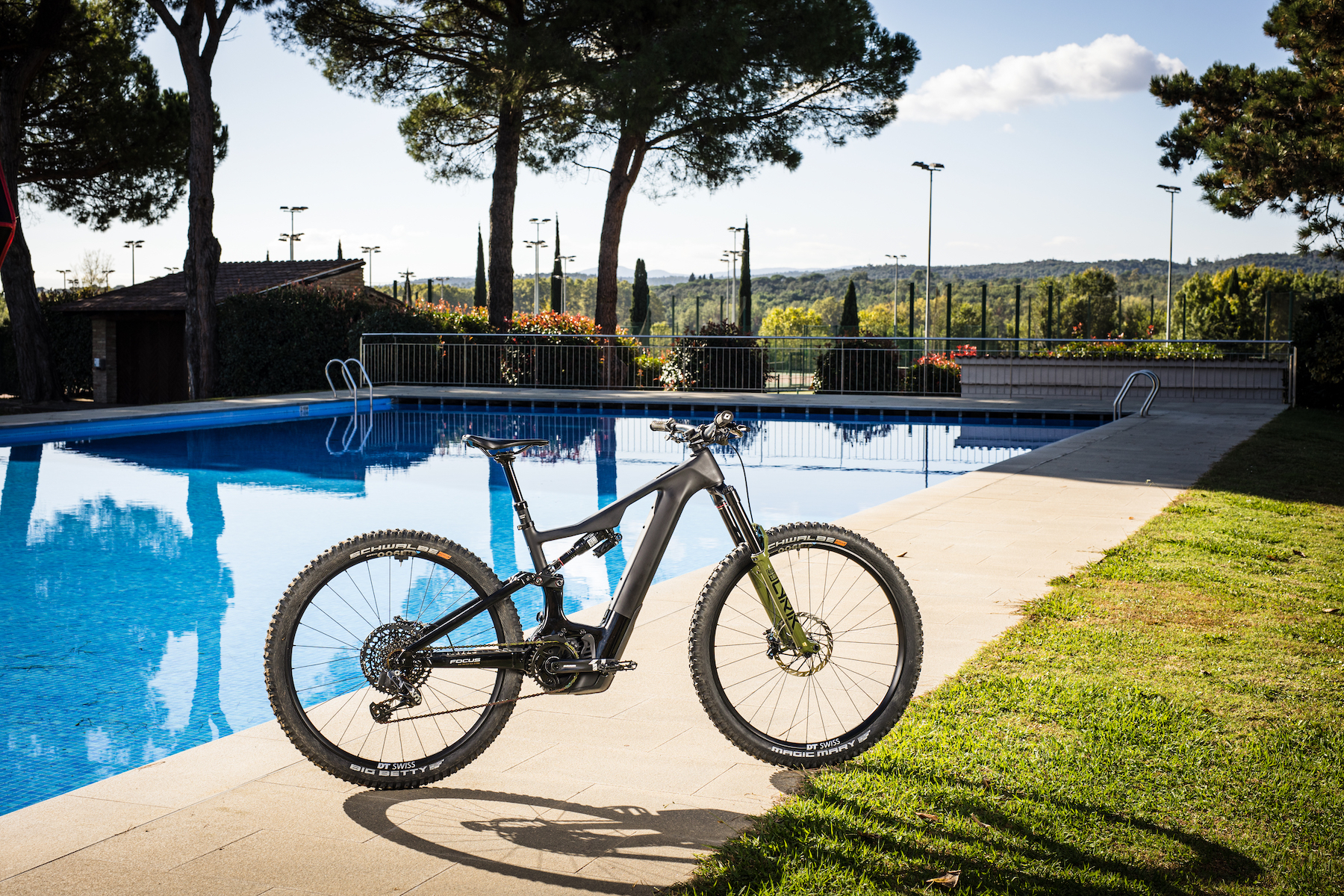 Regardless of frame material, every JAM² is built around the latest Bosch Performance Line CX motor. The drive unit has been rotated upwards in order to position the battery down as low as possible, not unlike the Scott Patron.
You'll find a 625Wh or 750Wh battery inside the downtube, which is designed to be easily removable for charging separately. While alloy models feature the Bosch LED Controller and Kiox 300 display, the carbon frames upgrade to the new System Controller and Mini Remote for a more discreet user interface.
There's been a slight massage to the geometry of the JAM², which includes new rotatable headset cups that allow you to adjust the head angle between 64.5° and 65.5°. There are no other flip chips though, nor is there any mention of mullet compatibility.
Unfortunately the cables still route through the stem and headset, which adds complexity for anyone who wants to adjust the stem length. It is possible to purchase an upper headset adapter so you can run a regular stem.
There are some neat details including a heap of frame armouring, an integrated chainguide and a purpose-built tool bag. Also good to see is a generous maximum system weight rating of 150kg.
The new 2023 Focus SAM²
Compared to the JAM², the Focus SAM² is the longer travel e-Enduro bike.
It also features 29in wheels, but it increases suspension travel to 180mm front and 170mm rear. That pushes it into proper big bike territory, where you'll find other burly e-MTBs like the Norco Range VLT and Rocky Mountain Altitude Powerplay.
The SAM² receives the same new suspension platform as the shorter travel JAM², with a rocker link and yoke driving the top tube-mounted shock. It's built around a Bosch Performance Line CX motor, with either a 625Wh or 750Wh battery that can be removed from the downtube.
Although the SAM² is equipped with the same modular headset cups as the JAM², it's worth noting that the alloy frame and geometry are unique. The reach is longer, the head angle is slacker and the seat tube is steeper, making for a more aggressive package that is designed for faster and rowdier terrain.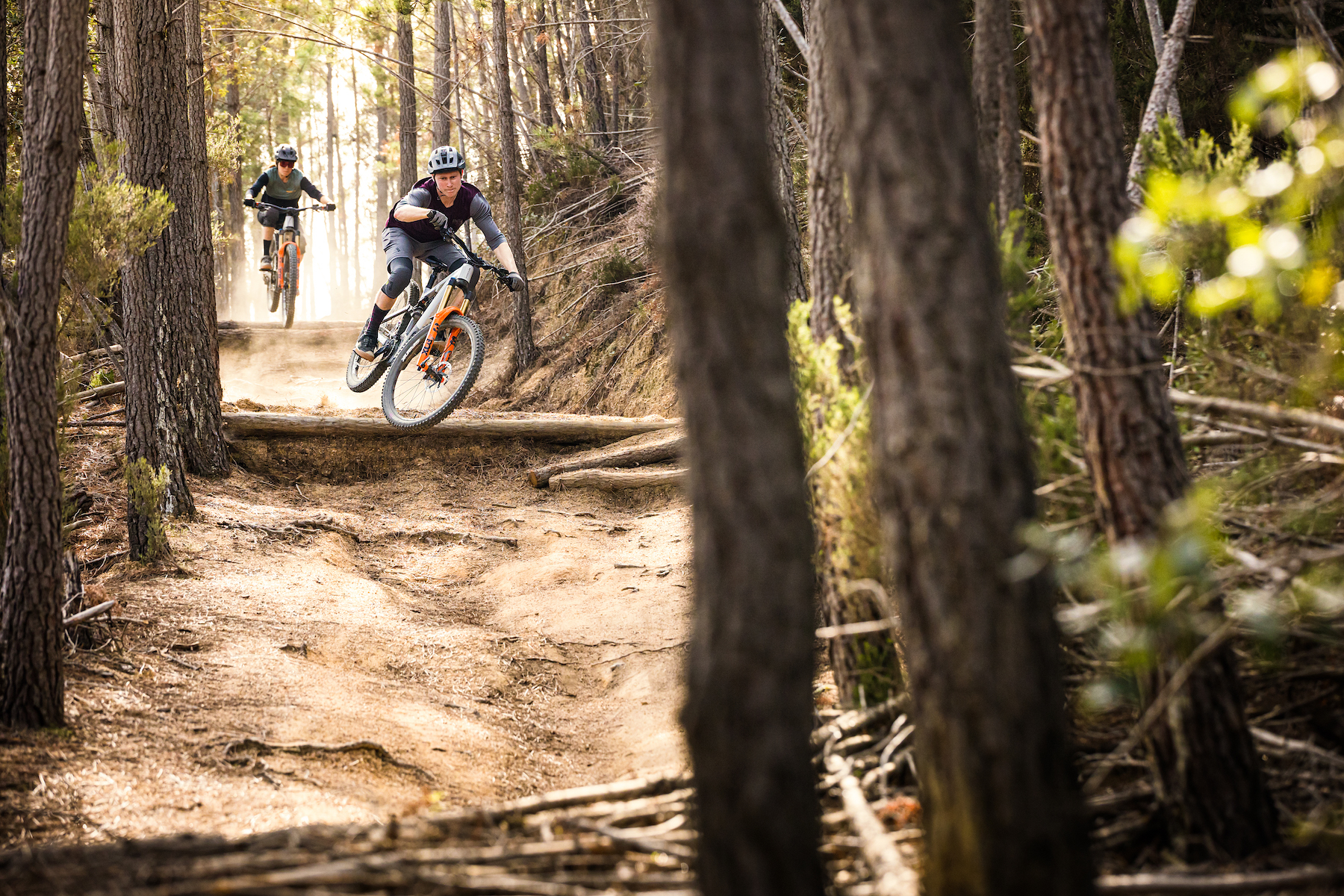 Focus JAM² & SAM² price & specs
The entire range of 2023 Focus JAM² and SAM² models will be available in Australia.
Prices will start at $7,599 AUD for the Focus JAM² 6.7. That is damn impressive for a full suspension e-MTB that's equipped with the latest Bosch Smart System, a 625Wh battery, and air-sprung RockShox suspension.
The most expensive model is the Focus JAM² 8.0, which will sell for $14,499 AUD. That's actually a competitive price given it comes with a carbon frame and a Fox Factory Series 36 GRIP2 fork. It's also one of the only bikes coming into Australia with the new Bosch CX-Race motor.
The top-end Focus SAM² 6.0 will also come with the new Bosch CX-Race motor. Along with a Fox Factory Series 38 GRIP2 fork and a DHX Coil shock, it's an absolute beast of a bike!
Read on for all the specs and prices of the 2023 Focus JAM² and SAM² range, and stay tuned for a detailed review once the new bikes arrive on our shores in the near future.
2023 Focus JAM² 8.0 Limited Edition
Frame | Carbon Front & Alloy Rear, F.O.L.D Suspension Design, 150mm Travel
Fork | Fox 36, Factory Series, GRIP2 Damper, 44mm Offset, 160mm Travel
Shock | Fox Float X, Performance Series, 210×55mm
Drive Unit | Bosch Performance CX-Race, 85Nm
Battery | Bosch PowerTube 750Wh
Wheels | DT Swiss H1900, 30mm Inner Width
Tyres | Schwalbe Magic Mary 2.6in Front & Big Betty 2.6in Rear, Super Trail Casing & Addix Soft Compound
Drivetrain | Shimano XT 1×12 w/Race Face Aeffect R 36T Crankset & 10-51T SLX Cassette
Brakes | Shimano XT 4-Piston w/203mm Rotors
Bar | Race Face Atlas 35, 35mm Rise, 820mm Width
Stem | Focus C.I.S Integrated, 50mm Length
Seatpost | Post Moderne, 34.9mm Diameter
Saddle | Fizik Terra Aidon
Claimed Weight | 23.4kg
RRP | $14,499 AUD
2023 Focus JAM² 8.9
Frame | Carbon Front & Alloy Rear, F.O.L.D Suspension Design, 150mm Travel
Fork | Fox 36, Factory Series, GRIP2 Damper, 44mm Offset, 160mm Travel
Shock | Fox Float X, Performance Series, 210×55mm
Drive Unit | Bosch Performance Line CX, 85Nm
Battery | Bosch PowerTube 750Wh
Wheels | DT Swiss H1900, 30mm Inner Width
Tyres | Schwalbe Magic Mary 2.6in Front & Big Betty 2.6in Rear, Super Trail Casing & Addix Soft Compound
Drivetrain | Shimano XT 1×12 w/Race Face Aeffect R 36T Crankset & 10-51T SLX Cassette
Brakes | Shimano XT 4-Piston w/203mm Rotors
Bar | Race Face Atlas 35, 35mm Rise, 820mm Width
Stem | Focus C.I.S Integrated, 50mm Length
Seatpost | Post Moderne, 34.9mm Diameter
Saddle | Fizik Terra Aidon
Claimed Weight | 23.6kg
RRP | $12,999 AUD
2023 Focus JAM² 8.8
Frame | Carbon Front & Alloy Rear, F.O.L.D Suspension Design, 150mm Travel
Fork | Fox 36 Rhythm, GRIP Damper, 44mm Offset, 160mm Travel
Shock | Fox Float DPS, Performance Series, 210×55mm
Drive Unit | Bosch Performance Line CX, 85Nm
Battery | Bosch PowerTube 750Wh
Wheels | Novatec Hubs & Race Face AR 30 Alloy Rims, 30mm Inner Width
Tyres | Maxxis Minion DHR II EXO+ 2.6in Front & Rear
Drivetrain | Shimano XT 1×12 w/Samox EC40 36T Crankset & 10-51T SLX Cassette
Brakes | Magura MT5 4-Piston w/203mm Rotors
Bar | Alloy, 30mm Rise, 800mm Width
Stem | Focus C.I.S Integrated, 50mm Length
Seatpost | Post Moderne, 34.9mm Diameter
Saddle | Selle Italia X3
Claimed Weight | 24kg
RRP | $11,499 AUD
2023 Focus JAM² 8.7
Frame | Carbon Front & Alloy Rear, F.O.L.D Suspension Design, 150mm Travel
Fork | DVO Diamond E3, 44mm Offset, 160mm Travel
Shock | RockShox Deluxe Select, 210×55mm
Drive Unit | Bosch Performance Line CX, 85Nm
Battery | Bosch PowerTube 625Wh
Wheels | Novatec Hubs & Race Face AR 30 Alloy Rims, 30mm Inner Width
Tyres | Maxxis Minion DHR II EXO+ 2.6in Front & Rear
Drivetrain | SRAM NX Eagle 1×12 w/Samox EC40 36T Crankset & 11-50T Cassette
Brakes | SRAM Guide T 4-Piston w/200mm Rotors
Bar | Alloy, 30mm Rise, 800mm Width
Stem | Focus C.I.S Integrated, 50mm Length
Seatpost | Post Moderne, 34.9mm Diameter
Saddle | Selle Royal Groove
Claimed Weight | 23.7kg
RRP | $9,999 AUD
2023 Focus JAM² 6.9
Frame | 7005 Series Alloy, F.O.L.D Suspension Design, 150mm Travel
Fork | Fox 36 Rhythm, GRIP Damper, 44mm Offset, 160mm Travel
Shock | Fox Float X, Performance Series, 210×55mm
Drive Unit | Bosch Performance Line CX, 85Nm
Battery | Bosch PowerTube 750Wh
Wheels | DT Swiss H1900, 30mm Inner Width
Tyres | Schwalbe Magic Mary 2.6in Front & Big Betty 2.6in Rear, Super Trail Casing & Addix Soft Compound
Drivetrain | Shimano XT 1×12 w/Samox EC40 36T Crankset & 10-51T SLX Cassette
Brakes | Shimano XT 4-Piston w/203mm Rotors
Bar | Alloy, 30mm Rise, 800mm Width
Stem | Focus C.I.S Integrated, 50mm Length
Seatpost | Post Moderne, 34.9mm Diameter
Saddle | Proxim W350
Claimed Weight | 25.7kg
RRP | $10,499 AUD
2023 Focus JAM² 6.8
Frame | 7005 Series Alloy, F.O.L.D Suspension Design, 150mm Travel
Fork | Fox 36 Rhythm, GRIP Damper, 44mm Offset, 160mm Travel
Shock | Fox Float DPS, Performance Series, 210×55mm
Drive Unit | Bosch Performance Line CX, 85Nm
Battery | Bosch PowerTube 750Wh
Wheels | Novatec Hubs & Race Face AR30 Rims, 30mm Inner Width
Tyres | Maxxis Minion DHF EXO 2.6in Front & Rear
Drivetrain | Shimano XT 1×12 w/Samox EC40 36T Crankset & 10-51T Deore Cassette
Brakes | Shimano MT520 4-Piston w/203mm Rotors
Bar | Alloy, 30mm Rise, 800mm Width
Stem | Focus C.I.S Integrated, 50mm Length
Seatpost | Post Moderne, 34.9mm Diameter
Saddle | Proxim W350
Claimed Weight | 25.5kg
RRP | $8,999 AUD
2023 Focus JAM² 6.7
Frame | 7005 Series Alloy, F.O.L.D Suspension Design, 150mm Travel
Fork | RockShox Recon RL, 51mm Offset, 150mm Travel
Shock | RockShox Deluxe Select, 210×55mm
Drive Unit | Bosch Performance Line CX, 85Nm
Battery | Bosch PowerTube 625Wh
Wheels | Shimano MT410 Hubs & Rodi Alloy Rims, 30mm Inner Width
Tyres | Maxxis Minion DHF EXO 2.6in Front & Rear
Drivetrain | Shimano SLX 1×12 w/Samox EC40 36T Crankset & 10-51T Cassette
Brakes | Shimano MT520 4-Piston w/203mm Rotors
Bar | Alloy, 30mm Rise, 800mm Width
Stem | Focus C.I.S Integrated, 50mm Length
Seatpost | Post Moderne, 34.9mm Diameter
Saddle | Focus Trail SL
Claimed Weight | 24.9kg
RRP | $7,599 AUD
2023 Focus SAM² 6.0 Limited Edition
Frame | 7005 Series Alloy, F.O.L.D Suspension Design, 170mm Travel
Fork | Fox 38, Factory Series, GRIP2 Damper, 44mm Offset, 180mm Travel
Shock | Fox DHX Coil, 230x65mm
Drive Unit | Bosch Performance CX-Race, 85Nm
Battery | Bosch PowerTube 750Wh
Wheels | Mavic E-Deemax, 30mm Inner Width
Tyres | Schwalbe Magic Mary 2.6in, Super Trail Front & Super Gravity Rear, Addix Soft Compound
Drivetrain | Shimano XT 1×12 w/Race Face Aeffect R 36T Crankset & 10-51T SLX Cassette
Brakes | Shimano XT 4-Piston w/203mm Rotors
Bar | Race Face Atlas 35, 35mm Rise, 820mm Width
Stem | Focus C.I.S Integrated, 50mm Length
Seatpost | Post Moderne, 34.9mm Diameter
Saddle | Fizik Terra Aidon
Claimed Weight | 26.4kg
RRP | $13,999 AUD
2023 Focus SAM² 6.9
Frame | 7005 Series Alloy, F.O.L.D Suspension Design, 170mm Travel
Fork | Fox 38, Factory Series, GRIP2 Damper, 44mm Offset, 180mm Travel
Shock | Fox DHX Coil, 230x65mm
Drive Unit | Bosch Performance Line CX, 85Nm
Battery | Bosch PowerTube 750Wh
Wheels | Mavic E-Deemax, 30mm Inner Width
Tyres | Schwalbe Magic Mary 2.6in, Super Trail Front & Super Gravity Rear, Addix Soft Compound
Drivetrain | Shimano XT 1×12 w/Samox EC40 36T Crankset & 10-51T SLX Cassette
Brakes | Shimano XT 4-Piston w/203mm Rotors
Bar | Race Face Chester 35, 35mm Rise, 820mm Width
Stem | Focus C.I.S Integrated, 50mm Length
Seatpost | Post Moderne, 34.9mm Diameter
Saddle | Fizik Terra Aidon
Claimed Weight | 26.6kg
RRP | $11,999 AUD
2023 Focus SAM² 6.8
Frame | 7005 Series Alloy, F.O.L.D Suspension Design, 170mm Travel
Fork | Fox 38 Rhythm, GRIP Damper, 44mm Offset, 180mm Travel
Shock | RockShox Super Deluxe Coil Select, 230x65mm
Drive Unit | Bosch Performance Line CX, 85Nm
Battery | Bosch PowerTube 750Wh
Wheels | Novatec Hubs & Race Face AR30 Rims, 30mm Inner Width
Tyres | Maxxis Minion DHR II EXO+ 2.6in Front & Rear
Drivetrain | Shimano XT 1×12 w/Samox EC40 36T Crankset & 10-51T Deore Cassette
Brakes | Magura MT5 4-Piston w/220mm Rotors
Bar | Alloy, 30mm Rise, 800mm Width
Stem | Focus C.I.S Integrated, 50mm Length
Seatpost | Post Moderne, 34.9mm Diameter
Saddle | Selle Italia X3
Claimed Weight | 26.7kg
RRP | $10,499 AUD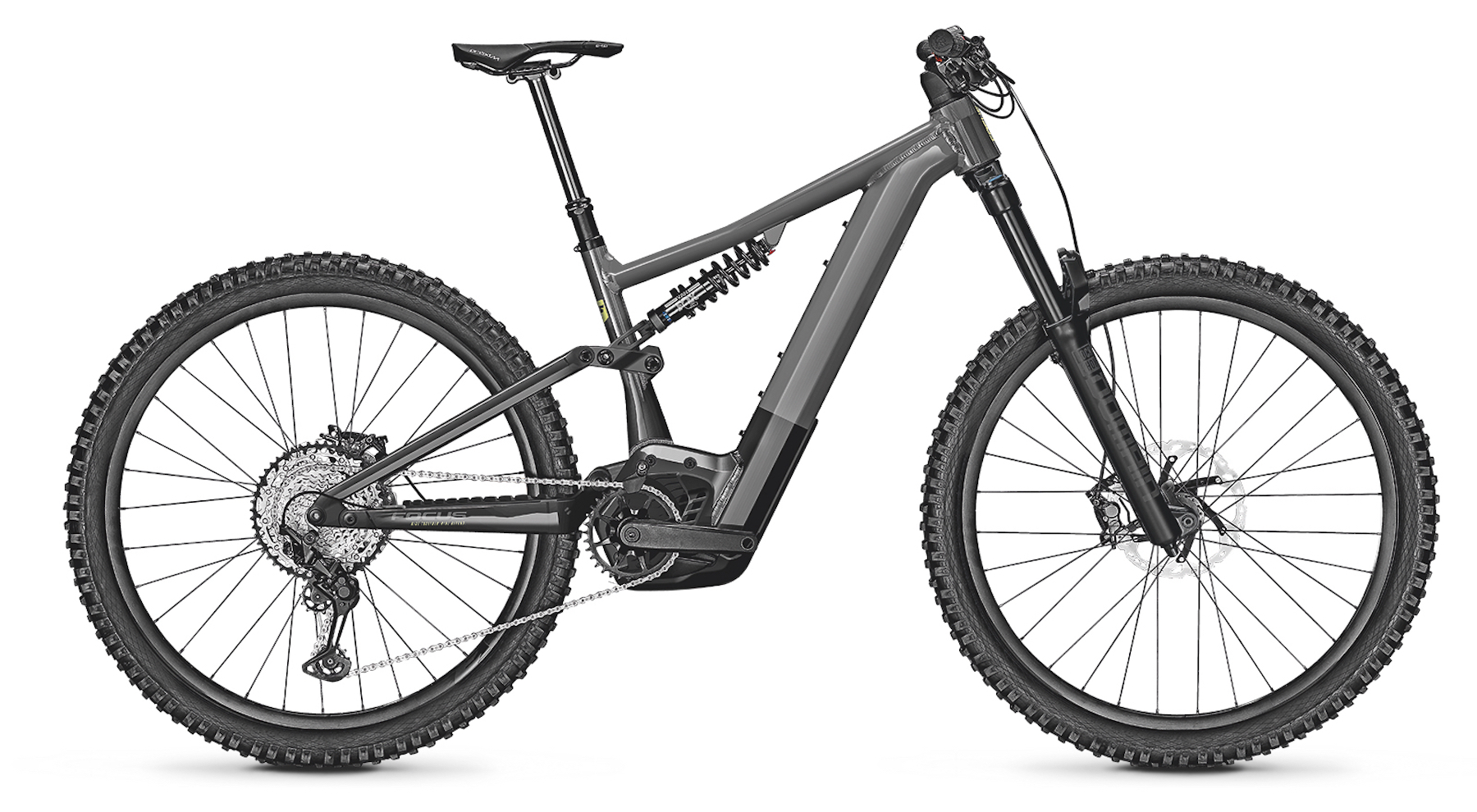 2023 Focus SAM² 6.7
Frame | 7005 Series Alloy, F.O.L.D Suspension Design, 170mm Travel
Fork | RockShox Domain R, 44mm Offset, 170mm Travel
Shock | RockShox Deluxe Select, 230x65mm
Drive Unit | Bosch Performance Line CX, 85Nm
Battery | Bosch PowerTube 625Wh
Wheels | Novatec Hubs & Rodi Rims, 30mm Inner Width
Tyres | Maxxis Minion DHF EXO 2.6in Front & Rear
Drivetrain | SRAM NX Eagle 1×12 w/Samox EC40 36T Crankset & 11-50T Cassette
Brakes | SRAM DB8 4-Piston w/220mm Rotors
Bar | Alloy, 30mm Rise, 800mm Width
Stem | Focus C.I.S Integrated, 50mm Length
Seatpost | Post Moderne, 34.9mm Diameter
Saddle | Selle Royal Groove
Claimed Weight | 25.4kg
RRP | $8,999 AUD