Newlyweds Andy Blair and Jenny Fay take the final stage and the general classification at the Snowy Mountain Bike Festival.
SNOWY MOUNTAINS, NSW—This time last week national mountain bike champions Andy Blair (AUS) and Jenny Fay (IRL) were exchanging vows. On Sunday, they were exchanging hugs on the finish line after both rode to solo victories after the 75-kilometre cross-country marathon on the fourth and final stage of the inaugural Snowy Mountain Bike Festival at Lake Crackenback, NSW.
With a share of the $10,000 prize purse up for grabs, Blair (Swell Specialized) won the final three stages and lifted the leader's jersey off stage 1 winner Mark Tupalski (Torq Australia) on stage 3.
The Australian national champion rode strong in a three-man leader's group that included Tupalski and Dylan Cooper, who entered the final stage just 40 seconds down on Blair.
Inside the first 5km of the final 15km lap, Blair attacked and never looked back to finish in a time of 2:52:29, followed by Cooper (2:53:04) and Tupalski (2:55:58). Other elite pros followed, including Kyle Ward, who celebrated his 23rd birthday on the day, Lewis Cressy, Shaun Lewis and Bradley Morton.
"I just wanted to win the stage," said Blair, who won the AMB 100 two weeks ago. "The plan was for me to watch the guys and mark them, so I didn't do any work. [Tupalski] was the one that had the most to gain and he did the most work and I could see both he and Dylan tiring on laps three and four.
"So I was confident I had enough in the tank to pull it off, and it worked."
In the men's final standings, Blair stood atop the podium, with Cooper in second 1:21 back and Tupalski in third (5:26).
"Good, It couldn't have gone much better actually," said Blair, who along with his teammate Lewis, is targeting South Africa's Cape Epic in March. "I wasn't real happy after my time trial and probably in hindsight a bit conservative and wasn't that confident going that into it after having a bit of an easy week with the honeymoon.
"I think the slow start just sort of fired me up and got me pretty motivated."
In the elite women's division, the final stage looked as much as it did all week, except for stage 3 when Jodie Willett (Liv Cycling Australia) took the win from Fay (Swell Specialized). For Fay, who won stages 1, 2 and 4, led from the start and just pulled away winning by more than 13 minutes with a time of 3:18:33.
Willett finished second (3:32:25), while Switzerland's Renata Bucher finished in third (3:35:18) after swapping the lead with Greete Steinburg  (3:35:33) in the fourth lap.
"I kind of surprised myself as I wasn't really thinking about focusing on racing and training around the wedding but it's a case of take one stage at a time," said Fay, the 2013 Irish national champion. "I think with having the experience and maturity about racing, you are able to just focus on the race and back yourself really."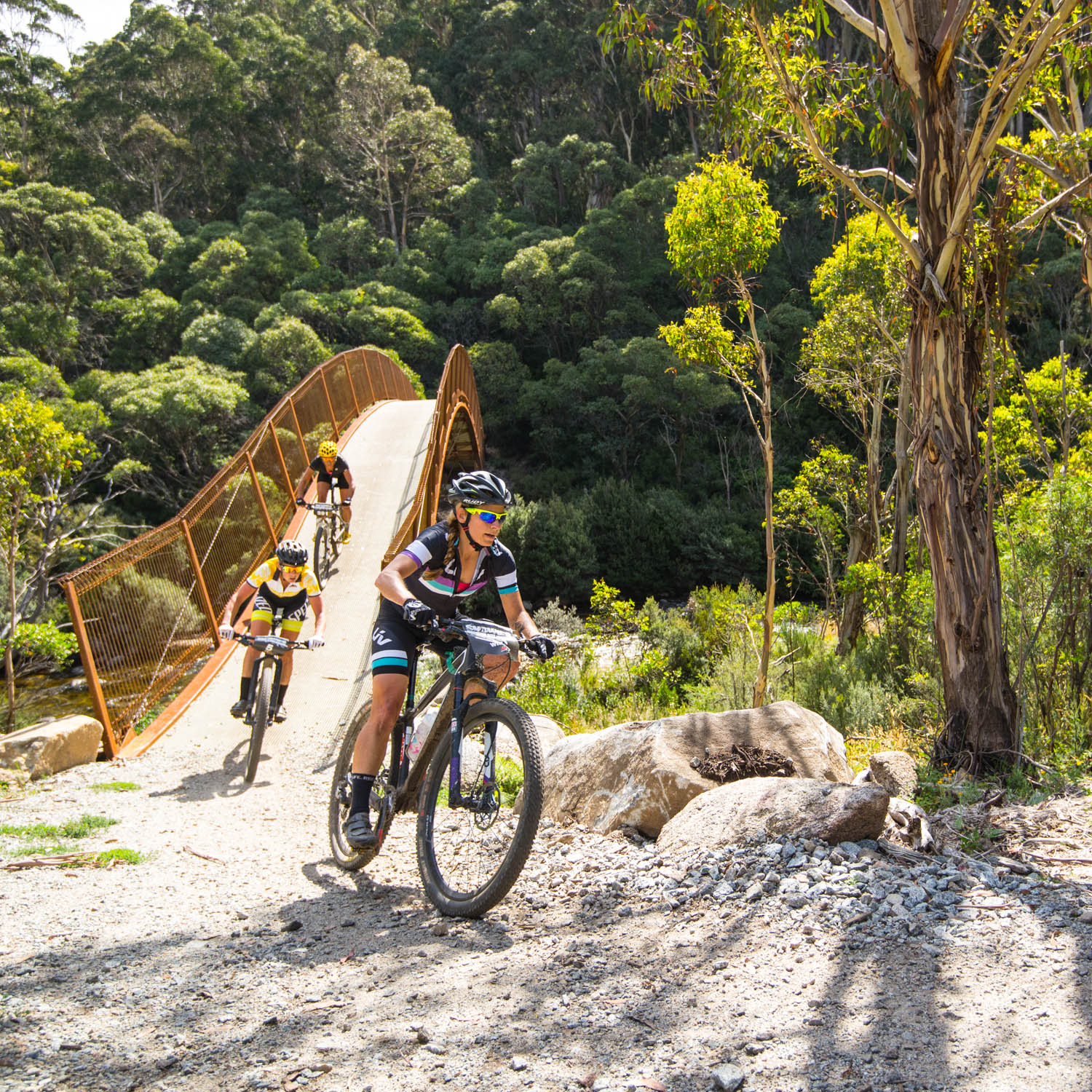 The general classification remained unchanged since stage 1, with Fay taking top honours by 15:36 over Willett and 23:57 ahead of Bucher.
"This is it, we have to come back every year and race it," said Fay. "It'll be a gruelling wedding anniversary, but I can honestly tell you I wouldn't want to be anywhere else but Lake Crackenback today."
The two-day, four-stage Snowy Mountain Bike Festival is the first of two weekends of off-road events hosted at the Lake Crackenback Resort & Spa, with the Oceania Cross Triathlon Championships on deck (28 Feb – 1 March).
Oceania is a features a $40,000 prize purse and the world's top athletes including Olympians Courtney Atkinson (AUS) and Erin Densham (AUS), as well as Xterra champions Ben Allen (AUS) and Jacqui Slack (GBR), adventure race world champion Braden Currie (NZL) and recently crowned Australian Cross Triathlon Champion Max Neumann.
About The Snowies MTB Stage Race:
The Snowies Mountain Bike Festival brings you some of the very best riding found anywhere in Australia. Based in the heart of Australia's iconic Snowy Mountains, riders will be challenged with 4 diverse stages that will test speed, endurance, stamina and technical skills. Tackle all 4 stages as a solo or as a team of 2 or 3, OR choose to do the 75k marathon or 30k XC only in this 'not to be missed' Mountain Bike Experience.
About the Oceania Cross Triathlon Championships:
The Oceania Cross Triathlon Championships is a Continental Championships awarded by the Oceania Triathlon Union (OTU), and is one of three events in Australia that are qualifying rounds for the World Cross Triathlon Championships in 2015 to be held in Sardinia, Italy on 26th September, 2015.
The race will be hosted at Lake Crackenback Resort & Spa in the spectacular Snowy Mountains (NSW), featuring the trails, rivers, hills, lakes and bushland of this iconic region. The Championships includes events for the entire family, while the feature race consists of 1500m swim, 30km XC mountain bike and 10km trail run.
About In2Adventure:
In2Adventure are Asia-Pacific's premier adventure event specialists. With a full calendar of national events scheduled throughout Australia, including adventure races, cross triathlon, XC Mountain Bike, trail runs and corporate events, In2Adventure fully embraces all things 'off road' and 'off the beaten track' and offers a unique, individual experience for all ages and skill levels.
Upcoming Events (2015):
•               Oceania Cross Triathlon Championships – Snowy Mountains, NSW, 28 Feb-1 March 2015
•                TreX Cross Triathlon Championships – Sunshine Coast, QLD, 2/3 May 2015
Join the #in2adventure conversation
•               Visit > our website
•               Follow > us on Twitter #TreXTri and #SnowiesMTB 
•               Like > on Facebook
•                Look > on Instagram
•                Watch > In2Adventure TV
•                Link > us on Linkedin