Over 200 riders loaded up their bikes and headed for Abbotts Peak to race the inaugural Maydena Enduro Jam. Following the postponement of the Oceania leg of the EWS, Maydena has filled the gap in its event calendar with a new type of race.
Enduro Jam takes the pressure out of gravity racing and follows a jam format, meaning riders can take as many runs on each stage as they want, and only their best time counts. There were two main racing categories, Open Jam, which took riders down two stages on the park's blue and black trails, while the Pro Jam had an additional stage that incorporated the runs planned for the EWS stop. The liaisons were in the shuttle bus, so there was no need to bring your climbing legs. Just three days of gravity fuelled fun. Did we mention there were EWS points up for grabs too?
Maydena's new base area was set up as a bit of a festival ground, with SRAM providing technical support. Riders could cruise straight off the bottom of their latest run, get a quick tune-up, check live times, and grab a drink or a bite to eat.
"The place was vibrating with excitement thanks to the unique format and layout of the racing and the huge range of people taking part. It felt like the ideal way to send off summer and what's been an amazing season for the bike park. All very much enhanced by the unreal food the park is renowned for, washed down with a Pina Colada or two," said Flow correspondent Chris Sansom.
Related:
---
Watch Dan Booker break the sound barrier on his way to winning the first Maydena Enduro Jam
---
As competitive or as chilled as you want
An event like Enduro Jam is so fun because it allows riders to tailor their weekend based on how competitive they feel on a given day.
"Riders would shuttle up together, ride to stage starts and drop-in, in big groups to heckle each other or leave a good long gap to try and better their times.
The ability to repeat stages, come down and check live times, and head back up for another crack made for some quietly heated rivalries and healthy smack talk over a beer at the end of each day," recounts Sansom.
While the east coast of Australia was in the midst of yet another drenching, the weather gods smiled on Maydena and provided rip-roaring conditions.
"Friday morning was a little bit greasy, but we had warm weather and sunshine on Saturday and Sunday, so trail conditions were pretty much as good as they ever get through the weekend," says  Maydena's head honcho Simon French. "It's a really good format, and it suits our park really well, so it's definitely something we're going to keep going with."
The anti-race
Day one took Open Jam riders for a tour of trails like Beach Babe, Waratah, Wicked Styx, Scandinavia, Handi Scandi, and Tyenna, among others, while the Pro Stage hit Gnar Yeah, Marriotts, and Billy Bob.
With unlimited uplifts, we hear folks were putting in as many as six runs on some of the stages throughout the day, but it was Maydena local legends Dan Booker and Laura Craft who would make a clean sweep winning all three stages in the Pro Jam Category.
The second day of racing incorporated King Brown, the National DH course and Maydena's Wilderness Trail, which was a crowd favourite.
"Middle Earth into Outer Limits was by far my favourite stage," said Sansom. "It took in two of the best flow trails on the hill, had a bit of pedalling, and was wildly grippy on race day. They're two of the lesser ridden trails on the hill at Maydena, and it makes them that bit more special to try and put down a fast time on them."
Craft continued her dominance at the end of day two, taking wins on all three stages, while Ryan Gilchrist stole two stage wins from Booker.
Saturday also saw the start of Enduro Jam's extracurricular activities after the shuttles stopped running.
Over at the Dirt Jumps, the snags were on the BBQ, and a sizable crowd had gathered to watch some monumental whipping action.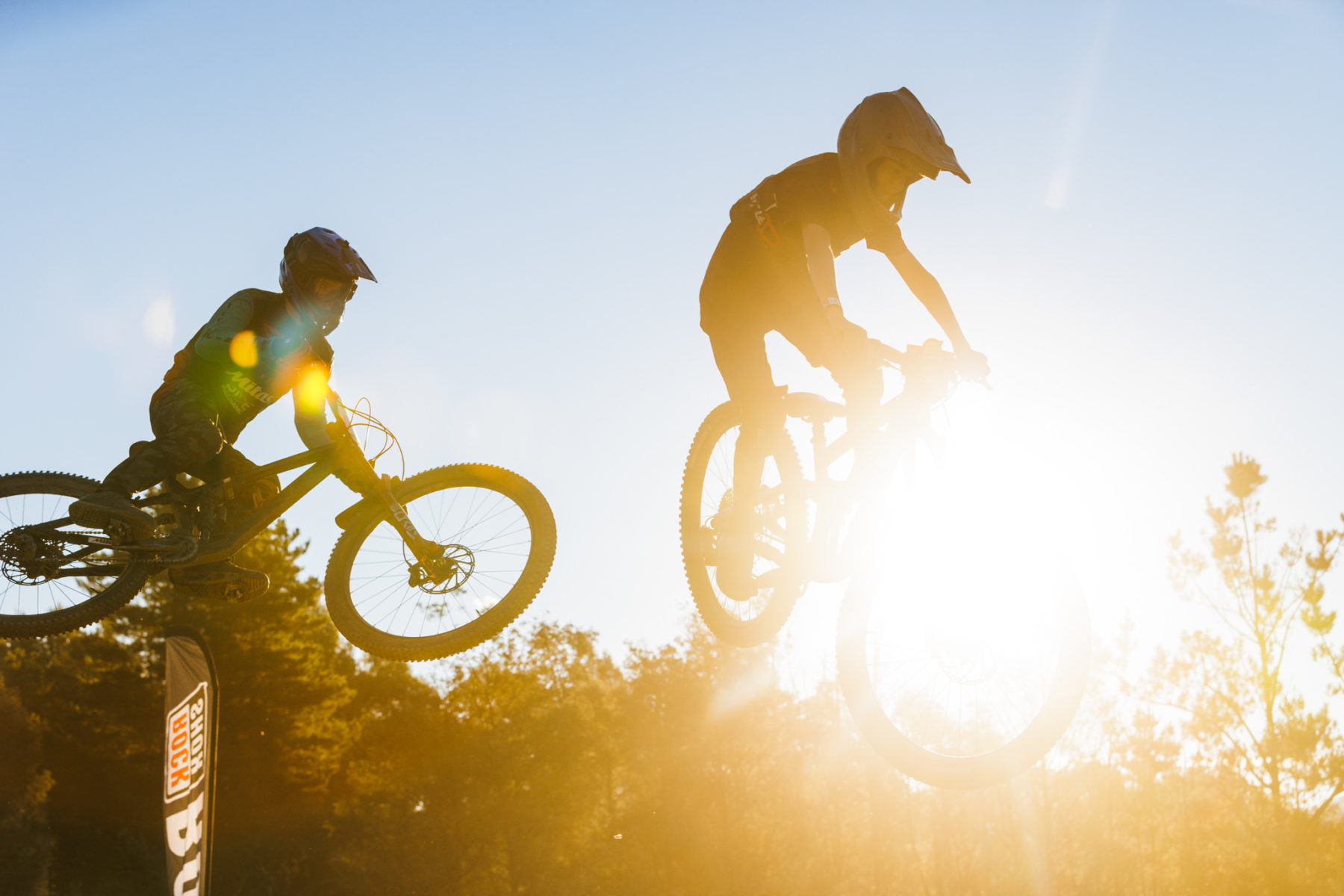 Sansom says there was an epic sunset, the 80s power ballads were blaring over the speakers, and a pair of backflips were attempted. Once the dust had settled, Pete Cornelius took to the stage so folks could boogie the night away.
The final day of Enduro Jam was the most physical of the three, kicking off with a top to bottom run of Abbotts Peak, with the remaining Open Jam and Pro Jam stages covering nearly half the vertical drop the mountain has to offer. The difficulty of the third day may have also been due to the beers from the evening before, and the amount of rug cut on the dance floor — we can only speculate.
Enduro Jam Champions
Laura Craft completed her clean sweep of Enduro Jam, while Booker would put together the quickest runs on day three to take the overall win, each earning a sweet $1000 AUD and a handful of EWS points in the process.
The weekend wrapped up with a World Cup after-party, watching the UCI DH World Cup return to Lourdes, France, after a five-year hiatus.
If it seems like Maydena has found a winner with Enduro Jam, that would be because it has. For a new event to attract a field of this size, and the overall feedback largely being folks throwing up the horns and yelling 'yewwww,' is a testament to how much fun was had on the slopes of Abbotts Peak.
And with that, the fun will continue on December 2-4, with Enduro Jam returning for round two.