Aiight Flow homies? We write to you in the early throngs of Autumn as we say goodbye to a Summer that was memorable for all the right and wrong reasons. But friends, we must look forward. And thankfully there is a'plenty to look forward to!
Everyone seems to be going events-mad at the moment, with seemingly every type of mountain bike race, festival and mass-participation ride quickly filling up the calendar. There have already been successes too – the Otway Odyssey was held over the weekend, and so too was the inaugural GOAT. A fun-filled, multi-day and multi-discipline event based in the Victorian High Country, the GOAT is one that we expect will become a mainstay for the region in years to come.
And coming up quickly is the Dragon Trail event in Tasmania – a perfect excuse for a riding holiday no?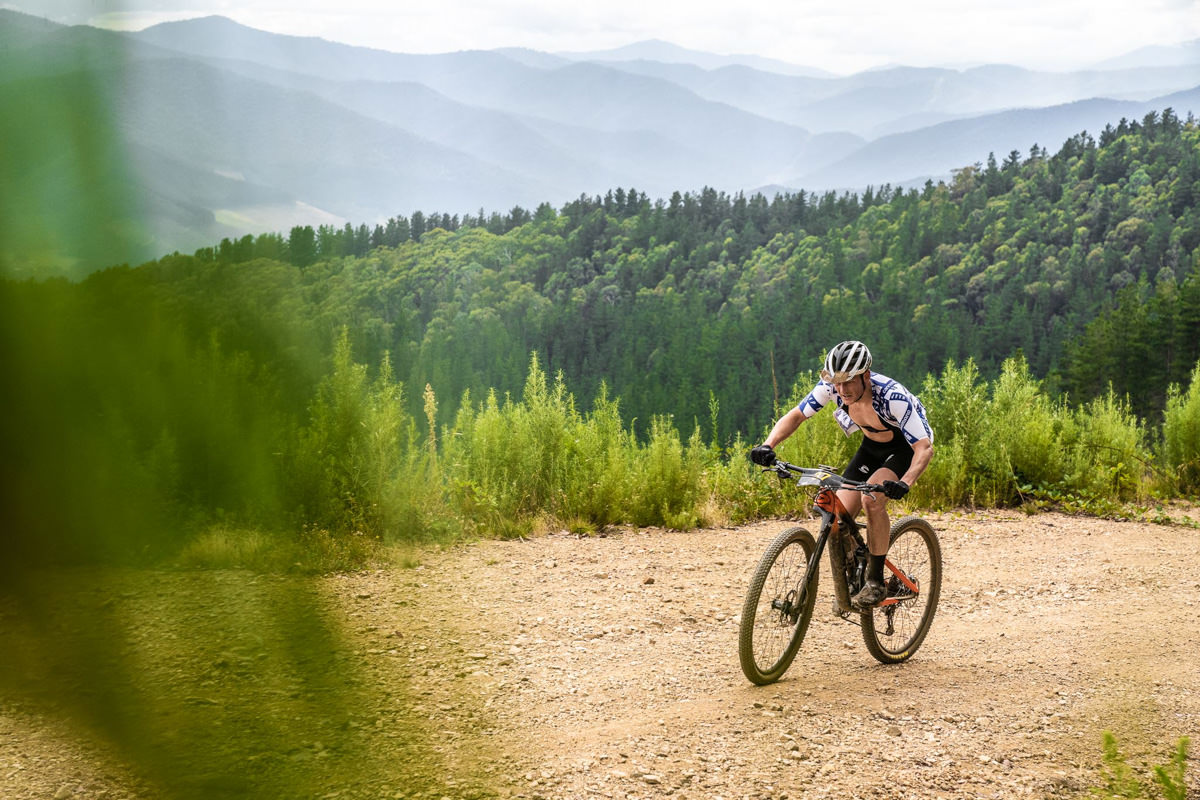 Speaking of Tassie, we've just published a huge feature and video on the newest must-ride destination; George Town baby! There's also loads of exciting trail news bubbling away, including new trails for Derby, and an IMBA Epic trail for Melrose, which is a HUGE deal. Colin also put on his detective hat and collated a fascinating story to uncover what's been going on behind the scenes of the Mount Canobolas project in NSW. Juicy!
Meanwhile we've been busy testing lots of new bikes, including the high-pivot GT Force, the 27.5in-wheeled Giant Trance X, and the new Rocky Mountain Altitude Powerplay, the latter of which has turned out to be one of the best e-MTBs we've ridden. There's more to come too, with the drool-worthy Canyon Spectral 125 having just arrived for testing.
It isn't just bikes filling up the bike room at the moment either, with an avalanche of new gear having arrived at Flow HQ. Join us then, as we take you through a smorgasbord of kit that we'll be testing over the coming months. Bon Appétit!
---
Time ATAC XC 8 Pedals
Having been bought out by SRAM last year, Time pedals have started trickling into Australia via PSI Cycling. Shown here is the ATAC XC 8 model, which features a hollow steel axle, a carbon body and replaceable stainless steel cartridge bearings. Confirmed weight for our test pair is 292g, which is a shade lighter than a set of XTR Race pedals.
They're built around the classic ATAC mechanism, which you've no doubt heard your fellow Time-using mate bang on about at every opportune moment. The spring-based retention system offers a very smooth and predictable feel to entry and release, not unlike a Crank Brothers pedal.
When you're clipped in, there's around 5mm of lateral float, and combined with a generous release angle, your feet are able to settle into their natural position with minimal resistance. It can feel a little too floaty if you're coming from a Shimano SPD system, but you soon get used to it. And it's potentially quite favourable for riders who have issues with knee and ankle alignment.
The release angle can be adjusted by swapping the cleats between shoes, depending on whether you want a 13° or 17° of rotation before you unclip. You can also alter the spring tension itself via a simple but effective 3-position adjuster.
---
Time ATAC XC 6 Pedals
Coming in $50 cheaper, the Time ATAC XC 6 pedals are pretty much identical to the XC 8 model, albeit with a glass-filled composite body instead of a carbon one. Otherwise these share exactly the same hollow steel axle, stainless steel cartridge bearings, brass cleats and ATAC clip mechanism.
Belying the price difference, the ATAC XC 6 actually came in a couple of grams lighter on the scale at 289g for the pair, giving them an impressive price-to-weight ratio.
One subtle point of difference between the ATAC XC pedals and a Shimano equivalent is the stack height, with the thicker body on the Time pedals requiring an adjustment to our saddle height. We're only talking a few millimetres here, but with both pedals side-by-side you can tell the Shimano XT/XTR pedals are notably thinner.
We've only had a few rides on these so far, and have been steadily getting used to the difference in feel over the Shimano SPD system we've used for so many years. Will we end up converting and becoming one of those the Time-adoring zealots? Well, perhaps only time will tell.
---
Fox Ranger 3/4 Jersey
We're big fans of 3/4 jerseys here at Flow. Better breathability than a long sleeve jersey, and more protection from the trail and sun than a short sleeve jersey. The Fox Ranger shown here is a terrific example. It's made from a recycled fabric called TruDri, which is designed to maximise moisture wicking to keep you cool and dry while sweating it out on a hot summer's ride.
You wouldn't be able to tell it uses recycled materials either. The fabric is lightweight, soft and stretchy, and it feels gentle and luxurious on your skin. The fit is close enough to avoid excess flappage on the descents, without being too tight and restrictive on the climbs. Available in Small through to XX-Large and in two colour options.
---
Fox Flexair Pro Fire Pants
Riding pants, another favourite here at Flow! More and more brands are delivering lightweight riding trousers that offer a more tailored fit compared to the downhill pyjama pants of old, and we reckon that's A Very Good Thing™.
The Fox Flexair Pants were already up there as one of the best lightweight options on the market, but the new Pro Fire version takes it to the next level. Manufactured from stretchy TruDri fabric, these feature a lovely tapered fit with a wide elastic waist band and snug but stretchy lower cuffs that keeps them close in around your ankles. They're otherwise light on features, with a simple zippered hand pocket on each thigh, and a nylon ratchet for tensioning up the waist.
Where things get a little weird is with the Polartec Alpha insulation. Err, insulation? Yep, insulation that's designed to keep you cool rather than hot. It sounds a bit odd, but it works – temperatures were hitting close to 30°C during a recent photoshoot, and these pants were surprisingly bearable, no doubt helped by the reflective white finish. We're not convinced these will stay white for long, but at least there's a black panel on the backside to at least put up some resistance from dust and mud spray.
Otherwise the Flexair Pro Fire pants are brilliantly comfortable, and we'll be getting plenty of use out of these during the upcoming shoulder season, where we'll be making full use of the added protection while splashing through puddles and riding along overgrown singletrack.
---
Fox Flexair Gloves
Following the Flexair theme for lightweight breathability, we've recently been trying out a pair of Fox Flexair gloves. Fox makes a shed-load of gloves by the way, with some 60 different products listed on its website. Yeesh! Of that extensive range, the Flexair is about as minimalist as it gets, with no padding, armour or Velcro straps to be seen.
Indeed for riders who want a snug-fitting glove that's as close to not wearing gloves as possible, these are your ticket. There's a thin synthetic leather palm with big eyelets for ventilation, silicone detailing for grip on your cockpit controls, and a discreet sweat cloth on the back of the thumb.
---
Fox Flexair Merino Socks
We wouldn't be real mountain bikers if we didn't have a full matching costume would we? To complete the package, Fox sent us a pair of the Flexair Merino socks in the correct 6in regulation height. These aren't cheap socks but they are surprisingly high tech with a compression knit through the arch for support, mesh panels up top for breathability, and flat-lock stitching around the toes for comfort. Made with 59% merino wool, they're also impressively stink-resistant.
---
Fox Dropframe Pro MIPS Helmet
Offering more protection than a standard trail helmet, with less of the claustrophobia and ventilation issues of a full-face helmet, the Fox Dropframe aims to hit that sweet spot in between for the jibbers, dirt jumpers and off-the-clock enduro riders.
While it might look like a throwback to the old-school daredevil lids of yesteryear, the Dropframe is very much of its time. Firstly, it's built around a dual-density EPS core that Fox calls 'Varizorb'. This puts a softer density foam closer to your head, which offers greater absorption qualities. It also gets a MIPS liner inside to mitigate rotational forces, and there's a magnetic FidLock buckle too.
The fit is very snug and secure, and thanks to the thick padding around the ears and cheeks, it feels more like a full face helmet in terms of its overall coverage and stability. Those big earholes mean you're not deaf to general trail noise and your riding mates though, and of course ventilation is much better without a chin bar. The tight fit means there's no need for a secondary harness, so all you need to clip the buckle and adjust the chin strap. If you're a bit of a 'Princess And The Pea' type character, there's an additional set of pads is included in the box for further tweaking if needed.
---
Liv Koa 3/4 Women's Jersey
Liv Cycling has some fresh threads for 2022, including this suave Koa 3/4 jersey. It's made from the brand's own TransTextura fabric, which is designed to quickly evaporate sweat and keep you cool in hot riding conditions. Mesh panel inserts are placed through the sleeves to improve ventilation further. The open v-neck collar gives it an unrestrictive fit, and the jersey is cut long to provide plenty of coverage over your shorts while riding.
There are four sizes available from Small through to X-Large. Roz went with her usual size in a women's specific top, though she's found the fit to be a little on the snug side. For riders with a more pronounced hourglass shape, it may be worth trying the next size up. Otherwise this is a great-looking piece of kit, and we dig the zippered stash pocket and built-in sunglasses wipe.
---
Liv Energize Women's Baggy Shorts
To match the Koa jersey we've got a pair of Liv Energize baggy shorts. These are available in a slightly wider size range from X-Small through to X-Large, and Liv also offers them in a longer version for enduro riders and those using knee pads. They're made from a stretchy material that offers flexibility without being floppy, and they feature an adjustable waist band with Velcro straps for dialling in the fit.
Roz has been really impressed with the quality of the material and the overall cut. "The Medium is the perfect fit for me at my Summer weight. I believe that my more rounded Winter weight, these would be very firm. They're a slim fit with a slim leg, and riding in them is a pleasure. The leg length for me is perfect, with the cuffs sitting just above the knee."
The Energize baggy shorts feature a small zippered pocket at the rear of the waistband that's useful for storing small valuables like car keys. There are two zippered hand pockets, and there's also a deep zippered pocket on the left leg. This last one is where you might store your phone, but this pocket is quite wide so it means a phone tends to sit almost under your leg. We reckon this pocket could be a little slimmer to minimise movement when pedalling.
---
Liv Passion Short Finger Gloves
Short finger gloves may be less fashionable these days for mountain biking, but we reckon they might be making a comeback thanks to the likes of Jolanda Neff who's been rocking them on the World Cup circuit. Certainly for riders who want maximum tactile feedback on their shift paddles, brake and dropper post levers, a short finger glove is as good as it gets. You also don't have to deal with any annoying stitching rubbing up under your fingernails, and for those of us who'd rather not take their gloves off when using the touch-screen on their phone, a pair of gloves like the Liv Passions could be the better choice.
Available in both black and white options, these gloves come in Small, Medium or Large sizes. We'd like to see some sort of pull loop on them to assist with removal, but otherwise they're well-featured with gel and latex pads on the palm to provide some vibration damping between your hands and the grips, a Velcro strap closure, and a sweat wipe on the back of the thumb.
---
Liv Path MIPS Helmet
We recently received a new trail helmet from Giant called the Path MIPS. Selling for just $79.95, it was easily the cheapest MIPS-equipped helmet we've ever worn. Shown here is the women's version, the Liv Path MIPS. It is functionally identical, so it also features a ridgy-didge MIPS liner to reduce rotational forces on the brain in the event of a crash. It comes in two colour options; Matte Burgundy and the Matte Purple we have on test, and you can choose from a youth (49057cm) or an adult (53-61cm) size.
As with the Giant Path MIPS helmet there's a 360° adjustment system for dialling in the fit, anti-odour padding, and a removable visor. It's all built around a thick EPS foam core with an in-moulded polycarbonate shell, and it's also compatible with Giant's Alumbra tail light that attaches directly to the back of the helmet. Not bad for less than a hundred bucks eh?
---
G-Form Pro-Rugged MTB Knee Pads
Protection brand G-Form has broadened its product range with the addition of the Pro-Rugged MTB knee pads. Compared to the slimmer and lighter Pro-X3 pads we've also been using, these beef up the armour with a thicker SmartFlex pad and a reinforced Armortex fabric over the top. They're not quite as light and flexible, but they're still very comfortable to wear and provide a decent amount of protection. That tougher fabric over the top also delivers greater durability and tear-resistance, which Jack has already tested out on several occasions both on the enduro race track and down at the local dirt jumps.
Also different to the Pro-X3 pads is the addition of an adjustable strap around the top of the pads to provide a more secure fit around your thighs. The Pro-Rugged knee pad is otherwise built on a familiar double-knit compression sleeve, with a ventilated mesh panel at the back, a soft foam lining on the inside, and silicone grippers around both the top and bottom cuffs. Machine washable and available in no fewer than six(!) sizes from X-Small to XX-Large.
---
G-Form Pro-Rugged MTB Elbow Pads
Up top we've got the matching G-Form Pro-Rugged elbow pads, which make use of the same SmartFlex technology as the knee guards. This moulded foam insert is soft and flexible to the touch, so it easily conforms around moving joints like your knees and elbows. When you encounter an impact however, the SmartFlex material magically hardens to better absorb and disperse that impact energy. Clever stuff!
The Pro-Rugged elbow pads are based on a similar double-knit compression fabric, forming a stretchy sleeve that pulls over your arms, with wide elastic bands and internal silicone grippers around the top and bottom cuffs. These are available in five sizes from X-Small to X-Large, though we'd recommend looking at the size down to provide a more snug and slip-free fit.
---
G-Form Sorata Gloves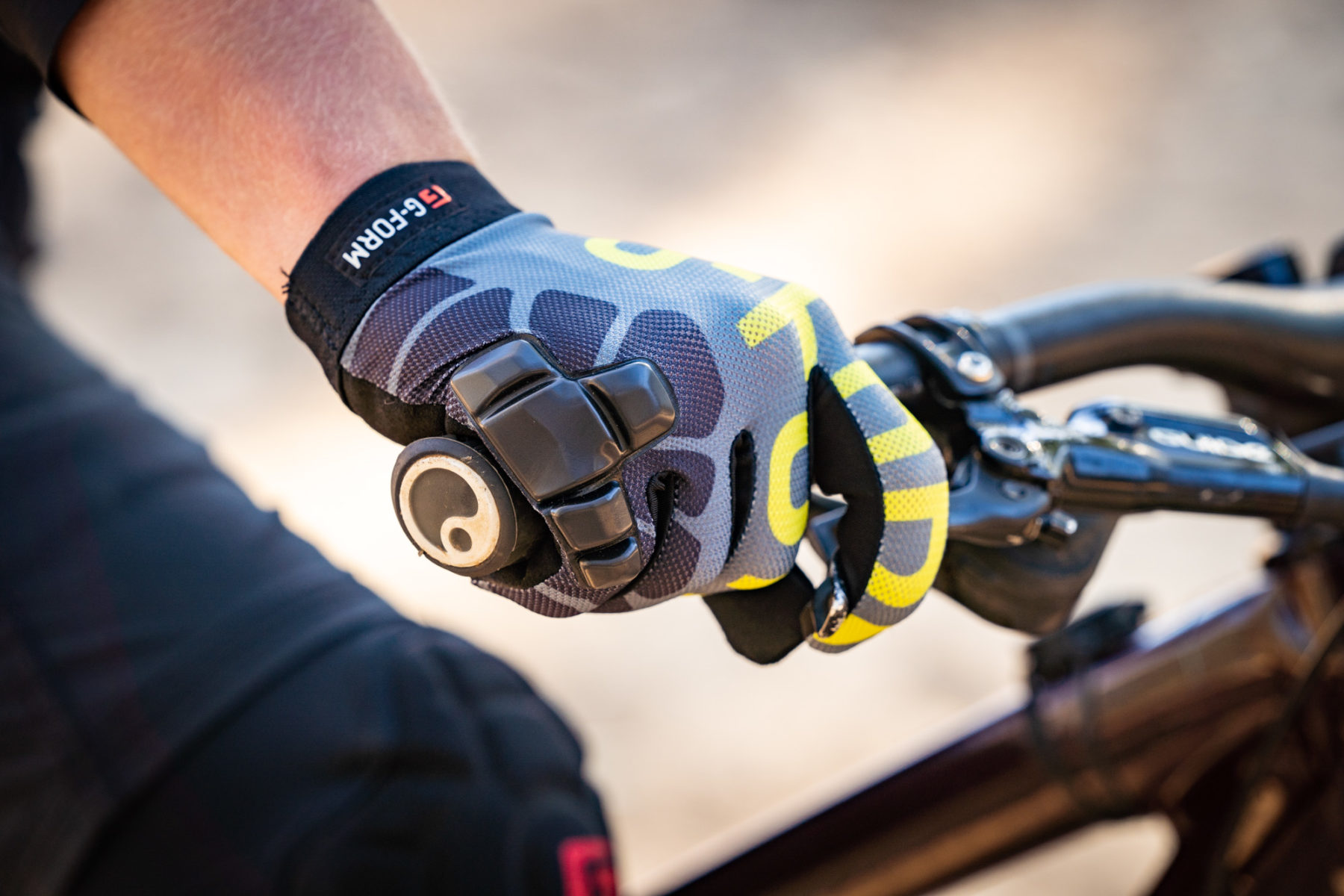 That same SmartFlex material can also be found in the G-Form Sorata gloves, which use strategically placed pads along the outside knuckles on the back of your hand. The soft padding is flexible and unobtrusive, but it provides a useful layer of protection for your knuckles and pinky fingers when slapping tree branches and punching spiky thorns on overgrown trails.
Otherwise the G-Form Sorata gloves are quite sleek and form-fitting thanks to a one-piece synthetic suede palm and a stretchy breathable fabric for the back of the hand. There's a simple elastic band around the wrist and a sweat wipe on the back of the thumb.
---
Giro Merit Spherical Helmet
Giro continues to expand on its Spherical helmet technology with the introduction of the all-new Merit. It's a modern trail helmet that follows a similar theme as the premium Giro Manifest, but has somehow managed to knock close to a hundred bucks off the price.
Despite the cheaper price, the Merit still features a dual-shell construction with a harder EPS foam used for the outer shell, and a softer EPP foam used for the inner shell where it sits closer to the rider's head. The surfaces between the two shells are polished smooth, and they're joined together with elastomer inserts. With the shells forming a ball-and-socket profile, they're able to slide against each other, creating a slip-plane that helps to reduce rotational impact forces. Known as 'Spherical Technology', this design is the result of an ongoing collaboration between Giro and MIPS, though up until now it's only been available on the absolute top-end helmets.
In addition to the Spherical technology, the Giro Merit features the excellent Roc Loc Trail Air fit system that provides both radial and vertical adjustability for the supporting harness. There's a standard nylon buckle, goggle compatibility, plenty of plush padding inside, plus an adjustable visor. Available in three sizes and a bunch of different colours.
---
Camelbak Podium Flow Belt
Designed as a minimalist storage and hydration solution, the Camelbak Podium Flow Belt is a lightweight wearable hip pack that's purpose-built for mountain biking. It's made for riders who need to carry the essentials, but would prefer not wear a full-size backpack.
Effectively a stripped-back version of the Repack (one of our favourite hip packs), the key difference with the Podium Flow Belt is that there's no bladder. Instead it has a dedicated pocket for a 600ml Podium Dirt bottle, which comes included.
The Podium Flow Belt has been updated for 2022, and now locates the bottle in the middle of the pack to help balance weight distribution. Of course it doesn't carry as much water as the Repack with its 1.5L bladder, so it's really designed for shorter sub-two hour rides. The simpler construction does help to keep it nice and light though, and it also minimises bouncing on the trail. It's pretty stable overall, and is very comfortable to wear thanks to the soft mesh padding and the adjustable waist belt. The flexible wings wrap around your waist, with the pack weight supported evenly over your hips.
As for storage, there are two main zippered pockets with internal dividers for carrying tools and spares, and an external loop and sleeve for fitting a pump. Longer pumps will stick out a little too far though, which could see you getting snagged on the trail. There are two additional zippered stretch pockets, which are perfect for stowing bars and snacks, and those pockets are just big enough to swallow an iPhone XR.
---
Camelbak Podium 700ml Bottle
For on-the-bike hydration, we've also received some fresh bottles from Camelbak. Shown here is the latest generation Podium bottle, which incorporates a self-sealing cap and a one-way valve. The valve can be shutoff completely for transportation, and the whole assembly can be pulled apart for easy cleaning.
The Camelbak Podium bottle is made from polypropylene and features a Hydroguard lining to reduce the plastic-y taste you can get with lesser bottles. It's of course BPA-free and dishwasher safe, and you can get it in the 700ml size we have here, or a smaller 600ml size for $16.99 AUD. There are heaps of colour options too.