Joining the tidal wave of new XC bike releases for what was meant to be an Olympic year, the 2021 Canyon Exceed has officially joined the swell. Sitting alongside its fully-suspended sibling the Lux, the Exceed is Canyon's flagship carbon hardtail. It originally launched way back in 2015 as one of, it not the lightest production mountain bikes on the market. Five years is an age in the world of carbon fibre technology though, and over that time, things have also changed considerably on the World Cup XC circuit too. Clearly it was time for an update.
---
Watch our Canyon Exceed review here!
---
The Sub-9kg Hardtail
And here we have it – the fully redesigned and reengineered 2021 Canyon Exceed!
The crisp white bike you're looking at here is the Exceed CFR Team, which we've just received for testing. As its name suggests, this is the team-edition Exceed, which features the same Fox/Shimano/DT Swiss spec as raced by a chap called Mathieu van der Poel. Confirmed weight for our test bike a rather jaw-dropping 8.84kg, which is quite frankly, insane.
How does it ride? You can read our Canyon Exceed review here. Right now though, we'll be taking a much closer look at what's changed with the new Exceed, and what's special about this new razor-sharp race bike.
The 2021 Canyon Exceed – what's the dealio?
The new Exceed arrives as the 2nd generation of the platform, and as you'd expect, it's claimed to be both lighter and stiffer than its predecessor. It also gets a geometry update, a new XS size option, and an ingenious cable routing system to offer some of the cleanest lines we've seen from any mountain bike.
The basic ingredients remain unchanged. The Exceed is rolling on 29in wheels, is propped up with a 100mm travel fork, and the frame is of course built from carbon fibre. However, everything from the tapered head tube down to the 148x12mm dropouts is all-new.
The chassis adopts more aggressive lines borrowed from the latest Lux, Inflite and Ultimate models. The top tube is less sloping than before, which actually reduces standover clearance, but allows the seatstays and downtube to take a visually-pleasing parallel pathway. The seat clamp itself is now integrated into the frame, while a rubber seal wraps around the seat post to shield the inside from water and mud ingress. The chainstays are also bridgeless down behind the 92mm wide press-fit BB shell, which is to prevent clumps of mud building up and weighing you down through a race.
Just like the Lux, the Exceed has moved to a flat-mount rear brake calliper, and you'll also find a tidy Quixle rear thru-axle locking down the rear wheel. And in a trend that is rapidly gaining momentum, the Exceed becomes the first Canyon bike to adopt the SRAM UDH derailleur hanger.
Hold on, where'd those cables go?
Oh and there's a clever new headset too! The Exceed's headset still features the IPU (Impact Protection Unit), which utilises a partially hidden steering limiter to prevent the brake and shift levers from smashing into the top tube during the event of a crash. The IPU has been updated though, and it's much sleeker than before. It also features cable ports on the front portion of the headset top cap, which allows the rear brake, derailleur cable, and dropper cable to route through the upper headset bearing, past the fork steerer tube, and down through the frame's downtube. It's a wild and ingenious arrangement, all of which has been done to keep the cockpit as tidy as possible.
Why route the cables through the headset? Aside from looking über clean, it means Canyon doesn't have to drill holes into the headtube. Any time you open up a carbon frame, those areas need to be reinforced with more carbon, which adds weight and manufacturing complexity. Also, because the headset and bar rotate together, the cables don't actually move when you're steering. This allows the lines to be cut nice and short, and according to Canyon, it makes the steering smoother due to the elimination of any cable-related friction.
The downside? You'll need to remove the brake hose and gear cable to replace the upper headset bearing, which may be of concern to riders in wetter climates. Canyon assures us that this won't be a common occurrence though. The headset is made by fellow German brand Acros, and much attention was paid to the quality of the sealing and the grease itself to ensure the bearings remain silky smooth for as long as possible.
Furthermore, in what is possibly the most German thing we've ever heard, Canyon apparently built a specific test machine in its R&D lab to test the durability of the new cable routing system. This monotonous machine rotates the handlebar back and fourth over 150,000 times, allowing the engineers to evaluate any untoward rubbing or damage to the cables. Along with eight months of field testing, Canyon is plenty confident in the end product.
Ooh Fancy Frank bars!
With the new Exceed, Canyon is also unveiling a new one-piece carbon fibre bar & stem it's had in development since 2015. Featuring the whimsical model name "CP0008 XC Cockpit", this integrated cockpit will come standard on the top four Exceed models, further enhancing the bike's sharp lines.
Compared to a conventional two-piece system, the one-piece design is of course less adjustable. And depending on what you compare it with, it isn't actually any lighter – the bars on our test bike weigh in at a confirmed 333g, which is over 100g heavier than the Syncros Fraser iC we reviewed.
"We did not wanted to go crazy on the weight here as we wanted to make sure that the cockpit fits our requirements, our high testing standards and overall to be safe", explains Canyon's senior product manager, Julian Biefang. "Another point is also that we tested a lot of super super lightweight handlebars and they're often too flexy and they do not really feel 'direct' in the handling – they can even feel unsafe'. This is something we wanted to avoid as well. We want to provide a good and direct feeling on the cockpit by adding the comfort needed."
Compared to the Syncros Fraser that uses more of a Y-shape profile and T25 torx bolts, the CP0008 features more of a T-shape profile and larger 5mm hex bolts to lock it down on the steerer tube. Canyon has also given the top of the bar also has a wider and flatter profile, which provides a comfortable perch for your hands or even forearms during a fast fireroad aero-tuck attack. Also included with the bike is a neat adjustable GPS bracket for mounting your Garmin/Wahoo computer.
The one-piece bars get a very wide and flat profile to provide a comfortable perch or forearms during a fast fireroad aero-tuck attack.
The bar gets a distinctly XC-ish width of 740mm, with a 7° backsweep and a 3.5° upsweep. The effective stem length is 80mm, which every Exceed frame size has been designed around. Depending on the frame size, the stem angles downwards either 6° or 17°. We understand Canyon will be releasing the CP0008 XC Cockpit as an aftermarket product later this year, and it will be available in several stem length options.
Yes, it's lighter
The previous Exceed wasn't exactly chonky, but it wouldn't be a new XC bike launch without talk of weight reduction right? And you'll be happy to know the Exceed frame is lighter. Not by much though.
For a Medium size, a bare Exceed CFR frame is claimed to weigh just 740g – yikes! Add in the hanger, seat clamp, chainstay protector, metal chain-suck plate, and graphics, and you've got an 835g frame. It's only 35g lighter than the previous Exceed CF SLX frame, and it's not quite as light as the Specialized S-Works Epic HT, but it's still right up there.
For a Medium size, a bare Exceed CFR frame is claimed to weigh just 740g – yikes! Add in the hanger, seat clamp, chainstay protector, metal chain-suck plate, and graphics, and you've got an 835g frame.
We'll point out that there are actually three different frames within the Exceed lineup, and the headline weight figure only refers to the top end CFR (Canyon Factory Racing) frame. Here's the weight comparison for those three frames;
CFR: 835g
SLX: 1,105g
CF: 1,312g
All Exceed frames use the same moulds, which means the geometry and external profile is identical throughout the range. Stiffness is also identical between all three frames, and all will handle a rider up to 120kg. The difference is purely weight-based, with the higher-end frames utilising higher modulus carbon fibre. And that brings us to the new CFR frame.
'Unicorn Hair' carbon
To achieve that 35g weight reduction while simultaneously increasing stiffness and making the new Exceed longer and slacker than its predecessor, Canyon has employed a very special and exclusive type of carbon fibre from Toray called M40X. There are allegedly only three factories in the world that have authorisation from the Japanese government to use M40X, and one of those factories is producing bicycle frames for Canyon.
As a raw material, we're told that M40X is a lot more expensive than the traditional carbon fibre we're used to seeing in the bicycle industry. As such, the frame is still made with a mix of carbon fibres, with M40X only used in select locations to increase strength and stiffness where it's needed. Even still, Canyon acknowledges that at a manufacturing level, the new CFR frame is roughly double the cost to produce.
It isn't meant to be more comfortable
Utilising this new 'Unicorn Hair' carbon fibre isn't just about lowering weight. In the case of the Exceed, the engineers have been able to boost strength and stiffness throughout, particularly at the head tube and BB areas.
Along with the reworked seat tube junction and less sloping top tube, the new Exceed frame is actually less compliant than the old model. If you're looking for the smoothest ride, look elsewhere.
Worth noting though is that our test bike, the Exceed CFR Team, comes standard with Canyon's VCLS seatpost, which is essentially a two-piece carbon leaf-spring that's designed to improve vibration damping. And it is possible to add further squish too – there's clearance for up to a 2.4in rear tyre (rim & tyre dependent), and the frame has also been cleared for use with up to a 110mm travel fork.
Modernising the pure race bike
Whereas other brands like BMC and Norco are bringing trail-inspired geometry to their XC race bikes, Canyon is doubling down with the new Exceed, keeping the angles sharp and the wheelbase tight. If it's cruisy and comfortable you're after, then look elsewhere.
The head angle has slackened by just half a degree to 69°, while the reach has extended by 10mm on each size. The seat angle has gotten a lot steeper though. It's now 75°, up from 72.7° the old bike.
As mentioned above, there is less standover clearance with the new frame design, and in a reverse move to almost every other new mountain bike release in 2020, the seat tube lengths have gotten longer.
The chainstay length has shortened a fraction, though it remains size-specific to help balance weight distribution throughout the size range. The XS-M sizes get 425mm rear centre length, the L is 430mm and the XL is 435mm.
Shorties rejoice!
And for the first time ever, the Exceed is now available down to an XS frame size, which Canyon claims will suit riders as short as 158cm (5'2″). That's impressive given it's still utilising 29in wheels, and the XS frame is also still able to fit two water bottles inside the mainframe – good news for the marathon crowd and XC racers saddling up for multi-hour training rides.
Canyon Exceed price & specs
There will be no fewer than nine models in the Canyon Exceed lineup. Nine!
The range is made up of CF, SLX and CFR models, which includes two women's specific WMN models. These utilise exactly the same frame as the unisex models, but feature female-specific contact points.
Every Exceed model comes with a 100mm travel fork with a 44mm offset and a remote lockout. They also feature a 30.9mm seatpost diameter, and certain models will be coming with the new DT Swiss 232; a super-light, 60mm travel dropper post that was designed in a collaboration between DT Swiss and Canyon.
Pricing starts at $2,649 AUD for the Exceed CF 5, and tops out at a bank-busting $10,199 AUD for the Exceed CFR LTD. As always, you'll need to add the shipping cost onto any of those prices, since Canyon ships its bikes direct to your door from its factory in Koblenz, Germany. At the time of writing, Canyon informs us that all the CF and SLX models are ready to ship, while the two top-end CFR models are due to ship in September.
Complete with a full Shimano XTR groupset, DT Swiss XRC 1200 wheels and a Fox 32 Step-Cast fork, it's a seriously high-end XC bike that's basically identical to what the World Cup pros are racing on.
On test – the Canyon Exceed CFR Team
Our test bike is the Exceed CFR Team, which sits one step down from the top-of-the-line CFR LTD. Complete with a full Shimano XTR groupset, DT Swiss XRC 1200 wheels and a Fox 32 Step-Cast fork, it's still a seriously high-end XC bike that's basically identical to what the World Cup pros are racing on. Since it sadly skips the DT dropper post, it's also the lightest complete Exceed on offer – confirmed weight for our Medium is just 8.84kg – bonkers!
Having gotten cosy with the previous generation Exceed (I've tested both the SL and SLX versions) I was curious to see how the new bike handles on the trail, and how it compares. Curious too? Be sure to check out our Canyon Exceed CFR Team review and watch the video review on YouTube.
2021 Canyon Exceed CF WMN 5
Frame | CF Carbon Fibre
Fork | RockShox Recon Silver RL,, 44mm Offset, Remote Lockout, 100mm Travel
Wheels | Race Face AR25, Alloy Rims, 25mm Inner Width
Tyres | Schwalbe Rocket Ron Performance 2.25in Front & Rear
Drivetrain | SRAM NX Eagle 1×12 w/Stylo 6K 34T Crankset & 11-50T Cassette
Brakes | SRAM Level T 2-Piston
Bar | Race Face Ride, 740mm Wide
Seatpost | Race Face Ride, 30.9mm Diameter
Saddle | Selle Italia Lady
Claimed Weight | 12.25kg
RRP | $2,649 AUD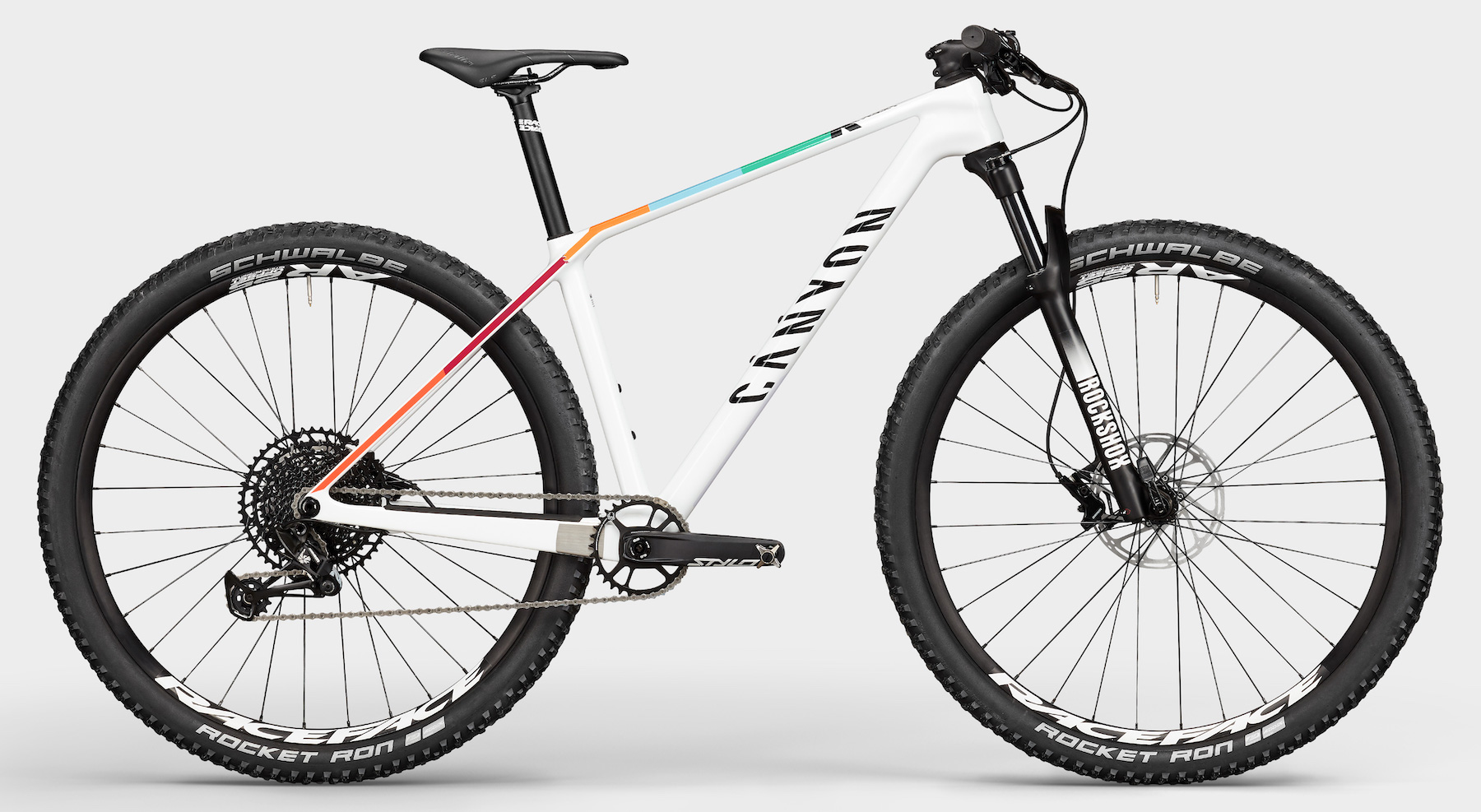 2021 Canyon Exceed CF 5
Frame | CF Carbon Fibre
Fork | RockShox Recon Silver RL,, 44mm Offset, Remote Lockout, 100mm Travel
Wheels | Race Face AR25, Alloy Rims, 25mm Inner Width
Tyres | Schwalbe Rocket Ron Performance 2.25in Front & Rear
Drivetrain | SRAM NX Eagle 1×12 w/Stylo 6K 34T Crankset & 11-50T Cassette
Brakes | SRAM Level T 2-Piston
Bar | Race Face Ride, 740mm Wide
Seatpost | Race Face Ride, 30.9mm Diameter
Saddle | Selle Italia X Boost
Claimed Weight | 12.08kg
RRP | $2,649 AUD
2021 Canyon Exceed CF 6
Frame | CF Carbon Fibre
Fork | Fox 32 Rhythm, GRIP Damper, 44mm Offset, Remote Lockout, 100mm Travel
Wheels | DT Swiss XR1700, Alloy Rims, 25mm Inner Width
Tyres | Schwalbe Rocket Ron Performance 2.25in Front & Rear
Drivetrain | Shimano SLX/XT 1×12 w/SLX 34T Crankset & 10-51T Cassette
Brakes | Shimano SLX 2-Piston
Bar | Race Face Ride, 740mm Wide
Seatpost | Race Face Ride, 30.9mm Diameter
Saddle | Selle Italia X Boost
Claimed Weight | 10.86kg
RRP | $3,499 AUD
2021 Canyon Exceed CF 7
Frame | CF Carbon Fibre
Fork | RockShox SID SL Select, 44mm Offset, Remote Lockout, 100mm Travel
Wheels | Reynolds TR 309/289, Carbon Rims, Inner Width: 30mm Front & 28mm Rear
Tyres | Maxxis Ikon EXO 3C MaxxSpeed 2.35in Front & Aspen EXO 2.25in Rear
Drivetrain | SRAM GX Eagle 1×12 w/Stylo 7K 34T Crankset & 10-52T Cassette
Brakes | SRAM Level TL 2-Piston
Bar | Race Face Ride, 740mm Wide
Seatpost | Race Face Ride, 30.9mm Diameter
Saddle | Selle Italia SLS
Claimed Weight | 10.55kg
RRP | $4,249 AUD
2021 Canyon Exceed CF WMN 7
Frame | CF Carbon Fibre
Fork | RockShox SID SL Select, 44mm Offset, Remote Lockout, 100mm Travel
Wheels | Reynolds TR 309/289, Carbon Rims, Inner Width: 30mm Front & 28mm Rear
Tyres | Schwalbe Racing Ray Super Race ADDIX SpeedGrip 2.25in Front & Racing Ralph Super Race ADDIX Speed 2.25in Rear
Drivetrain | SRAM GX Eagle 1×12 w/Stylo 7K 32T Crankset & 10-52T Cassette
Brakes | SRAM Level TL 2-Piston
Bar | Race Face Ride, 720mm Wide
Seatpost | Race Face Ride, 30.9mm Diameter
Saddle | Selle Italia SLS Lady
Claimed Weight | 10.3kg
RRP | $4,249 AUD
2021 Canyon Exceed CF SLX 8
Frame | SLX Carbon Fibre
Fork | Fox 32 Step-Cast, Performance Elite, 44mm Offset, Remote Lockout, 100mm Travel
Wheels | DT Swiss XRC 1700, Carbon Rims, 30mm Inner Width
Tyres | Maxxis Ikon EXO 3C MaxxSpeed 2.35in Front & Aspen EXO 2.25in Rear
Drivetrain | SRAM X01 Eagle 1×12 w/Stylo 34T Carbon Crankset & 10-52T Cassette
Brakes | SRAM Level TLM 2-Piston
Bar | Canyon XC Cockpit, Carbon, 740mm Wide
Seatpost | DT Swiss D232 Dropper Post, 30.9mm Diameter, 60mm Travel
Saddle | Selle Italia SLR Boost
Claimed Weight | 9.9kg
RRP | $5,799 AUD
2021 Canyon Exceed CF SLX 9
Frame | SLX Carbon Fibre
Fork | RockShox SID SL Select+, 44mm Offset, Remote Lockout, 100mm Travel
Wheels | DT Swiss XRC 1501, Carbon Rims, 30mm Inner Width
Tyres | Maxxis Ikon EXO 3C MaxxSpeed 2.35in Front & Aspen EXO 2.25in Rear
Drivetrain | SRAM X01 AXS Eagle 1×12 w/X01 34T Carbon Crankset & 10-52T Cassette
Brakes | SRAM Level TLM 2-Piston
Bar | Canyon XC Cockpit, Carbon, 740mm Wide
Seatpost | DT Swiss D232 Dropper Post, 30.9mm Diameter, 60mm Travel
Saddle | Selle Italia SLR Boost
Claimed Weight | 9.73kg
RRP | $7,349 AUD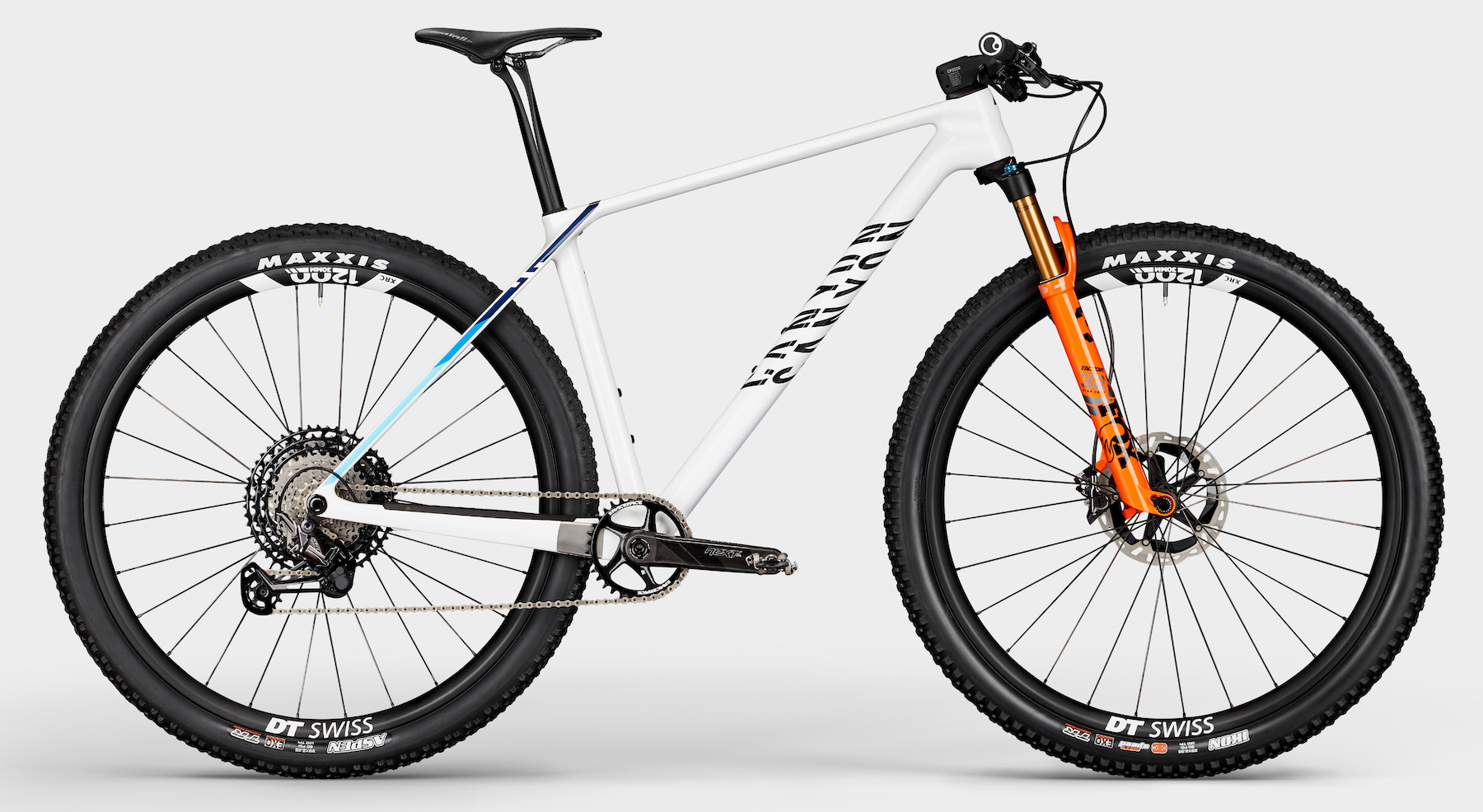 2021 Canyon Exceed CFR Team
Frame | CFR Carbon Fibre
Fork | Fox 32 Step-Cast, Factory Series, 44mm Offset, Remote Lockout, 100mm Travel
Wheels | DT Swiss XRC 1200, Carbon Rims, 30mm Inner Width
Tyres | Maxxis Ikon EXO 3C MaxxSpeed 2.35in Front & Aspen EXO 2.25in Rear
Drivetrain | Shimano XTR M9100 1×12 w/Race Face Next SL 34T Carbon Crankset & 10-51T Cassette
Brakes | Shimano XTR M9100 Race 2-Piston
Bar | Canyon XC Cockpit, Carbon, 740mm Wide
Seatpost | Canyon VCLS 2.0 Carbon, 30.9mm Diameter
Saddle | Selle Italia SLR Boost Carbonio
Claimed Weight | 8.87kg
RRP | $8,899 AUD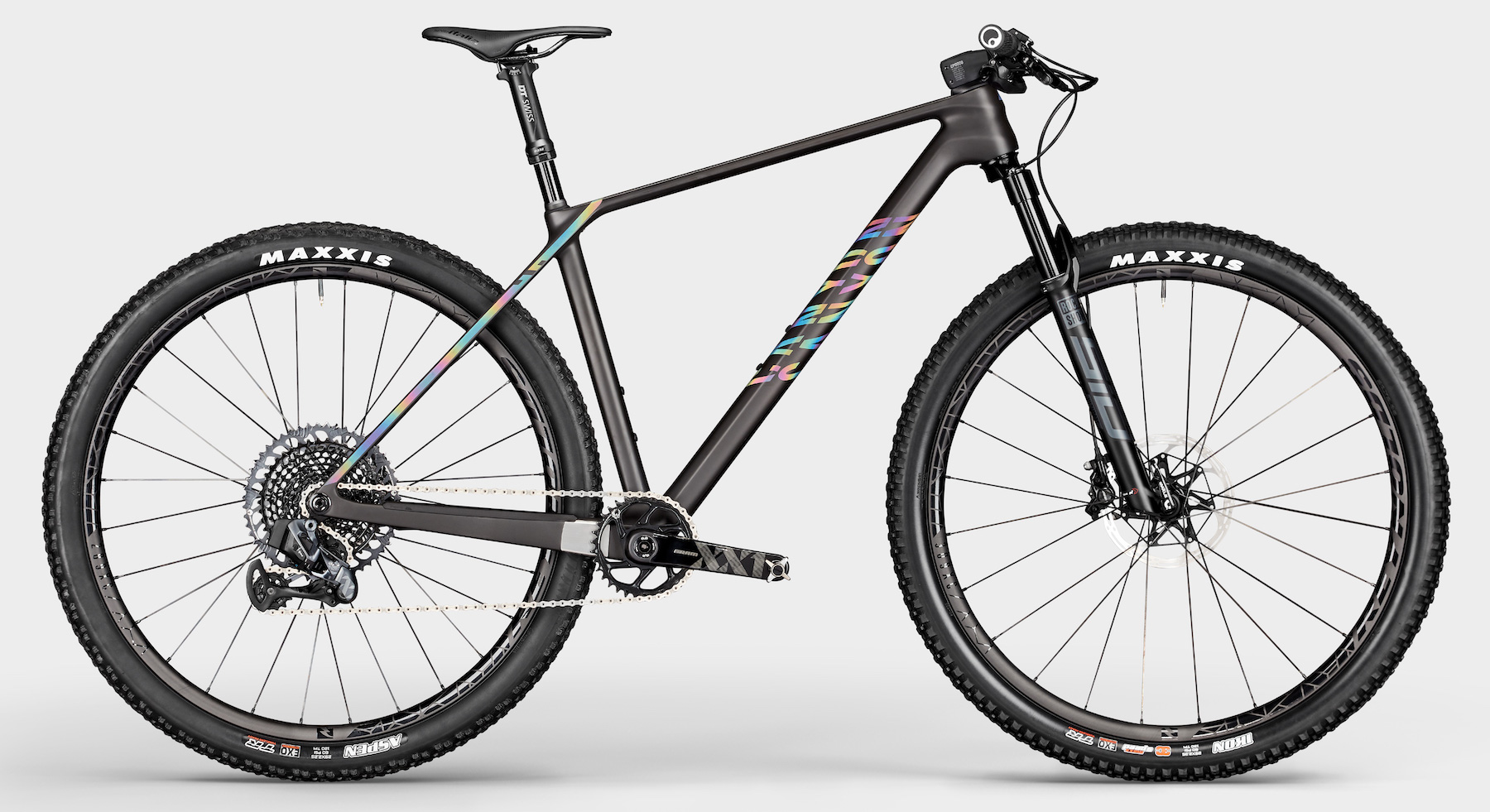 2021 Canyon Exceed CFR LTD
Frame | CFR Carbon Fibre
Fork | RockShox SID SL Ultimate, 44mm Offset, Remote Lockout, 100mm Travel
Wheels | Reynolds Black Label, Carbon Rims, Inner Width: 30mm Front & 28mm Rear
Tyres | Maxxis Ikon EXO 3C MaxxSpeed 2.35in Front & Aspen EXO 2.25in Rear
Drivetrain | SRAM XX1 AXS Eagle 1×12 w/XX1 34T Carbon Crankset & 10-52T Cassette
Brakes | SRAM Level Ultimate 2-Piston
Bar | Canyon XC Cockpit, Carbon, 740mm Wide
Seatpost | DT Swiss D232 One Dropper Post, 30.9mm Diameter, 60mm Travel
Saddle | Selle Italia SLR Boost Carbonio
Claimed Weight | 8.9kg
RRP | $10,199 AUD