With everyone on the limit for the entire 45km of the Margaret River stage, Johnston had to call on all his reserves and vast experience to blunt the dynamic riding of the flying single track specialist Cameron Ivory and the strength and determination of Kyle Ward.
While Holly Harris consolidated her stranglehold on the 'pink" jersey and Swiss rider Renata Bucher locked in the second place on the podium, in a remarkable display of grit and genuine passion for riding Samara Sheppard has called on 'rice power' to get herself through another stage to retain her third place in the women's general classification.
With only seconds separating the top five male riders going into stage three, the pace was on from the gun. It was a battle of attrition with only the fastest and the smartest able to survive with time intact.
"Keeping yellow was the goal today and everything got thrown at me," Johnston said. "I was definitely on the limit, I think we all were at most points. I was pleased with how I was climbing and hanging on. They never really got more than a bike length ever and that is what you must do when you are in the jersey. You have to stay right there because if they get a sniff of a gap, it is on."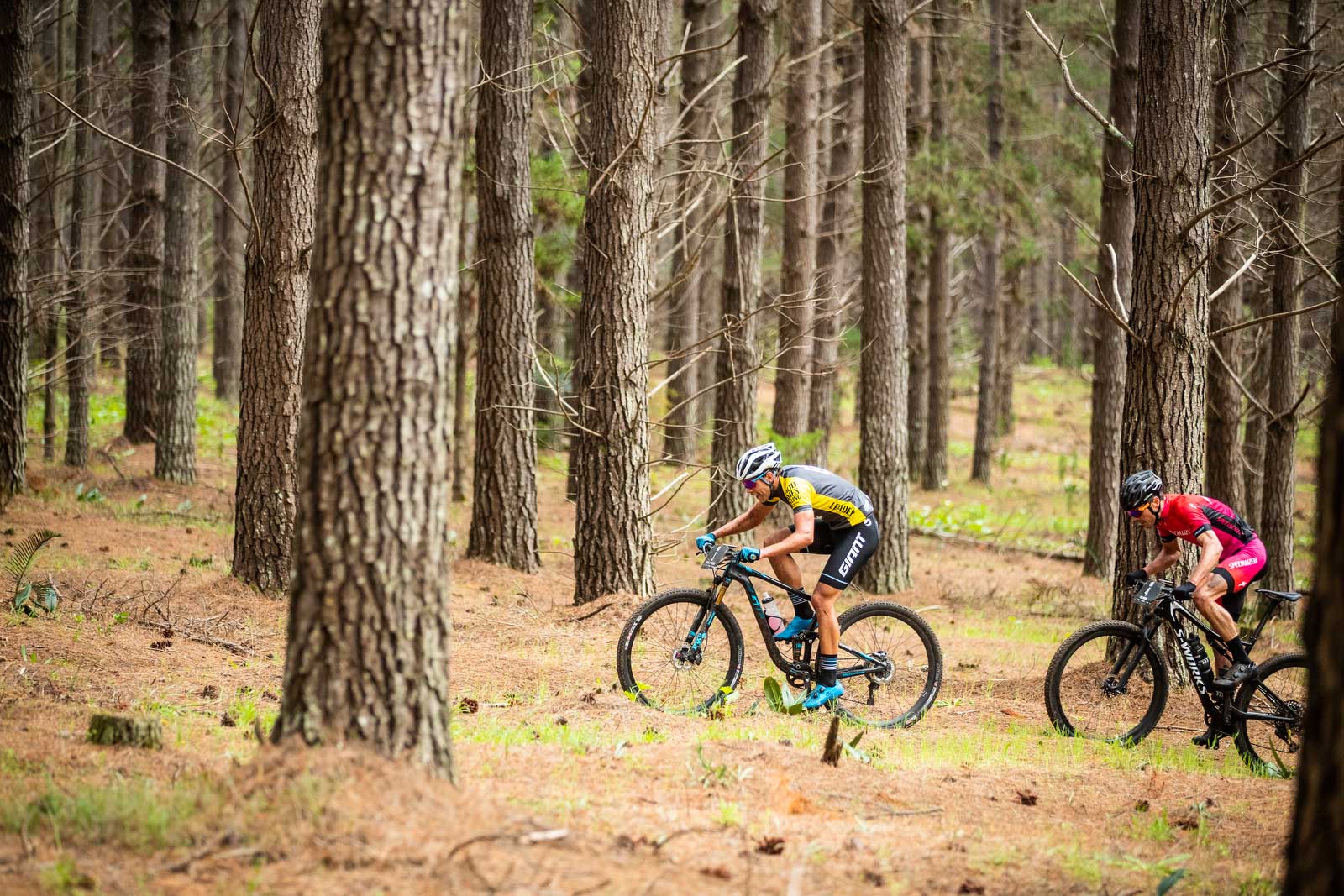 "I just want to keep on the wheel as much as I can and try and keep it smooth and consistent and not go with their surges. Cam was riding so hard through the middle and Kyle and I were just hanging on. We thought he was going to run away with the whole stage he was going that good. But with about ten km to go we hit one of the climbs and that was when we just gapped him."
"From there I just had to defend and sit on Kyle and follow him to the finish if I could. He threw everything at me, it was tough, and I am just stoked to hold the jersey. It is certainly not over, tomorrow will be like today, with the single track in the middle. No doubt the boys will be trying to throw it at me again and hopefully I can hang on for the win," he said.
Former Cape to Cape winner and second overall in the general classification, Kyle Ward said the fierce competition is testament to the outstanding quality of the field assembled this year.
"There is a real good quality of field here this year and you can tell with the very small time gaps. I saw the fire department sign that said, 'Very low fire danger' but these guys are sizzling, and I thought that the way everyone is riding it should have read 'Catastrophic'.
"Brendan is one of the best stage race/marathon racers in Australia and has proven it many times, so if you can't get rid of him early on, your chances of getting rid of him are very slim. I pushed as hard as I could. Looking at my data I am going to say I couldn't have done any more to get anything out of today's stage."
"We will see how the legs recover for tomorrow because it is going to be like a road race for 15km, then there is some really cool single track at Middle Earth and all that is just about staying on the wheel in front, keeping it smooth and conserving energy for the 15km road race to the finish. I am lucky I have a road racing brother and hopefully we can just keep neat and tidy, and we will get to the end of this great event with something to celebrate," he said.
After losing time on stage one, Cameron Ivory has been playing catch up and trying buy back time on every corner he was committed to 'red lining' for the entire stage.
"I am running out of kilometres to drag some time back and find some gaps. I knew having so much single track today suited me, but I just couldn't seem to get a gap, they weren't giving me an inch. I managed to get away from everyone but Trekky (Brendan) and Kyle were just sticking to my wheel really hard."
"We are all at a very similar level and can't ride away from each other, so we just need to keep the pressure on and hope for a mistake. That is where the gaps are coming from, with someone stuffing up and dropping the wheel. I am going to hit the single track hard again tomorrow but then there is a long commute back into the finish, so that is where I could come unstuck. But guaranteed I will be giving it a red hot go," Cameron said.
Women's leader Holly Harris is about to make her Cape to Cape dream come true and not wanting to tamper with a winning formula, in typical 'Holly style' she is determined to have a blast in stage four.
"I am stoked with that, I had so much fun today and I couldn't get enough of it. Usually I am not a fan of the rain, but it just made the trails so tacky and awesome. I got dragged around by one of the locals and he was just shredding, and I was holding on for dear life thinking "Surely, you can do this Holly'.
"Tactically I am a bit of a doofus, so I must enjoy the trails. I just love to make the most of it. We are all out here on our bikes and we are really lucky, so tomorrow I am just going to have fun. Cape to Cape has always been one of those races where I have watched all the elite women killing and thinking one day I want to do that, I want to be that good. It is very special to wear the 'pink' here," she declared.
Second on the GC is Swiss Xterra specialist Renata Bucher who was so impressed with the event last year she has returned for another crack at Cape to Cape.
"I am a lucky Swiss who lives half a year here in Australia, so I am a half Aussie. They call me a Swaussie and I am proud of that and it is great to have another Swiss rider Andrin Beeli here this year. We should have more Swiss here riding these wonderful trails. I finished second again today, so I am happy with my riding and being in the top three. There is only one stage left so I will give everything to keep my position. It is a pleasure to be back here at Cape to Cape and giving Holly a little bit of a hard time has made me happy," she said.
Cape to Cape's 'Lazarus' award goes to third placed Samara Sheppard who surprised everyone, including herself, in not only making it to the start line for the third stage but remaining on the podium.
"I stuck to the old white rice diet for all meals and that is how I am here. It is great to be out there. There are so many great people and the trails today were incredible. I tried to race at the start, but the white rice energy ran out about half way. From there it was just about enjoying the stage. After what I have been through I can't believe that I got third today and still third in the GC. I am super happy. It is amazing what the body will do when the mind wants it to push. I just want to be out there and enjoying it. I didn't want to miss out on the fun, it is way better than staying in bed," she said.