"It is great to string the three races (Port to Port, Reef to Reef and Cape to Cape) together in the one calendar year," Johnston said. "Winning the Triple Crown, going back to back at Cape to Cape and winning the final individual Cape to Cape before it moves to the exciting pairs format is really special. To be able to win every race is a dream. I am so stoked."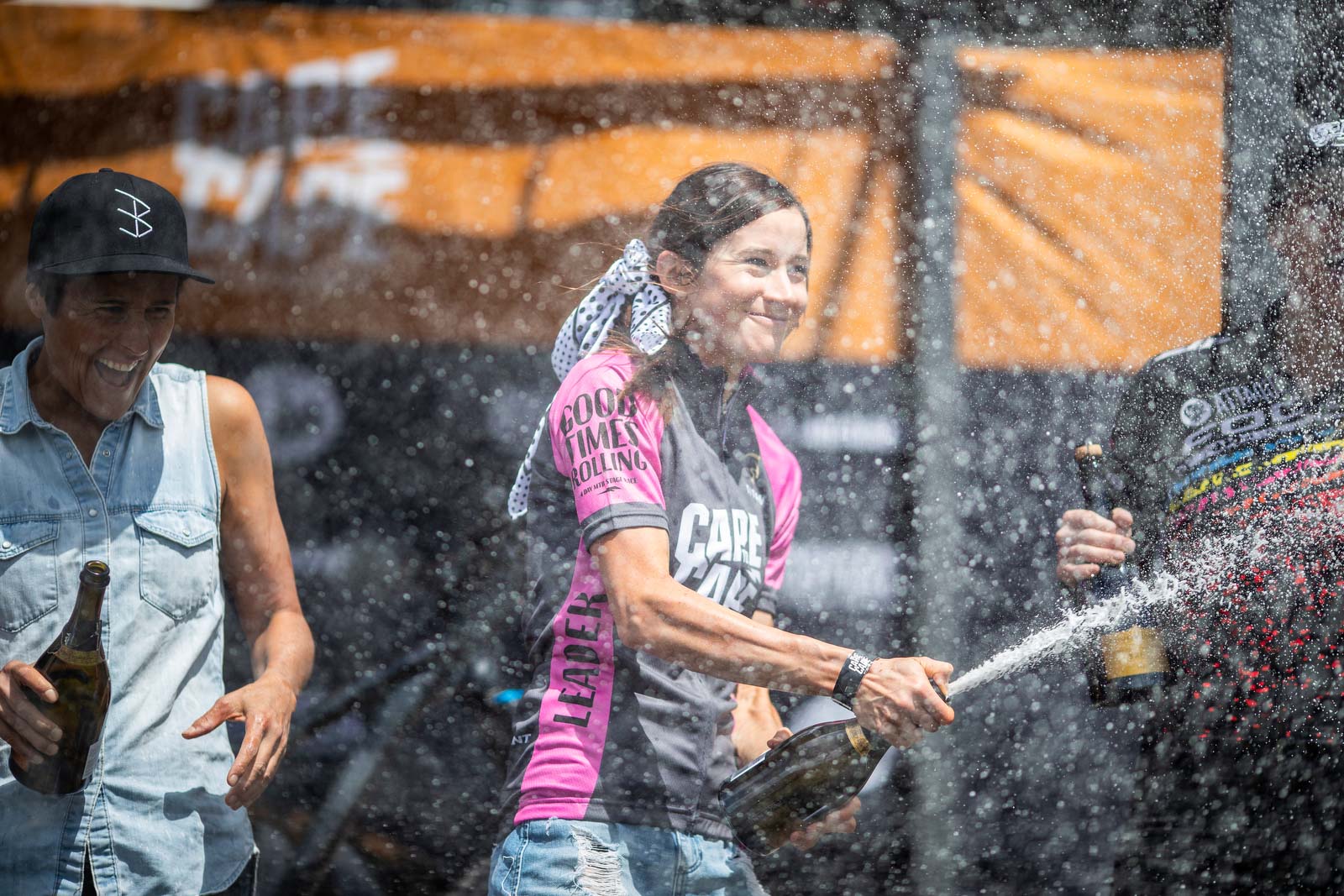 As a young rider Armidale's Holly Harris longed to race her idols at Cape to Cape and her dream of joining them on the honour roll finally came true, winning three of four stages and the overall in general classification.
"It is nice to bookend my season with Port to Port and Cape to Cape wins. Hanging up the Port to Port and Cape to Cape pink jerseys is going to amazing. At the start of the year I wouldn't have expected to have ever done that. I am in disbelief really. I am very, very happy," she said.
Johnston said the 2018 Cape to Cape was one of the toughest events he has ridden, making the defence of his title all the more satisfying. He was full of praise for all the riders, especially the second placed Kyle Ward who was determined to break him on today's final stage.
"I haven't had an easy day in this year's Cape to Cape. In previous events there have been sections of stage where you can back off and just enjoy the single track but this year, because it has been so close, there is none of that at all. It has been 'on' the whole time because the guys in third and fourth and fifth are close as well so when someone goes, they go as well. There has been no let up."
"Today it was just hectic all morning, the pace is hot all morning but the first bit was really fast and there were guys from deeper in the pack up among it. They are entitled to be there, but that meant I had to fight them as well because I wanted to be at the front of the race. There are sticks that can go through wheels or derailleurs or anything can happen, or if I got a puncture was race over. So, I had to stay safe and ride at the front."
"Once we got to the single track I let Kyle in the front because he was the one that had to attack today and he did. The whole Middle Earth section he just gassed it and I was just fighting every centimetre to stay with him. It was really wet in there so the corners were really slippery and you just had to concentrate so hard. It was very draining to hang on through there but I managed to stay with him and I think Kyle blew a little bit because he was going mighty fast. He had to go hard, he had no option."
With about 7km to go the work of Johnston's four day campaign nearly came undone with a brain fade on a water crossing.
"I lead into one of the creek crossings and I don't know why I tried to ride it but I went straight over the bars, corked my leg, the bar were all twisted and I had my head fully under the water. When I surfaced Kyle had gone and he probably had 20 or 30s lead at that stage, so I had to chase back on with the bars all twisted up, my helmet all over my face, it was just crazy. I had a mighty tough day in the office but I am very stoked with the result. When it is that close you are literally fighting for metres, so this win means a lot," Johnston said.
The second place Kyle Ward had thrown everything at Johnston trying to force a mistake and gain valuable seconds, but the error never came and eventually the four days of riding took its toll.
"I literally couldn't have ridden that single track any faster and then it got to a point where I started making a few mistakes and I was a little bit too tired. It was the fatigue from the previous three days and the way out to the single track was on and off the whole way and that sort of stuff after three solid days is hard to recover from. Brendan fights really hard for a win and I did what I could to test him and see if he was gonna let me go but that wasn't to be. There was too much on the line. The prizemoney is one thing but this is event has been so popular for so long that the title against your name means a lot."
"When you have two guys who have a similar threshold and strength in the legs and are both similar builds, you are equally matched. We had done the same racing which meant I was as equally as tired as he was so I couldn't expect to make nine or ten seconds out of one move."
"On the way back to the finish we shook hands, said thanks for a good week and he left the sprint uncontested. I took the stage and he took the overall. We are going to have a beer and celebrate a good week of riding. I just have to come back and try again. I am proud of second but it is a shame I couldn't latch onto number one but I am stoked to have pushed him as hard as I could. I go away pretty happy," he said.
Perth rider Reece Tucknott had a sensational week of riding and scored a breakthrough, collecting his first ever Cape to Cape podium.
"I had pretty good fitness coming in and stage three was a really tough day and I wasn't sure I could recover. I have been trying for a few years to get on the podium here because it is my home stage race. I am pretty stoked to get on the podium. In terms of the overall this is the best result for me, previously my best was sixth. I had a stage win in the past but consistency is the key and I am very happy to come away with a podium spot," he said.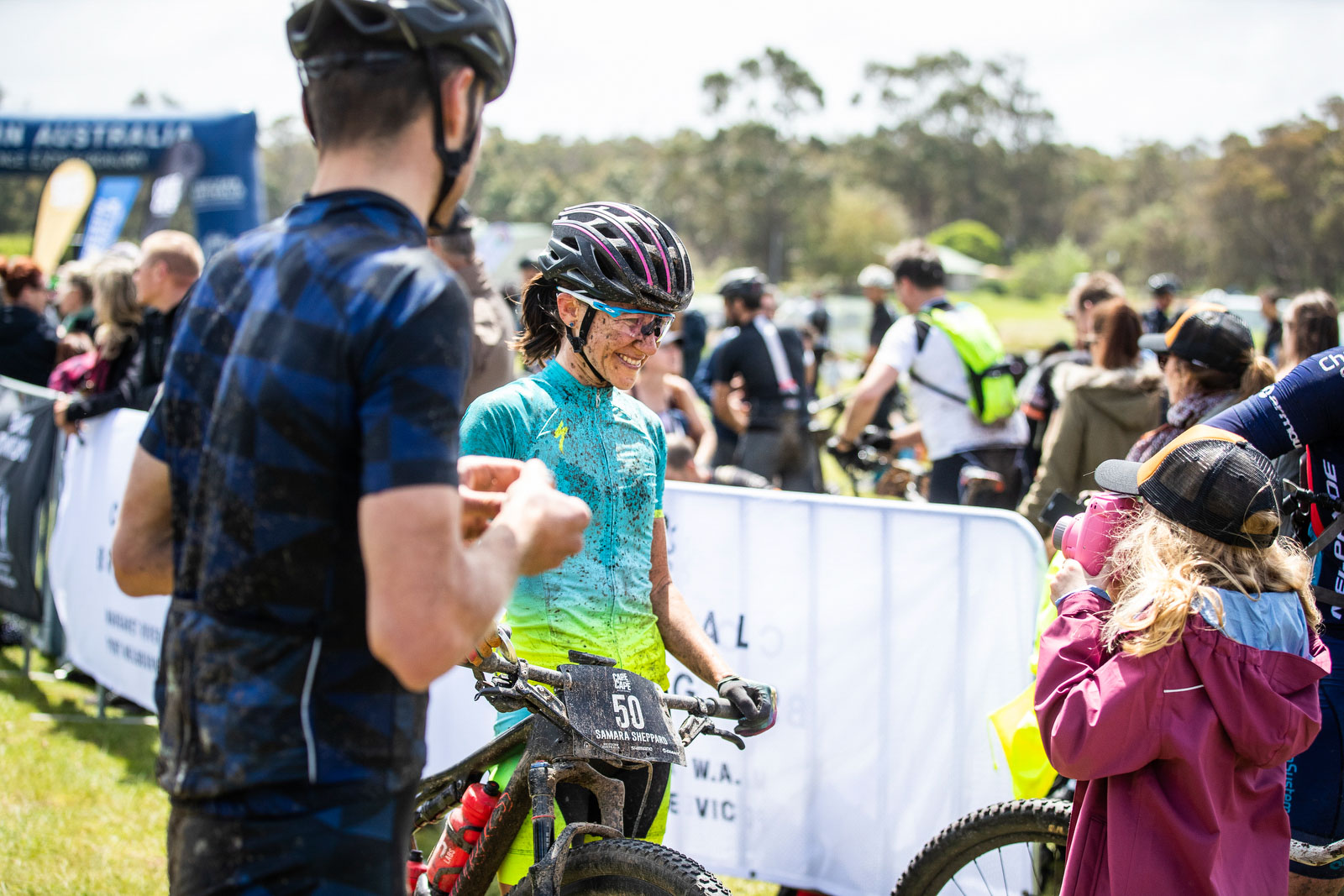 The fatigue of four days of furious racing had taken its toll on all the riders, even the ever smiling Holly Harris was totally spent and struggling for words to describe her amazing win.
"I was riding a little more conservative than I would normally be, especially over the rocks because I didn't want to get a puncture or have anything like that go wrong but I was going as hard as I could. You really burn a lot of chips in the Middle Earth stage and it was a challenging day on the legs, especially after three days of racing."
"I am so stoked to cross the line today, I really suffered and was surprised to get the stage win. It is definitely nice to have this win and to tick that box, I couldn't have written this race better. All the hard work has paid off and it makes me so happy. I feel like I am going in the right direction."
Holly said she will kick back tonight to let the win sink in and then take a well earned break relaxing with family and friends before getting onto her road bike.
"I know I am going to be under pressure from the TLR (Tight Line Racing) guys to have a beer to celebrate, so it might be on the cards," she laughed. "I am so excited to take a break now, the legs and the head are a bit tired, so it is time to put the feet up for a little bit before I start to prepare for the Road Nationals in January," she said.