Racing, at its core, is all about pushing yourself, and suffering. The rider who is willing to put themselves deepest into the pain cave is the one who'll triumph. It's not always pretty, but holy hell is it good to watch. And today's final stage gave us a display of gritty, honest mountain bike racing on a super fast 67km run from Colonial Brewery to Dunsborough.
We know that what happens at the elite end of this event doesn't matter a damn to most participants – every participant has their own tale, all of them full of great highs and lows – but please indulge us for a few minutes, because what some of Australia's best mountain bikers dished out this morning en route to Dunsborough was hard-out racing at its finest.
Mark Tupalski came into stage four with a 38 second lead over Kyle Ward. By rights, he should have been feeling pretty confident – while Ward had won two stages, Tupac had kept him within arms reach at all times. All he had to do was mark any attacks and avoid a mechanical. But that strategy didn't factor in a very large man from Victoria, or a wily racer from WA, both of whom came out firing and determined to rattle the cage.
So often stage racing is often all about tactics: teams working together to control the pace, the result almost a forgone conclusion, as groups coordinate to quell any surprise attacks. But not this time around, no way.
Paul Van Der Ploeg arrived in WA "undercooked" and recovering from injury, but rather than fading throughout the event, he's ridden into form. Today he fitted the biggest chain ring he could find to this bike, and dropped a Watt bomb that blew things apart. Getting on the front early, he and Craig Cook drove the pace so hard that the support staff and photographers struggled to leapfrog the lead bunch in their vehicles. "That's the first Cape to Cape I've ridden where it has blown apart like that, it was just attack, then attack and attack," said Tupalski.
Ward and Tupac quick to admit that Cookie was the strongest rider in the bunch today, not relenting for a second. "It's the way stage racing goes," said Cook, "some days you feel good, others you don't. But I don't think the Cape to Cape has had a brutal, hard day quite like that in previous years."
As the lead four of Ward, PVDP, Cook and Tupalski flogged themselves trying to make an attack stick, the ever-present sand came into play once again. At 40km in, Ward and PVDP picked the better line in a soft sand stretch, while Cook and Tupac got bogged and floundered allowing a gap to grow. "When that happened, I turned to Kyle and said 'If you want this race, we go now'." He towed Ward away with him, leaving Tupalski and Cook dangling in the wake.
"I didn't want to turn back and count seconds," said Ward, "because that's not what it's about. Today was just about getting to the line first." If he had turned around, he would have seen a charging Cook bearing down on him, with Tupac on his wheel. The four riders came together again with less than 10km to go, but once again the sand ruined the party for Tupac, and he lost contact. "Once it was the three of them against me, I knew that was it," Tupalski admitted, "I just didn't have enough left after three days of racing."
But even then the drama didn't end. On the final climb of the race in the singletrack of Meelup, Van Der Ploeg's chain threw its hands up in defeat, exploding in the face of the big man's torque. His day done, he still managed to scoot his way to fifth place, with the ridiculously strong Master's rider, Jon Gregg (or the "freakshow" as Ward dubbed him), passing him for fourth.
As Kyle Ward hammered across the line for his third stage win, the silent count began – could Tupac limit his time losses to less than the crucial 38 seconds? When Craig Cook came into view and Tupalski was nowhere to be seen, Ward knew he'd pulled off a legendary come-from-behind victory in one of Australia's most prestigious races.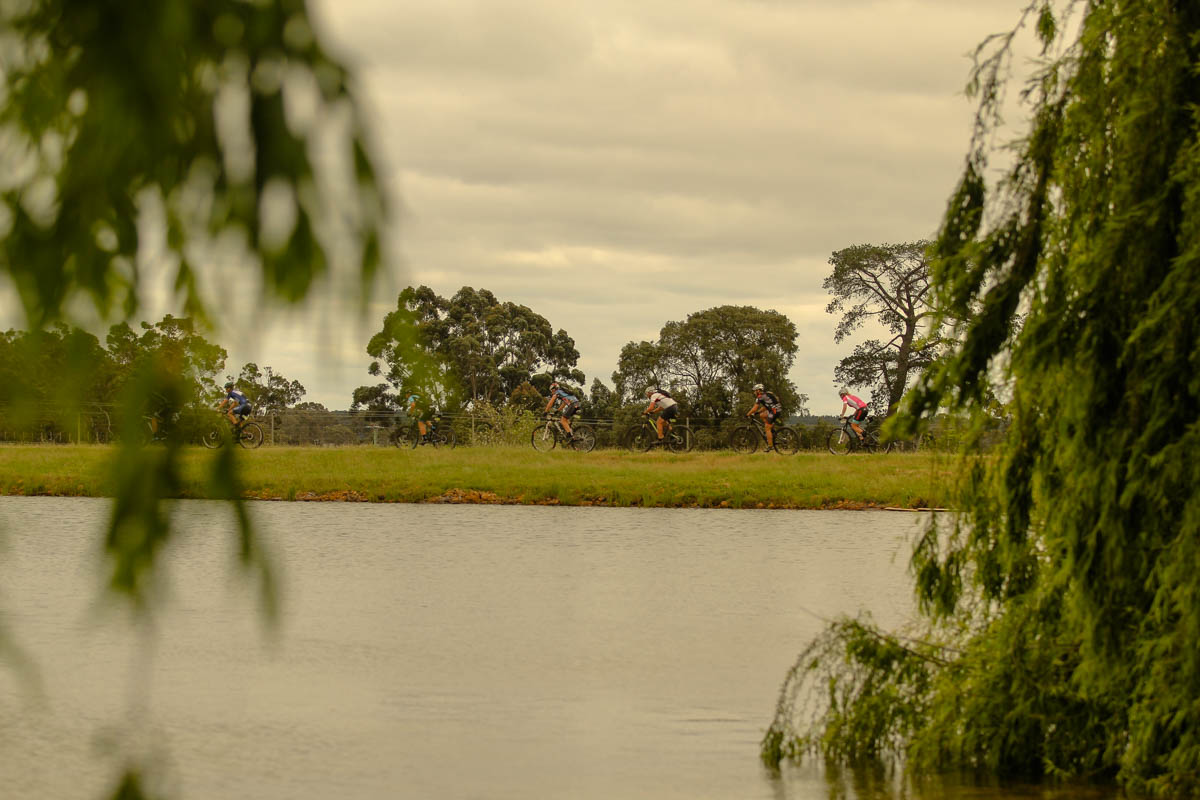 Despite being quite clearly stuffed, Tupalski was philosophical. "If anyone was going to take the lead off me, I'm happy it was Kyle," said Tupalski of his good friend. "We've both got a similar kind of style of racing. Go hard, and if you can hang on, good on you. Kyle deserves a big win – he's a bit of a dark horse and doesn't get the recognition he's worthy of, so it's really good to see."
"I definitely wouldn't be here if it wasn't for Mark, he's the one who invited me and encouraged me to come," said a humble Ward. "Getting the win is one thing, but to be alongside with a friend on the podium together is a real bonus."
Peta Mullens continued her unstoppable run again today and secured the win, but not without being stretched by a determined Imogen Smith. "I had full intentions of having an easier day today, but Imogen wasn't going to let that happen," said Mullens. "I managed to get in a tiny gap on a descent, about two seconds, but that was just enough to let me make the jump onto the back of a bunch when we hit the tarmac and she missed it. In the end I rode the last 10 kay on my own, so I'm pretty buckled!"
Smith's gusty racing today cemented her second place overall. "It was an honour to race with Peta today," said Smith, whose race finished on a bit of a high. "Yesterday was a tough one for me, but today I had the time of my life."
With the West Australian sun hammering down, the rest of the huge field, variously limped, rolled or sprinted (and occasionally crashed) under the finish arch on a fairway at the Dunsborough Golf Course. The antics at the front end didn't matter to them – the elites may as well have been riding a different race altogether. Chaffed, stiff, buckled and overwhelmingly happy, they'd made it, through over 200km of racing and now had a medal around their neck to prove it.