Crankworx is back babeeee, and the world's best freeride athletes have set a course for Cairns this May, with the festival running from May 17-21.
"Now hang on just one minute," we can hear you saying. "Wasn't Crankworx just here?"
It sure was, with the festival landing in Aus for the first time back in October 2022, but the World Tour schedule has reverted to its pre-pandemic order, and Rotorua has been returned to its rightful position at the top of the order.
We're preaching to the choir when we say that Australia and New Zealand are pretty far away from…well…just about everywhere. So, to give the riders the most bang for their buck, Cairns has been moved to complement Rotorua — it should be a few degrees cooler too.
Related
Where is it, and how do you get there?
Smithfield already has a pedigree for hosting international events, with UCI World Cups and World Champs and now Crankworx sending riders into the rainforest.
Just behind James Cook University, which is about a 20min drive from the Cairns Airport, and about 7km from the beach. You can ride in from your accommodation, and with the university is right there, there are also regular bus services — google is your friend here.
What's new for 2023?
With a few months to go ahead of the festival, the event team is still ironing out the details on what the festival will look like, who will be bringing gear and running demos at the expo, and the lineup for live music and entertainment.
World Trail and Elevate Trail Building are working their magic on the Slopestyle course as we speak to improve trickability, flow and speed. They're not quite ready to lift the veil on what they've been working on, but we'll keep pestering them to find out more.
The biggest change for this year is with the downhill, with the finals now taking place on Sunday, and there will be an extra day of training for the athletes to dial in their lines. Along with that, Crankworx has completely overhauled how the DH series will run across the four stops. There's a new points system, an award paying homage to Steve Smith's legendary 1199 series points total and puts $10,000CAD (approx $11,040AUD) up for grabs for riders who can crack 1,200 points.
What this means is you can expect a STACKED field at the Cairns DH.
Kidsworx was such a hit last year for the mini-shredders that Crankworx is doubling the entry capacity.
The 2023 event schedule
Crankworx packs quite a lot into a weekend. There are training sessions and events happening from 8am till 5pm every day of the festival. But to sort through the noise, here is when the finals of each event going down — all times are listed in AEST.
Thursday 18 May
Friday 19 May
Saturday 20 May
Pump Track 10-11:30am
Slopestyle 3-5pm
Sunday 21 May
Spectating tips
The course at Cairns was built specifically for Crankworx and it's laid out so that you can get a great view of the Whip-Off, Speed and Style and Slopestyle right from the finishing bowl. There is plenty of access to the events, and you can work your way up the hill to get a better view — and you absolutely should. The event team has told us it's working to increase the spectator zones so there are even more places to get your heckle on.
Our top tip is to move around, don't get stuck in one spot. There are so many features on these courses, take full advantage of this free reign — you won't regret it.
The outlier, of course, is the downhill. Utilising the World's DH course constructed for the UCI World Champs in 2017. There is a specific spectator access route, with viewing points along the way.
While you'll be able to see the trail along the majority of the spectator route, there are four defined 'viewing points.' These are your cheat sheet to witness the race-defining events and carnage of the day. The Alien Tree and top rock garden are where things went absolutely gangbusters last year, and that's where we'd be making a b-line for.
When you're out on the DH course, don't forget that Cairns is the land of vines with thorns and stinging trees. The trail crew do a great job of keeping these spikey plants in check, but Smithfield is a deep dark rainforest so be mindful.
Also, keep an eye out for Smithfield's resident reptiles. While they may look cuddly as a cucumber, don't be the guy at the bar with a goanna bite.
After you've built up a mighty thirst from all the hiking you've done, the bar just so happens to be right across from the finishing bowl.
What if you can't make it to Cairns?
Not to worry, as Red Bull TV will be there with a boatload of cameras covering all the action.
Where can you ride?
The obvious choice for a pedal at Crankworx would seem to be Smithfield. However, the trails will be closed to the general public for the duration of the festival. One trail within the park will be open for bike demos, but the majority of the network will be in sleep mode for the weekend.
Even with Smithfield closed, plenty of riding is available around Cairns, and you'd be silly to go all the way up there and not check out the surrounding trail networks.
The closest option is the Kuranda DH, about a 15 min drive from the Crankworx Festival. Steeped in history, this 2km DH is just as rough and rowdy as it was in the 90s, but it has blossomed into a bit of a mini-bike park. There are a veritable rabbit's warren of offshoots leads to off-camber roots balls, rock gardens and roller coaster berms.
About 45m up into the tablelands from Cairns is Davies Creek. With about 50km of trails and 1000m of climbing, you trade the lush rainforest for hard-packed and dusty trails through endless scrub and wide open bush, with singletrack using giant orange termite mounds like dual slalom gates.
A bit further into the Tablelands, you'll find Atherton. Gaining about 700m of elevation above Cairns, it's a bit cooler, and the landscape changes again.
There's 55km of trails that leave literally from the centre of town, with a network of green trails on the floor of the Silvia Valley and more advanced offerings higher in the hills. Check out our full ride guide to Atherton here.
What else can you do?
Cairns is the gateway to the Great Barrier Reef, and even if you've been a million times, it's worth setting aside a day to jump on a charter — it is one of the seven natural wonders of the world after all.
For the land lubbers, Cairns and the surrounding area are home to some of the most epic waterfalls and swimming holes on this side of the Sunshine Coast. Stoney Creek is only a few minutes from the bottom of the Kuranda DH, or further afield towards Atherton, there is a whole Waterfall Circuit; a 17km sealed route that hits Millaa Millaa Falls, Zillie Falls and Ellinjaa Falls.
If all this chasing of waterfalls has left you thirsty, Billy Cart Brewing is a great spot to wet your whistle in Atherton. We're also partial to Hemingways in Cairns.
Back in Smithfield, AJ Hackett is the bike park's next-door neighbour — you know, the Kiwi bloke known for bringing bungy jumping to the masses. Sky Park Cairns has been around since 1990 and boasts 16 jump styles, ranging from traditional bungy, to walk the plank and the Minjin Swing.
After taking in all the action at Crankworx, snorkelling at the reef, disregarding TLC's advice about waterfalls and bungy jumping, you may need a day or two to unwind and reset. Mission Beach is a tropical paradise ideal for some R-and-R. Want to know more about what there is to do around Cairns and the surrounds? Click here
Where can you get festival passes?
Festival passes are on sale now! Head over to the Crankworx website for more details.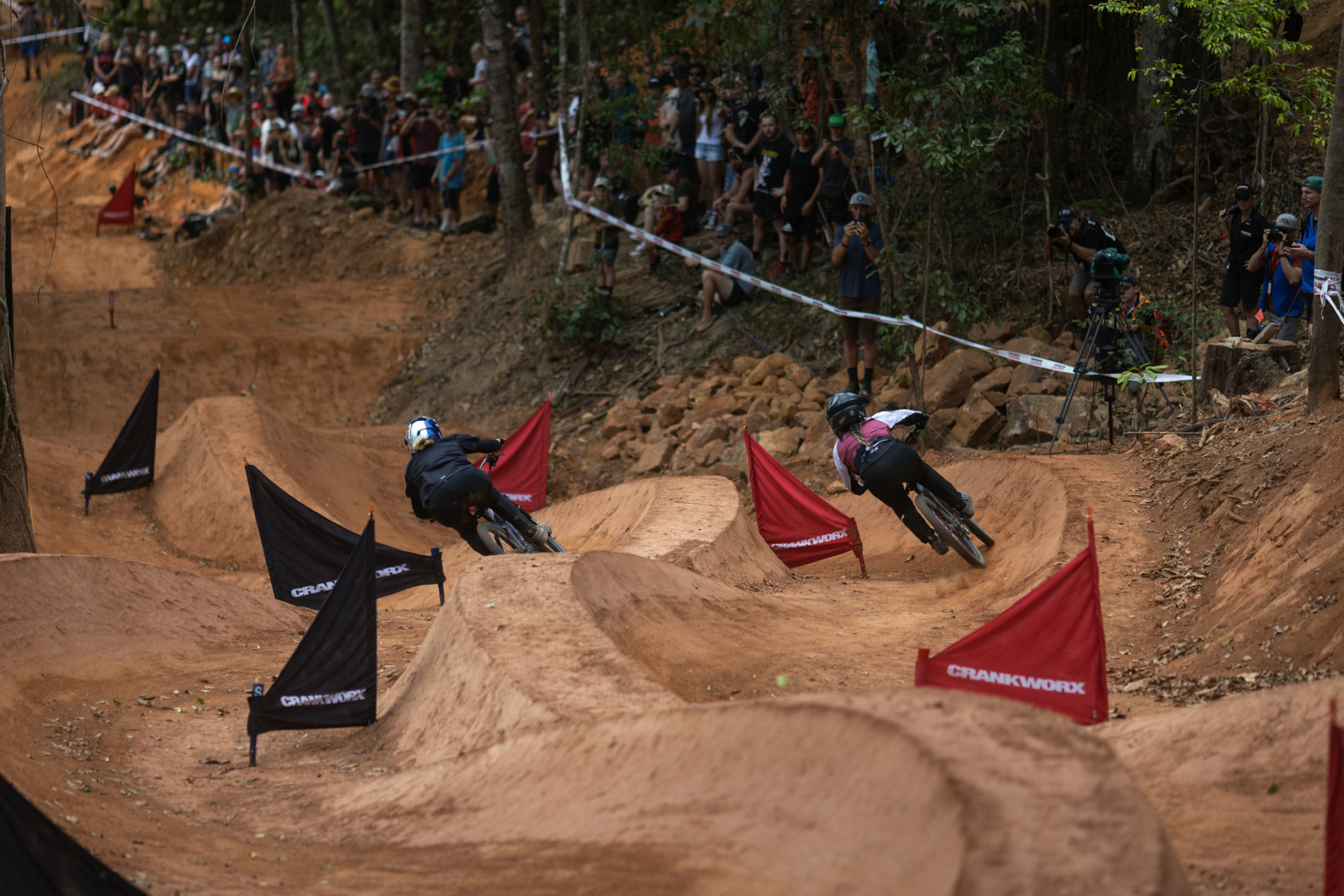 ---
Photos: Clint Trahan, Con Chronis, Adrian Tuck