The Dragon Trail three day stage race is back for 2022, sending riders onto the trails around Derby and St Helens from 17-19 March.
This should have been the third edition of the race; however, the first event was scheduled for March 2020, and well, you all know what happened.
We caught up with Race Director Louise Foulkes to learn more about this year's event, what's changing from last year, and what riders can expect.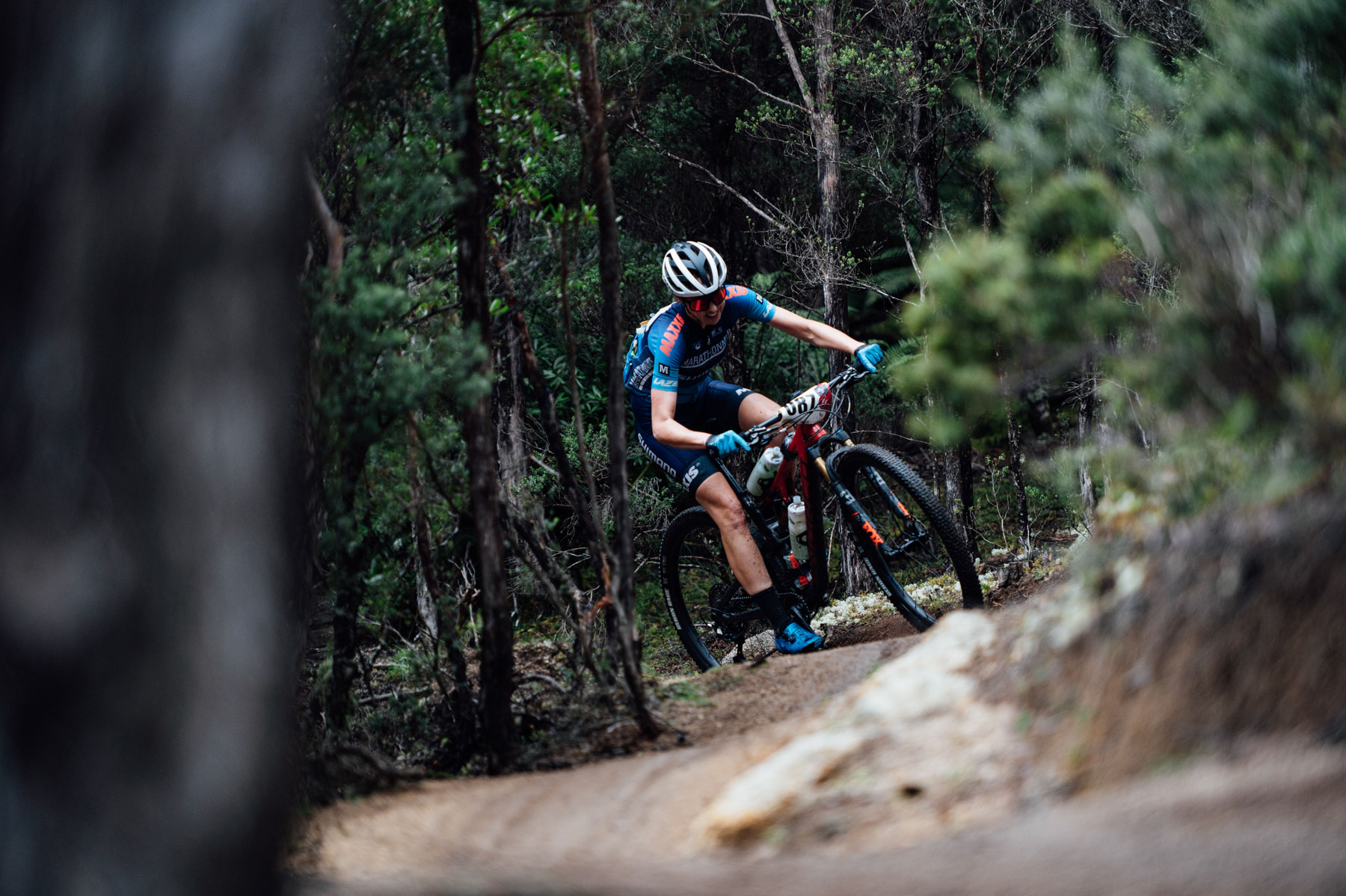 What is the Dragon Trail?
Set in Tasmania's northeast, the course roughly follows the 'Trail of the Tin Dragon', a route Chinese settlers travelled in search of tin. As luck would have it, this passage runs through Blue Derby and St Helens.
The race kicks off with a 5km prologue to determine start seeding. Then riders are set loose on Blue Derby to pedal trails like Axehead, Dam Busters, and Sawtooth before heading through the Derby Tunnel and towards the Blue Tier. After that, it's a grind up to Frome Lake that's rewarded with a descent of Big Chook to the finish line on the front steps of the Weldborough hotel.
Day two is the longest of the three stages, sending riders over the top of the Blue Tier and down The Bay of Fires Trail to finish on Swimcart beach.
The Dragon Trail finale heads for St Helens Flagstaff Trails, weaving through the stacked loops and the Dreaming Pools Wilderness Trail — the ideal spot for a mid-race dip.
"I feel like it was the closest experience that I've had in Australia to the BC Bike Race because it incorporates technical trails that aren't you're super smooth cross country style race track," says Jon Odams, who took third place overall last year.
"I think it's a great event for the general rider who just wants to ride singletrack, more so than your traditional big stage race. You could just ride the courses and have amazing fun, and it wouldn't just be a physical challenge like some of the other races are," Odams continues.
Improvements from last year
An event in its first year will have growing pains because it's bound to present a unique set of challenges, which are wholly impossible to predict.
"Last year was the first time we'd ever run such a beast of a race. One of the biggest things is the whole race is a huge journey, and we have a big carnival that packs up each day and moves onto the next location where we set up the campsites, and everybody rides between them," says Foulkes.
"I thought it was a really well-run event, and they did a great job for their first year. The trails were really well marked, and they picked really, really fun tracks," says Kathryn McInerney, who was third in the Women's elite.
After receiving plenty of feedback from the inaugural Dragon Trail, Foulkes says they have a better solution for the staging areas and the finish line and will be jazzing everything up with additional flagging and signage to help the process run more smoothly.
The other significant improvement Foulkes says is with the food.
"We certainly had some food teething issues. We're working in a fairly remote part of the state, and in the middle of the Covid pandemic, all of the operators kept going under, and that led to a lot of last-minute changes on the food," she says.
"I think we all learned from last time and have worked with a lot of the operators and the locations to have things sorted (for 2022)," Foulkes continues.
For this year, there won't be any breakfast boxes. Instead, riders can either BYO or the race organisers will host a bacon and egg BBQ each morning. There will also be a breakfast-oriented food truck and more campsite and social hub options.
Part of the emphasis of putting on an event like this is to create employment and bring money into the businesses in the region while also raising funds for the trails themselves. Foulkes tells Flow that many local businesses have bounced back and joined forces to make the event bigger and better than ever.
Racing format
With mass start mountain bike stage races being so widespread throughout Australia, many folks were taken aback by the format of the Dragon Trail, which saw riders set off one at a time.
McInerney was one such rider caught a little bit off guard by the individual format and would have preferred a mass start event. She is also aware that the majority of riders entered in the Dragon Trail may disagree with this stance.
"Then you're properly racing someone; when they attack, you go with it. When you're not riding with anyone, it just becomes a time trial."
According to Foulkes, there was a method behind their madness, and the reason the event ran this way was to prevent traffic jams.
"There is so much singletrack, and it's not like a lot of other events where there is fire trail where riders can pass. It's pretty unique in this area, and it is sort of impossible to add that in without ruining the course, so there was always an emphasis on spreading people out," she says.
While there was a commotion in the elite field about this TT-Esque racing arrangement, Foulkes tells Flow that the feedback they received from the vast majority of the field was pro staggered start because it removed some of the pressure involved with passing.
"I feel like that was something that they had to do because of the singletrack nature of the courses. The courses were awesome, and you've gotta do what you've gotta do to make it fun for everyone," says Odams.
With a field capped at 500, Foulkes says this year; riders will start in waves of 20 people. The prologue will determine the initial start seeding, and it will be based on your finishing position for the remaining two stages.
The race village
Part of the allure of the Dragon Trail is you don't have to worry about accommodation or transfers; you live in the race village for the duration of the event. The organisers pack everything down while you're out on the course, and it's set up and waiting when you arrive at the end of the stage.
"It was really nice to have the event hub that people camped around at night. That atmosphere is something that no other event I've been to in Australia really had," Odams says.
The courses are designed to take the leaders between two and three hours and will stay open for a total of eight hours to ensure all the stragglers can finish. This leaves plenty of daylight for you to kill in the race village after you're cleaned up, fed and watered. So the team from Dragon Trail organised activities to keep you entertained.
"We've got everybody in the campsites, and it's a unique opportunity to chill out and be together, but we also put on some interesting talks as well as live music," Foulkes says.
Mountain bike personalities like Justin Morris from Mindmatters Coaching, Mike Blewitt, Editor of Marathon MTB and Australian Mountain Bike Mag, and Michael Milton, Australia's most awarded Paralympian, will all be telling stories of big riding adventures. There will also be trials riders, performances from local musicians, and group yoga too.
With last year's event coming just after we'd all been locked away for 12-months, it's no surprise that folks were excited to see each other, and the festivities carried on. But it seems some were a bit overexcited, so for this year, the social hub will be open earlier post-stage and close down at 9 pm so everyone can get their beauty rest.
Covid-19 protocol
It's been a tumultuous couple of months with Omicron spreading like wildfire in every state, and Foulkes tells Flow the event team is closely following the guidelines put out by the Tasmanian Government as they evolve.
At the time of writing, there are no testing requirements to enter Tasmanian unless you're from an extreme hotspot — currently, this only applies to international destinations.
The entire event team will undergo testing before riders arrive and have protocols to monitor folks for symptoms and manage positive cases if they arise.
With this, the cancellation policy is designed to be flexible. For example, suppose you're diagnosed with Covid-19 within 30-days of the event or forced into mandatory isolation over the event dates. In that case, you'll receive a credit for a race entry into the 2023 or 2024 events.
You can find the nitty-gritty details here.
How to enter?
Entries are for the Dragon Trail are open now and will close on 3 March. The field will be capped at 500 riders, so if you're eyeing off the three-day race, we'd recommend you make some moves.
To enter or for more information, head over to the Dragon Trail website.
---
For more, head to the official website here. Dragon Trail MTB 2022.