It may only be the first winter edition of Flow's Fresh Produce, but those late summer evening rides on dusty trails already seem a lifetime ago eh? With numerous events having been cancelled due to the soggy conditions on Australia's east coast, and a recent cold snap seeing bucketloads of snow dumped on the alpine regions, our trigger finger is currently hovering over the 'BOOK NOW' button while reading our travel feature on mountain biking in Rockhampton. Sun, steaks and dry singletrack sounds pretty good to us!
There's certainly plenty of inspiring stuff going on further south though, with exciting new trail developments for both Orange and Eden in NSW. A good excuse to plan out a future riding road trip with the family or a group of mates perhaps?
In between rain showers we've also been busy testing out heaps of new bikes and gear, including the latest 2022 Specialized Stumpjumper and the impressive Fox 34 Step-Cast fork. We also wrapped up a long-term review of the Scott Spark, with six key changes that have cleverly turned it into a Spark RC.
In e-MTB news we've got our hands on the totally redesigned Canyon Spectral:ON for an Aussie-exclusive review. And for those of you out there with a Specialized Levo or Kenevo, be sure to check out our recently updated tuning tips article.
If that isn't enough to get your mountain bike Froth-O-Meter bubbling, then get yourself ready for a deluge of new goodies in this latest haul for Flow's Fresh Produce!
---
Fox Transfer Dropper Post
Newly unboxed at Flow HQ is this shiny Fox Transfer dropper post, which is destined for a special custom build that we'll be revealing in the not-too-distant future.
Compared to the first generation model, this latest Transfer offers significantly more travel in a package that is lighter and shorter overall. You can get it with up to 200mm of drop, and it's available in 25mm increments down to 100mm.
The clamp head has been redesigned to help minimise the Transfer's stack height, and the two bolts now angle outwards away from the head to make it easier when making tilt adjustments on the side of the trail with a compact multi-tool. You get a decent range of adjustment too, and the bolts can be detached from the top plate, which makes swapping saddles a less fiddly process.
On the trail the action is fast and quite a bit lighter than its predecessor. In fact, the Transfer is one of the slickest and lightest-feeling droppers on the market. You also get a satisfyingly solid 'thunk' at top out, useful for letting you know when the saddle has returned to full height.
Our test post is the Factory Series model that features a Kashima coating for the upper tube, which Fox claims is slightly more durable than regular anodising. Really it's about the looks though, so if you're not fussed on the gold, save yourself a hundred bucks and go for the cheaper all-black Performance Series version. They're still on the pricier side though, and it's worth noting that Fox sells them without the remote.
We've gone for a 150mm dropper for our custom build, which came in at 584g for a 31.6mm diameter. If you're after a lighter option, Fox also offers the Transfer SL, which is a super-light dropper that is only available with 50-100mm of travel.
---
Fox Decal Kits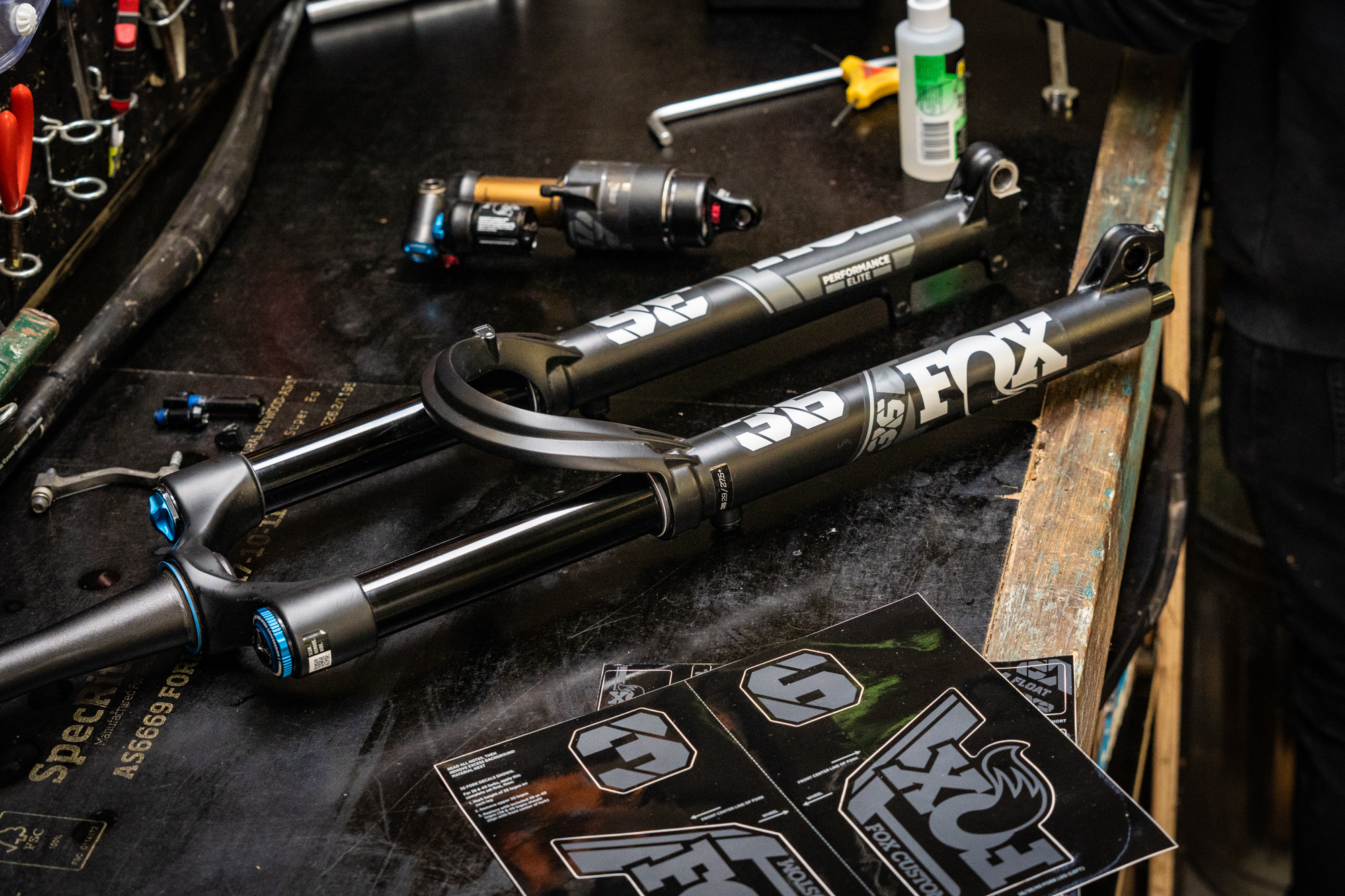 Who doesn't love a bit of customisation on their mountain bike eh? To complement its lineup of suspension forks and shocks, Fox Racing Shox offers purpose-built decal kits in a huge variety of colour options to provide the perfect colour accent to help your bike pop.
There are no fewer than eleven different colour options to choose from, including the 'Stealth Black' and 'Kashima' kits shown here. The decal kit includes three sheets, with graphics to cover the Fox 32, 34, 36, 38 and 40 forks, as well as the Float DPS, Float X, Float X2 and X2 shocks. That means if you own multiple bikes with Fox suspension on them, the one decal kit will cover up to five forks and five shocks if you've got the right combinations.
We recently enjoyed a bit of workshop therapy fitting the 'Stealth Black' decal kit to a Fox 36 GRIP2 fork and a Float X2 shock. A heat gun is a good idea for warming up and removing the old stickers, and you'll want to use isopropyl alcohol to clean the relevant surfaces of any grease or oil. Lining up the stickers is all pretty straightforward, and the end result is a subtle but thoroughly enjoyable custom touch.
---
FIST Gloves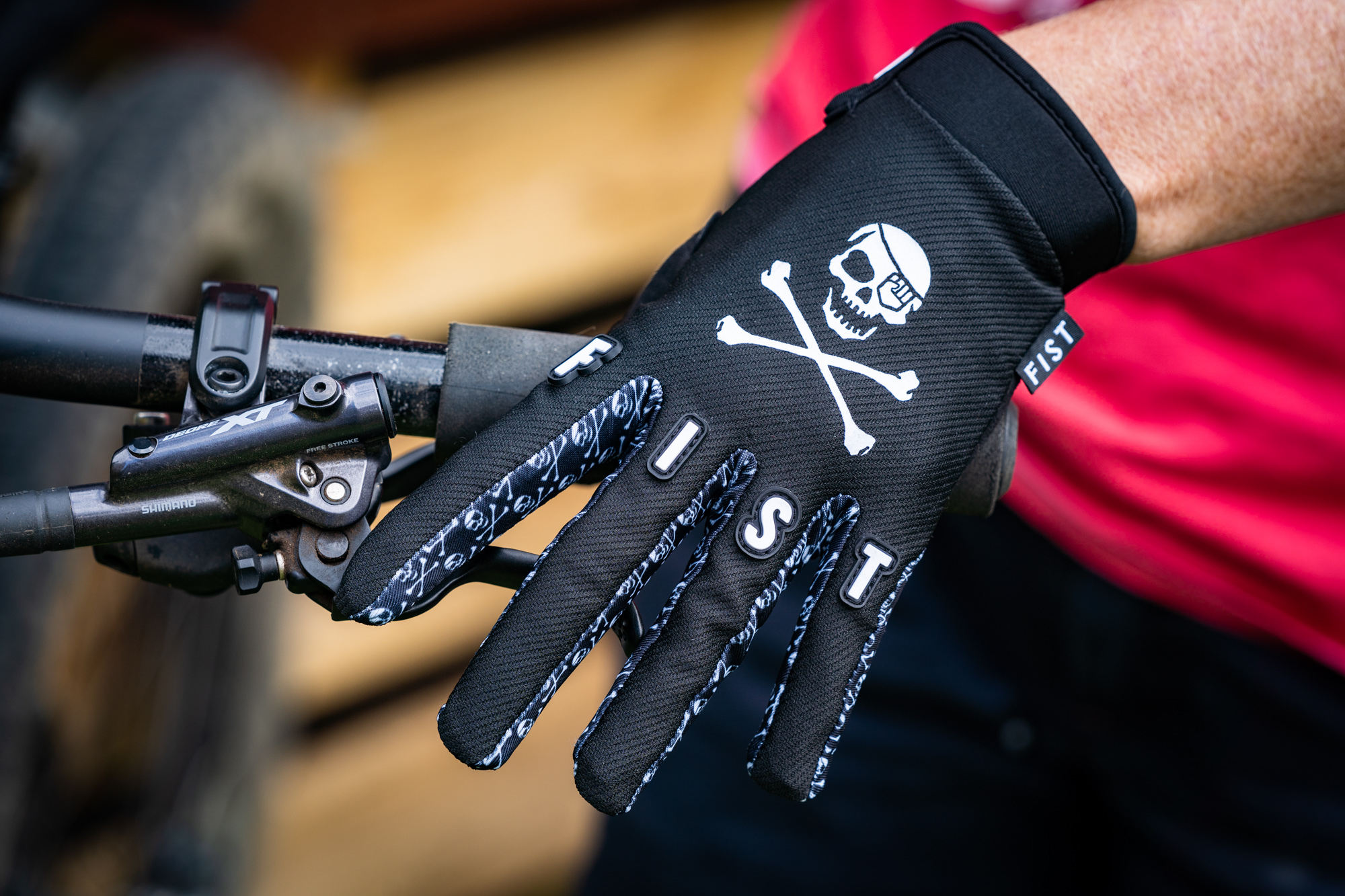 Aussie glove company, FIST Handwear, has continued to expand its range of bold and bodacious full-finger gloves with some of the most fabulous prints currently on the market. We're yet to find another brand that offers such a diverse range of colours and graphics, with everything from understated-mild to bat-shit-crazy-wild!
Designed for mountain biking, BMX and motocross use, all of the FIST gloves use a full-finger design. Most of these gloves feature a four-way stretch spandex for the upper, which provides a comfortable and flexible fit. The exception is the lighter 'Breezer' model, which employs four-way stretch mesh instead to provide better ventilation, albeit at the expense of durability. The Breezer gloves also get a soft sweat wipe along the back of the thumb, and they skip the rubber 'FIST' logos on the knuckles for a less intense look.
On all of the FIST gloves you'll find a single layer Clarino palm, which is free of any padding or stitch lines to provide maximum feel on the grips. Both the ends of the index finger and thumb are touch screen-compatible, and spandex gussets are used along the inside of each finger for flexibility. As well as providing a zillion different colour and graphic options, FIST gloves are available in sizes from XX-Small through to XX-Large, and in youth-specific options too.
---
Pedal Palms Gloves
If you're more of a half-finger glove person, and you find the 'FIST' branding to be a little full-on, then Pedal Palms may be more your style. As an offshoot of FIST, Pedal Palms produces a similarly enormous range of brightly-coloured gloves, albeit mostly based around a half-finger design (there are two full finger models in the range as well).
The Pedal Palms gloves use similar materials and construction techniques, with a four-way stretch spandex fabric for the upper and a single Velcro strap. You'll also find Clarino palms, but unlike the FIST gloves, these are furnished with gel panels that are designed to increase vibration damping. This makes them better suited to bikepacking, commuting and road riding, though it'll come down to personal preference as to what suits you.
Shown here is just a slither of the range, which includes the jazzy 'Lawn Chair', 'Sunset', and 'Zig Zag' colourways. As with FIST gloves, the Pedal Palms range is available in seven sizes from XX-Small through to XX-Large. We've found the fit to be plenty comfortable, and we dig the discreet loops that are sewn into the underside of the middle two fingers, which are there to help you remove the gloves at the end of your ride.
---
Specialized Power Pro w/Mirror Saddle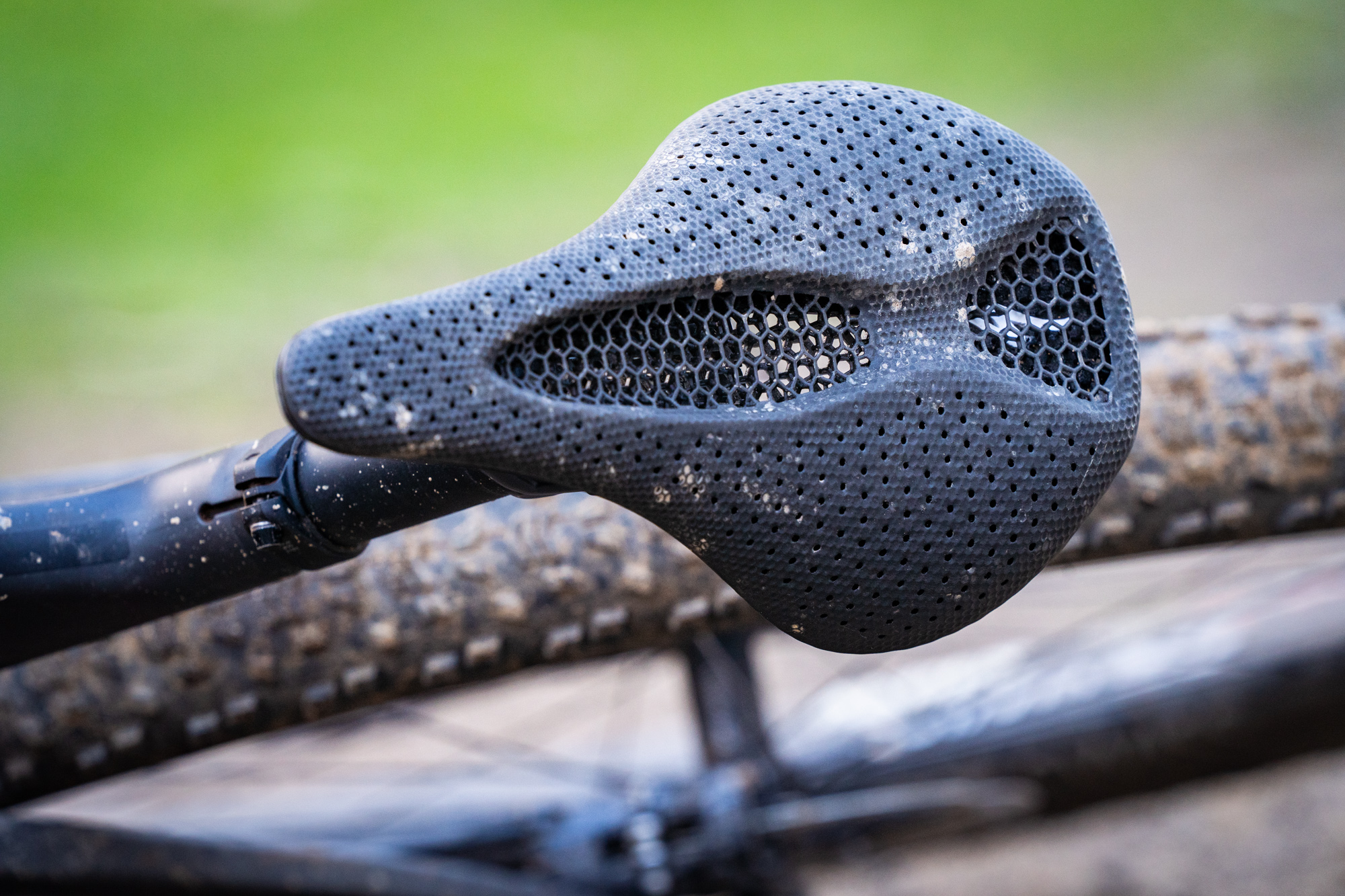 A saddle made by cyborg bees? Not quite – this is the latest Specialized saddle to make use of its wild Mirror technology, which is characterised by the distinctive honeycomb lattice structure.
Unlike a regular saddle that uses traditional foam and synthetic leather, Mirror saddles are built from a 3D printed liquid polymer to create a patent-pending matrix made up of 4,000 struts and 7,799 nodes. The result is a pillowy-soft upper that offers incredible damping, while still providing an uncanny level of support. It's unlike any other saddle we've used.
Mirror technology first debuted two years ago on the $690 Specialized S-Works Power saddle, which clearly put it out of reach for many riders. Bringing the price down by nearly two hundred dollarydoos, here we have the new Power Pro saddle.
While the Mirror-equipped Power Pro saddle features the same upper as the S-Works model, instead of carbon fibre rails you'll find hollow titanium tubing instead. The FACT carbon base is also gone in favour of a cheaper composite base, which is reinforced with nylon and carbon fibres that have been reclaimed from factory production. It's not exactly a revolution, but Specialized states this reclaimed carbon is the brand's "first step on the road to closed-loop production", so we're eager to see what other ideas it has coming in the future.
As with all Specialized saddles the Power Pro is offered in multiple widths. We went for the slimmer 143mm width, which weighed in almost exactly as claimed at 247g. That's around 65g heavier than the S-Works model, so not a huge penalty for mountain bikers who are likely to prefer the tougher metal rails.
---
POC Oseus VPD Torso
Fresh from Sweden, we've got our grubby mitts on the latest body armour from POC, the Oseus VPD Torso. This sleeveless vest has a chest plate and spine protector made from the brand's 'visco-elastic polymer dough', a non-newtonian material that's soft and malleable at rest, but hardens on impact to disperse energy before it can reach your body.
On the front, the VPD plate covers your chest and ribs, with a zipper under your left armpit so you don't have to dislocate your shoulders to peel the layer off when it's sweaty. This also means there is no gap in the coverage above your sternum.
On the back, the VPD protector runs the full length of your spine and there are three rear pockets, big enough for snacks, spares and tools. Alternatively, if you're only after a back plate, POC also offers the Oseus VPD Layer, which combines a long-sleeve wool-polyester blend base layer with just full-length spine protection.
The Oseus VPD Torso offers lots of coverage, and it's a helluva lot less bulky than the old pressure suit DH vests, or ninja turtle roost guards we used to wear.
The whole vest is made from wicking materials, and the VPD plates are perforated and covered in 3D mesh. Even still, it's a bit warm, and the Oseus is definitely better suited to shuttling than big pedally backcountry adventures.
---
2023 RockShox Pike Ultimate
In case you hadn't already seen our first ride review, RockShox has just unveiled the all-new 2023 Pike, Lyrik, Zeb and Super Deluxe range. It's a massive release that comes packed with key updates, new technologies, and more tuning options than ever before.
For trail riding there's the new RockShox Pike. Covering a narrower travel range of 120-140mm, the Pike gets an updated chassis that is claimed to offer improved torsional stiffness over its predecessor, while also introducing pressure relief valves and bolt-in adapters at the dropouts for non-Torque Cap front hubs. Those adapters are a simple addition, but they make fitting the front wheel so much easier.
It's all-new on the inside too, with all 2023 Pike models receiving the updated DebonAir+ spring. The top two models also get the brand new Charger 3 damper that is claimed to offer truly independent high and low speed compression adjustability, as well as near-silent performance thanks to its reworked rebound circuit.
The fork we have on test is the top-end Pike Ultimate, which features longer and higher quality bushings compared to the cheaper models. The Ultimate forks also get ButterCups at the base of both the air and damper shafts, which are rubber pucks that are designed to help soak up high frequency vibrations to reduce rider fatigue.
---
2023 RockShox Lyrik Ultimate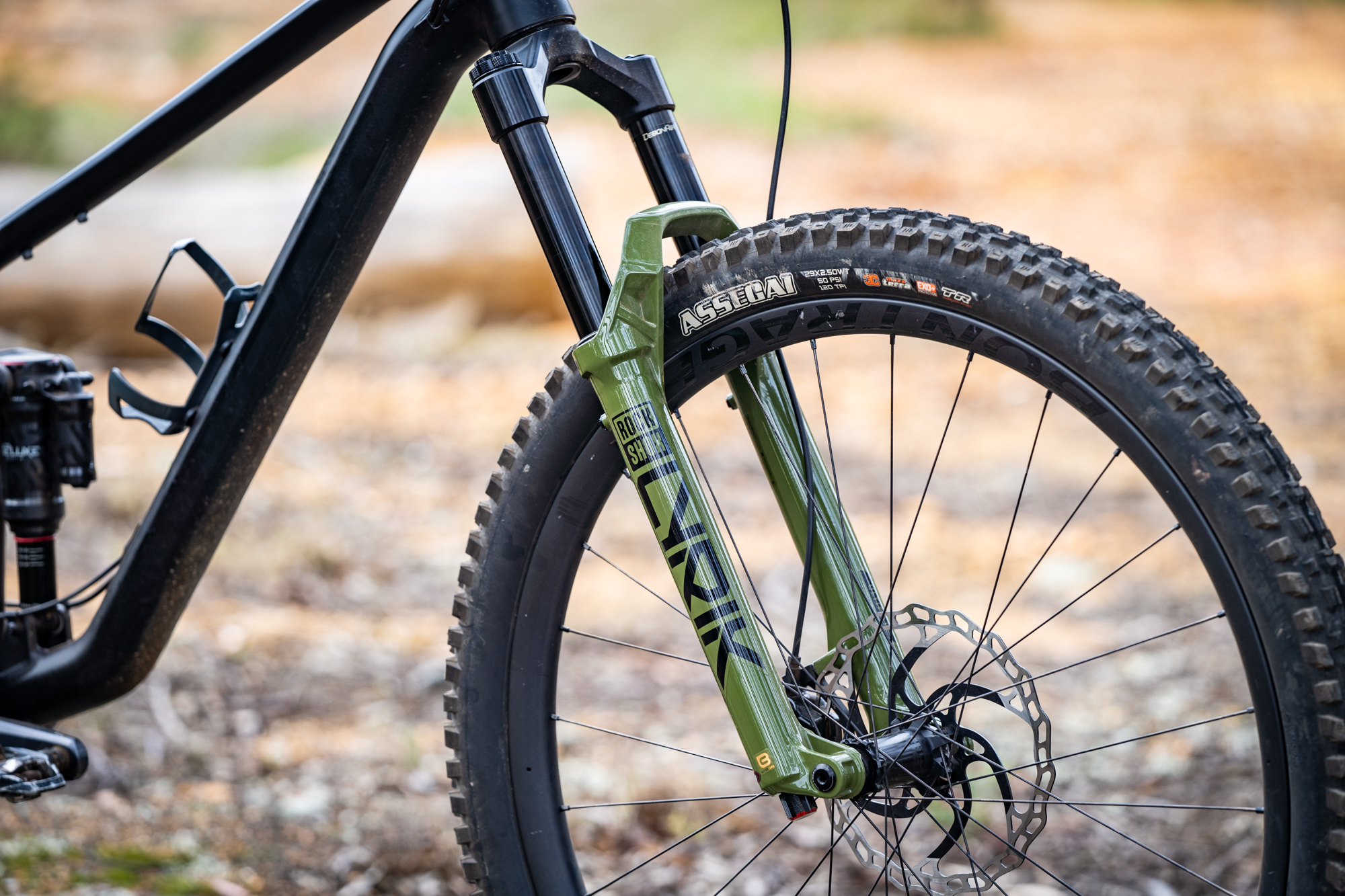 As with the latest Pike, the 2023 RockShox Lyrik gets an all-new chassis that is optimised around a smaller travel window. In the case of the Lyrik, it covers 140-160mm of travel, making it the all mountain/enduro fork in the range. The sharply-machined crown and sculpted lowers borrow a similar aesthetic to the big Zeb, though the Lyrik is significantly lighter, coming in at 2.02kg on our workshop scales for the Ultimate version.
The 2023 Lyrik also receives the new DebonAir+ spring, which is not backwards compatible with old Lyriks or Pikes. You can still add Bottomless Tokens to increase progression, though we've found it to be plenty progressive out of the box despite not having any Tokens in there to begin with.
There's a heap of support from the new Charger 3 damper, which keeps the adjustment range pretty tight for both the high and low-speed compression dials. RockShox recommends starting in the middle of the range for both adjusters, before clicking in either direction to tweak the damping to suit.
RockShox will be offering four Lyrik models for 2023, with both the Select and Ultimate models being available to purchase aftermarket. The Lyrik Select will sell for $400 less, but it downgrades to the simpler Charger RC damper, and it also misses out on the ButterCups, pressure relief valves and Ultimate-level bushings.
---
2023 RockShox Zeb Ultimate
Not to be left out, the Zeb has also been updated for 2023. The chassis looks much the same as the first generation Zeb, though it does see the arrival of pressure relief valves and the bolt-in adapters for the dropouts when pairing it with a non-Torque Cap front hub.
The guts are all-new as well, with the Zeb incorporating the same DebonAir+ spring and Charger 3 damper as the Pike and Lyrik. The top-end Ultimate model we have on test also gets ButterCups and those longer bushings for improved sliding.
As with the Pike and Lyrik, it's possible to upgrade cheaper Zeb models with some of the bells and whistles found on the Ultimate model. The Charger 3 damper will be available aftermarket for $539 AUD, and pressure relief valves can be added on for $47 AUD. While many of those upgrades aren't compatible with the old Zeb, it is possible to fit the new DebonAir+ spring, with air spring assemblies selling for $157 AUD.
To suit the front of our Specialized Levo, we've gone for a 160mm Zeb Ultimate, which weighs in at 2.32kg with a cut steerer tube and the axle installed. That's basically identical to the Fox 38 that came off the bike. As to how the two forks compare? Stay tuned for some comparative reviews coming soon.
---
2023 RockShox Super Deluxe Ultimate
While the Pike, Lyrik and Zeb are taking much of the limelight in the 2023 launch, there is arguably more going on with the new rear shocks. Certainly the range of tuning options and external adjustability has increased quite dramatically.
Shown here is the Super Deluxe Ultimate air shock, which features a brand new RC2T damper. Designed to match the adjustability and performance of the Charger 3 fork damper, the RC2T offers externally adjustable high and low-speed compression damping, a single rebound clicker, and a two-position climb switch.
Also new is the DebonAir+ air can. This is offered in both progressive and linear options, and it's possible to tune both the positive and negative air chambers with plastic clip-in volume spacers. While the RC2T damper is only found on the top-end Ultimate shocks, the DebonAir+ can is used on all of the new Super Deluxe shocks.
Speaking of options, RockShox is introducing a new hydraulic bottom-out feature that adds position-sensitive damping to the final 20% of the stroke to increase control on big hits. This can be spec'd by bike brands for certain models that can benefit from increased end-stroke control, so you won't find it on every Super Deluxe shock. Those that do have it, like the shock on our Specialized Stumpjumper test bike, can be identified by the triangular stack of lines anodised onto the end of the stanchion.
---
2023 RockShox Super Deluxe Ultimate Coil
Alongside the air shock there's also a new RockShox Super Deluxe Coil shock coming for 2023. The same damper improvements carry over from the Super Deluxe air shock, with the Ultimate level models receiving the RC2T damper with externally adjustable high and low-speed compression damping.
It's worth noting that you can also get the same shock without the two-position climb switch if you don't need it. This is referred to as the 'Ultimate DH' shock, and it sells for around $70 less.
As with the Super Deluxe air shock, the coil shock can be had with a hydraulic bottom-out feature. The difference on the coil shocks is that the HBO is externally adjustable with a 3mm hex key. Would all the way off, there is basically no additional damping in the final 20% of the travel, so it behaves like a normal coil shock. If you need more bottom-out support however, you can add up to four clicks to increase the HBO's end-stroke damping. Pretty clever!