It may only be September, but the 2020 model year is coming in hot, with so many freaking new mountain bike and product releases that we're struggling to keep up! Just in the past week we've seen Trek redefine its XC lineup with the brand new Supercaliber, while at the other end of the spectrum Norco has unloaded its biggest and baddest e-MTB yet; the Shimano-powered, 170mm travel Range VLT. We also got ourselves along to the Focus 2020 dealer show in rAdelaide, so if you haven't already, make sure you check out our Top 7 bikes from the Focus 2020 range here.
As well as staying on top of new bike releases, thankfully we've been putting plenty of saddle time aboard them too. Wil got out for a gravity enduro race on the weekend aboard the Merida eOne-Sixty 9000 long term test bike, and Mick has been checking out the brand new Trek Rail – a new long travel e-MTB from Trek that he reckons his a huge step up from the Powerfly LT. If you're not into electronics on mountain bikes though, fear not! We've just published our long term review of the Canyon Spectral AL 6.0, which Wil called a "bonafide hooligan bike". Party on Wayne ?
Amongst all that, we've been sent a barrel-load of new test gear, so here's a closer look at the freshest and tastiest kit in the workshop at Flow HQ!
---
2020 Trek Fuel EX 9.8
In case you hadn't heard, Trek has completely revamped its Fuel EX lineup for 2020. There's a brand new frame, a move away from the Full Floater suspension design, and some notable tweaks to the geometry to bring the EX up to date with the competition. Suspension travel remains at 130mm on the rear, and the frame is still rolling on 29in wheels, though stock bikes will be coming with humongous 2.6in wide Bontrager tyres – like the XR4 Team Issue ones shown on this Fuel EX 9.8 here.
Trek has upped the fork travel to 140mm though, and it's slackened out the head angle to 66°, giving the Fuel EX a bit more muscle for descending. Also noteworthy is the big hole in the downtube on the carbon fibre models – ala Specialized SWAT. There's a latch underneath the bottle cage that opens up the treasure chest within, and Trek includes a soft pouch for storing tools, spares, snackeroos, and anything else you want to stuff down in the hole.
There's a tonne of new features on the 2020 Fuel EX, so make sure you read Mick's first ride review from the launch. This Fuel EX 9.8 is one step down from that top-end 9.9 model, and we've got it on test for a proper long term review on Aussie turf. Stay tuned for more!
---
Fox Dropframe Helmet
Fox calls the Dropframe a "maximum coverage open face helmet", and it's easy to see why. Taking the trail/AM helmet design to the next level, the Dropframe sees the helmet shell extend down and around the rider's ears for added protection around the sides and back of the skull. It's about as close as you'll get to a full face helmet, without having a claustrophobic chinbar. It also looks ideal for the new crossover market between mountain biking and kayaking.
Compared to the recently released Giro Tyrant, the Fox Dropframe is a much simpler affair. It's available in four sizes, but there's no adjustable harness on this helmet. Instead, the bucket-like shell uses plenty of thick foam padding to keep the fit snug and secure, and additional pads are included in the box for dialling in the fit for your noggin. It gets more ventilation, particularly around your listening gear, and it has a big fixed visor to keep the lines clean. We'll be interested to see how the Dropframe goes during the warmer months, so stay tuned for a comparison review against the Giro Tyrant.
---
Fox VUE Goggles
To match the Dropframe lid, Fox Head has also sent us a set of its premium VUE goggles. These feature a pre-curved, injection-moulded polycarbonate lens that offers a huge field of view, and the lenses are easily interchangeable thanks to the clever TruLock system. The VUE goggles get heaps of multi-density foam padding for a comfortable fit and for keeping the dust out, though clear tear-offs are supplied in the box in the highly unusual event that we end up riding in mud. Yuck!
---
Fox Enduro Knee Guards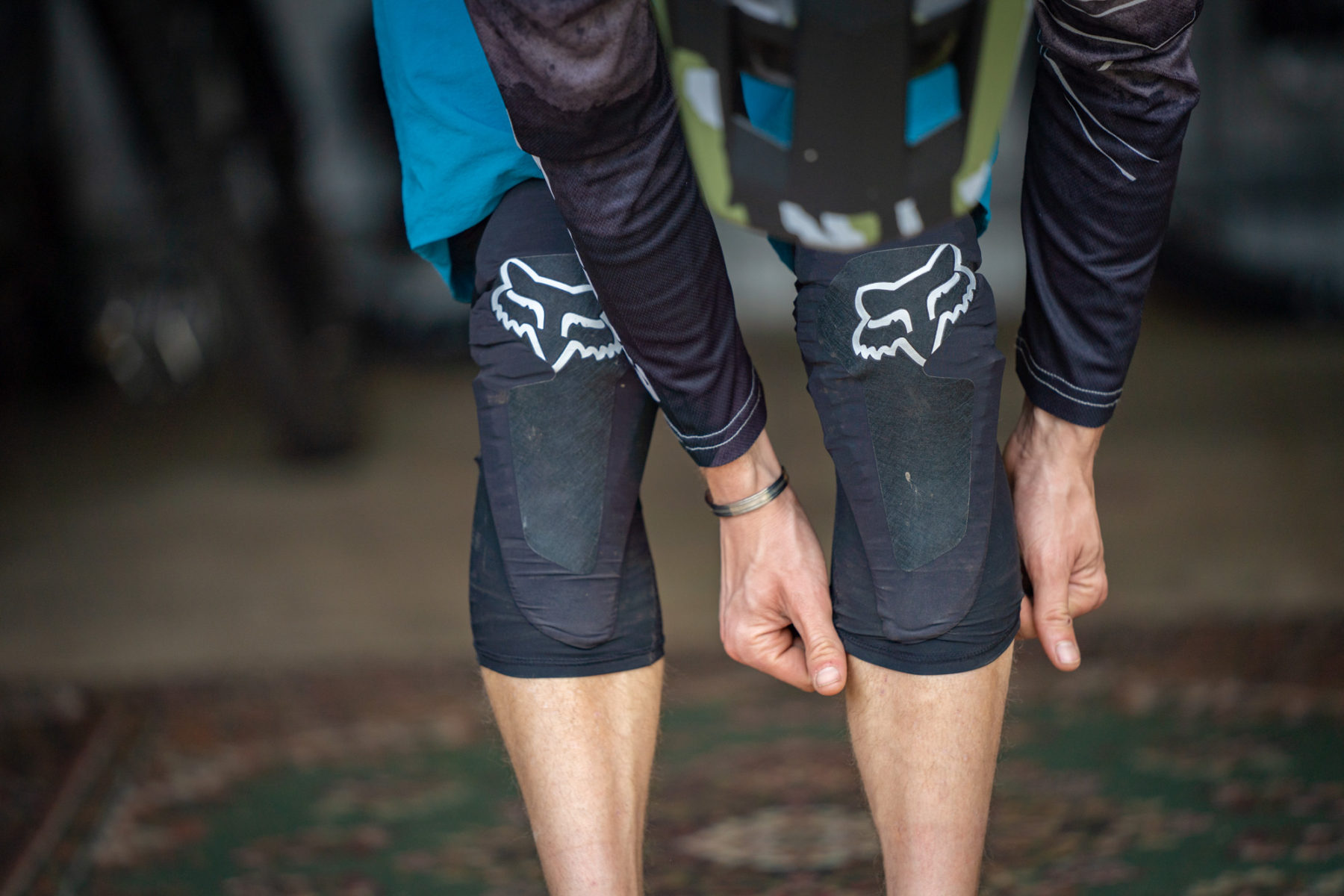 And rounding out the enduro garb is a lightweight set of knee pads from Fox. Funnily enough, these are called the 'Enduro Knee Guard', though they're designed to be sufficiently flexible and breathable for everyday trail riding too. Using a tube-style construction with open-eyelet mesh panelling on the rear, they're designed to slip straight on over your legs, a bit like a knee warmer on steroids.
Knee cap protection comes from Fox's own F3 Amor plate, which is made from a flexible material not unlike D3O. The pad has various cutouts and channels to help it curve around your knees while pedalling, and it can also be removed when its time to wash and de-stink the pads. There are four sizes available from Small through to X-Large, and each pad features elasticated cuffs for a slip-free fit.
---
DT Swiss 180 Straightpull Hubs
This is a set of DT Swiss' ultra-premium 180 hubs, which feature its own SINC ceramic bearings inside, and a heavily machined body that has had as much excess material removed from it as possible. The weight? Just 283g. For the pair. That's insane! And cool, but that's not the reason we've got these hubs.
The reason is to check out the Ratchet EXP freehub mechanism, which is a brand new system from DT Swiss that is replacing the venerable Star Ratchet design in its high-end wheelsets and 180 hub series. We've got an in-depth article about the Ratchet EXP freehub system coming soon, so stay tuned to the Flow website for the full back story.
---
Smith Optics Attack MTB Glasses
US eyewear and helmet company, Smith Optics, has launched a new MTB-specific version of its Attack glasses. Like the Attack and Attack Max glasses, these feature removable arms that clip on and off the lens via the power of witchcraft a magnetic latch. Smith includes two lenses with the Attack MTB glasses – a mirror finish ChromaPop lens, and a low-light Amber ChromaPop lens. What's ChromaPop? It's a series of light filters that help to boost both colour and contrast so everything looks like it has an Instagram filter applied to it. We've used it before and it's great. Until you take the glasses off and the whole world returns to its naturally bland state.
So what's new? The main difference with the Attack MTB glasses over the standard version is the additional frame coverage around the top and bottom of the lens. Mountain bike glasses can get a rough time, so the reinforced lens should help ward off some of the bumps and scrapes along the way. You also get a two-position adjustable nosepiece, and a clamshell case for storing the glasses and the additional lens.
---
USWE Airborne 3 Hydration Pack
Fanny packs and bum bags may be all the enduro-rage at the moment, but no matter how good they might be, they all tend to bounce around when properly loaded up with water and gear. Providing a minimalist option for those who don't want to ride with a huge backpack, but still want to carry a decent amount of water is the Airborne 3 from USWE. Coming in at just 449g, the Airborne 3 is designed to take up minimal real estate on your back, while still being more secure than a bum bag.
Inside the Airborne 3 you'll find a two litre hydration bladder, with a drinking hose that can be routed over the left or right shoulder. There's three litres of storage volume on offer, so you can pack in a lightweight outer shell, food, spares, and your MiniDisc player. The piggyback pouch on the front clips on via four nylon buckles, and can be removed entirely. Like all USWE packs, the Airborne 3 gets the 'No Dancing Monkey' harness system, which promises bounce-free riding.
---
Specialized Ambush ANGi MIPS Helmet
The Specialized Ambush has been around for a little while now, but the latest version has been updated with the new MIPS SL liner, and a clever electronic device called ANGi. This little gizmo sticks onto the rear of the helmet, and uses a host of sensors to detect if you've had a crash. Under the rapid acceleration/deceleration that you might experience if your head hits the ground hard, the sensor triggers a warning to an app on your phone, and will then alert your selected contacts to let them know your last known whereabouts. How gnarly is that!
In case you accidentally bumped the sensor and you're not actually unconscious on the ground next to your bike though, you can cancel the countdown timer on the app to avoid accidentally alerting your significant other/family members/BFF.
The ANGi unit relies on a compact CR2032 watch battery to send signals to your smartphone, and we're told it lasts for ages before it needs replacing. Clever crash sensor aside, the latest Ambush also gets the MIPS SL liner system, which sees sections of the internal foam padding attached to the EPS shell via numerous rubber MIPS anchors. As well as being a bit lighter than the standard MIPS liner you'll find in other brands' helmets, the MIPS SL system also takes up less room inside the helmet.
---
Mo' Flow Please!
Enjoyed that article? Then there's plenty more to check out on Flow Mountain Bike, including all our latest news stories and product reviews. And if you haven't already, make sure you subscribe to our YouTube channel, and sign up to our Facebook page and Instagram feed so you can keep up to date with all things Flow!