Welcome to the latest edition of Flow's Fresh Produce! Not visited before? If this is your first time joining us, all you need to do is sit back and relax, because we're here as your personal one-stop-wrap-up-shop of all things new and exciting in the wonderful world of mountain bikes!
As we power on through the Australian spring, things are continuing to heat up with a load of new bike releases, and some cracking events and riding trips that we've been documenting here at Flow. Mick has safely returned from the West Coast, having shot a belter of a gallery of what he's calling the 'event of the year' – the Cape to Cape. Oh and for those who love the tech stuff, make sure you check out the cool bikes and tech from the 2019 Cape to Cape.
Mick's been on another riding adventure closer to home on the hallowed ground around Mt Sugarloaf in NSW. With the aim of rediscovering the old downhill tracks he used to race back in the 90s, Mick set off with three other lunatics for an epic adventure on a gaggle of Specialized Levos. Check out the (very entertaining!) video below, and make sure you have a read of the full feature here.
We've also been busy launching some mahoosif competitions over the past few weeks too, including this one where you could win a brand new 2020 Giant Reign 29er! And then there's the Ultimate Victorian Ride High Country Adventure competition – you choose a mate, the destination, your riding style, and a bike, and the World Of Flow™ travel agents will take care of the rest. It's a killer prize pack, so if you haven't entered that one yet, make sure you do it right now to be in with a chance!
Speaking of the High Country, Wil took a trip over to Beechworth in north east Victoria to visit Shane Flint of Tor Bikes. Shane is a custom frame builder who specialises in hardcore hardtails made from slender Colombus steel tubing that's masterfully fillet brazed together. If you fancy a closer look at Shane's work and his workshop, check out the feature here.
Alrighty. With y'all up to speed on what's been happening in Flowlandia, it's time to get stuck into all the fresh kit that's arrived in time for this edition of Flow's Fresh Produce!
---
2020 Norco Sight A1 29
Canadian brand Norco continues the aggressive upheaval of its mountain bike lineup, this time with the arrival of the all-new Sight. Pepped up with a bit more suspension travel and some seriously progressive geometry numbers, this All Mountain ripper basically takes off where the previous Range checked out. Available in both 27.5in and 29in platforms, and with a carbon or alloy frameset, there are exactly 10 different Sight models for 2020. We've got the top-end alloy model, called the A1, so stay tuned for a full review on Big Blue coming soon.
Oh and for those with offspring, you may also be interested in the Sight Youth – a pint-sized version of the adult version that features a 150mm travel RockShox Pike and a 63.5° head angle – wowsers!
---
Ride Concepts Powerline Flat Pedal Shoes
Looking to take on the likes of Five Ten, Ride Concepts is a young Lake Tahoe-based company that's specialising in footwear for gravity-based mountain biking. The brand offers both clip-in and flat pedal solutions, and we've got a pair of each on test to see just how they stack up against the big players.
Slotting into Ride Concept's "Flow" range, the Powerline shown here is described as a high performance All Mountain flat pedal shoe. It features a full rubber outsole made by Rubber Kinetics, which hexagonal tread blocks and compound labelled as 'DST 4.0 MAX GRIP'. Think they're trying to tell us something there…
With an eye on protecting your footsies, the Powerline features custom-molded rubber toe cap and heel protection, as well as an asymmetric collar with D3O padding integrated into the inside panel around the ankle bone. More D3O padding can be found inside the forefoot and heel area of the footbeds, and that's there to help absorb impact shocks from hard landings. The upper itself is distinctly lacking stitch lines, with a fully-welded construction that keeps it all very neat and streamlined.
---
Fox Defend LS Jersey
We've got some fresh threads courtesy of Fox Racing, including this new Defend long sleeve jersey. Utilising a series of mesh panels and TruDri fabrics, the Defend jersey is meant to be easy-breezy for hot summertime shredding, while giving you more abrasion resistance and sun protection than a short sleeve. Also available in Black, from Small to XL sizes.
---
Maxima Cleaners, Degreasers & Lubricants
Looking to cover the full gamut of mountain bike maintenance, Maxima has a broad range of cleaners, degreasers and lubricants to keep your pride and joy in tip-top condition.
Going form left-to-right, there's a bottle of Assembly Lube ($18.95), which is designed for metal-on-metal components when grease is a little too heavy. We've also got a bottle of Chain Wax ($16.95), the classic SC1 Bike Polish ($21.95), and a big blue bottle of Bio Wash ($16.95). For post-wash treatment there's the Suspension Spray ($22.95), and for cleaning disc rotors and pads, a 518ml can of Contact Cleaner ($18.95). Lastly, we've got a yellow bottle filled with 100% biodegradable Degreaser ($24.95), and a tub of lithium-based Waterproof Grease ($24.95).
---
Bluegrass Eagle Legit Carbon Full Face Helmet
Bluegrass Eagle, the more muscly arm of MET, recently launched a new full face helmet called the Legit. Available in a standard version for $300, and the carbon model that we have here, the Legit has been spotted atop of noggins belonging to Dean Lucas, Tracey Hannah, and Sam Blenkinsop. There's a tonne of neat features inside that stealthy carbon shell, so get a look at the full story on the Bluegrass Legit Carbon here.
---
DT Swiss EXC 1200 Spline 30 Wheelset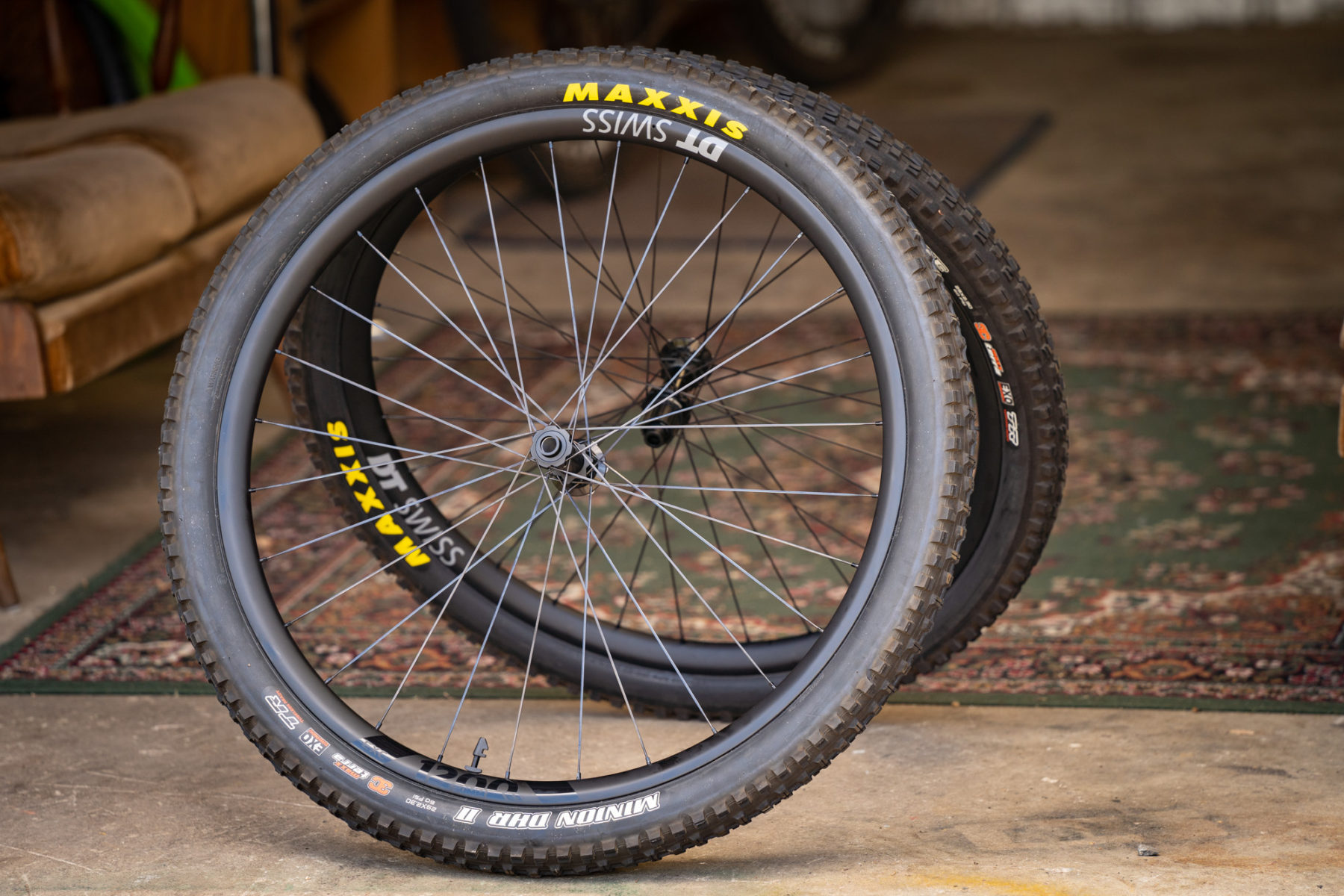 Rounding out its three-tier carbon mountain bike range, DT Swiss has recently launched its burliest and most enduro-worthy wheelset yet; the EXC 1200. Joining the XMC 1200 (AM) and XRC 1200 (XC) wheels, the EXC 1200 uses a heavier duty carbon rim that's said to offer greater strength and durability than its lighter weight brethren. Like those other two wheelsets, the EXC 1200 is rolling on ultra-premium 180 hubs that feature SINC ceramic cartridge bearings and the new Ratchet EXP freehub mechanism that we recently took a detailed look at.
We'll be thrashing the new EXC 1200 Spline 30 wheelset over the coming months to see just how well it holds up to our haggard riding style. In the meantime, you can check out all the details and confirmed weights for this luxurious Swiss wheelset right here.
---
Timber! Mountain Bike Bell
Last, but certainly not least, we have this little device. Err, it's a bell. Not particularly exciting right? WRONG!
This is the Timber! MTB Bell, and it's basically a mini-cowbell for your handlebars. It produces a lovely ring-a-ding sound, like a wind-up telephone from the 70s, and it'll daintily brrrring away while you bounce and hop along the trail, helping to alert inattentive hikers, dog-walkers, horse-riders and youths of your impending arrival. But what if you don't need your sweet singletrack symphony, and it's annoying the heck out of you? There's a little switch that allows you to instantly silence the bell, so you can savour the sound of your tyres on fresh dirt.
We should point out that this wasn't sent in for to test – Wil actually bought this with his own cold-hard internet money. Having frequently encountered walkers and off-leash doggos on one of my local hotly-contested Strava segments, he decided this would be a suitable option rather than a manual bell, as they'll hear you before either of you see each other. And we figured some of you folks might be interested in such a solution, so here you go!
---
Mo' Flow Please!
Enjoyed that article? Then there's plenty more to check out on Flow Mountain Bike, including all our latest news stories and product reviews. And if you haven't already, make sure you subscribe to our YouTube channel, and sign up to our Facebook page and Instagram feed so you can keep up to date with all things Flow!