To our dearest Frothers Of The Flow. It is time for us all to shed a wee tear, because this right here is the very last edition of Flow's Fresh Produce for 2019. Alas! It is true! We have arrived at the conclusion of the year, a very big year, which has been absolutely chock-a-block full of riding adventures, travelling and new bike releases. For a timely round-up of some of the finest gear to have hit the market in 2019, be sure to check out Wil's Top 10 list of some of the best mountain bikes and kit he tested over the past 12 months.
We've worked alongside some absolute legends of mountain biking, including Hans Rey, who recently returned to Tasmania to witness first hand the evolution of the sleepy town of Derby since his first visit in 2016. We also joined Canadian freeride luminary, Thomas Vanderham, on an epic road trip that concluded with a memorable party at the Ignition MTB festival in Falls Creek.
In a big piece of news for NSW mountain bikers, and those who are looking to travel to Thredbo this season for a riding holiday, a brand new trail called 'Ricochet' has just opened up. You can take a closer look at the new trail, and how it threads into the broader Thredbo network, in our feature story here. Or just check out the short video below!
Further down south, there have been some notable upgrades at Maydena to make the bike park more suitable for e-MTB riders. We sent seminal e-Frother Josh Carlson down to Tassie to check out the trails and see exactly what makes a bike park e-Ready. And while we're on the Tassie Tip, you'd have to be hiding underneath a piece of firm sediment to have not heard the news that the St Helens MTB trail network, including the Bay of Fires trail, is now officially open! If you want to know what the riding and scenery is like on this 42km journey from the Blue Tier to St Helens, be sure to check out the feature and video here.
On the bike testing front, we also published our review on the 2020 Canyon Lux – a very agile, very light and very well-rounded package for those who like to go fast. For those who like to go fast in a different way, be sure to check out the in-depth review of the highly-anticipated 2020 Merida eOne-Sixty. Speaking of e-MTBs, we caught up with Robbie from Drift Bikes in Newcastle to ask him about his experience of taking his little tacker on adventures with the Thule Chariot, which he tows along on the back of his S-Works Levo, no less.
So, as you can probably tell, it's been hella busy for us here at Flow – and that's only the past four weeks! But we aren't done just yet. No siree. Before we make the leap into 2020 and start popping those bottles of champers, we have one final instalment of our regular round-up feature of all things new and shiny to get you all frothing for the New Year. So sit back, relax, and enjoy, and we'll see you all in the very near future!
---
Funn UpDown Dropper Post
For those who like their saddle to go up and down remotely, Funn has got a value-oriented option for you in the UpDown dropper post. Using AL7050 alloy outer and inner tubes and a twin-bolt saddle clamp, the UpDown is an internally routed and cable-activated dropper post. Inside is a proprietary RCR cartridge, which features a 'self-bleed' function that's designed to purge the oil bath of any air bubbles that might sneak in over time. If you've ever had a dropper post go spongy and turn into a pseudo suspension seatpost, you'll know exactly why you don't want air bubbles in that oil reservoir.
Unlike the BikeYoke Revive and the new generation RockShox Reverb dropper posts, this bleed function is built into the cartridge, which means it automatically bleeds out any trapped air bubbles each time you compress and release the post fully. Well, that's the marketing spiel anyway – we'll be testing this one, so stay tuned for a longterm review.
The UpDown dropper comes in 30.9mm and 31.6mm diameters, and 125mm and 150mm travel options. It's joined by a neatly machined alloy remote with a large textured paddle that can be mounted to the bar via its own clamp, or via SRAM's MatchMaker system.
---
SRAM X-Sync 2 Oval Chainring
Arriving in time for a summer holiday rebuild of Wil's XC race bike, this oval chainring from SRAM promises improved power delivery and climbing traction due to its non-round shape. SRAM offers its X-Sync 2 Oval chainring in both Boost and non-Boost varieties in 32, 34, 36 & 38T sizes, and it uses the brand's 3-bolt direct mount interface to fit Wil's X01 Eagle cranks. Of course it also features the intricately machined X-Sync 2 tooth profile that is purpose built for SRAM's 12-speed mountain bike chains, which is there to keep the chain secure while bouncing down the trail.
---
SRAM X01 Eagle 12-Speed Chain
And to go along with the new cassette and the bigger 34T chainring, we've got a fresh X01 Eagle chain. One of the most durable mountain bike chains on the market, the X01 12-speed chain uses a Hard Chrome finish on both the inner links and on the rollers, which SRAM says boosts wear life by 4x over its cheaper chains that don't have that same surface treatment. Includes a tool-free PowerLock connector.
---
Shimano AM702 Shoes
Shimano recently rolled out its new 2020 off-road footwear range, which included updates to its GR (flat pedal) and AM (SPD) models. The AM series is the brand's burly SPD offering that's designed for trail riders, enduro racers and downhillers, and the AM702 shown here sits right in the middle of the three-shoe lineup.
The new AM702 (or AM7 for short) features a revamped rubber outsole with a deep central cleat channel and chunky tread blocks for providing traction when trudging back up the trail. The near-seamless TPU upper has also been updated to absorb less water and dry faster by way of a new mesh fabric.
There's a moulded toe cap for protection, and a rear pull loop for tugging the shoes on. Internally, a glass fiber-reinforced shank provides stability on SPD pedals, though stiffness is deliberately lower than an XC race shoe. Available in sizes from EU40-48, the AM7 uses a combination of laces with a single Velcro strap for adjusting the shoe's fit over your feet, and there's also a neoprene ankle collar for keeping rocks and debris from working their way into your shoes. Take that, tiny rocks and sharp stabby seeds!
---
Shimano Deore XT M8120 SPD Trail Pedals
When Shimano launched its new Deore XT M8100 12-speed groupset this year, the Japanese brand also introduced two new SPD pedals to go with it; the M8100 (Race) and the M8120 (Trail). We've got the new M8120 Trail pedal here, which retains the classic SPD mechanism, but builds it inside a totally revamped forged alloy body that is slimmer in height, but broader in platform compared to the old M8020 pedal. This increases surface contact between the shoe and pedal, with a wider platform that should increase stability.
The overall design mimics that of the XTR M9120 Trail pedal, though XT skips the exotic materials to come in at nearly half the price. Chromoly spindles roll on stainless steel cup & cone bearings that are designed to be user serviceable, and the SPD mechanism itself can be adjusted via a 3mm hex key. Claimed weight is 438g for the pair, and of course you get a set of fresh cleats (and cleat spacers) in the box.
---
Santa Cruz Tallboy CC V4.0 Frameset
In one of the zestiest releases of the year, Santa Cruz unveiled the completely revamped and repurposed 4th generation Tallboy. While the Tallboy 4.0 remains as the Californian brand's short-travel 29er trail bike, the new frame is basically unrecognisable from the old version. Utilising the new generation lower link-driven VPP layout, suspension travel has had a slight massage with the rear bumping up to 120mm, and the option to run a 130-140mm travel fork up front. Along with its newly radicalised geometry, we reckon this bike should be called a Minitower.
Since its release back in August, the Tallboy has been in  hot demand, having clearly resonated with riders all over the globe who are digging the aggro short-travel trail bike vibes. But despite the frames and complete bikes selling long before they've even arrived on our shores, somehow Flow's marvellous Mick Ross has been able to wrangle a bare Tallboy CC frameset. You'll be glad to know that it didn't stay bare for long though. Be sure to keep your eyes peeled on the website for a closer look at a seriously drool-worthy custom build coming your way soon.
---
Shimano 4-Piston N04C Metal Brake Pads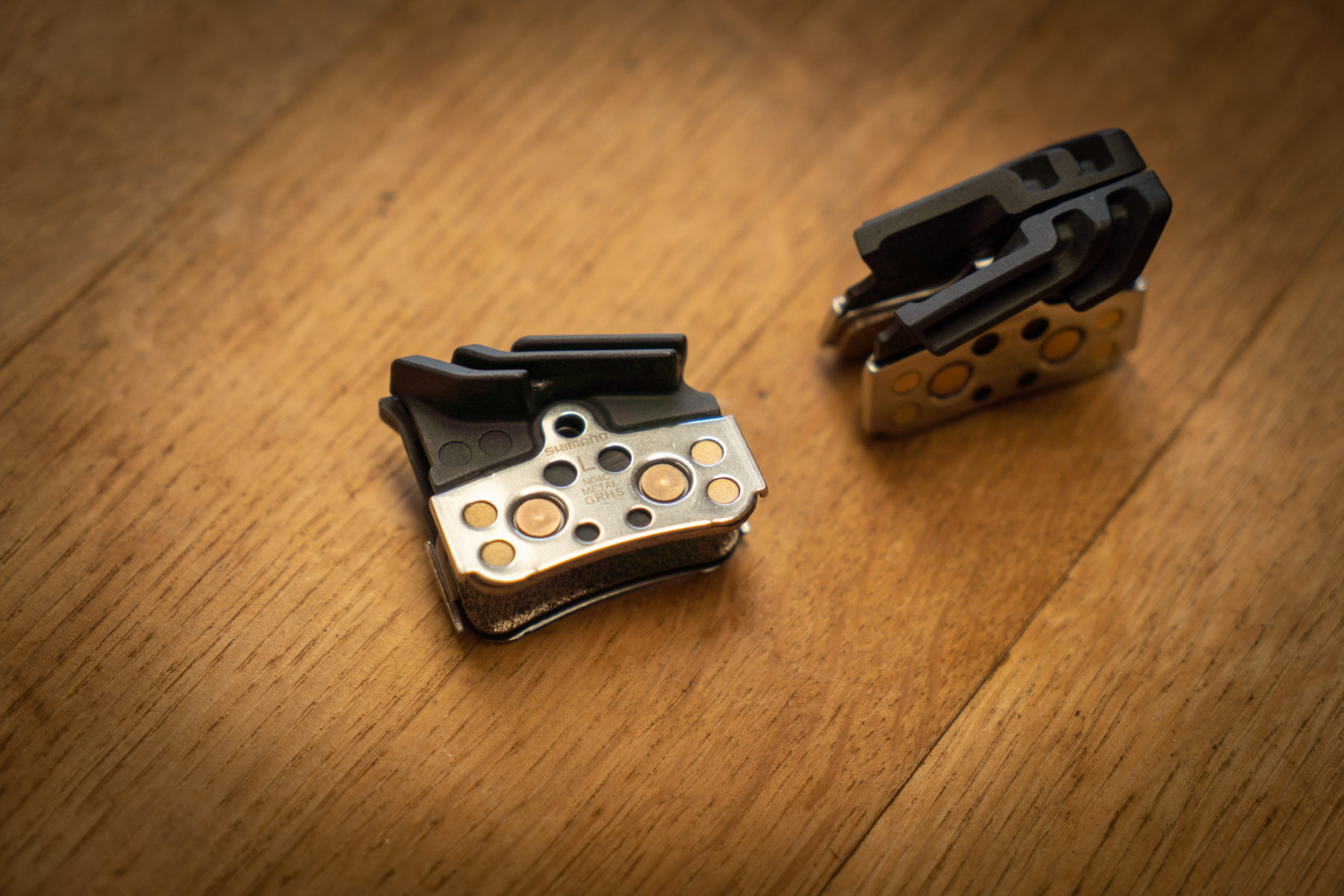 If you're running the new generation 4-piston disc brakes from Shimano (XTR M9120, Deore XT M8120, or SLX M7120) then you've got a few options for replacement disc brake pads. There are both finned and non-finned versions, and you can also choose between resin or metal compounds.
Here we've got the finned metal compound pad (N04C), which are due to replace a set of well-used pads in our Merida eOne-Sixty test bike. The metal compound offers improved wear life over the resin compound, and it also copes better with wet conditions, harder braking and higher temperatures. The downsides of a metal brake pad? You can get more noise compared to a resin pad, and you also won't get the same initial bite, particularly at lower speeds where there's less heat in the rotors. If you prefer quieter braking and only ride in dry conditions, you'll want the resin version of these, which are the N03A pad.
---
Shimano Deore XT M8100 12-Speed I-SPEC EV Shifter
Also destined for one of our long term test bikes is this Shimano Deore XT 12-speed trigger shifter. You may have seen our big review feature on the SLX M7100 1×12 drivetrain, where we pitched it against the SRAM GX Eagle groupset. One of the things we've missed with the SLX shifter is the double up-shift functionality, which is featured at both the XT and XTR level. So Shimano has sent us out a right-hand XT shifter as a running upgrade for our SLX test groupset. There are a couple of other differences though.
Whereas the SLX trigger shifter has traction grooves moulded into its plastic thumb paddles, the XT shifter adds a rubber traction pad onto the big thumb paddle. You might also notice that this particular shifter is the direct mount version, which bolts onto a new generation Shimano brake lever clamp using the I-SPEC EV system. This means we'll be able to remove one more clamp from the handlebars to neaten up the cockpit. Nice!
---
Mo' Flow Please!
Enjoyed that article? Then there's plenty more to check out on Flow Mountain Bike, including all our latest news stories and product reviews. And if you haven't already, make sure you subscribe to our YouTube channel, and sign up to our Facebook page and Instagram feed so you can keep up to date with all things Flow!