Hullo there folks, and welcome to the 'Self-Isolation Edition' of Flow's Fresh Produce! They say a lot can happen in a couple of weeks, and boy-oh-boy has a lot happened since we last brought you Fresh Produce. Don't worry – we won't be dwelling too much on that pandemic, because there's a lot of information and advice already out there, and we don't suspect you've come here for that. What we will say is that we hope that wherever you are in the country, or around the world, that you're playing it safe, practising your social-distancing measures, and looking out for one another.
Here at Flow HQ, we're lucky to remain working remotely from our homes, and we're even luckier to still be able to ride our bikes. That said, it's solo riding only for us, and we're also dialling the risk level right back to ensure we don't end up having an unnecessary accident. After all, the last thing any health service needs right now is a broken bone from a silly mountain biker. We're certainly no health experts – if you're unsure of the specific advice in your state or territory, head to australia.gov.au/ for all the current restrictions and recommendations in place. In the meantime, if you can ride your bike, you'll need to be doing it on your own, and be sure to play it safe and leave the gnarly lines for another time.
Moving swiftly along, there's actually been quite a lot else happening here at Flow HQ outside of global pandemics. In the past fortnight we've seen RockShox announce the all-new SID & SID SL forks, along with the return of the SID rear shock (now called the SIDLuxe). Prior to the official announcement, RockShox sent us a SID Ultimate all the way over from the US, and you can now read our in-depth review of this lightweight 120mm travel trail fork right here.
We've been busy wrapping up some other test products too, including the sticky Ride Concepts Powerlines flat pedal shoes, as well as a seriously high-end carbon gravel wheelset from DT Swiss that Mick has been running on his Trek Checkpoint SL.
We've also had plenty of visits from our friendly couriers and posties, and not just for all the craft beer we've been panic-purchasing. Read on to check out all the new goods that have rolled in to Flow HQ, and as always, leave us any questions you've got in the comments below. Enjoy, and stay safe!
---
Peaty's Tubeless Conversion Kit
Downhill mountain biking legend Steve Peat has been kept busy in retirement, working with a close team to develop a whole new range of unique tubeless products, cleaners, degreasers, lubricants and maintenance products, all of which are designed to have as minimal impact on the environment as possible. For example, the blue sparkly glitter you can see in the sealant is biodegradable, and all of the packaging is recyclable.
Shown here is the Tubeless Conversion Kit, which comes with everything you need to convert your wheels to tubeless. The kit is available in four different varieties depending on rim width. There's a Road/CX kit (21mm tape), an XC/Trail kit (25mm), Enduro/DH kit (30mm), and an Enduro/DH 'Wide' kit (35mm).
Inside the pack you get a 9 metre roll of 'Rim Job' tubeless tape that'll convert about four 29er rims. The tape is clear, which aside from providing visibility to the nipples and valve hole, is also easier to recycle compared to coloured plastic tape. You also get two tubeless valves that are machined from higher quality 7075 series alloy, and two pouches of Peaty's Tubeless Sealant. Worth noting is that the sealant has a completely different formula to the original sealant, which in our experience, was horrible. This new stuff seals up a kerbillion times better, and is claimed to plug holes up to 6mm.
---
Lazer Coyote Helmet
Lazer's Coyote helmet is the baby brother to the Impala. It's still designed as a proper trail helmet – you get deeper coverage at the rear, along with the bottomshell finish that sees the hard polycarbonate shell wrapping around the underside of the helmet rim to better protect the EPS foam core. Compared to the Impala, you don't get the action camera mount, and you also get a simpler fixed visor, but you do get the same TS+ fit system. There are three sizes to choose from, numerous colours and the Coyote is available in both MIPS ($189) and non-MIPS ($149) versions.
---
Goodyear Peak Ultimate Tyres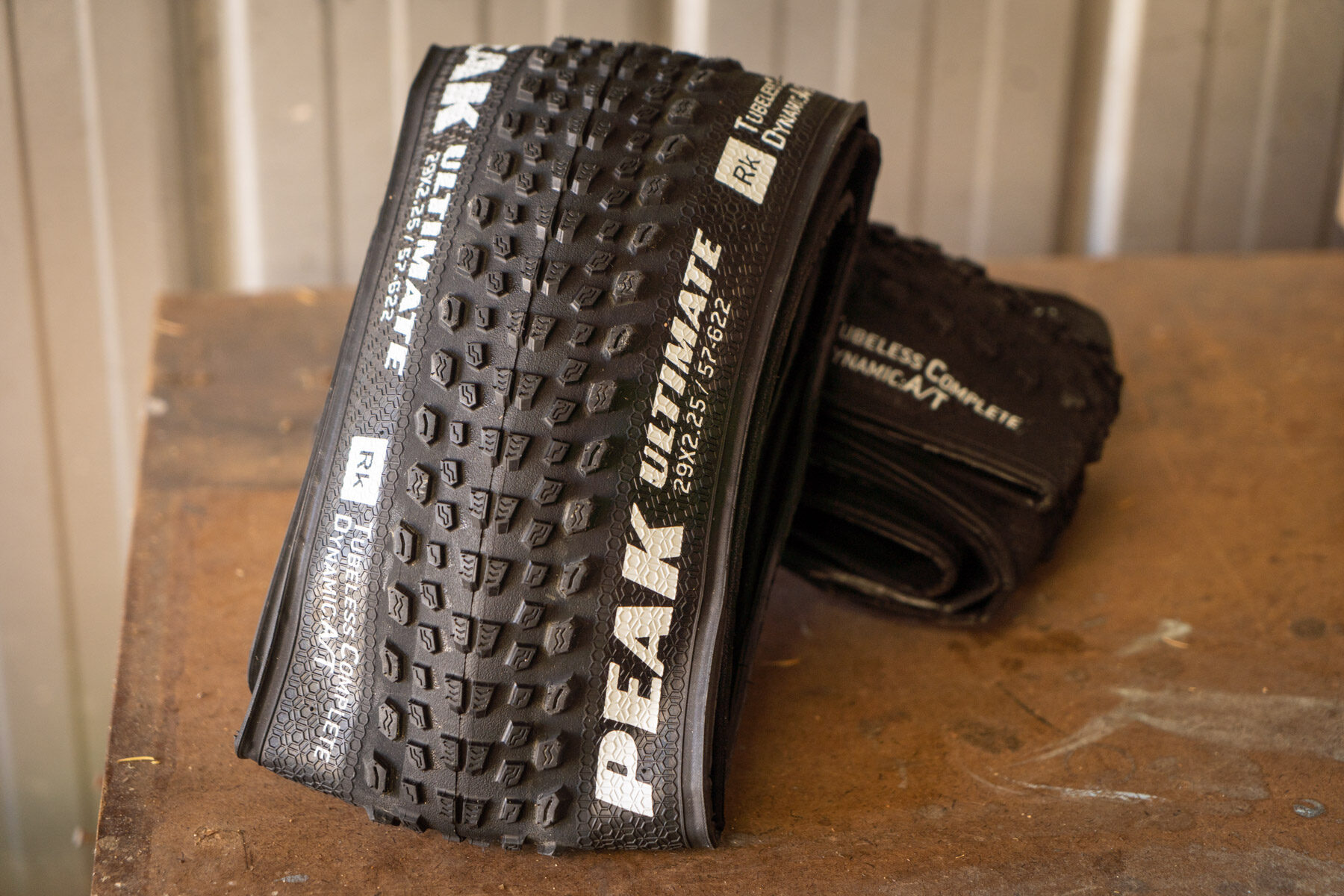 It might come as a bit of a surprise, but Goodyear's first ever production tyre wasn't actually for a motor vehicle – it was for a bicycle tyre. Much like Pirelli, Goodyear is of course best known for its involvement in motorsport, but the name has reappeared in the bicycle world as of two years ago. Rubber Kinetics, the same mob that's making the rubber soles for Ride Concepts footwear range, is now producing a line of high-performance road and mountain bike tyres under license by Goodyear.
In the mountain bike range, there are four models; the Peak (XC), the Escape (Trail), the Newton (Enduro/DH), and the Newton ST (Enduro/DH). On test here is the fastest and lightest option of the bunch – the Peak. Using closely spaced tread, a round profile and a supple casing, the Peak Ultimate is a lightweight tyre for fast trail riding and XC racing.
The Peak is offered in a few different varieties, but currently only one specific version is imported into Australia. It comes in a 29in diameter with a 2.25in width, and it's called the 'Ultimate', which refers to the lighter casing that uses a higher TPI count compared to Goodyear's cheaper casings. It is of course tubeless compatible, and it's reinforced with M:Wall, which is a durable fabric that runs from bead to bead to provide additional puncture protection. As for the rubber compound, the Peak Ultimate gets the Dynamic:A/T rubber, which is said to balance rolling efficiency with high grip. As to how they perform on the trail? We're eager to find out – stay tuned!
---
ION Rascal Clip-In Shoes
Austrian action sports brand ION continues to bring fresh ideas and fresh style to the mountain bike world with its line of body armour, backpacks and footwear. Shown here are the latest Rascal shoes, which we understand are made from 100% Smurf. They get a textured rubber sole that's designed to offer compatibility with any 2-bolt mountain bike cleat on the market, while the EVA midsole has been tuned to provide a stiff platform on top of the pedal. Protection comes in the way of a reinforced toe cap and ankle pads on the asymmetric upper, and ION has added a large offset Velcro strap over the top of the laces to deliver a secure fit. Available in sizes from EU 37-47 and a range of non-Smurf colours.
---
Fabric Magic Grip
If the contact points on your bike are in need of a spruce-up, these 50to01 grips from Fabric could do the trick. Using a semi-ergo profile with a bulge in the middle (err…) these use a classic mushroom textured pattern and a soft 30a rubber compound for plenty of traction and a bit of squish too. For those who regularly bust-up their bar ends, these come with a reinforced nylon end cap, and use a single inboard lock-on clamp. Available in multiple colours as well as Boring Black.
---
Fabric Magic Elite Radius Saddle
To go with the jibbin' grips, Fabric has also introduced a jibbin' saddle. If you know what that word means, please let us know. What we do know is that Fabric collaborated with the 50to01 hoons to produce the Magic saddle, which uses Fabric's brilliant three-piece construction with a hard plastic base that is not only easier to clean than a conventional saddle, also tends to last a lot longer too. Which is good, because the Magic is essentially a dirt jump saddle that's designed to be comfortable for pedalling too. Think tough, short and durable, with proper padding.
---
2021 RockShox SID Ultimate 120mm
You might have already seen the big news story on this one, but if you haven't, RockShox has just launched an all-new SID. Even more exciting is that the range has split cleanly into two whole new forks. There's the SID SL, which is the 100mm XC race fork with 32mm upper tubes, and then there's the regular SID that has 120mm of travel, 35mm upper tubes and is billed as more of an XC/trail fork.
Structurally speaking, both forks are all new from the inside-out. Each gets a fully redesigned chassis, a new DebonAir spring, and sees the introduction of the super-light Charger Race Day damper. We've been riding the burlier 120mm version for the past month, so if you haven't checked it out already, be sure to read the full review of the 2021 RockShox SID Ultimate here, which includes a detailed back-to-back comparison to the Fox 34 Step-Cast Factory Series fork. Ooh showdown!
---
RockShox Digital Shock Pump
To suit the fancy SID Ultimate fork, we've just received this fancy RockShox digital shock pump. Designed specifically for mountain bike forks and shocks, this little sucker will deliver up to 300psi of pressure and has a nice big digital display to show you exactly what pressure you're running down to half a psi. It'll also read in BAR and KG/CM³ for the weirdos out there.
---
NixFrixShun Chain Lube
Self-described as an 'over-the-top quality chain lube' this little bottle has come all the way over from the US, because Mick has an unhealthy obsession with bicycle cleaning and maintenance, and has very specific needs when it comes to lubricant. No, we're not testing this – Mick just really, really likes it – enough to pay the exorbitant shipping fees, made worse by our tanking Aussie dollar. Anyway, he says it's amazing lube – super light, runs clean and it seems to last a bloody long time too. According to NFS, each bottle contains around 10,000 miles (16,000km) of chain lubrication, which means Mick could do a full lap of Australia and still have a bit of lube left over to spare!
---
Mo' Flow Please!
Enjoyed that article? Then there's plenty more to check out on Flow Mountain Bike, including all our latest news stories and product reviews. And if you haven't already, make sure you subscribe to our YouTube channel, and sign up to our Facebook page and Instagram feed so you can keep up to date with all things Flow!